5 Powerful Benefits of Local SEO For Your Business
Jan 7, 2022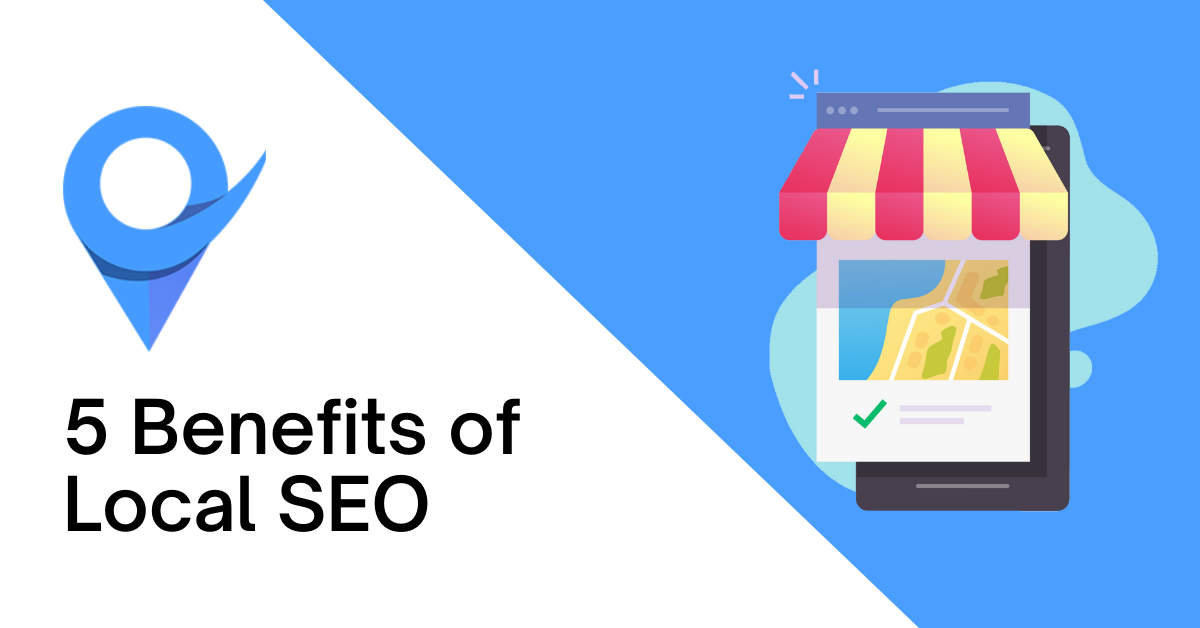 Table of Contents
What is Local SEO
What Type of Businesses Benefit the Most from Local SEO
Lawyers
Real Estate Professionals
Medical Professionals
Home Repair Services
eCommerce Stores
Restaurants
Pet Services
Benefits of Local SEO
More Foot Traffic
Builds Online Visibility
Attracts and Converts Customers
Reduces Advertising Costs
Increases Return Customers
Conclusion
Local SEO helps to generate leads for your products or services.
Small business owners who don't have a website can still capture a significant percentage of online local market share by creating a free Google Business profile.
Similarly, large businesses can drive tons of relevant local traffic to their website or brick-and-mortar stores by intelligently investing in local SEO services.
This article will explain what local SEO is, share the type of businesses that benefit the most from local SEO, and discuss the top benefits of local search marketing for small and large companies.
Ready? Let's begin.
What is Local SEO?
Local SEO consists of SEO strategies to help business owners increase their website visibility on local search results.
89% of consumers rely on the internet to find local businesses and around 50% of 'near me searches' on Google results in a physical store visit.

Hence, the success of your local business depends largely on your SEO strategy.
Moreover, with the increase in voice search, local SEO has become even more critical because businesses ranking on the top of local search results for local search queries are recommended by voice assistants such as Alexa and Google Voice.
Here are some examples of text or voice searches related to local SEO:
Conveyancing services near me
Best lawyers in London
Bakery in NYC
Chinese restaurants near me
Chiropractors Dothan AL
Local SEO aims to rank a business at the top of local search results for relevant commercial intent-focused searches.
What Type of Businesses Benefit the Most From Local SEO
Businesses looking to establish their brand presence in different cities across a country or a state can benefit from local SEO.
Here are the types of businesses that need local SEO:
Lawyers
There are occasions where people need legal advice. In that case, either they'll ask their close ones to refer a person, or they'll search on Google to find lawyers who are nearby or local.
Therefore, lawyers must improve their online presence by having a local keyword-optimized website. In addition, lawyers should create their profiles on Google My Business and other local business directories.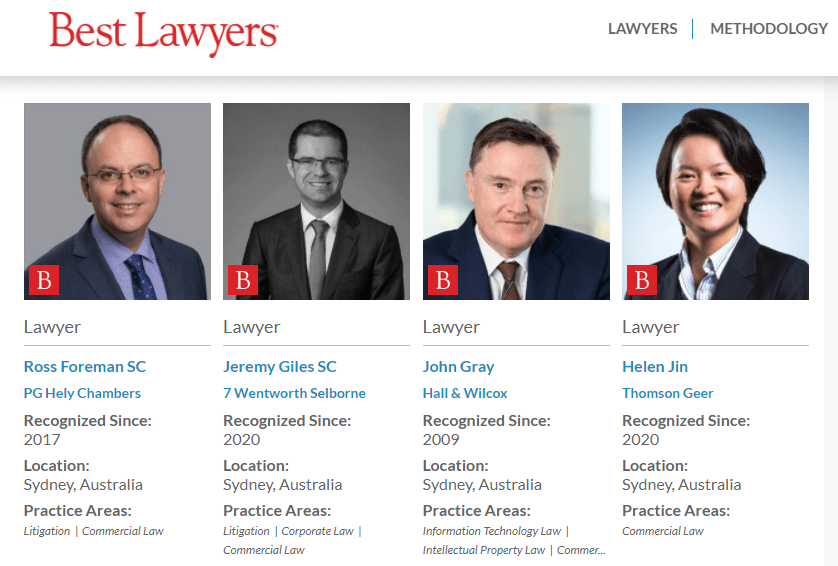 Real Estate Professionals
It's a common dream of everyone to buy a new home or land.
People use search engines to find good, reliable, and helpful real estate professionals available in their local area.
Hence, as a real estate professional, your online presence determines your success in the industry.
To drive quality local traffic, a need for a bespoke SEO strategy and a website is crucial.
Real estate professionals should optimize their website by creating new pages for the specific service they provide across different local areas to rank at the top on Google and other search engines.
Medical Professionals
Dentists, heart consultants, bone specialists, physicians, general doctors, and others in the medical industry can benefit the most from local SEO.
Besides, most people seek chiropractors to get relief from their back pain, rehabilitation, sports medicine, etc.
The increasing demand for various health-related queries opens up new opportunities for medical practitioners. They should list themselves on the top of local search listings targeting the cities and locations where they practice. Doing so can help them increase the number of online patient leads.
Local SEO for doctors can help general physicians, surgeons, and specialist doctors to increase their online awareness and also acts as another marketing channel for these professionals.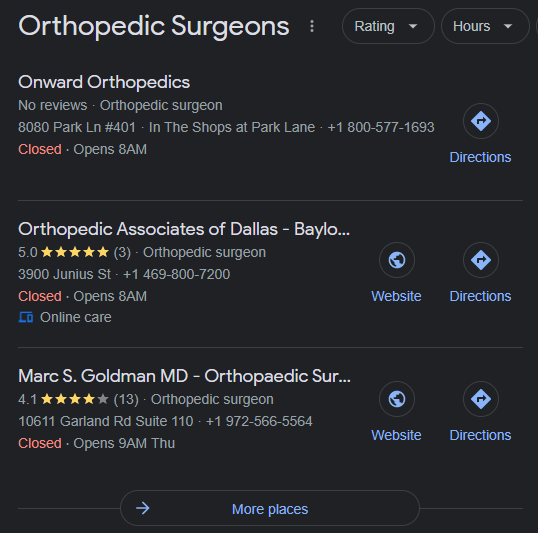 Home Repair Services
Repairs in houses are inevitable. It can be plumbing, electrical problems, cementing holes, or any sort of repair.
People look for a good local home repairing service provider to help fix the problem. To do so, they search online to find out nearby repair service providers.
People are more likely to select a service provider with more positive reviews.
Hence, optimizing local business listing profiles is crucial for local businesses, especially home repair services, to increase leads and generate maximum online profits.
eCommerce Stores
Ecommerce stores and local SEO go hand in hand. To reach a global audience, an eCommerce website should focus on local SEO to reach local audiences targeting specific geolocations.
Content and influencer marketing play an essential role in identifying and nurturing local leads.
Restaurants
To find the top restaurants, people use the query "best restaurants near me."
From scanning menus to comparing reviews and prices, people take their time to research a restaurant before they place their order.
Hence, restaurant owners should go for local SEO to reach local people in their area who are searching for food joints near them.
Furthermore, it is vital to get positive reviews on your local Google My Business profile to increase user trust.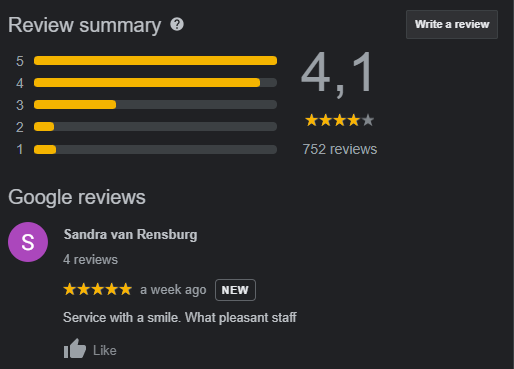 Pet Services
Pet services are in high demand and nowadays, most people own a pet.
But, because of their work pressure, most find it challenging to spend time grooming or taking their pets for a walk.

Hence, pet parents look for pet services online to take care of their pets when they're busy.
Pet owners care for their pets as babies, so they look for trustworthy pet services online.

Hence, building trust and getting listed as high as possible in the SERPs for local queries is crucial as a pet grooming company.
Benefits of Local SEO
Here are the top benefits of local SEO:
More Foot Traffic
One of the most significant benefits of local SEO is more foot traffic. Having more people visiting your store or office is always suitable for brick-and-mortar businesses.
When you optimize your site for local SEO, your business website ranks for local queries.
People can find your service quickly and visit your business location to buy your products or subscribe to your services.
Your website ranks on the top of the search engine by following the best local SEO practices, and it helps your local audience find your business.
When your website has some good reviews shared by your previous customers, it boosts your credibility and helps people purchase from your business.
Therefore, when you offer fantastic customer service to your prospect, you can retain them as your loyal customer and drive more referrals to your store.
Builds Online Visibility
92% of the people choose results that rank on the first page of the local search results.
Most people don't go beyond page two. Anything beyond page two is just a graveyard.
So, it is vital to optimize a website to rank on the first page of the search results.
When your local audience uses queries such as "near me," "close by," or your geographical location to find your business, and if you rank at the top spots, it increases your business visibility.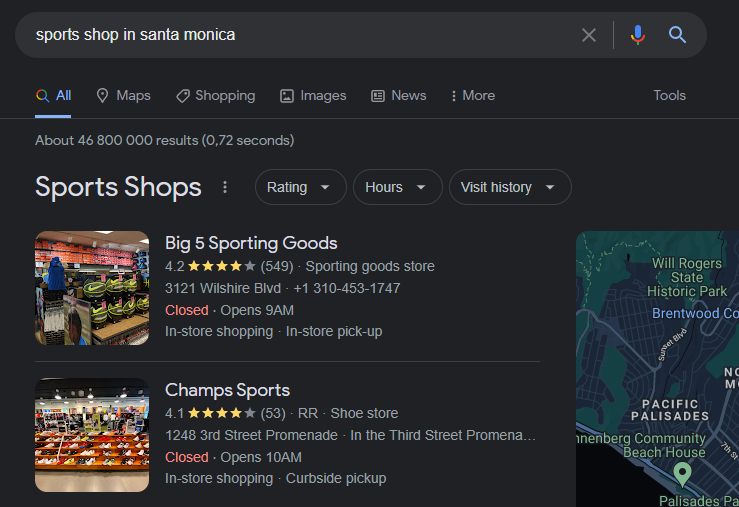 Even if people don't click your website, they will still remember you.
When they're looking for options the next time, they will remember your business and might visit your website or store.
Also, most importantly, when you rank at the top of the search engine for your geo-targeted keywords, it makes your audience feel that you're reliable, trustworthy, and authoritative in the industry.
Thus, it will escalate your sales and conversions.
Attracts and Converts Customers Who are Ready to Buy
The main reason people search online for a product or service is that they're ready to purchase.
With the help of local SEO keyword research, you can identify the best keywords for your website. Keywords with commercial intent will let you target only those customers ready to make the purchase.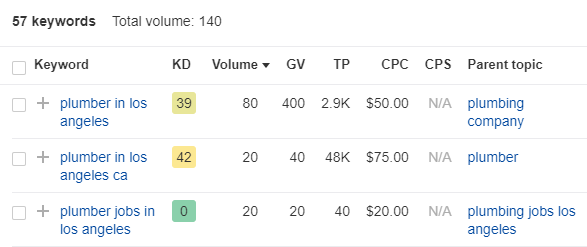 Moreover, 89% of people read reviews before purchasing a product or paying for a service. Reviews add value to their decision and help them buy from a reliable and affordable business.
Local SEO not only helps your business grab the top positions on Google local search, but it also lets you attract lots of reviews. Businesses that rank higher receive the maximum reviews.
Reduces Advertising Costs
Pay-per-click ads are costly. Running high-converting PPC ad campaigns might not be feasible for small business owners.
Local SEO is affordable and brings in qualified traffic to your website at a fraction of the cost that you otherwise invest in PPC.
Moreover, local search marketing lets you yield long-term benefits instead of PPC ads that stop generating results as soon as you end your campaign.
SEO is one of the best cost-effective marketing strategies that offer long-term results.
Increases Return Customers
Customer loyalty and repeat purchases are crucial to increasing your business profits.
Improving the repeat purchase rate is a significant way to keep your business alive.
Local SEO tactics help your business reach the customer during their micro-moments when searching for a product or reading reviews. Customers are constantly reminded of your brand when you reach the prospects during every micro-moment, which ultimately assists in regular sales.
Moreover, you can increase your branding and trust with content marketing strategies such as FAQ (Frequently Asked Questions) optimization and Featured Snippets optimization.

With improved branding and visibility, customers will always choose your brand over your competitors.
Besides, SEO companies often offer CRO (conversion rate optimization) strategies to increase customer referrals and repeat purchases.
Conclusion
Local SEO is a great option, from building a thriving local business to succeeding.
It is high time to convert your business into a high-profiting business locally.
It doesn't matter whether your business is small, medium, or large scale. Your only vision should be to reach the right audience using the right local keywords. The rest will fall in.
Happy optimizing!