Dental SEO: 6 Tips to Outrank your Competitors in 2022
Feb 9, 2022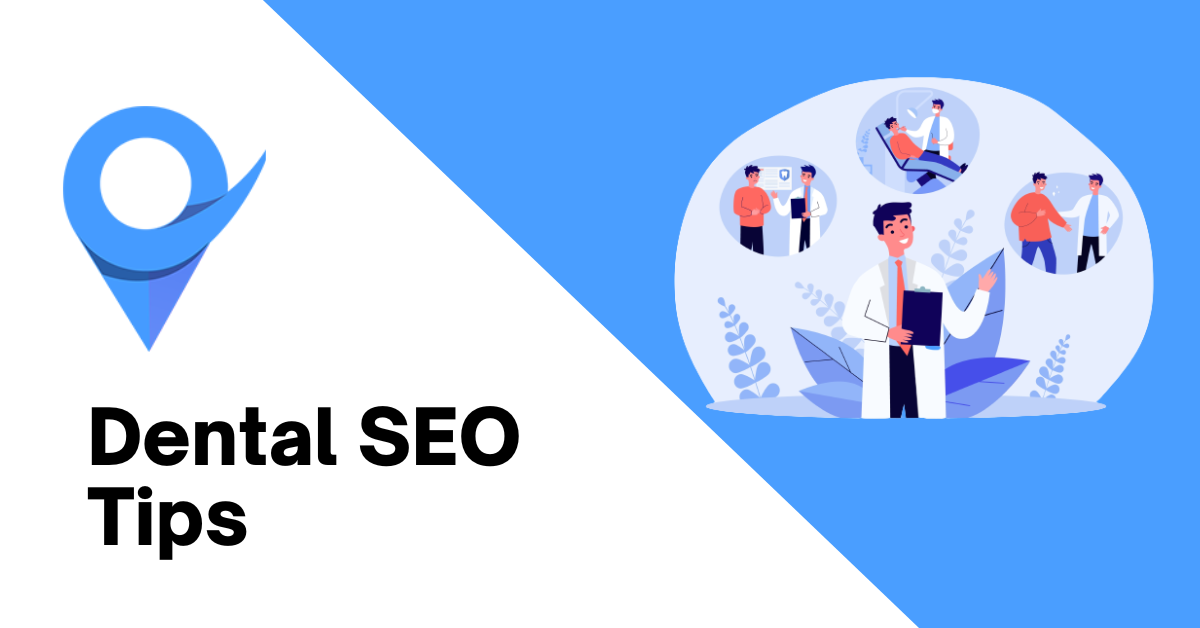 Table of Contents
Importance of SEO for dentists
Why do dentists need a website?
Elements of a good dental website
It showcases your dental services
It serves as an information hub
It has contact information and directions
It has modern, yet simple navigation
It is mobile-friendly
Top dental SEO tips
Create relevant content and pages
Make sure your website has all the important pages
Optimize content and website for local search
Utilize dental directories and local citations
Add your dental practice to Google Maps
Prompt reviews from customers
Get more links
Conclusion
Search Engine Optimization (or SEO) is the process of helping your business website rise to the top of Google, Bing, and other search engines.
This blanket term covers several more specific SEO categories, which can be industry-specific.
Dental SEO is the practice of using SEO methods to help a website improve its visibility so potential patients searching for a dental practice will find it.
Another type of SEO is local SEO, which is similar to general SEO but optimization is done for local rather than national results.
To implement a thorough dental marketing strategy, you need to include local SEO as part of your strategy to help you reach people in the local area of your dental practice.
If you're a dentist and you don't have your SEO in order, you miss an opportunity every time a potential patient is searching online for a dentist.
Studies show that 92% of searchers pick businesses on the first page of local search results when browsing online - and that includes dentists.
Importance of SEO for Dentists
Dentistry, just like any other medical field, is very competitive.
In order to grow a dental practice, you need a good SEO marketing strategy that includes a well-optimized website for local searches, submissions to local and industry-specific directories, and high-authority inbound links.
All of these will help you to create a robust reputation online.
SEO for dentists will result in higher search engine rankings, more credibility and authority online, increased targeted traffic to your website, and lower marketing costs relative to traditional or paid advertising.
Why do Dentists Need a Website?
Dentists need a website because your patients expect it, and your competitors have one too.
A survey found that more than 60% of patients start their search online. That's a lot of people you could be missing out on without a website!
People who are searching for a new dentist - and online searchers in general - are becoming more sophisticated.
They know how to research and find the information they need, how to look at reviews and testimonials, and how to refine their search in order to make educated decisions about their health.
Elements of a Good Dental Website
It Showcases your Dental Services
Your website should be designed to help potential patients learn about your dental practice, provide a list of services offered, and showcase what makes you different from other dentists.
It Serves as an Information Hub
Your website should have blogs and articles on the latest research in the dental field, the latest technology used for dental procedures, and so on.
It Has Contact Information and Directions
Potential patients should be able to find relevant information they need on your website easily including phone number and address, forms, and insurance information.
It is also helpful to provide testimonials and reviews.
It Has Modern, yet Simple Navigation
We all know that the first impression counts!
You can capture your patients' attention with a modern and interactive website while making sure it is easy to navigate, find information and make an appointment.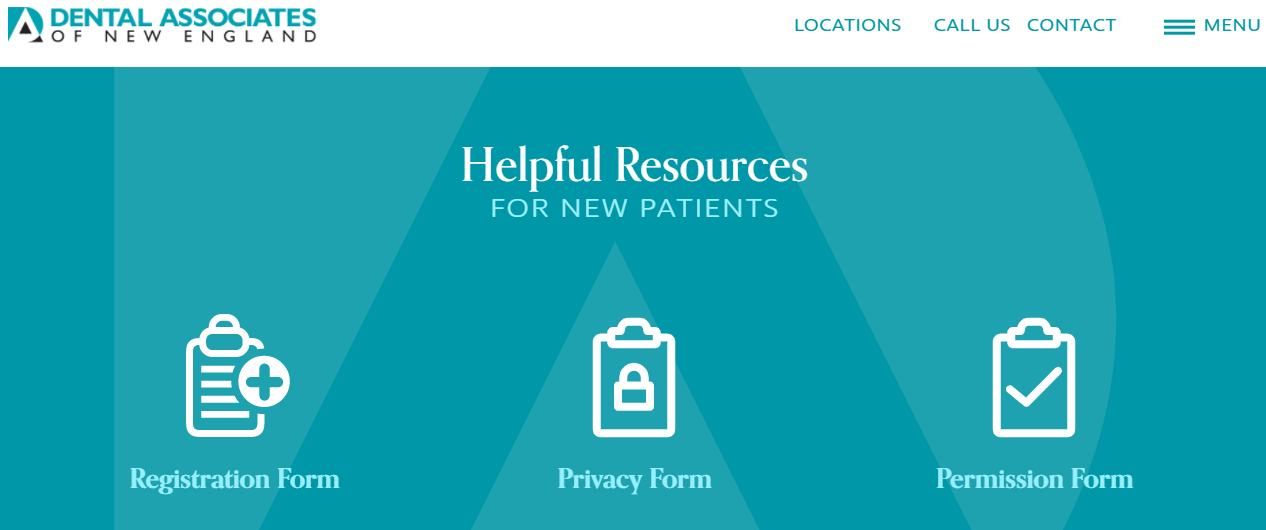 It is Mobile-Friendly and Optimized for a Great User Experience
Make sure your website is mobile-friendly and responsive and fast.
Responsive Web Design is a technique used by designers to create websites that adapt their layout to different screen sizes.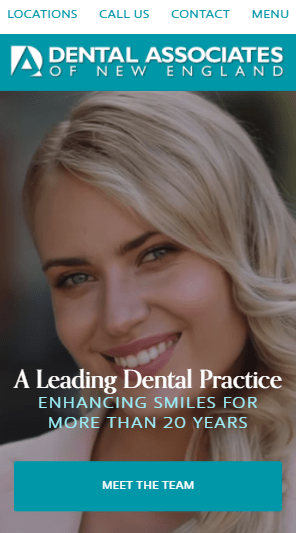 Google started deploying a new algorithm in 2021 called Google Core Web Vitals. These are a set of factors that grade the overall user experience of your website.
Make sure you take this algorithm into consideration when building a website for dentists and optimizing SEO for dentists.
When it comes to user experience, Google sets the bar very high - it recommends a page load under 2 seconds (which is pretty fast!) and is also simple to use.
To test your dental website for this algorithm, install the Lighthouse Chrome extension, type in the URL of your website, then generate the report.
Here are a few best practices that will improve the user experience score:
Use only one image above the fold
Move background videos and slideshows lower on the webpage
Use at most two different font families and only a few weights from each
Select a website builder platform that optimizes images upon upload
Remove custom/heavy widgets from the top area of your page
If the user does not have a great and fast experience, they will leave your site and you potentially lose a client.
By incorporating these elements of a good website, you will encourage them to stay on your website longer, leading to an increased conversion rate.
Top Dental SEO Tips
Create Relevant Content and Pages
When it comes to dental SEO, content is still king! This is true for all types of websites, including dentists and dental practice sites.
Optimizing your medical website means making sure it ranks high in Google searches for relevant keywords like "general dentist" or "pediatric dentistry" or "dental implants" or any other keyword related to your dental specialty. And yes, it all starts with keyword research.
Once you come up with a comprehensive keyword list and keyword phrases, you can use them in page content, headers, URL, image alt tags, meta titles, and descriptions.
Make Sure Your Website has All the Important Pages
About Page
The About Page is the second most important page, after the homepage. Choosing a dentist is a very personal decision!
On the About page, prospective patients can make a connection with a dentist, learn about their education, experience, and background, and get to know them a little bit before making an appointment.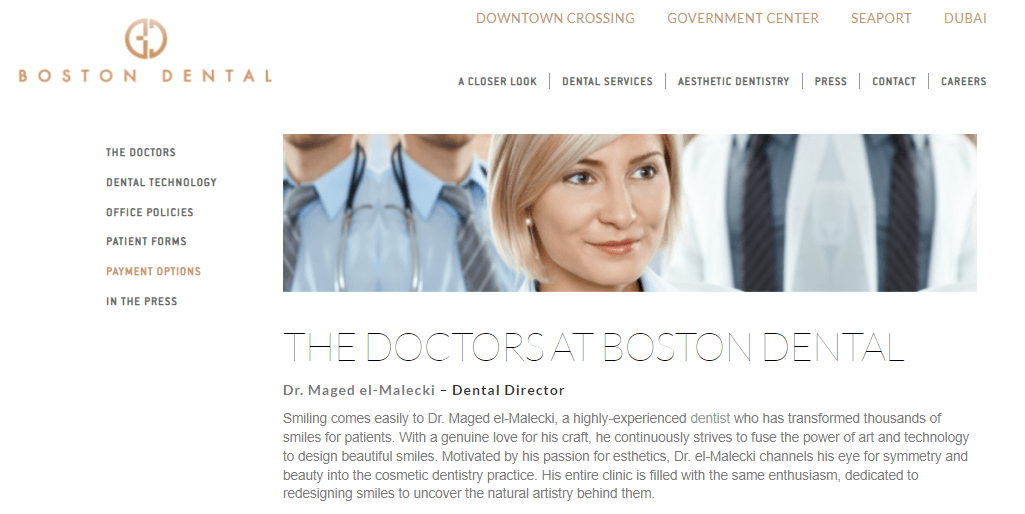 Contact Page
The Contact Page should have location information and hours, an embedded Google Map so your patients can see where you are located, and several ways to contact the office - an email, a form, and a clickable phone number.

Service Page
The Service Page should list your specialties with links to individual and more detailed explanations of your services.
Make sure you create a page for each service you offer, as they can rank well in Google search results for users searching for specific services.
These pages can also be used as landing pages for advertising and marketing campaigns.

Patient Resources Page
The Patient Resources Page should have the necessary forms, agreements and questionnaires needed for the first appointment.
It could include any forms, articles, or resources that would be helpful for a patient to have access to before an appointment.

Testimonial Page
The Testimonials Page should form an essential part of your dental SEO strategy.
You can include text, pictures and videos from past patients discussing their experience with your practice.
Hearing firsthand from past patients is a great way to add a personal touch to your website.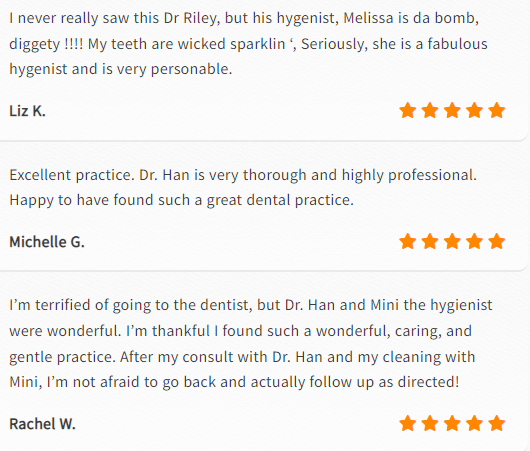 Blog Page
Blog posts allow you to create content relevant to your dental specialty - and also full of keywords!
By posting the latest dentistry news, important prevention tips, and other resources, dentists can establish themselves as experts in their respective fields.
For example, a periodontist could write on the new dental implant technologies; a general dentist might write about ways to prevent cavities; a pediatric dentist might write about the signs of teething for babies, and so on.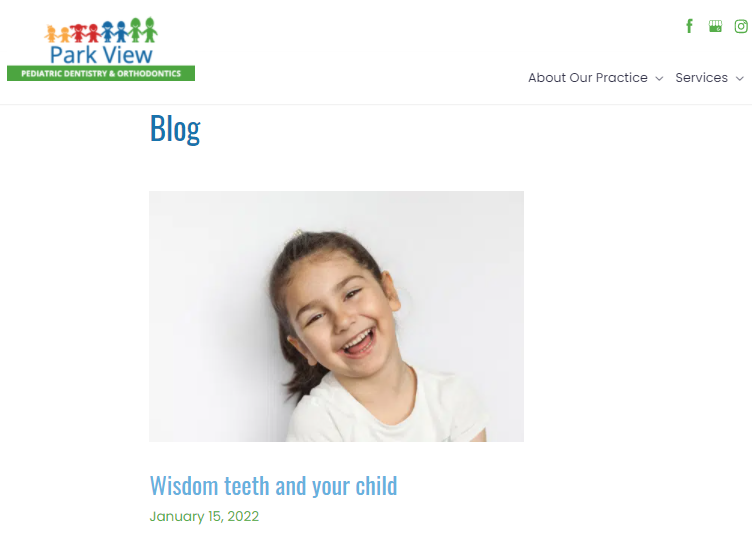 Informative content marketing has the ability to attract and convert prospects into patients as well as help retain and engage existing dental patients.
Optimize Content and Website for Local Search
The goal of writing content is to create something valuable for your local website visitors.
Your content should be relevant and interesting to potential patients, and be informative and educational.
Research Local Dental Keywords
First, you have to identify relevant local keywords and create content to match these keywords.
Keyword research will help you learn about your competition, which keywords are best for your dental practice and location, and which keywords have the highest search volume.
Use Autocomplete and People Also Ask Google features, and also, of the many keyword research tools in your research:
Ubersuggest
SEMRush
Ahrefs Keyword Explorer
Optimize Your Content
Once you have identified the local keywords for your dental practice website, create content containing these keywords.
A great content strategy includes well-optimized service pages, a helpful blog, and an FAQ page to ensure your visitors find all the resources they need on your site.
Include keywords related to dentistry such as "dentist", "dental office" "restorative dentistry", "orthodontist" and anything else relevant to your particular practice.
Optimize Your Metadata & URLs
Every page on your website has bits of HTML code called metatags
The most important ones are the titles and descriptions. Based on your keyword research, use these words strategically in these metatags, making sure not to stuff keywords aimlessly.
Here is an example of well-designed URL, title, and description metatags for local search:

Include Physical Address and a Map
Make sure the contact information is clearly located on at least the home page and contact page, and includes your physical address and a map to get directions easily.
Utilize Dental Directories and Local Citations
Creating and optimizing local citations is one of the best ways to market your dental practice online and increase its visibility in local search.
Local Citations are online mentions of the name, phone number, address, and website of your dental office.
Search engines look for consistency for these mentions on both general and industry-specific directories.
General Directories
The top general directories to list a dental practice are:
Google My Business
Apple Maps
Facebook
Bing Places
Yelp
Foursquare
Yahoo Local
Better Business Bureau
Yellow Pages
Make sure your dental office is listed with the local citation places above, and others if relevant.
See a complete list of citations directories here. Beware, some listings are free, some are not.
Submitting your medical practice to the local listings above is important in voice search as well.
Google, Apple Maps, Bing Places, and Yelp feed data to voice assistants like Google Assistant, Alexa, Siri and Cortana which are becoming very important for SEO.
A study reports that 48% of consumers would rather use voice search over any other method of searching.
This is good news for dentists as they are looking to be found locally. So, make sure that your practice is listed in all directories important in voice search.
Industry-Specific Directories
Top industry-specific local citations for dentists include:
Vitals.com
Wellness Wisdom
Family Dental Directory
Doctor.com
Care Dash
Healthprofs.com
FreeDentalCare
Free Clinic Directory
Dr.Oogle
HealthLocal
Zocdoc
See a complete listing on BrightLocal.
These listings are similar to general citation directories, but (as the name suggests) are specific to the field you are in. For dental SEO, you should be listed on many directories for health care professionals.
Add Your Dental Practice to Google Maps
Another step to take to reach local customers is creating and optimizing your Google My Business Profile (formerly known as Google My Business or GMB).
It is FREE and one of the most important dental SEO tactics available for your dental office or practice, as it will help your business rank higher in Google Local Pack and Google Maps.
If your dental practice does not have a Google Business Profile, you should create one ASAP.
Google Maps listings are automatically created when creating the GMB profile or by submitting directly to Google Maps. Learn more about creating Google Map citations here.
See below optimized Google Maps listings for the "orthodontist Boston MA" query.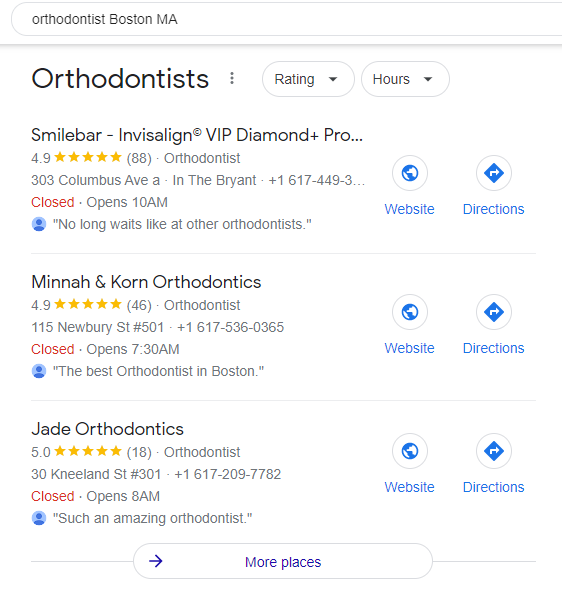 Prompt Reviews from Customers
Why do online reviews matter?
They matter because potential new patients will decide whether or not to book an appointment with your dental office based on your online reputation.
According to a study by Inc., 84 percent of people trust online reviews as much as friends.
So, after an office visit, encourage your patients to leave feedback or reviews online. After they do, make sure to respond to each and everyone - both positive and negative!
Online GMB reviews play a role in local justifications which are extra snippets of text Google can display on listings in the local packs, or Google Maps to signal to searchers that a feature of the business matches their search intent.
For example, when a searcher uses the terms "excellent dentist in Boston MA" in their queries, the following review justifications will display actual words from the review: "excellent".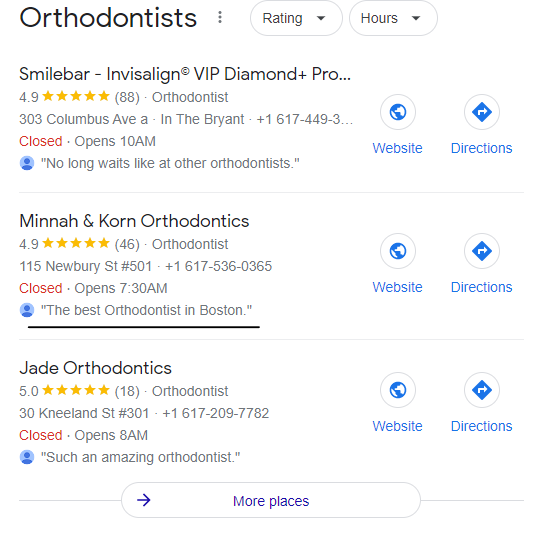 Now this is difficult to obtain because you don't know the exact words that a patient might use.
The chance that they will use: "best" "excellent" or ''experienced" is pretty high though.
Get More Links
Links from other websites to your site are called backlinks, and they tell Google and other search engines that your website is trustworthy and credible.
Here are some common practices used to build backlinks to your dental practice website:
Engage with local partnerships
Support local organizations, schools and charities
Join your local Chamber of Commerce and Better Business Bureau
Advertise in your local community pages
Engage with local educational institutions such as schools
Most organizations you support are happy to list you as a supporter or donor on their websites. Not all links are equal though; the more authoritative the site is, the more powerful the links to your website will be.
Conclusion
SEO changes very rapidly - you never know when Google will introduce new features on its search engine results.
It is essential to stay on top of dental SEO as best you can in order to improve your website's ranking on search engines.
An effective dental SEO strategy can dramatically improve the reach of your dental practice. It can provide your practice with more visibility, credibility, traffic, better branding, a better reputation, and a higher ROI.
By implementing the action items above, you will ensure that your medical practice ranks high in local searches, making you easily discoverable by potential patients and successfully converting them to actual patients!