Franchise Marketing in 2021: a Comprehensive Guide
Dec 15, 2021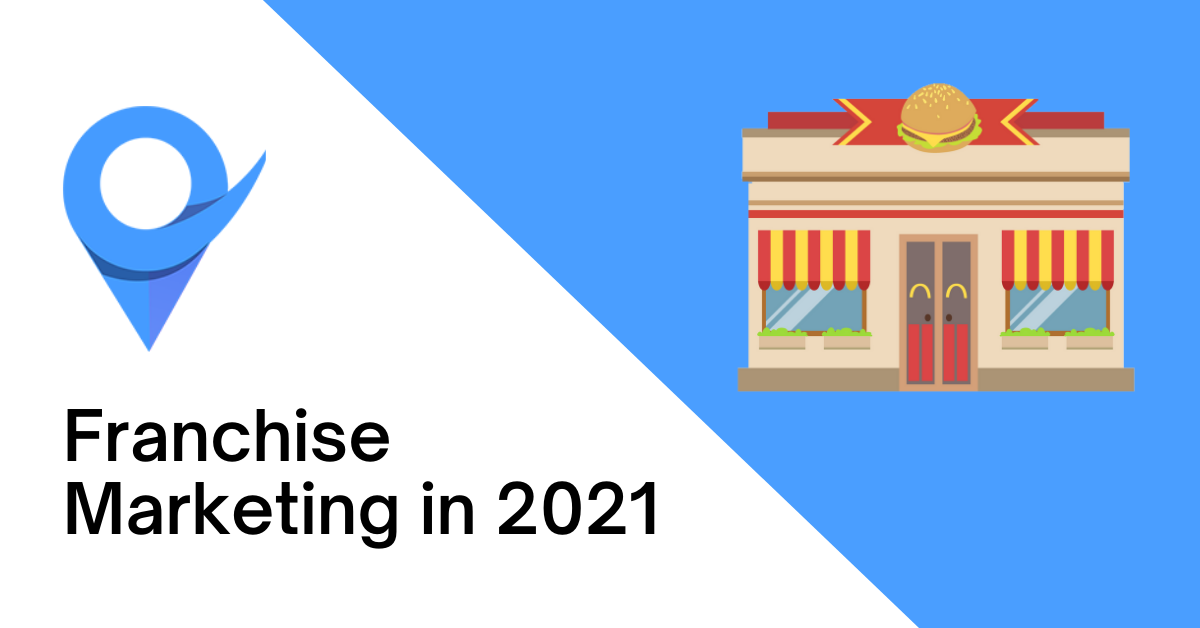 Table of Contents
What is a Franchise? What are the types of franchises?
What are the Advantages of Franchising?
What are the Disadvantages of Franchising?
What is Franchise Marketing?
How to Develop a Franchise Marketing Strategy
Create a Brand Story
Standardize Brand
Use all Digital and Traditional Marketing Channels
Use Location-Specific Targeting
Franchise Marketing Channels
Branding
Website/Content
Local SEO/Franchise SEO
Social Media Marketing
Location-Based Advertising
Pay-per-click Advertising
Email Marketing
Referral/Word of Mouth Marketing
Traditional Marketing Channels
Conclusion
Are you considering buying a franchise? Or perhaps you are a franchise owner looking to increase revenue and profits? Taking part in a franchise - as either a franchisor or franchisee - can be very profitable with a proper understanding of franchise marketing strategies. This article will look at several approaches to franchise marketing, along with helpful tips and guidelines on how to use these strategies to their full potential.
What is a Franchise? What are the types of franchises?
A franchise is a business in which a business owner uses the rights to the resources and branding of a larger brand (including the company's business name, logo, products and other resources) while maintaining some autonomy in running the day-to-day business.
The franchisor is a person or company that grants the license or "rents" the brand to another business or entrepreneur while still retaining ownership of the rights and trademarks of the company.
The franchisee runs the day-to-day business, but must follow the rules and regulations of the franchisor company, sometimes paying them a significant portion of the profits.
The first true franchised restaurant opened in 1869, but the concept wasn't fully developed until the early 1900s. After that, franchising became more common, especially in the food service industry. Today, there are over 200 million franchises worldwide, making up about 10% of all businesses.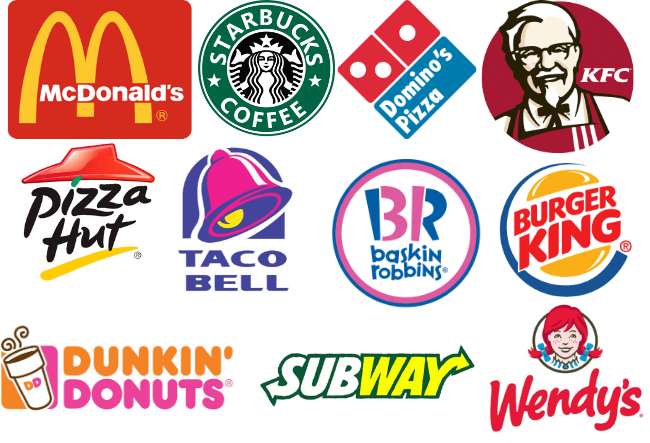 Source: BoyceWire
The most common franchises today include restaurants such as Chick-fil-A, Papa John's, McDonald's, Domino's Pizza, Ford Motor Company, Coca Cola, and more.
Generally, franchising falls into one of three categories:
In traditional or product-distribution franchising, the individual franchisees typically sell products manufactured by the franchisor. This type of franchising can be found in industries such as bottling, gasoline, and automotive, spanning brands such as Coca-Cola, Ford Motor Company, and John Deer.
In Business-format franchising, the franchisor provides training, guidance, and support to the franchisee. Entrepreneurs involved in a business-format franchise are given far more marketing help and support by the franchisor or the corporate franchise as opposed to those using the product distribution (traditional) and social franchising models. Some examples include McDonalds, KFC, Famous Amos, Starbucks Coffee, and Dunkin' Donuts.
In Social Franchising the methods and techniques of business-format franchising are applied to deliver products and services to address the needs of people living in poverty.
What are the Advantages of Franchising?
Why would you take the financial risk of buying into a franchise? Most franchisees find that they have large control over their business while leveraging the brand recognition of the franchisor.
The major advantage is the franchisor support and assistance. The majority of franchises, especially restaurant chains, will provide you with ample help in getting started and learning how to operate your day-to-day business. These franchises provide training, marketing materials, quality control, process flows, and even equipment. If you run into trouble or don't understand how to do something, the franchisor can guide you. Their knowledge is at your disposal!
Another advantage is the ability to leverage brand recognition. While getting your own name and small business off the ground is a lot of work, having a well-recognized brand name like Panera Bread or KFC behind your business from day one can help you get customers through the door. Also, it is easy to generate interest in a business through a proven franchise business model.
In addition to those reasons, there is also a lower chance of failure when opening up a franchise than when opening a small business. Not only do you have the brand name to help generate a customer base, but you also have access to the knowledge base of the franchisor if you need help giving franchises a traditionally smaller failure rate.
What are the Disadvantages of Franchising?
While there are quite a few advantages to opening up a franchise, it isn't without its inherent risks and downsides. The first of these disadvantages is the many regulations that the franchisor can impose upon the business. To promote a degree of uniformity between the franchises, restrictions may be imposed on the location, hours of operation, pricing, products, format, and more. And while this makes sense from a business perspective, it can be frustrating to owners who want more control over these aspects of running their business.
The second disadvantage can be the associated high costs. The franchisee generally needs to cover not only the startup cost, but the ongoing operational costs as well. While the return may be substantial, buying into a franchise can be an expensive investment and a thorough understanding of the costs is necessary.
The startup costs for franchises can vary wildly with the business model and the amount of support and material provided by the franchisor. For example, Chick-fil-A requires only $10,000 to start, while Dunkin' Donuts is $250,000. Additionally, the cost of operating your franchise including royalty fees, advertising, training costs, etc. may require significant investment.
What is Franchise Marketing?
Franchise marketing is any marketing that a franchisor or a franchisee does in order to grow a franchise.
A large percent of franchise professionals feel that traditional marketing channels, (including direct marketing, advertising, and public relations) no longer bring a good return on investment to their franchise businesses. Today, the best way to capture the franchise market is through digital marketing.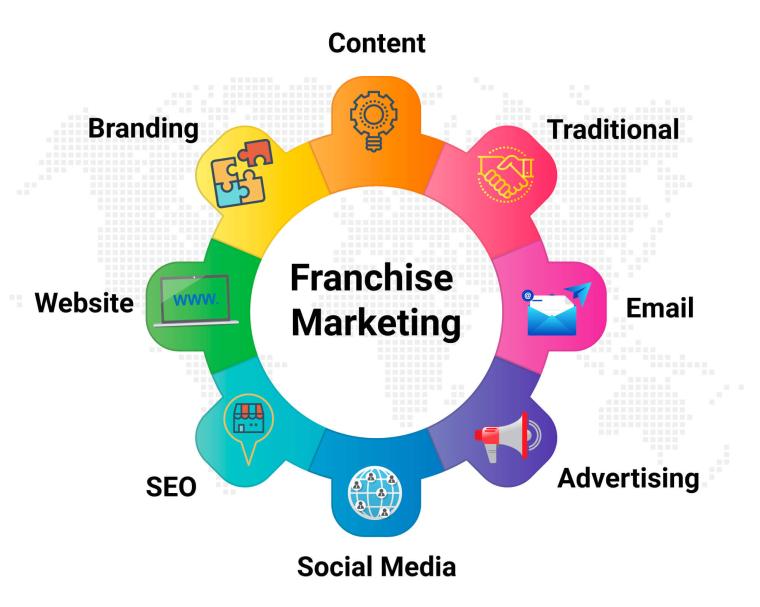 This shift has led industry experts to predict that by 2021 more than half of all franchises will use digital marketing strategies to build brand awareness, attract new customers, and increase revenue.
How to Develop a Franchise Marketing Strategy
Operational franchise marketing is a marketing activity that both the franchisor and their franchisees do to promote the business. Operational marketing looks a lot like standard marketing, with both the franchisor and franchisee utilizing various channels to promote not only the franchise itself, but the specific franchise location within that franchise.
Franchise development marketing is any marketing activity that a franchisor does in order to sell more franchise locations, growing the investment into their brand name.
Here are some important marketing tips used by franchisors in their marketing campaigns for franchise development:
Create a Brand Story
The first step in any franchising campaign is to identify what makes your business unique. This should be done through research and market analysis. Once you've determined what makes your business stand out, you need to create a compelling narrative for your brand.
A brand story is a narrative that tells the history of a company, product, service, or person. The best stories are those that tell a compelling story about the brand's purpose, values, and vision. They also help build empathy for the brand, which makes consumers feel like they know the brand better.
Your brand story should resonate with your target customer, helping them understand the benefits of working with you.
Standardize Brand
A franchise also needs to create a strong brand identity. This should include a logo, tagline, color scheme, and other elements that help define the franchise making it immediately recognizable. Branding also includes developing a unique selling proposition making a product or service stand out from the competitors.
Use all Digital and Traditional Marketing Channels
Social media has become one of the best ways to market a business. The key to using social media effectively is to understand how it works and how to use it to your advantage.
There are many different types of social media platforms, including Facebook, Twitter, LinkedIn, YouTube, Instagram, Pinterest, Google, etc. Each platform has its pros and cons and specific user demographics, so choosing the right platform for your type of business is key.
Use Location-Specific Targeting
Location-based marketing has become increasingly popular for businesses looking to connect with customers. The rise of smartphones and mobile apps has made it easier than ever to track users' locations. This information can be used to send targeted messages to potential customers in a specific location or when they enter a store, restaurant, or other business. These types of marketing campaigns work great for consumer services such as the food industry.
Provide Clear Return on Investment (ROI)
A good marketing plan must prioritize promoting the brand and establishing a market position to deliver consistent and provable ROI to franchisees, who are paying for being part of the franchise.
Franchise Marketing Channels
The internet has become the primary source of information for consumers today. This means that franchisors must be prepared to use the internet as well as all franchise channels available to reach out to potential customers including:
Branding
Website / Content Marketing
Local SEO
Social Media
Location Based
PPC Advertising
Email Marketing
Referral / Word of Mouth
Traditional TV/Radio
They should also consider using other forms of digital marketing such as local SEO, email marketing, PPC (pay-per-click) advertising, SEO, content marketing, geofencing, and more.
The following are some of the most important franchise marketing channels:
Branding
Branding is the sum of peoples' perception of a company's customer service, reputation, messaging, advertisement, and logo. When all of these parts of a business are working together, the overall brand provides employees with direction and motivation, and makes acquiring new customers easier.
For example, Panera Bread has a very cohesive brand. Their logo has an image of a woman holding and offering bread. It gives us a sense of home, well-being, and human connection. (The story behind the logo is fascinating!). The color palette evokes warmth and energy.

Source: Money Inc
Website
A key to franchise development marketing is making sure that the content on your website conveys the value of your franchise.
A website is a great way for you to communicate with current and prospective customers. The best websites are those that provide information and help prospects understand how they can benefit from working with you. If you want to be successful at selling franchises, then you need to create a website that provides useful information and answers questions.
A franchise website should provide visitors with a great user experience and be search engine friendly. The design should be clean, easy to navigate, and include key information about the business.

Also, the site should contain blogs where customers can ask questions and receive answers from the owner. Finally, the website should link to other media such as Facebook, Twitter, YouTube, etc.
The best franchise websites do the following:
Create one main corporate website alongside franchisee webpages
Ensure educational content is available to all franchisees and customers
Use personalization and create a great user experience
Place the contact and other lead generating forms above the fold and remove unnecessary fields
Use a strong call to action and conversion funnels
Use location-based keywords, news stories, or events for local pages
Has location-specific schema to franchise locations
As with any website, relevant content and a great user experience of a franchise website are key factors in high-volume search results.
Local SEO/Franchisee SEO
Search Engine Optimization is a key strategy to increase traffic to a website. Successful SEO is driven by high-quality content that ranks well in search engines as it answers searchers' queries and intent.
Effective SEO strategies for franchisors to support individual franchises include:
Keyword Research
On-page SEO
Off-page SEO
Useful content writing/blogs
Optimizing websites for use experience: Google Core Web vitals
Submitting local franchises to Google Maps, Yelp, Bing Places, and Google My Business
Providing a system for customers to leave reviews for each location
Franchisees should build upon the above strategies and focus on the following local SEO practices in order to improve rankings for their specific franchise location.
Optimizing Google My Business profile
Optimizing Bing Places
Optimizing Yelp Page
Creating citations in local industry-specific directories
Getting constant customer reviews and responding to every review
Establishing backlinks from local websites
Posting regularly on Facebook, GMB and other social media platforms
Sending personalized newsletters to local clients
The following shows the results for a Google local search based on the query "chicken restaurants in Attleboro MA." The better-optimized business displayed first.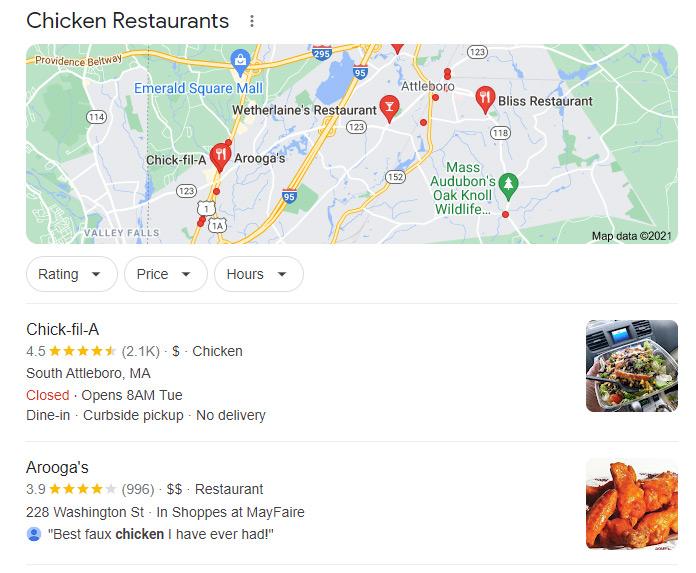 Often, franchisors create a Google My Business (GMB) listing, Facebook page, and other social media pages for the individual franchises. But it falls on the franchisee to strengthen their local SEO and optimize their local listings - particularly Google My Business.
Social Media
Having a strong social media presence is more important than ever for businesses. Sprout Social surveyed consumers and found that 71% were more likely to purchase from a brand after having a positive social media experience.
Franchisors need to ensure that all franchisees receive the training and support they need to manage their social media presence.
Also, social media can be a great indicator of which franchises are doing well and which could use improvement. The franchisor needs to be aware of what is happening at the local level, and provide support to franchisees who may be struggling while ensuring that their brand reputation remains strong.
Poor experience at a local level can impact the entire brand. The research from Sprout Social in the following figure illustrates the consumer reactions to poor brand responses. If a customer has a bad social media experience from one of the franchises, they are 50% more likely to avoid the brand entirely.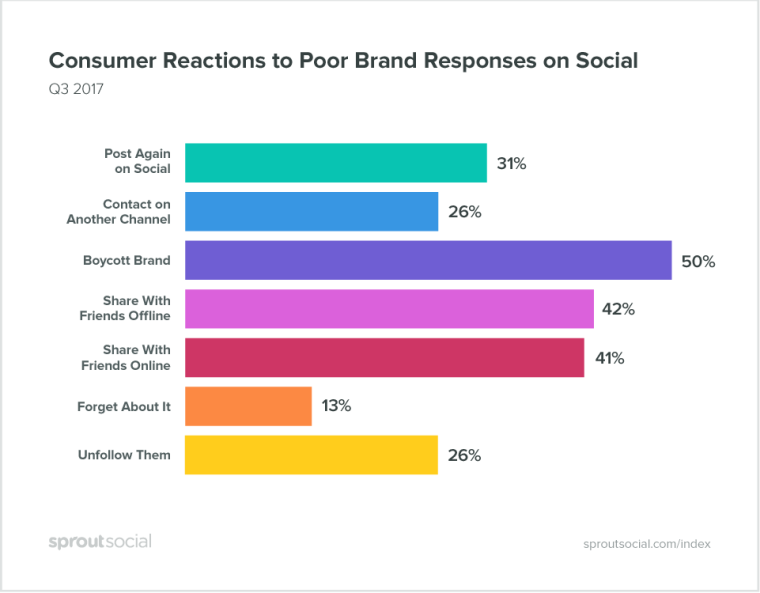 Source: Sprout Social
There are a few differences between how a franchisor and a franchisee can utilize social media marketing. Best practice for franchisor social media marketing includes:
Make sure you have the training, supplies, and general brand uniformity policies in place
Set policies and expectations for appropriate behavior on social media
Create custom templates to guide the franchisees in posting content while maintaining brand consistency
Provide generalized content that is applicable to all locations and is easily adapted to individual franchise locations
Similar to franchisors, franchisees can use social media to reach potential customers. But their specific strategies should be slightly different, and more focused on local customers. Here are some best practices for franchisee social media marketing:
Focus on your local customer base - leave generalized advertising to the franchisor
Post content that is relevant to local customers
Post more often - people lose faith in your business if they see that your content is stale and unresponsive
Respond to each review considerately and in a timely manner
Location-Based Advertising
The most common types of location-based marketing are: geotargeting and geofencing.
Geotargeting allows businesses to target specific audiences based on their geographic locations. This helps them reach out to potential customers who may be interested in what they offer.
Geofencing is a new way for marketers to target consumers based on their physical locations. The technology allows businesses to create virtual "geo-fences" around specific points of interest such as retail stores, restaurants, stadiums, airports, etc.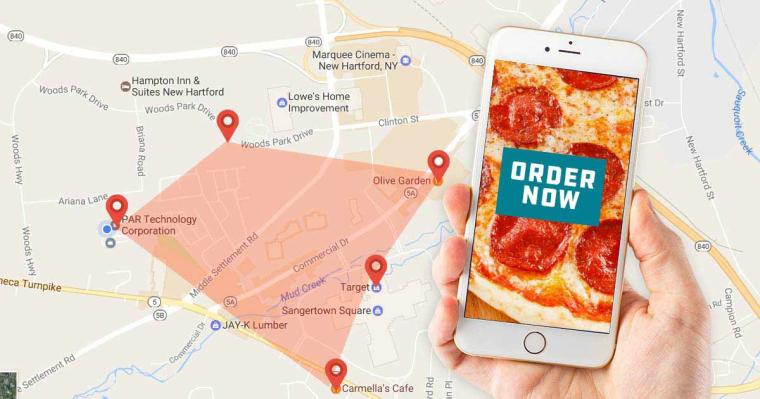 Source: RestoApp
This means that when a consumer enters these areas, they receive targeted ads from brands who want to reach them. A restaurant might message a customer passing by about a discount offer or better yet, sent that offer when customers get close to a competitor's location.
Thumbvista estimates geofence cost in terms of costs-per-impression, with their pricing being about $4-$14 per thousand impressions.
Although it is an additional marketing cost, geofencing is a great way to improve the click-through rate on your ads!
Pay-Per-Click (PPC) Advertising
PPC stands for pay-per-click, a model of digital advertising where businesses pay a fee each time one of their ads is clicked. PPC is a good mechanism for getting your franchise's message out.
PPC advertising uses search engines such as Google or Bing which puts your advertisement at the top of their search results. PPC campaigns are important for generating leads for both franchisors and franchisees, but for different reasons.
Franchisors can utilize PPC advertising not only to advertise their franchises and products, but also to advertise their franchise to those thinking of investing in a franchise.
Franchisees can use PPC ads to heavily market their products or services to those who are using search engines to find their products or services.
Because Google alone reaches almost 90% of internet users, using Google PPC can greatly boost your web traffic. PPC advertising allows you to target specific keywords and phrases that relate to your business, meaning you can reach out to customers who are searching for your specific product or service.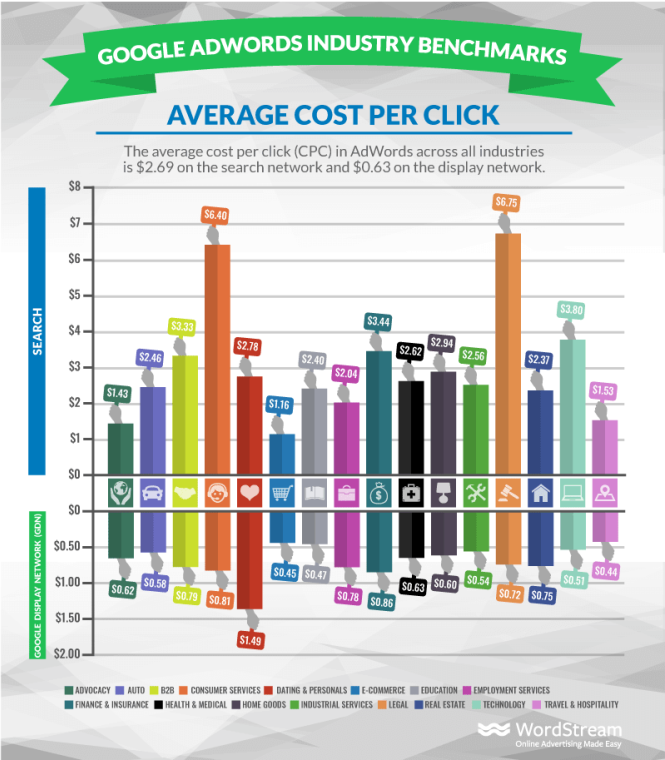 Source: WordStream
Bing is the second largest search engine worldwide, with only 2.47% market share. However, it generated $8.53 billion in search advertising revenue in the 2021 fiscal year.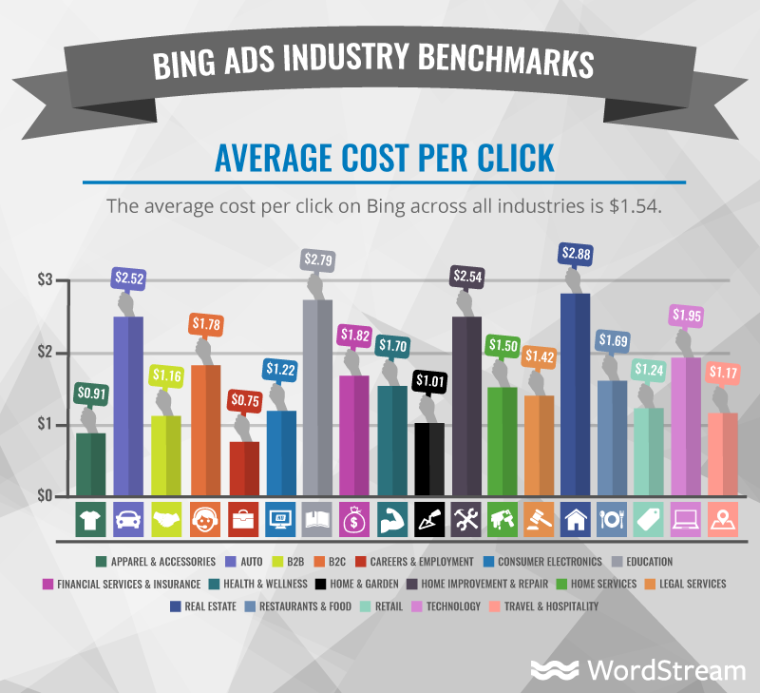 Source: WordStream
The keyword list is crucial for an effective PPC campaign with a high click-through rate. When setting up the campaign, select keywords carefully:
Use targeted keywords – relevant keywords closely related to the products or services you sell. These keywords should be continuously monitored and adapted.
Use related keywords or long-tail keywords. Long-tail keywords are more specific and usually less competitive, and therefore less expensive. For example, instead of using the keyword "pizza" use "pizza made with fresh ingredients" or "gluten-free pizza".
The best part about PPC advertising is that you only pay when someone follows the links to your website. While PPC may be expensive, many local franchises find it worth the investment.
Email Marketing
Email marketing is still the most effective channel available today, and the ROI is consistently higher than other digital channels. In fact, 59% of marketers see the most ROI from email compared to other strategies. Franchise email marketing is one of the most inexpensive ways to reach entrepreneurs who might be interested in buying into your franchise. Here are some email marketing tips for franchisors:
Establish a target audience and make sure your email will reach the right type of entrepreneurs
Craft relevant and engaging email content. If your content doesn't compel your reader to keep clicking, the ROI potential of the email is wasted. Share your brand story using case studies and other content that educates and informs.
Create shareable templates with one short call to action. According to study by Wordstream, a single call to action increased click rates by 371% and sales by 1617%.
Respond to inquiries in a timely manner. According to a report from Franconnect, 85% of the leads that resulted in deals were those that were contacted within the first four hours.
Automate emails. This allows for saving time and costs, better personalization for prospects, and better targeting and segmentation.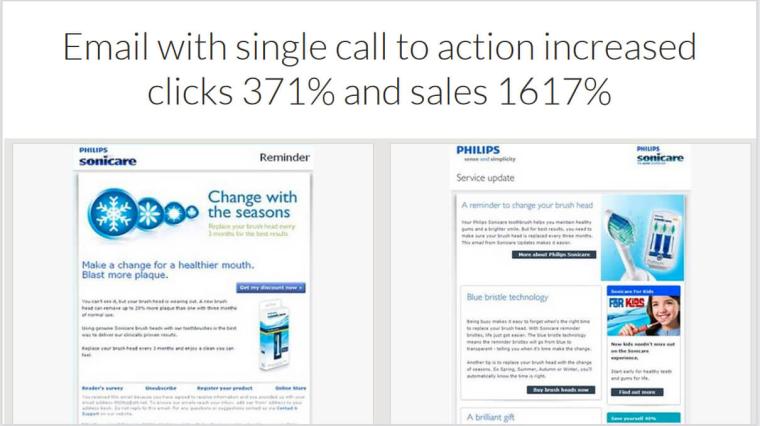 Study by Ellie Mirman, VP of Marketing at Toast.
While franchisors can use email marketing to reach potential franchisees, franchisees can also utilize this tool to reach potential customers. Franchisees need to walk a fine line between keeping the brand integrity and the freedom to personalize and send localized emails.
Here are some email marketing tips for franchisees.
Establish a target audience and make sure your email will resonate with this audience
Create engaging content – include photos or videos, break large text blocks into smaller paragraphs
Define the goal of your email and a well-defined call to action. What would you like your leads to do? Sign up for a coupon? Download a pdf? According to this research, the click rate increased 40 % when a call to action was well defined.
As is true for all marketing strategies, respond to leads in a timely manner, as shorter response times result in a greater number of sales.
Centralize the email system, allowing for each franchisee's contact info to be in one place and also make managing permissions easier.
Referral/Word of Mouth Marketing
Referrals can still play a role in lead generation for small businesses. According to Forbes, "customers referred by an advocate have a 37% higher retention rate" and a higher conversion rate as well. The important things about referrals are they come with a lot of trust and they cost close to nothing. Membership to a social club, a networking group, or a Chamber of Commerce is a small investment but can yield many business leads and sales through networking and word-of-mouth.
Traditional Marketing Channels
Radio and television are still important in franchise marketing for both development and operational franchise marketing strategies. Traditional advertising includes television, radio, bus advertising, newspaper, magazines, and billboards. When combined with digital media, these can be quite effective.
Just like with digital media, it is important to look at your target audience and demographics when advertising in traditional media and tailor your strategy accordingly.
However, in recent years, franchise marketing has evolved to almost 100% to digital marketing. Traditional marketing channels still have their place, but they must be used as part of a comprehensive franchise marketing strategy that also incorporates digital marketing strategies.
Conclusion
Buying into a franchise is one of the best ways to start a business. However, when choosing a franchise, you need to consider whether the franchise is right for you and all steps required to develop a cohesive marketing strategy and online presence for your franchise. Digital marketing is here to stay!
While the focus of franchisors is to promote their brand and expand the number of franchise locations, they should also support and empower the individual franchisees by providing marketing training, guides, and resources.