Guide to Finding the Right GMB Optimization Service
Dec 9, 2021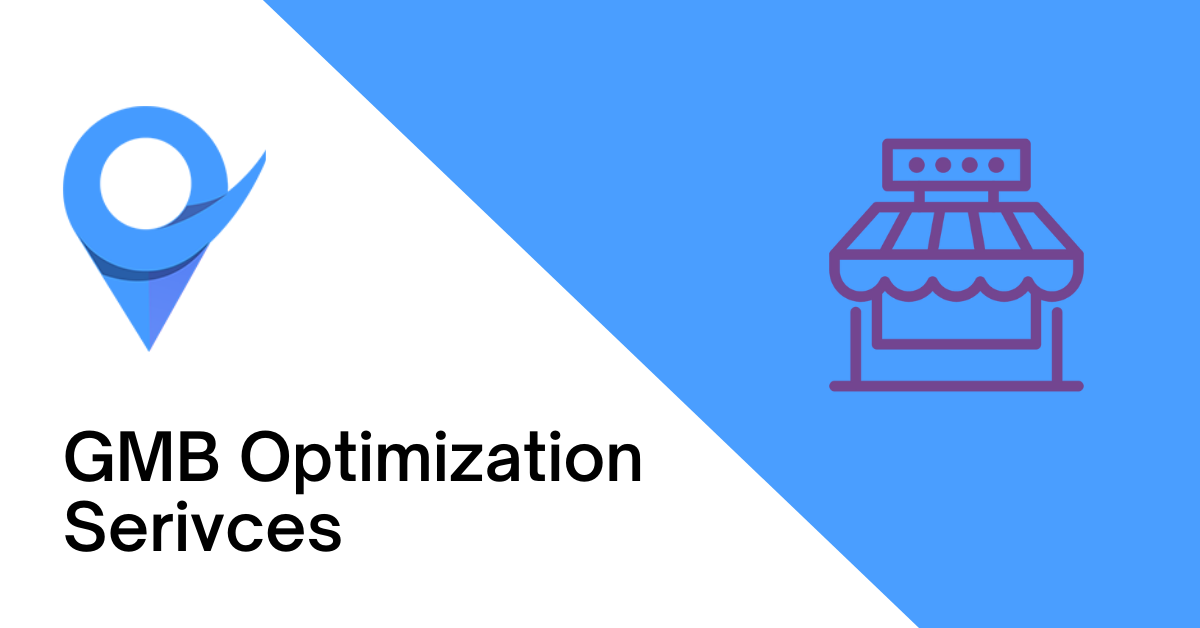 Table of Contents
What is GMB Optimization?
Business Information
Contact Details: NAPW
Ratings & Reviews
Photos
Posts
Insights
What are GMB Optimization Services?
Digital Agencies
Freelancers
GMB Optimization Tools
How can GMB Optimization Services help your business?
How to find the right GMB Optimization Service?
Google My Business (GMB), now simply referred to as Google Business Profiles (GBP), is an important first step for any local business to establish an official presence online. But it's not set and forget, GMB is your business' home on Google and requires continual optimization to rank high in Google Search and Google Maps.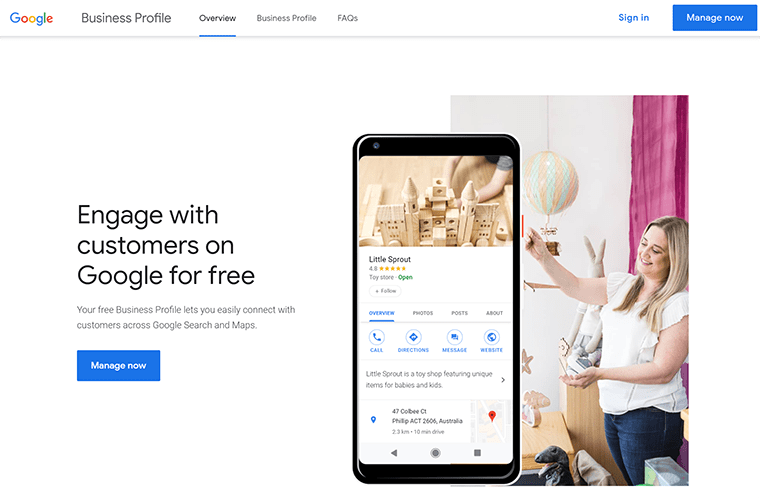 What is GMB Optimization?
GMB Optimization is the process of auditing, analyzing and making strategic updates to your Google My Business Profile in order to rank higher in search results on Google and Google Maps. GMB Optimization is a major component of Local SEO.
As with traditional SEO, GMB Optimization encompasses many individual facets that altogether affect the way a business ranks for local searches. These local searches are typically accompanied with a city name in the search or some other local qualifier like 'near me'.
Any local business can create a new GMB Profile (now known as Google Business Profile) or claim an existing one for free. Think of this profile as somewhat similar to a Facebook Page containing business information, contact details, photos, reviews, promotions and even posts (ie: status updates).
GMB Optimization involves optimizing every single part of a GMB Profile to help a business rank high in local searches.
Business Information
This includes a written description (shown right at the bottom of the screenshot) as well as specific attributes which are variable depending on your Business Category. For example, if you choose "Cafe" as your Business Category, you will have additional fields and attributes relevant to a cafe such as opening hours, menu, reservations & order ahead links, amenities, service options, etc.
Contact Details: Name, Address, Phone, Website (NAPW)
This is the most obvious place to start but you should ensure the business name matches on GMB and on the website and indeed all around the web. So too with address, phone and website URL. It goes without saying that consistency and accuracy with these particular fields is super-important.
Ratings & Reviews
Ratings (star rating) and Reviews (written by customers) are the main trust signal for local businesses on Google. A GMB Profile with more high-rated reviews than competitors will be seen favorably in the eyes of both potential customers and Google. Although it's not always as simple as getting lots of 5-star reviews. Just because you have the highest star rating, doesn't mean you'll appear at the top of local search results. Best practice is to reply to all reviews like in the example below: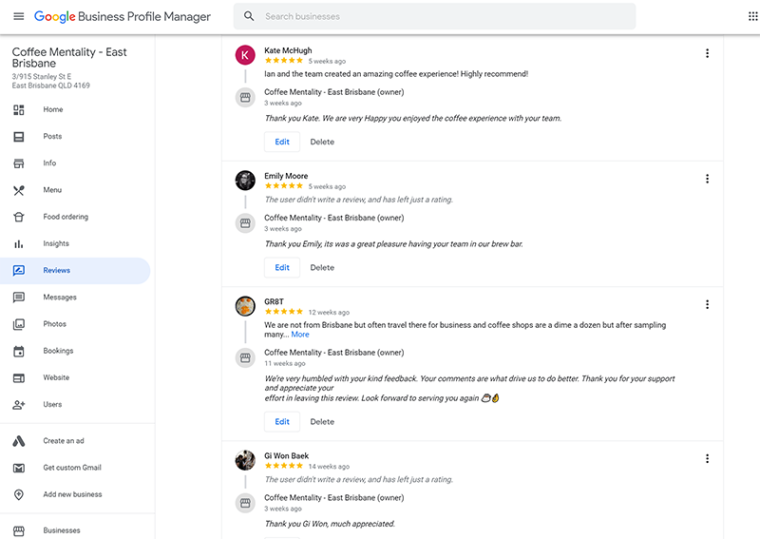 Ratings and Reviews are simply one (albeit important) ranking factor. Google recently updated it's guidance for local businesses to not necessarily worry about negative reviews - in fact a mix of positive and negative reviews can help build credibility rather than wall-to-wall 5-star ratings which may seem dubious, especially if they are left by Google users who tend to leave very few reviews, or worst still 1 review.
Photos
Optimization of photos is more about uploading the most visually interesting and enticing photos to your profile. GMB also allows customers to upload photos to a local business GMB profile (usually as part of the process of leaving a review).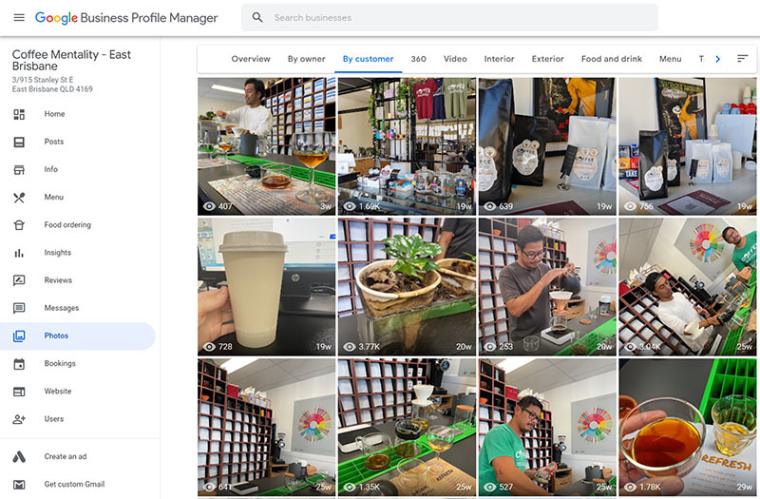 Encouraging customers to take photos during their visit at the business or while interacting with staff is really useful and further helps build trust and credibility. Some businesses optimize for this in-store by incentivizing customers to share photos and reviews on Google in return for a freebie or discount in-store.
Posts
Posts allow local businesses to effectively publish content about a particular product, service or topic, just as they would on Facebook, Instagram or Twitter. Posts are a hangover from the Google+ days but they are actually really useful for businesses to highlight local specials or business updates since they are displayed at the bottom of GMB Profiles in Google's SERP.
Part of GMB Optimization is ensuring that posts are visually interesting, keyword-optimized and that there is a regular cadence of publishing (eg: 2 new posts per month).
Insights
A big part of GMB Optimization is analyzing current performance as a way to baseline and guide goal-setting into the future. GMB provides useful metrics and analytics to help you understand how you're currently performing and what's working best.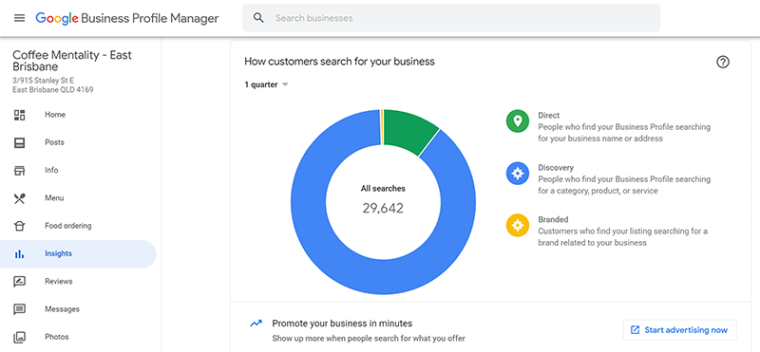 The example above shows that the vast majority of views on this business come from "Discovery" which indicates category / product / service searches as opposed to "Branded" searches which relate to searches for the brand name. Practically, this means that the majority of views are from potential customers looking for a cafe rather than existing customers searching for the cafe name (Coffee Mentality). This shows just how important a role GMB is playing in helping potential customers find this business on Google and Google Maps.
What are GMB Optimization Services?
GMB Optimization Services are mostly offered by digital agencies or specialist SEO agencies. However digital/SEO freelancers and consultants also offer these services as do DIY software solutions such as High Rankings.
Digital Agencies
GMB Optimization Services offered by digital agencies usually start with a Local SEO audit including Google My Business. In this section we'll highlight some GMB optimization service offerings from digital agencies:
Trusted Search Marketing
For example, Trusted Search Marketing in Pennsylvania, United States undertakes a GMB Audit as part of their Local SEO process: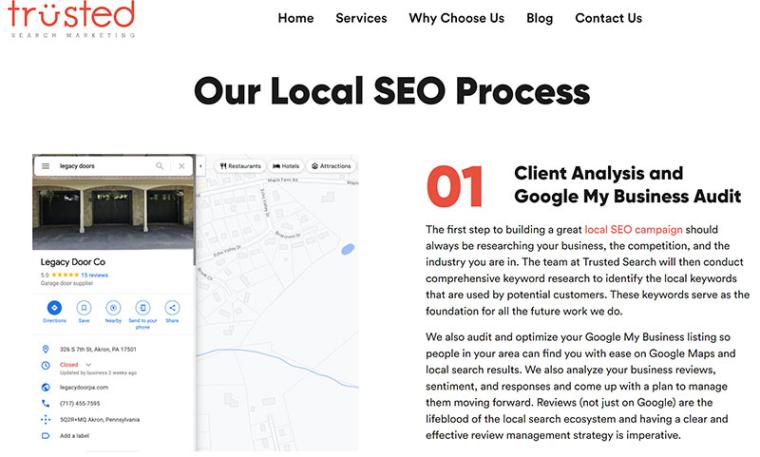 Oliver Feakins is the President and CEO of Trusted Search Marketing and says:
"We audit and optimize your Google My Business listing so people in your area can find you with ease on Google Maps and local search results."
According to Oliver and his team, GMB is by far the most important online directory for local businesses. It allows customers to find local businesses and for those businesses to tell their story. Customers can leave ratings, reviews, and images on GMB profiles. Think of GMB as a more modern and personalized version of Yelp!
Many digital agencies work on a retainer basis which includes a monthly charge and set amount of work / deliverables each month. This is a viable option if you would benefit from ongoing GMB optimization - for example: GMB post creation & scheduling, responding to reviews, responding to messages and any other ongoing profile maintenance.
Clickmatix
Clickmatix is an Australian digital agency who also specialize in Local SEO. Their process also includes a Local SEO audit and covers Google My Business as part of their Local SEO Strategy and Optimization phases: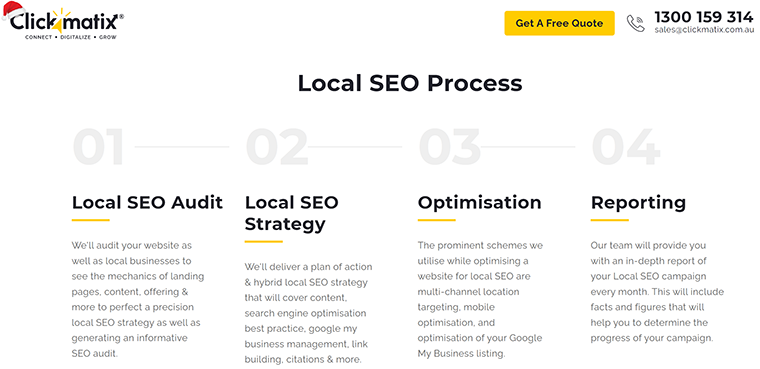 All Points Digital
All Points Digital is a New England-based digital marketing agency who among other services, specialize in local SEO and GMB optimization. Aside from GMB, Joel Whipple, their Account Director says:
"We believe on-page SEO content makes a huge difference in targeting organic impressions in a company's geography. For example, we highly recommend adding custom town pages to a site."
For local businesses with multiple locations, these separate locations should be set up in GMB too, as they would be on the company's website.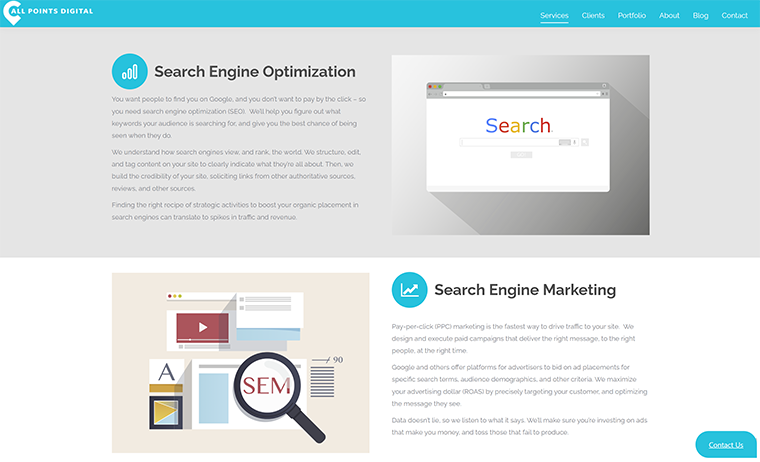 The interesting aspect to what All Points Digital offer is their pay-per-lead model whereby businesses who generally need high quality leads from their website, can pay per lead rather than the burden and risk of a big up-front cost. Joel says this approach aligns the agency's interest with the business as they are incentivized to generate quality leads for the business - it's a win-win.
Edge of the Web
Edge of the Web is a digital agency in the United Kingdom who offer a range of digital marketing services to local businesses. Sam Orchard is the Creative Director of the agency and says:
"Every business we work with is different, so we'll always put together a bespoke local SEO package to meet their needs. One client we've done this for is local blinds fitters, Leamington Blinds. Their local SEO campaign included Google My Business optimisation, local citation building and an aggressive content marketing strategy."
Thanks to their GMB optimization tactics, Sam said in 12 months, the blinds company had an almost 1,500% increase in traffic coming from Google My Business. This kind of growth proves the absolute value of GMB and should make business owners aware of just how much of a priority it is to optimize and invest in, if they aren't doing so already.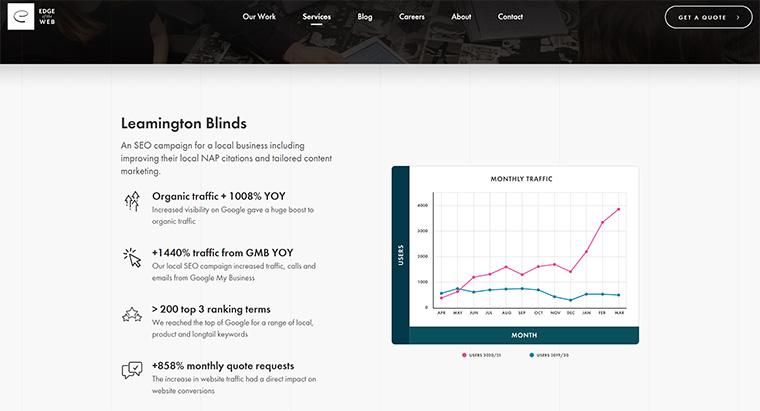 Freelancers
Talent marketplaces like Upwork enable you to find GMB Optimization freelancers. In the example below, you can find several Local SEO freelancers in the United States who specialize in providing GMB audits: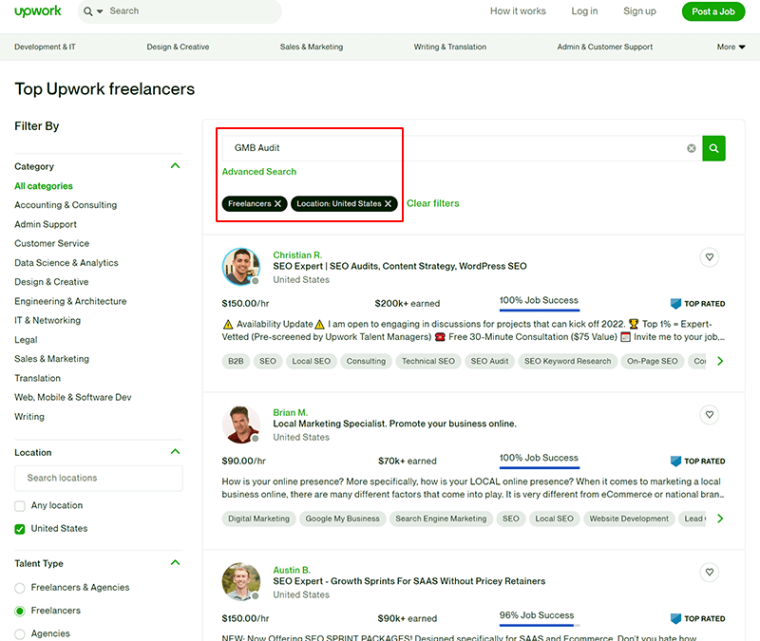 Freelancers typically charge per hour as seen in their profile above or can charge a project fee based on your scope of work.
Depending on your city, you may be able to find local freelancers through a quick LinkedIn search too. Engaging someone with local experience who understands the local demographics could be a great option rather than working with someone remotely.
GMB Optimization Tools
Tools like Local Ranking can help businesses audit their own GMB Profile to ensure it is complete and optimized. We've seen above that digital agencies typically begin with a GMB audit which is something that High Rankings can provide straight out of the box.
How can GMB Optimization Services help your business?
If you're still unsure about the value of GMB optimization, think about the opportunity for your business to appear in local searches. To help you really visualize this, consider a geo-grid search like this one:
Your business might appear high in Google Maps results on your block or neighboring blocks, but what about further away? If you want to attract customers from all around your city or state - you might be missing out on valuable customers who simply don't have the opportunity to discover your business because you aren't ranking high enough. Without GMB Optimization services provided by digital agencies or freelancers, you'll have to manage the optimization of your GMB profile yourself with local SEO tools like Local Ranking.
How to find the right GMB Optimization Service?
There are many service providers of GMB optimization - the question to ask yourself is what (if any) do you want to do yourself and what do you want to outsource to a third-party provider? If this question is a bit difficult to answer, don't worry. A good place to start is with a GMB audit from a digital agency or freelancer. This is a low-cost way to gather data and collaboratively decide what needs to be done based on what the overall goal is.
Local businesses tend to work with third-party service providers in a more long-term relationship. GMB can be a big part of the puzzle but agencies can deliver so much more including other aspects of local SEO, content production, website updates and maintenance and other digital marketing initiatives. GMB optimization is a really good first step but it should be seen as more of a gateway that can help expand the exposure and awareness of the business in market.
If you've decided you need to engage a third-party, consider the following tips to help you decide on the right GMB optimization service for your business:
1. Cost
Deciding on a budget and what you're willing to spend can be difficult, especially if you've never worked with a third-party before. Ensure you get multiple quotes and speak to several freelancers and/or digital agencies in your area to understand the 'market rate' for services because this can vary widely depending on where you are in the world.
2. Experience
Digital agencies can talk a good game, but the real way to judge whether they will be effective is to look at their previous work. The beauty of GMB optimization is that you can see the results for yourself by doing some quick research on agency clients. If you've shortlisted an agency or freelancer, search for their clients and check their respective GMB profiles. How high do they rank? Are the photos visually enticing? Are there regular GMB posts? Are there recent reviews and has the business commented on those reviews? You can quickly get a good sense of how optimized their client GMB profiles are yourself. Then look for reviews of the agency themselves on agency review sites like Clutch or GoodFirms.
3. Project or retainer
Agencies typically prefer to work with clients on a monthly retainer basis. This means you pay a fixed monthly cost (like a subscription) for agreed-upon monthly services. From a client perspective, the really big question to ask yourself is whether you need ongoing GMB optimization services or not. If the answer to this is 'yes', deciding what can be done in-house and what needs to be outsourced is the next question. If you don't need monthly services, you're likely looking at a project which involves a group of tasks with a set start and end date and a fixed or hourly/daily budget. There really is no right or wrong approach here. Just be mindful of your budget, what you want to get out of the work and what the tangible result is for your business.
4. Culture fit
Although the term 'culture fit' sounds more like a tip for big business - it can certainly apply on a small/local scale. What we mean is really, do you get along well with the other person? Sometimes people can come across well in terms of their knowledge and experience however something else feels off. If you're not 100% comfortable with the person or people you meet, you should not be doing business with them. Engaging a freelancer or agency can be a potentially long-term endeavor so it's important to work with people who you like and respect.
5. Security of your profiles
You should think of your GMB profile like your website. It's extremely valuable and the success of your local business to reach new potential customers relies on it. With that in mind, you should ensure that you own your GMB profile. If you don't know who owns your GMB profile, it's probably not you. This is a huge problem because some agencies create or claim GMB profiles on behalf of their clients which technically means the agency owns the profile, which as you can imagine, is great for the agency because they maintain the ultimate 'keys to the account' but not good for the client.
So make sure your Gmail/Google account owns your GMB profile. Furthermore, ensure you've activated 2-Step Verification on your Google account. Also make sure that everyone you add to access your GMB profile has also activated 2-Step Verification.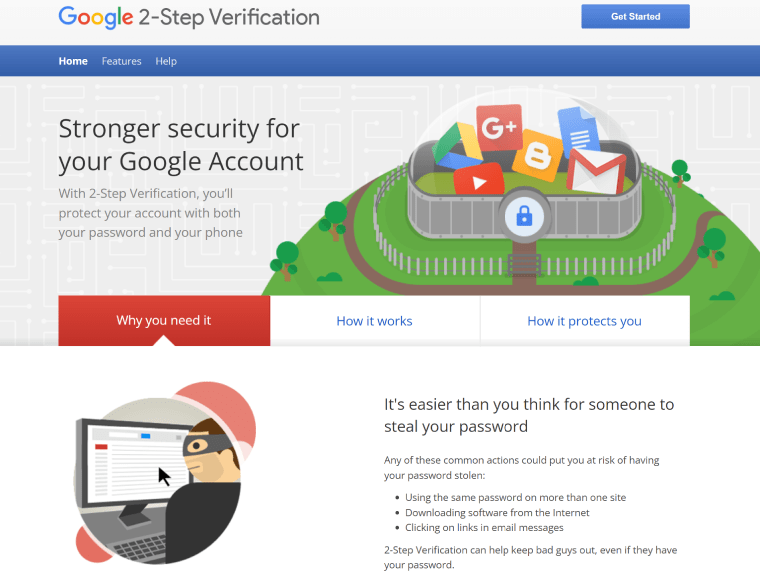 Next Steps
We hope you enjoyed this guide to GMB optimization services! Once a business starts investing in local SEO, it's super important to understand the tangible value derived from it. Without this, reinvesting month after month might become a challenge. If you decide to bring these tasks "in-house" or do it yourself, think about the time commitment required to do it effectively and whether you or your team realistically have the capacity to do this. If not, starting off small by engaging a freelancer might be a viable way you can begin optimizing your local SEO strategy, starting with GMB optimization.