Google Review Not Showing Up? Here Are The Reasons Why
Nov 26, 2021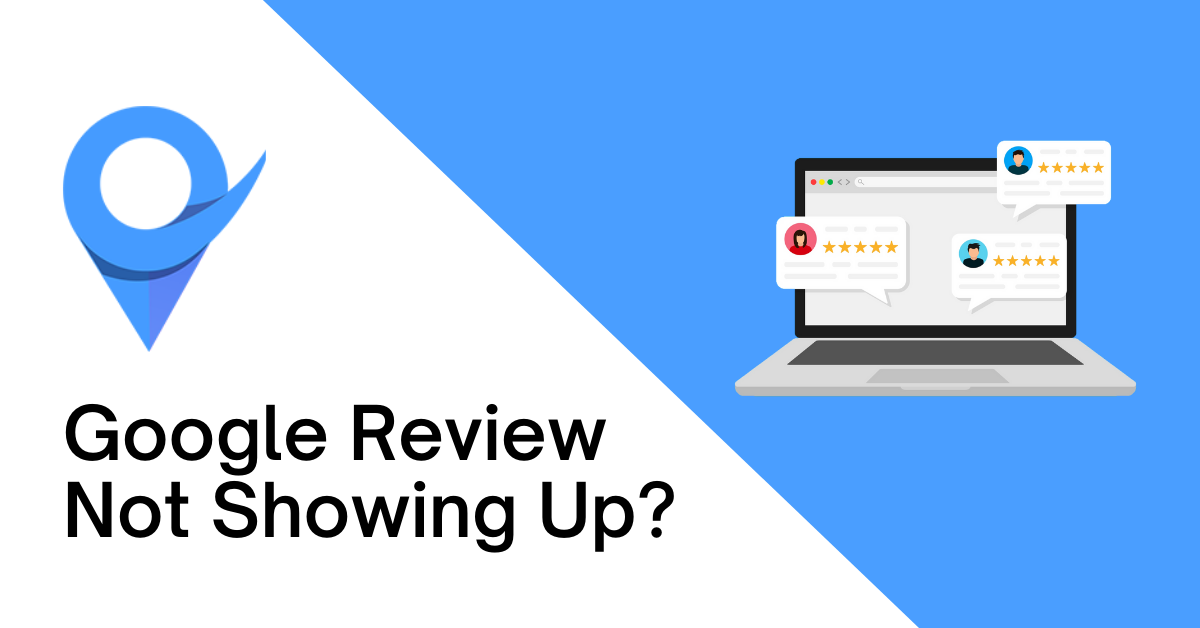 Table of Contents
Importance of Google reviews
Reasons why Google reviews may not show up
Google Bugs
Duplicate listings
Employee reviews
Google disabled reviews
Spam reviews and fake content
New listings
Inactive listings
Review format
Photos and videos
Text reviews and captions
Events
Inaccurate listing information
How long does it take for Google reviews to show up?
Conclusion
As a local business owner, you want to do everything in your power to ensure that web users click on your Google listing when searching for terms related to your business.
One of the ways to increase the odds of this is by ensuring that there are authentic customer reviews on your GMB listing.
So what should you do when you notice that some of your Google reviews aren't showing up?
In this article, we will share some of the most common reasons why your Google business reviews aren't showing up on your GMB listing.
Importance of Google reviews
Google reviews are an essential piece of social proof that you can leverage to get more customers through the door.
Before a customer decides on visiting a business or buying their products, he/she usually checks Google, Facebook, Yelp, or any other online platform for reviews from previous customers.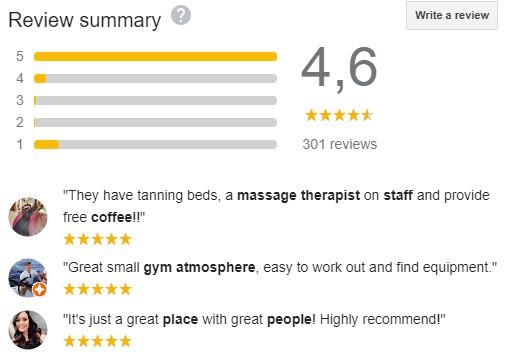 According to a survey done by ReviewTrackers, 94% of consumers said that a negative review convinced them to avoid a business.
Podium also conducted a survey which revealed the following data:
Nearly 88% of consumers have read reviews to form an opinion on the quality of a local business
72% of customers said that a positive Google review make them trust a business more
Not convinced of the power of Google reviews yet? Here are some more reasons that justify the importance of Google reviews:
Google reviews can be used in marketing as customer testimonials.
Google reviews give you insights on how to improve your products or services from a customer's perspective.
Google reviews have an impact on your local SEO rankings.
Adds credibility to your business without having to spend money on advertising.
Knowing all of this, do you see why it's important to make sure that your Google reviews are showing up?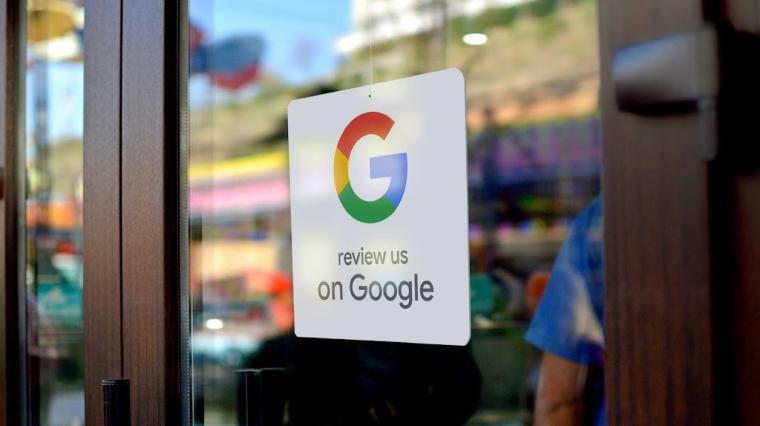 Image source: MJA Digital
Reasons why Google reviews may not show up
There are several reasons why your Google reviews aren't visible on your GMB listing profile.
Most of the time reviews don't show up because of a violation of Google's review policy. This statement in itself is very broad since Google's review policy has a lot of criteria for qualifying and disqualifying reviews.
So then, let's discuss some of the reasons why your Google reviews aren't showing up.
Google Bugs
As much as we love Google, even they can experience technical errors and bugs.
In fact, there have been reports of 3 common bugs that many business owners have experienced since June 2021.
Bug 1: Legitimate reviews not showing up
There have been reports of local business owners experiencing problems with authentic and legitimate reviews not showing up.
This may be because of a recent spam algorithm update that examines the authenticity and accuracy of a review.
If you notice that authentic customer reviews are not showing up on Google, then you should do the following:
Gather as much evidence that new customer reviews are not publicly visible on your GMB profile. This means getting screenshots of reviews that aren't displaying.
Contact Google support about your missing reviews with all of the evidence that you found.
Bug 2: Logo and cover photo not uploading
The second bug that many listing owners have encountered since June 2021 is the 80% bug.
It basically keeps sending listing owners a message that they need to complete their profile by uploading a logo and cover photo.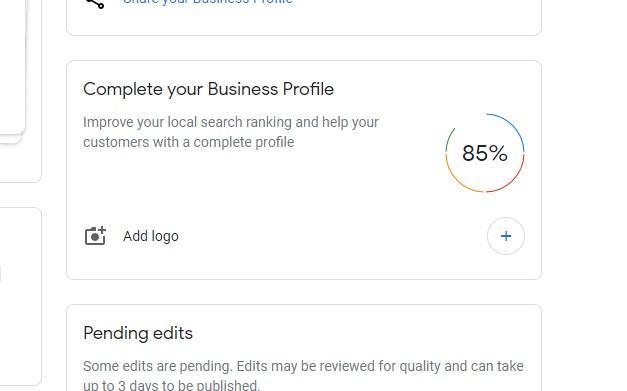 If you've recently created a new GMB profile then you may be experiencing this issue.
Unfortunately, there is no fix for this bug at the moment and Google has deemed it a low-priority issue.
Bug 3: Kansas bug
For some time now, local business owners have reported that their business is randomly ranking in Kansas and Saskatchewan.
If you're experiencing this, you should report it to GMB support. Remember to attach evidence in the form of a screenshot of where your business is ranking in Kansas or any other areas that are not close to your actual business address.
Duplicate listings
If you notice that some of your reviews aren't visible on your GMB listing, make sure that you don't have any duplicate listings.
It may be that a customer left a review on the duplicate listing instead of on the profile that accurately represents your business.
This can result in reviews not showing up on your Google My Business listing.
You can check if you've got any duplicate listings by searching for the exact name and location of your business in Google Maps.
If you discover that a duplicate listing of your business exists, then you've got to delete it immediately. You can do this by reporting it to Google or by removing it through your GMB dashboard.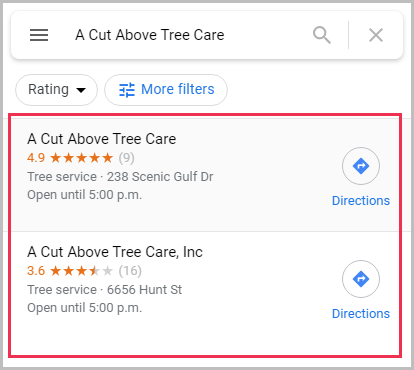 Employee reviews
Google is really good at figuring things out and finding reviews that violate its policies.
Google will know if one of your employees leaves a review with the hopes of creating a false impression of what the customer experience is at your business.
Remember, Google reviews should reflect a customer's genuine experience and should not be posted to try to manipulate ratings.
Google disabled reviews
Sometimes your Google reviews may not show up because of an issue at Google.
For example, Google experienced staff shortages during the beginning phases of the Covid-19 outbreak.
This temporary reduction in staff resulted in Google not supporting reviews and other GMB features for a few months.
Google has also experienced outages which have resulted in reviews not showing up for some listings.
Whatever the case, you shouldn't stop asking for customer reviews during these uncommon occurrences.
Even though Google may be down for a temporary period, all the reviews left by customers during the "down-time" will be made visible whenever Google has the capabilities to do so.
Spam reviews and fake content
Google's entire mission is to create a safe and accessible web for everyone.
Spam listings stand in the way of this mission statement. Therefore, Google is very aggressive in flagging spam reviews since it degrades the quality of its platform.
The following types of reviews can get flagged as spam:
reviews that don't accurately reflect a customer's genuine experience
fake content
reviews containing the same content that has been posted multiple times
same reviews that have been posted from multiple accounts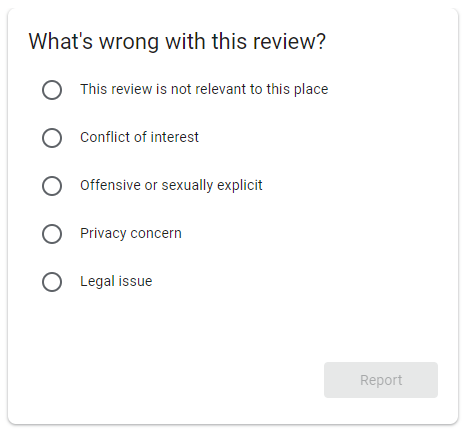 Furthermore, Google won't show reviews that are off-topic.
According to Google, "Maps is not meant to be a forum for general political, social commentary, or personal rants. Content that does not meet this standard will be removed."
So the key to preventing reviews from getting marked as spam is to only ask for reviews from customers who've been to your location before.
Yes, that means don't ask your grandma or any friends to review your business just for the sake of getting reviews, except of course if they've actually supported your local business before.
New listings
New Google My Business listings have to get 5 genuine reviews before Google will start making their reviews visible to the public.
So if you've got a new business and you're wondering "Why is my Google review not showing up?", it may be because you don't have enough reviews yet.
That's why it's important to have a strategy in place for asking for customer reviews.
Inactive listings
If you, as the business owner, don't log in to your GMB dashboard for 6 months, then Google may mark your listing as "unverified".
Without verification status, your reviews won't show up on Google, so make sure that you regularly log in to your dashboard, reply to reviews, add photos and post updates about your business with Google Posts.
Review format
Google may also remove reviews that don't comply with its review format criteria.
Google breaks down its review format criteria into 3 parts:
Photos and videos
Text reviews and captions
Events
Photos and videos
Google has some specific criteria regarding the photos and videos that a customer uploads in his or her review.
For example, Google won't approve a review that contains stock imagery taken by other parties. Photos or videos must be taken and uploaded by users at the business location in question.
The use of filters that directly prohibit an accurate representation of the business is a violation of Google's review policy.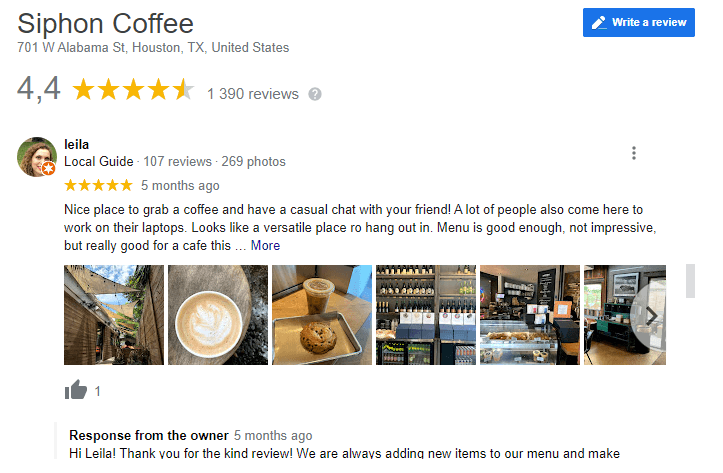 Text reviews and captions
Google will reject reviews that contain text which promotes or advertises any business or service.
This includes the adding of links to any social media profiles or other websites.
Additionally, reviews that contain offensive and profane language will not be visible on your GMB listing.
Events
Google will reject reviews that contain promotional language of events such as Black Friday, clearance sales, etc.
Examples include: buy here, $10 discount, 30% off, buy 1 get 2, etc.
Inaccurate listing information
Inaccurate listing information can not only have a negative impact on your local SEO rankings, but it can also reduce the number of reviews you get from customers.
This is a problem that is easy to fix. Just simply log in to your GMB dashboard and edit all the applicable fields under the "Info" section.
How long does it take for Google reviews to show up?
Some business owners may see reviews almost immediately after they are posted by customers.
However, that may not always be the case, especially when you've got a newly created Google My Business listing.
The general advice available seems to suggest that Google reviews may take anywhere from 2 to 7 business days to show up.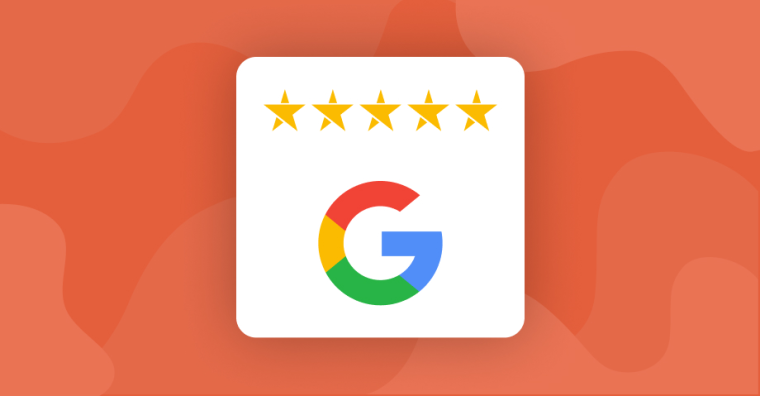 Image source: EmbedSocial
Conclusion
If you notice Google reviews not showing up on your GMB profile then you shouldn't panic. You are not alone and many businesses have encountered the same issues before and many more will encounter these problems in the future.
You should do everything in your power to ensure that Google reviews don't get blocked from being approved by Google.
Here are some things that you can do to prevent Google reviews not showing up:
make sure that you are active on your GMB profile
only request reviews from people that have purchased your products and services and who've visited your premises before
don't ask staff and employees to review your business
make sure your listing information is up to date
check for duplicate GMB listings and remove them
That being said, even if you notice that reviews aren't publicly visible, you should still have a strategy in place to get reviews from new customers on an ongoing basis.
As we discussed earlier, reviews are a major factor in attracting more customers to your local business.