Google Snack Pack: What is it? And how do you Rank 1st?
Dec 29, 2021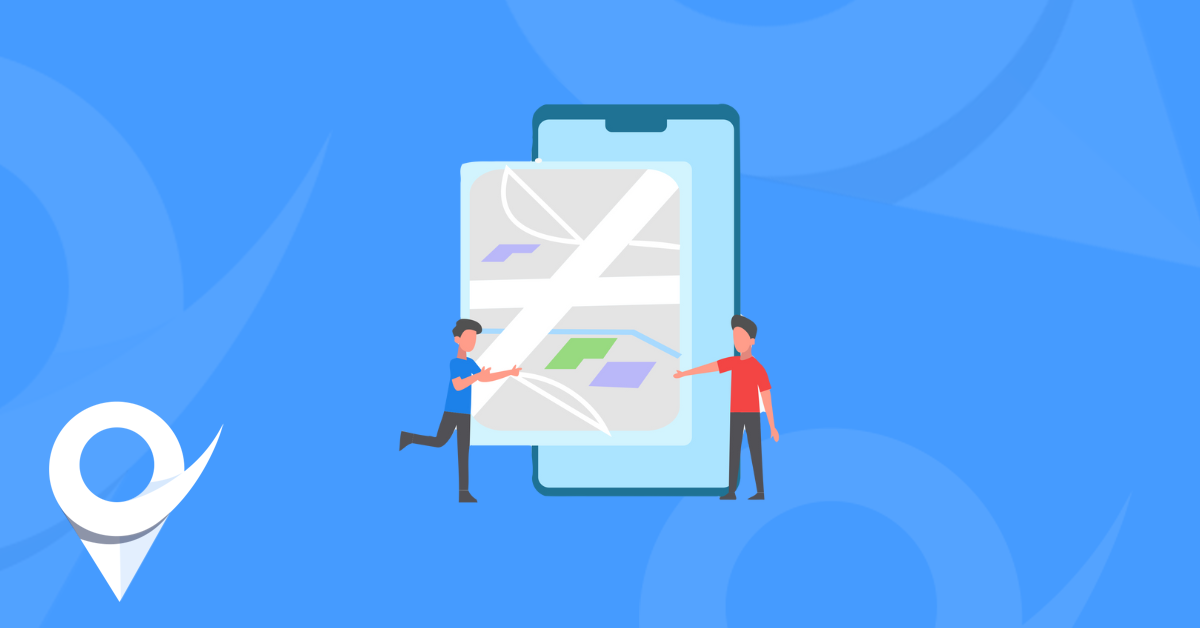 Table of Contents
What is the Google Snack Pack?
What are Local Justifications in the Snack Pack?
How to Dominate the Local Google Snack Pack?
Step 1: Claim or Optimize Your GMB Listing
Step 2: Get Genuine Customer Reviews
Step 3: Optimize your Website for Local Search
Step 4: Acquire Good Links and Remove Bad Ones
Conclusion
Marketing a local business is a lot of work. Google, the top search engine in the world employs so many different methods in ranking websites: organic search results, paid advertisements, and most importantly the Google Local Pack also known as the Google Snack Pack.
The Google Snack Pack appears in 93% of searches with local intent. So, it is important to do everything you can to improve your Local Search Engine Optimization or Local SEO.
Local SEO helps businesses advertise their products and services to local customers based on geography. Signals such as local content, social profile pages, links, and citations (listings with local directories) assist search engines in gathering information and give the most reliable results to each user.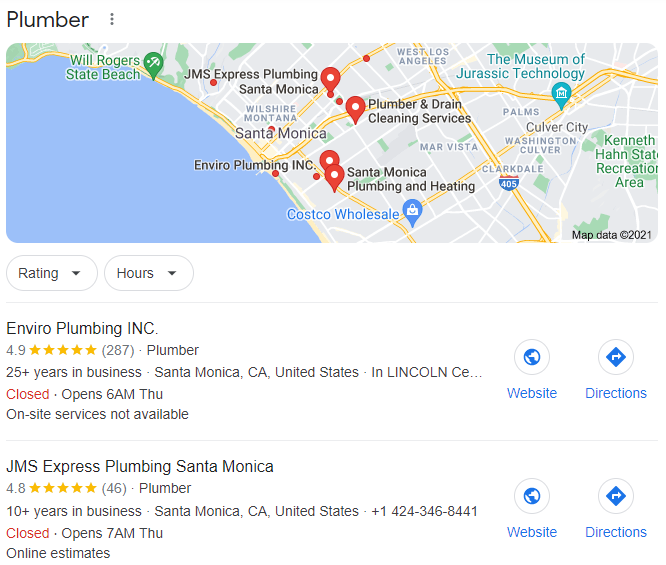 What is the Google Snack Pack?
The Google Snack Pack is the result of the top three local businesses that appear in response to searches for products or services provided by local businesses.
The Snack Pack hasn't always had three items, however.
In 2006, Google rolled out a feature called the "plus box" or the "one box", which allowed users to see a map of local businesses in their search results. As time passed though, it was clear that Google wasn't finished fine-tuning this feature.
Then in 2008, Google released what was known as the Google Local 10 pack, which displayed 10 businesses whenever you were searching for information or keywords on a specific topic. It also displayed the website and phone number of these businesses, as well as easy-to-access reviews.
Just as business owners were adjusting to the 10 pack, Google changed the algorithm again - this time cutting down the number to 7 instead of 10 - making each spot on the list more valuable. Not only did they shorten the list, but the amount of information given within the 7 pack is expanded, now including relevant links, a description, and other information.
And this wasn't the last time that Google changed up their game. In 2015, Google unveiled what we now know as the Snack Pack or the Local 3-Pack.
From 10 to 7, and now to 3, Google has continued to make the spots that local businesses compete for more and more scarce, while their algorithm for earning one of these slots becomes increasingly more complex.
Here is the information displayed in the Google snack pack for the following query "restaurants in Boston MA":
Directory tabs (New)
Business name
Google review star rating
Number of reviews
Type of dining in terms of $$
Address
Hours of operation
Service options: Dine-in, Delivery, Takeout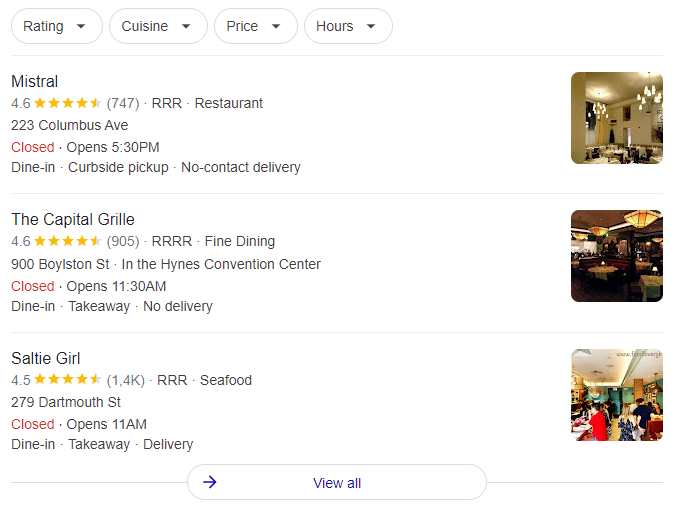 When you click on the listing, the box expands to show the following information – this feature was highly expanded in the last couple of years:
Website
Phone
Google Maps directions
Reservations and ordering
Landmark near location
Business images
Health and safety
Questions & answers
Popular times (New)
Amount of time spent
Review summary
Detailed reviews
Images
The following images show some of the information in the Google Maps for a restaurant: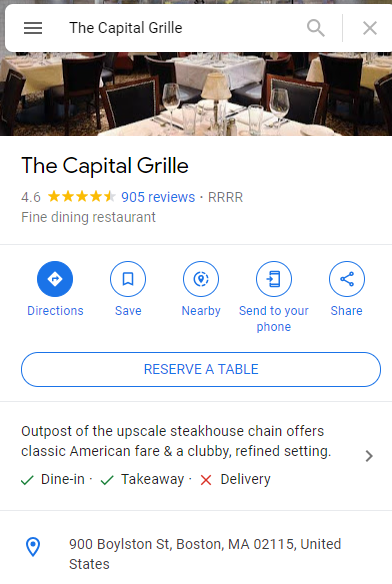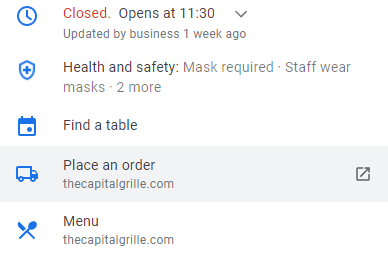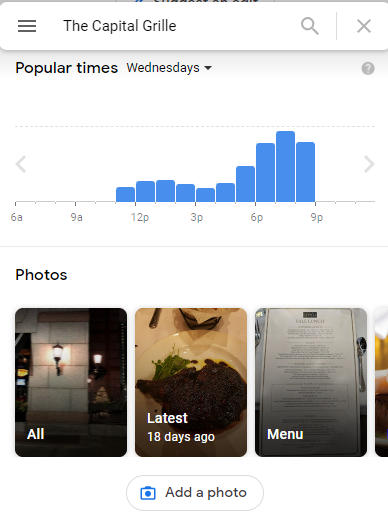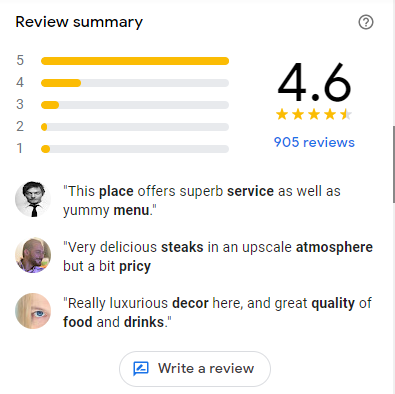 The amount of information Google gathers for the local pack is overwhelming! The Newest Google Maps features as a continued effort to improve the local shopping experience include:
Popular times - shows busy times
Directory Tab - shows which stores are in a building
Grocery shopping - allows customers to order groceries for pickup
More information on restaurants - shows price ranges, and amenities: outdoor seating, delivery, curbside pickup
What are Local Justifications in the Snack Pack?
Features overlooked by many digital marketers are Google justifications. The justifications are extra snippets of text that Google displays on GMB listings in the local pack, and also on Google Maps. They are used to signal users of features that matched their intent when searching. These could be found in Google posts, reviews, menus and websites.
Here is an example of local pack justification when searching for "vegetarian dishes Boston":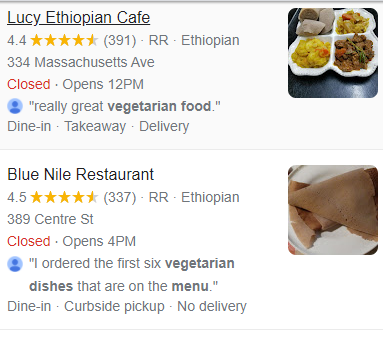 Here is an example of a review justification when searching for the same phrase "vegetarian dishes Boston":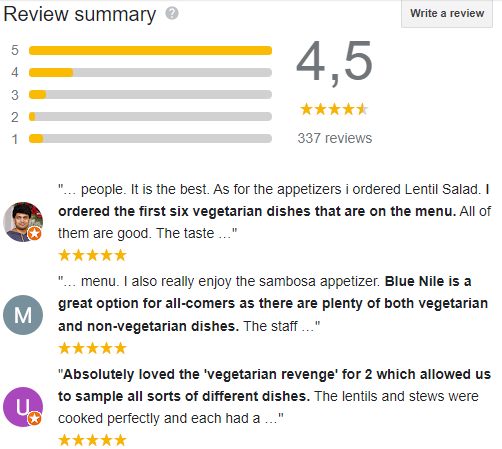 Although they are not ranking factors per se, the snippets and attributes displayed through local justifications may be that one little factor that influences a potential client to reach out to you instead of a competitor.
How to Dominate the Local Google Snack Pack?
As mentioned before, Google My Business, reviews, on-page optimization for local SEO, and local links are the top four Local SEO techniques in helping your business come up first in the Google Snack Pack.
Here is a comprehensive list:
Google My Business
Reviews
On-page
Links
Behavioral
Citations
Personalization
Social Media
This study from Whitespark shows the top importance of the Google My Business ranking signals and their importance in showing up in the Google Snack Pack.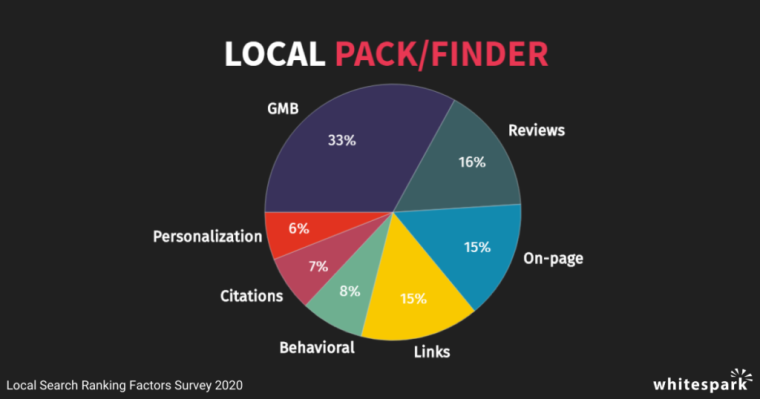 As you can see Google My Business (GMB) gives the strongest ranking signals for the local pack by far at 33%. The importance of these factors has changed over time the priority being placed on GMB.
The most important changes are the growth of GMB and reviews, and the decline of citations. The on-page and links signals stay about the same and account for about 15% of the Google Snack pack ranking factors.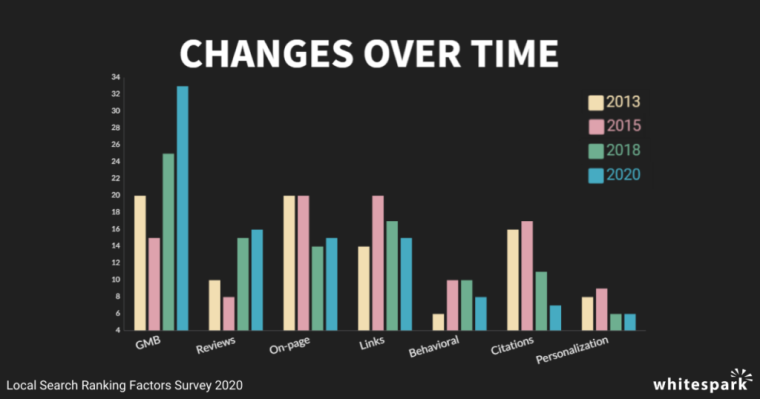 We will discuss in more detail the most important four steps you can take to achieve the best possible results in the Snack Pack through effective Local Search Engine Optimization (Local SEO) techniques.
Step 1: Claim or Optimize Your Listing on Google My Business
It is of the utmost importance to claim and optimize your GMB listing or now known as Google Business Profile.
The GMB-specific most important local ranking factors include:
Primary GMB category
Keywords in GMB business title
The proximity of address of the point of search
Physical address in the city of search
Additional GMB category
Removal of spam listings
Completeness of GMB listing
The primary GMB category is the most important factor, so make sure the business category is correct and best describes your business.
Keywords in business titles are the second import ranking factor. However, this has to reflect the actual business name. Stuffing keywords in the business title might result in your business listing being suspended by Google.
The proximity of the address of the point of search is the third factor. A business generally could only rank in about 10 miles of the business's physical location.
Physical address in the city of search is also a strong ranking signal but businesses cannot affect this unless they are willing to open other physical locations.
Additional GMB categories of search are added when the main category does not match the business service. In this case, Google allows the addition of department and category-specific features. For example, food and drink businesses are able to add URLs to their profiles for online orders, reservations, and their menu or add menus directly.
Removal of spam listings through spam fighting – Google has strict guidelines for GMB listings submission and is continuing to develop new algorithms in trying to eliminate:
Keyword stuffing in business title
Businesses that are not eligible to be on Google Maps
Businesses with duplicate listings
Listing for businesses without a physical location
Getting involved in any of the above practices might result in your business listing suspension by Google. Removal of spam factor was introduced in 2020 and it is already considered very important in Google Snack Pack ranking.
Completeness of GMB listing
Another important factor in determining rankings in Snack Pack results involved the completeness of the Google Business Profile. This includes the following:
Verifying GMB listing
Setting the correct hours of operation
Enabling GMB messaging feature
Posting - Frequency of GMB posts
Adding business Q&A, including owner-seeded Q&A
Step 2: Get Genuine Customer Reviews
Another extremely important factor in ranking high on Google local search results and the Snack Pack is the presence of customer reviews. A recent study found that 84% of people trust online reviews as much as recommendations by their friends.
Google, Yelp, and Facebook are the three major review platforms and each has its own guidelines concerning asking for reviews. Yelp doesn't want businesses to ask customers for reviews. Google, on the other hand, is fine with this as long as gifts or money are not offered in exchange for positive reviews.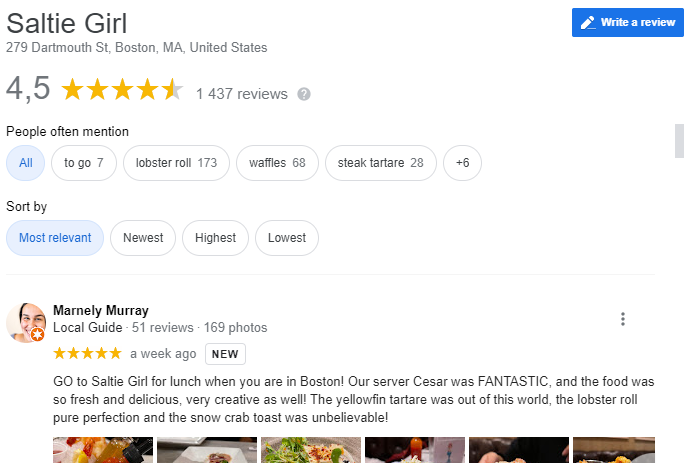 Reviews are public conversations and interactions between you and your customers. It is important that you respond in a timely and considerate manner to both positive and negative reviews.
These interactions will set the tone and define the culture of your business. The positive comments are a confirmation that your products and services are great, while the negative reviews serve as opportunities for improvement.
There are several ways you can encourage reviews:
Provide Opt-in email subscription at the time of service and request feedback shortly after
Have a "Review Us" button to major review sites on your website
Asking personally for feedback or reviews at the end of a transaction
Step 3: Optimize your Website for Local Search
Your website needs to be optimized for local search by associating your website with a certain location. The website content is also important in Local SEO – because of justifications.
In addition, all on-page SEO strategies should also be implemented as follows:
Create a catchy and on-topic title
Write a URL containing target keywords
Write a meta description short and informative
Make sure the headers are hierarchical and you have only one H1 header
Use local business schema
Use related keywords and enrich your text with internal linking
Make sure the pages crawlable by search engines
Make your website is mobile-friendly and fast loading
Use target keywords or phrases within the first 100 words and also use related keywords – this also helps with Google justifications.
Make content more engaging with images and videos
Create easy to read content
Use conversational language in your content and add Q&A
Provide social media links
Step 4: Acquire Good Links and Remove Bad Ones
Another way to improve your Local SEO and your chances of getting into your local Snack Pack is by building a diverse link portfolio. Quality local links have become one of the most important difference-makers in competitive local search results.
Here are some of the ways a local business can acquire links:
Submit to general citations & industry-specific directories
Submit your local business listing information - name, address, phone number and website (NAPW) into general directories such as Yelp, TripAdvisor, Yellow Pages, and others and also industry-specific directories such as OpenTable, Zagat, Zomato, and others. Some of these directories will create valuable links to your business' website.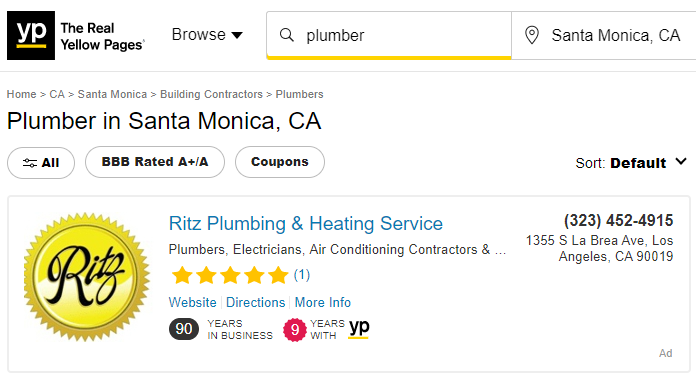 Sponsor Local Organizations
Get involved in local organizations. You can support a local food pantry, a town basketball or soccer team or give discounts to groups such as students or veterans. In exchange for support, your sponsors will create links to your local business site.
Join high authority local networking organizations
Another way to get links to your website is by joining your local Chamber of Commerce, Better Business Bureau or Alignable network. Besides relationships and connections, these networking sites will probably link to your website.
Advertise in Your Local Community Pages
Another great way to generate high-quality links in your community is accomplished by adding events to Patch.com, Community Kangaroo, and other community pages. You can create links in your local community by means of:
Business associations
Existing partnerships
Donations & Sponsorships
Links need to be relevant to your type of business and also need to come from trusted and high authority websites. Not every link is created equal, and if you've already done your due diligence and have been striving to build links, there is a good chance you have acquired some bad links.
In order to remove bad links, you can use backlink analysis software such as Ahrefs or Screaming Frog. Once you identify them, you can get in touch with the owners of the sites and ask for them to remove the spammy links. If you are not successful you can use the Google Disavow tool.
Conclusion
SEO changes very fast and you never know when Google will introduce new features on its local searches.
Rising to the top of the search results, and subsequently, the Snack Pack, is no easy feat for the business owner. So, you need to focus on writing great content, building local links, getting good reviews, and most importantly optimizing your Google Business Profile which is perhaps the most effective way to rank high on the Google Snack Pack.