6 Powerful Hotel SEO Tips to Rank Higher in Google
Feb 8, 2022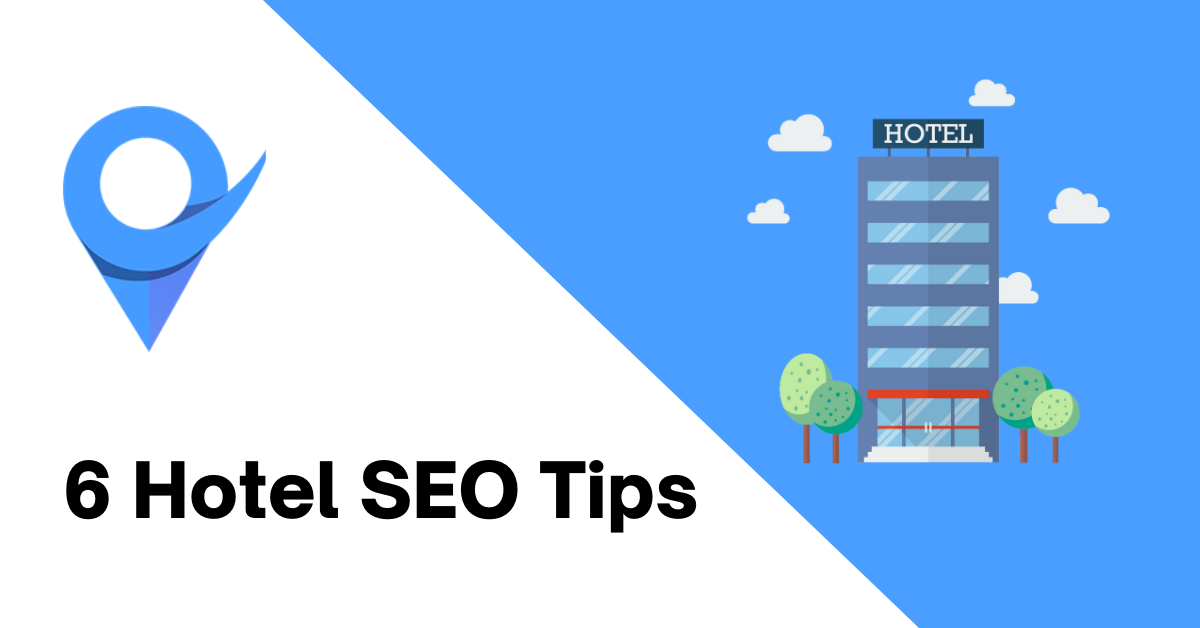 Table of Contents
What is Hotel SEO?
Why Does Your Hotel Need SEO?
Hotel SEO Tips
Target Long-Tail Keywords
Optimize Title Tags
Create a Fast, Mobile-Optimized Hotel Website
Create Content That Guests Will Find Useful
Create Listings On Popular Hotel Directories
Optimize Google Business Profile
Hotel SEO vs Hotel Search Engine Marketing
Conclusion
Do you want your hotel ranked on the first page of search results? Do you want more business from guests searching for hotels online? If so, then read this post! We'll share with you some powerful hotel SEO tips that will help you get more traffic and direct bookings.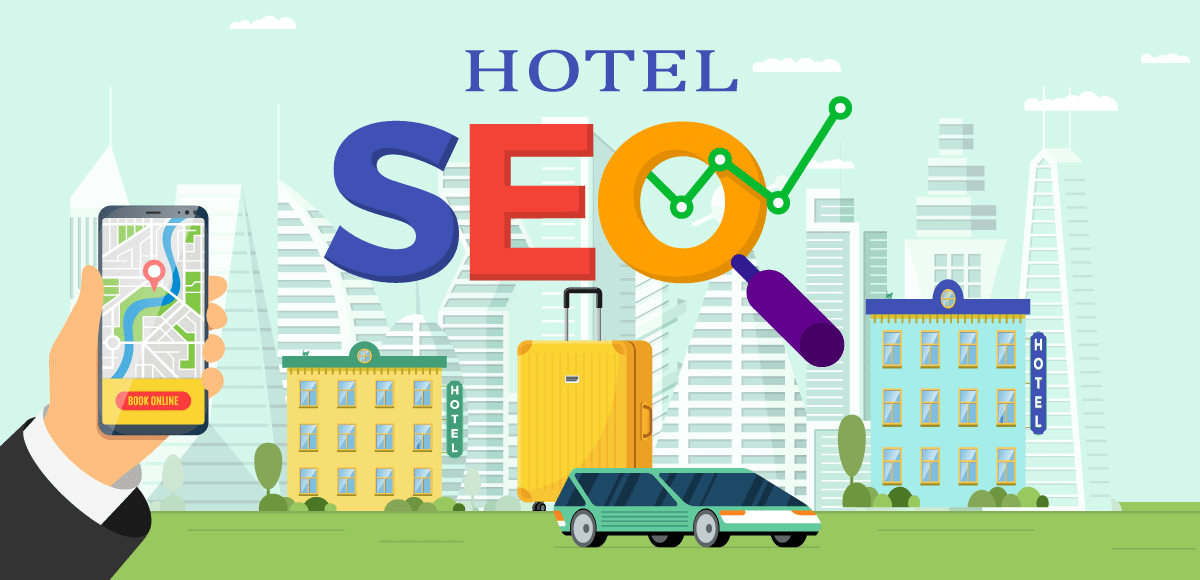 Whether you are already an experienced hotelier or a novice in the hotel industry, in today's fast-moving digital age, you need new ways to promote your hotel online.
In this article, we will provide 6 top strategies to optimize your website, social networks, and local listings in order to boost reservations and bookings for your hotel.
What Is Hotel SEO?
Search Engine Optimization, or SEO, is the process of optimizing your website in order to rank higher in the organic search engine results.
SEO for hotels is the process of using these principles to optimize your hotel website for organic traffic. SEO for hotels includes making sure your website is built properly and is easy to crawl by search engines, it loads quickly and easily, and your content or blog post is optimized.
Making sure that your hotel is listed in both local and industry-specific directories and that these directories are well optimized, is also an important strategy in hotel SEO.
SEO for hotels, when done correctly, has the potential to help your hotel website appear in Google and other search engines when a potential guest types a relevant search query.
Why Does Your Hotel Need SEO?
We all know that potential hotel guests and customers in general only look at the first result page of Google.
Good SEO can help your site rank closer to or even on the first page of search engines and can increase organic traffic and conversions and at a much lower cost than the paid advertising options.
Hotel SEO Tips
Here are 6 hotel SEO tips to greatly improve your search engines results:
Target Long-tail Keywords
What is a keyword? A keyword is any term or query that people search for on Google or other search engines.
Google will try to pair this query with the best, most relevant content out there. This is true for hotel websites too. Your hotel can have the best-looking website, but if nobody can find it, it does no good.
A good hotel SEO strategy starts with comprehensive keyword research.
Keyword research means having a clear understanding of the best target keywords to use, how much search traffic those keywords generate, and which pages on the hotel site are best suited to ranking for those keywords.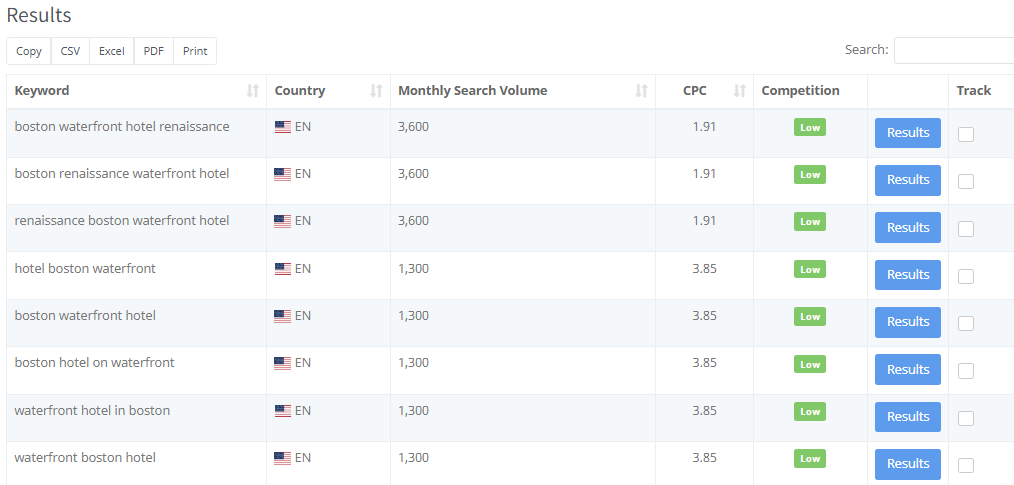 It also means analyzing your competitors' keywords and creating more useful, relevant, and competitive content.
What are long-tail keywords? A long-tail keyword (or a keyword phrase) is longer and more specific than a commonly used keyword.
For example, when a potential guest searches "hotel New York" or "hotel in New York City near Central Park" the number of search results are: 301,00 vs 4,100 respectively.
Long-tail keywords allow your hotel to be found by audiences looking for specific attributes for lodging. In this case, hotels near Central Park.
Long-tailed keywords get less traffic as they are more specific, but they usually have a higher conversion rate.
Understanding and doing effective long-tail keyword research takes time and effort. Here's how to get started:
Step 1: Brainstorm a list of relevant keywords or keyword phrases that pertain to your hotel business.
Step 2: Start typing a query in Google, then jot down the suggestions from Google.
Step 3: Then hit enter to see which hotels appear at the top of organic search results. Jot down the keywords in their titles and descriptions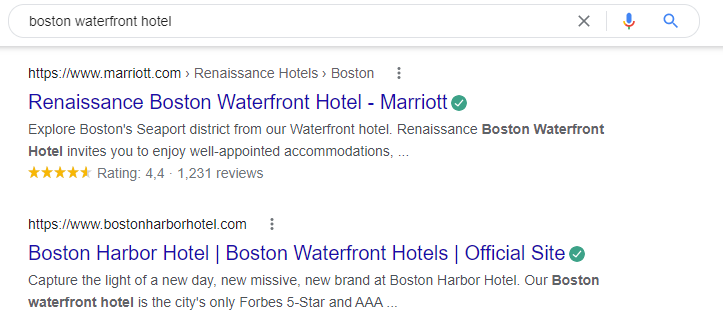 Step 4: Find niche-related keywords including long-tail keywords like "hotels with restaurants near Central Park", "Myrtle Beach hotels with lazy rivers", "local experience hotel Napa Valley" and so on.
Step 5: Look at Google Search Console. Here you will see keywords and keyword phrases people use to find your hotel website.
Step 6: Use keyword research tools such as Google Keyword Planner or SEOptimer's keyword tool to easily locate frequently searched keywords in relation to your base words or business.
Step 7: Check out keywords and keyword phrases on your competitor's pages using tools such as Ubbersugest or Ahref's Site Explorer.
Step 8: Connect with your target audience and learn more about how your customers search for your hotel and how to answer their concerns and requests.
The longer and more specific your search keywords are, the easier it is to rank for them.
Visitors who find your website using these specific keywords are more likely to make a reservation or booking, as it means that your content closely resembles their intent.
Optimize Title Tags
One of the most important tags for hotel SEO is the title tag. The title tag is HTML code that allows you to give a web page a title.
The title tag can be found in both the browser title bar and in the search engine results pages (SERP).
It is essential to add and optimize your website's title tags, as every result you see in a search engine is derived from these title tags. They pretty much tell Google and other search engines what the content on your hotel page is about.
The title tag is different from the <H1> header used for titles.
Although your title is still extremely important, it's the HTML code for the title tag you'll want to focus on in order to improve your hotel SEO.
So how do you fine-tune or optimize the title tags for your hotel website? Here are some useful tips:
Write a title tag that contains relevant keywords
The best title tags are relevant, useful, and effective.
They can contain two or more keywords or keyword phrases but they should provide value to the searcher while helping your page rank.
In the example below, the title tag contains the following keywords: "Boston Harbor Hotel", and "Boston Waterfront Hotels."

Write a description of the appropriate length
The average description length is between 55 and 60 characters.
However, the exact display limit is a bit more complicated and is based on a 600-pixel container that Google uses.
If the description is too long, Google adds an ellipsis ('..."). See the example below:

Create a Fast, Mobile-Optimized Hotel Website
What makes a site mobile-friendly?
A mobile-friendly website displays a different layout of your website to visitors viewing your site from mobile, in order to give them a better experience.
As a matter of fact, Google has rolled out their mobile-first index in 2019, which means "...Google predominantly uses the mobile version of the content for indexing and ranking."
As of the 1st quarter in 2021, mobile web traffic accounts for more than half (54.8%) of the global web traffic.
According to Google, "mobile-friendly sites show up higher in search results" and "visitors are 5 times more likely to leave" if your website is not mobile-friendly.
Hoteliers need to do everything they can to adapt their marketing strategies and take a mobile-first approach to attract hotel guests.
Google suggests the following elements to build an effective mobile website:
It loads fast
To help users navigate your site more efficiently, you should minimize the amount of time it takes to load content on your page. According to Google, "nearly half of all visitors will leave a mobile website if the pages don't load within 3 seconds."
It is easy to navigate and find information
Visitors should be able to easily find what they're looking for on your website. Some ways to improve your site navigation include:
Simplify your navigation menus
Keep everything visible without too many clicks, scrolling, or having to zoom
Integrate Google maps so hotel guests can find their way to and from your hotel
Keep content concise and make sure the font is legible.
Make sure there is a contrast between images and colors
It is easy to take action
Mobile web pages should be designed to help users quickly accomplish common tasks such as contacting your practice or making an appointment. Make sure that forms and call-to-actions are simple and straightforward:
Use forms auto-fill for returning guests
Make sure the search bar and date calendar are readily available
Ensure phone numbers are clickable
Test whether or not your website is mobile-friendly here! Then make sure you take the necessary steps to make sure it is.
Create Content That Guests Will Find Useful
Once you have your keywords and keywords phrases, it is time to implement them on your pages including FAQ pages and blogs.
Content marketing
In addition to keyword-rich content about your hotel for your web pages, you can also write content or blogs about destination restaurants and local experiences, your specific hotel amenities, and other hotel features which play an important role in the hotel guest experience.
Here are some ideas for content or blogs:
Your hotel story - the Boston Harbor Hotel has a short history and a list of awards and accolades on their About page
Hotel guest services that set you apart - The Epicurean Hotel offers cooking & yoga classes and other special events for their hotel guests.
Local destination experiences - The Meritage Resort & Spa in Napa offers several local experiences including: Painting in the Vineyards & Wine Tastings Tours.
Travel tips for a certain area - it is helpful to know things like the local public transportation, currency and important tourist traps in the area.
FAQs
Implementing FAQs is a win-win strategy to improve your hotel SEO.
We have an entire generation of hotel guests who would rather surf online than talk to a person.
Then you have guests looking to find answers to questions like check-in or check-out times, pet policies, amenities, dining options and so on… an FAQ page is a solution for both.
FAQs is a great marketing strategy as it will keep your potential guests browsing your site.
When they find the answers on your site, their buying journey is not interrupted by contacting customer support.
FAQs provide opportunities to build rich content focused on helping people while adding SEO keywords in a natural way.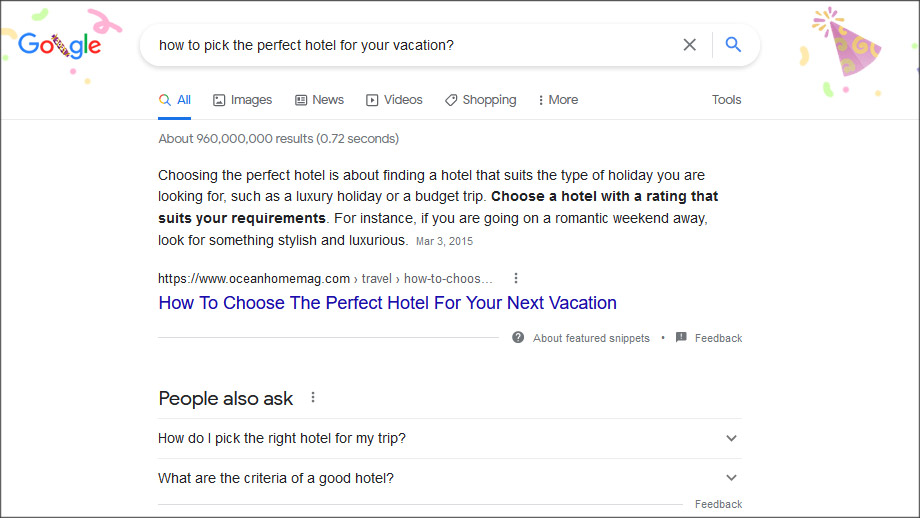 Once you create your FAQ page, make sure you use the FAQPage schema or structured markup code.
This helps Google interpret the content of the page and it increases the chance of your page being displayed in Google Rich Snippets or in the "People Also Ask" section.
Quality Inn hotel has the FAQs right on their homepage.
Click the Schema Markup Validator and enter your hotel page URL to test if your page has the schema markup enabled. The result should look like this: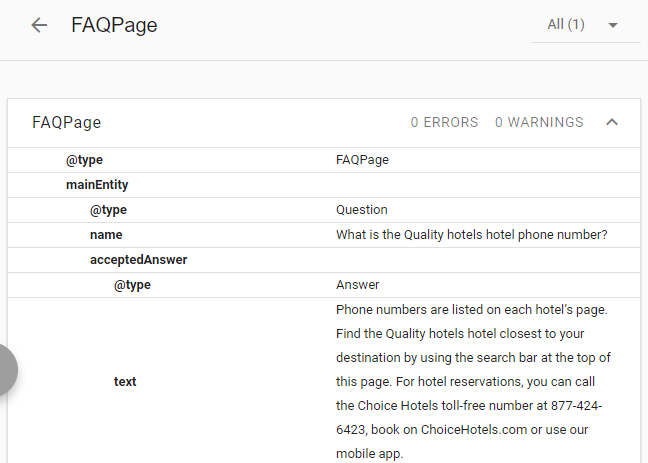 If your page does not have this special schema code, you need to add it.
Create Listings on Popular Hotel Directories
Local listings or citations are the online mentions of your hotel's name, address, and phone number (NAP) on different websites or directories.
Having more listings increases the chances of your hotel appearing in local searches.
In addition to core citations such as Google, Apple Maps, Facebook, Yelp, Bing Places, BBB, Yellow Pages, and Foursquare, it is crucial to list your hotel in the following industry-specific directories:
Tripadvisor.com
Booking.com
Expedia.com
Orbitz.com (paid)
Hotelscombined (Paid)
Millions of travelers use the directories listed above to find accommodations online every day, so being listed in them makes a big difference in your chances of being found.
Optimize your GMB Profile
If your hotel does not have a Google Business Profile (formerly known as Google My Business or GMB), you should create one and optimize it.
Optimizing your GMB profile is a very effective way to achieve higher search rankings on Google Maps and organic local searches.
Many users go straight to Google Maps to look for hotels. A listing for your hotel gets created here when you create the GMB listing.
Here is an example of the Google Maps query "hotel in Boston MA":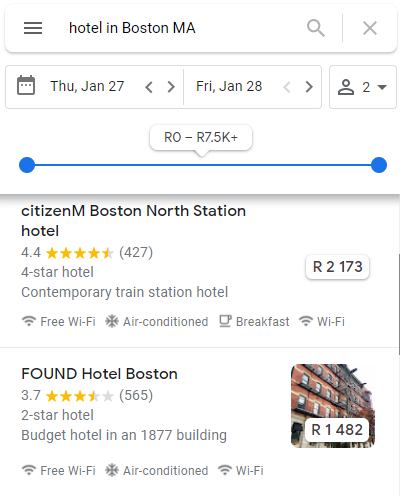 Once you claim and verify your Google listing, do the following in order to optimize your hotel listing:
Provide accurate business information including hotel category, description, subcategories, phone number, address, website, and add a famous landmark to pinpoint your hotel.
Include images such as logo, hotel interior and exterior pictures, and videos. Also include hotel amenities, attributes, hotel highlights, class rating, business hours, prices and booking links, businesses inside your hotel.
Post on GMB like you do on other social media channels. Google Posts allows you to share content directly into the search results pages through what Google calls "justifications".
Engage with your potential guests by responding to negative and positive reviews, answering questions about your hotel through Q&A or chatting directly with customers.
Hotel SEO vs. Hotel Search Engine Marketing (SEM)
Search Engine Marketing or SEM is an area of online marketing which encompasses gaining traffic and visibility from search engines through both paid and unpaid efforts.
Search Engine Marketing encompasses SEO, but also Search Engine Advertising (SEA) and Social Media Optimization (SMO) and Social Media Marketing (SMM).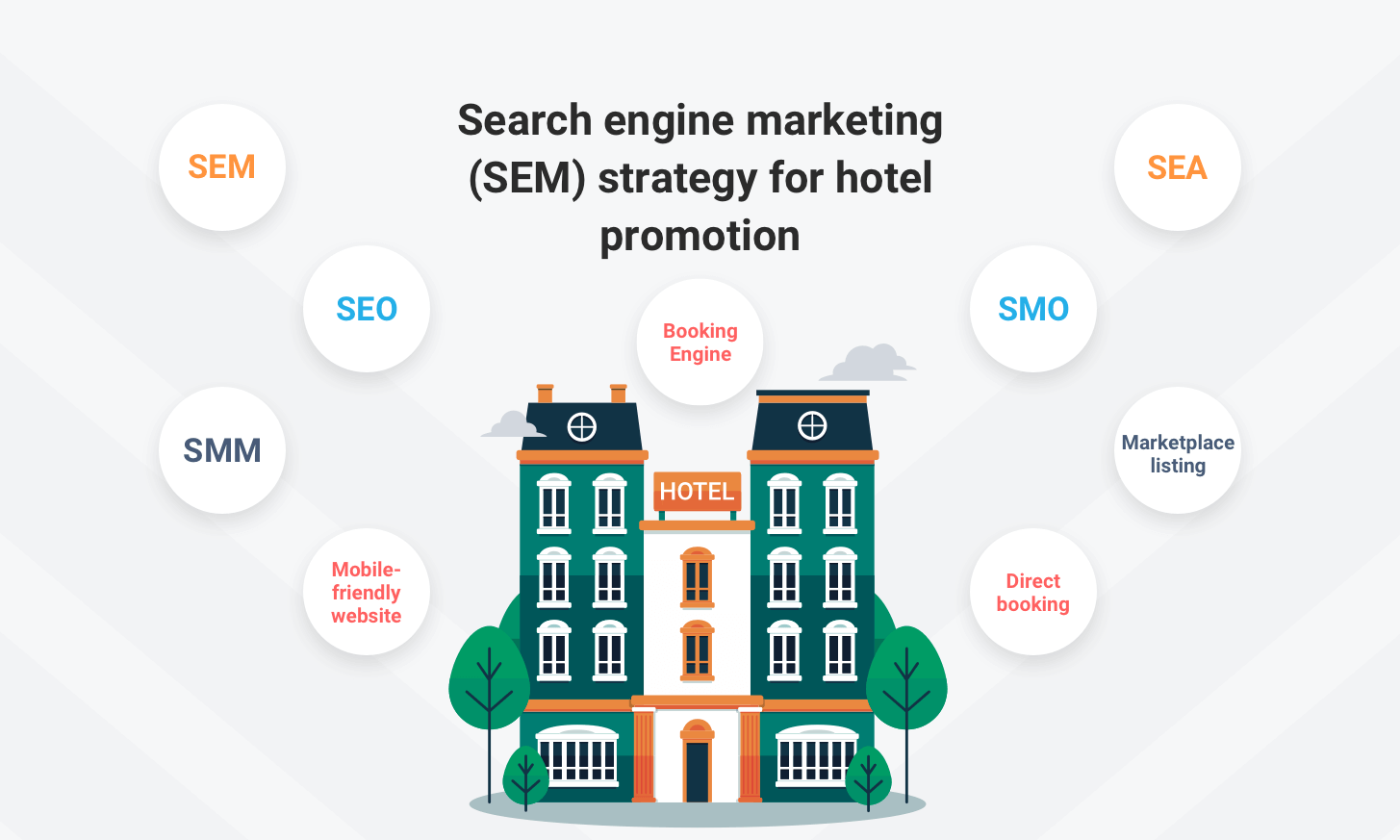 Source: Hotelfriend
The hotel booking ecosystem is quite complex.
About half of the hotel bookings are not direct bookings - they happen indirectly through Expedia, Booking.com, Orbitz and other online travel agencies (OTAs).
The image below shows the complexity of this system.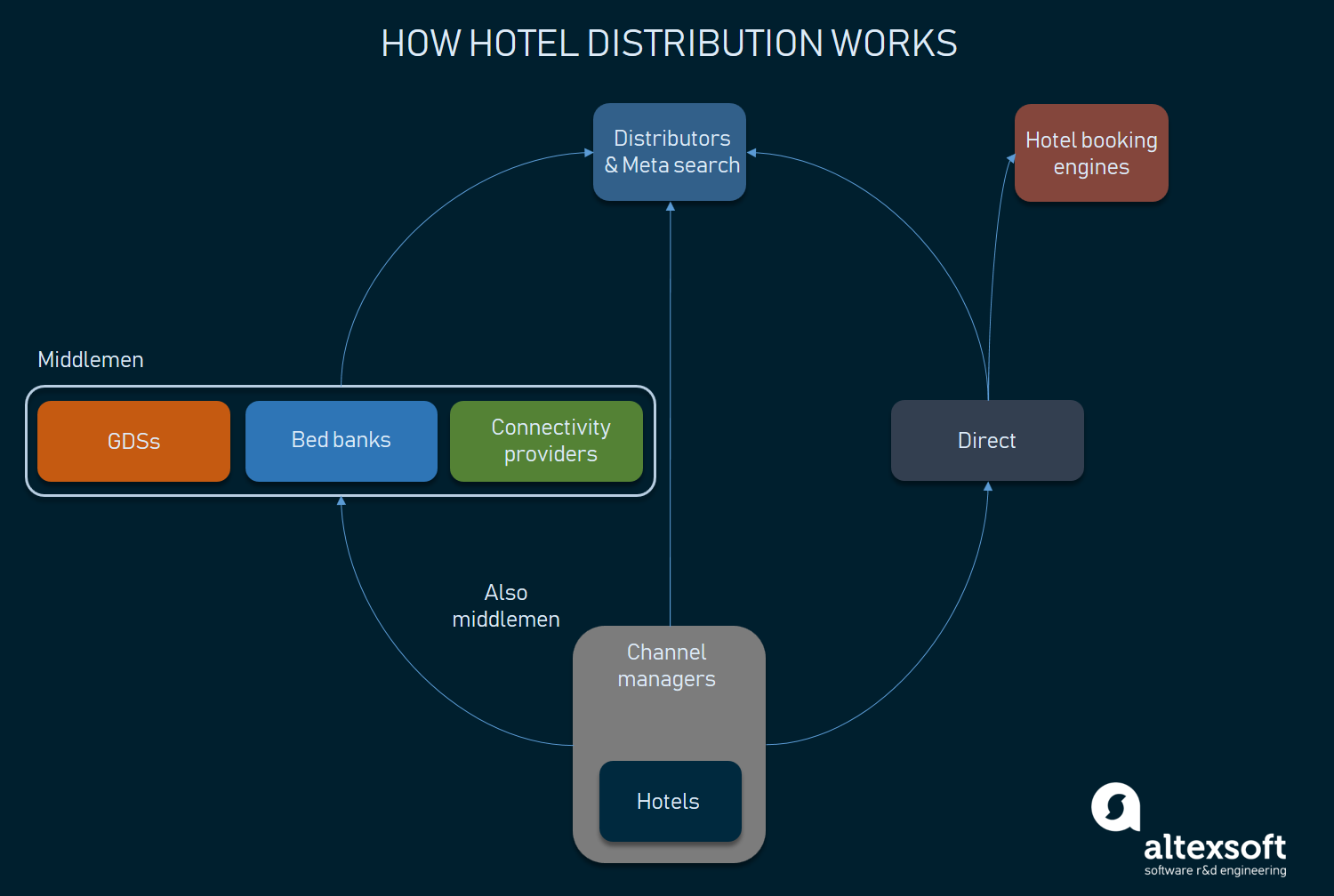 Source: Altexsoft
Metasearch engines connect hotels to all these different sources and present tons of options to the users including prices, pictures, property descriptions and reviews in one place.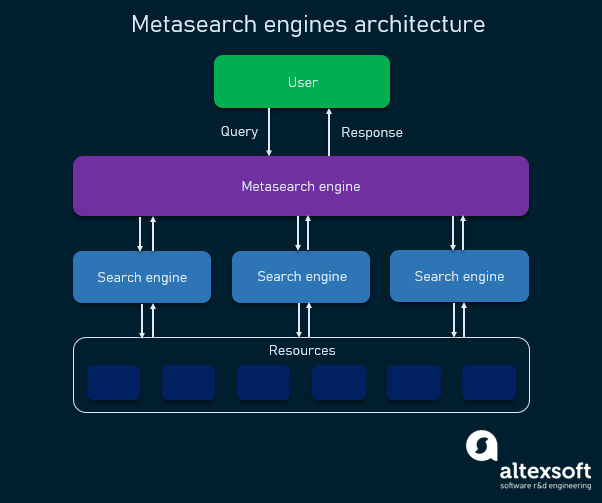 Source: Altexsoft
The main players in the hotel metasearch engine game are: Google Hotel Ads, Tripadvisor, Trivago, Kayak, and Hotelcombined.
It is not a secret that Google's share in the search engine market is massive - about 92% - hotel sector included.
Google offers many features including free booking links for Google hotel partners, and also the Book on Google feature which allows travelers to book their hotel without ever leaving the Google site.
Check out the following example of Google search results for the "Boston Waterfront Hotel" query in Google Hotel Ads.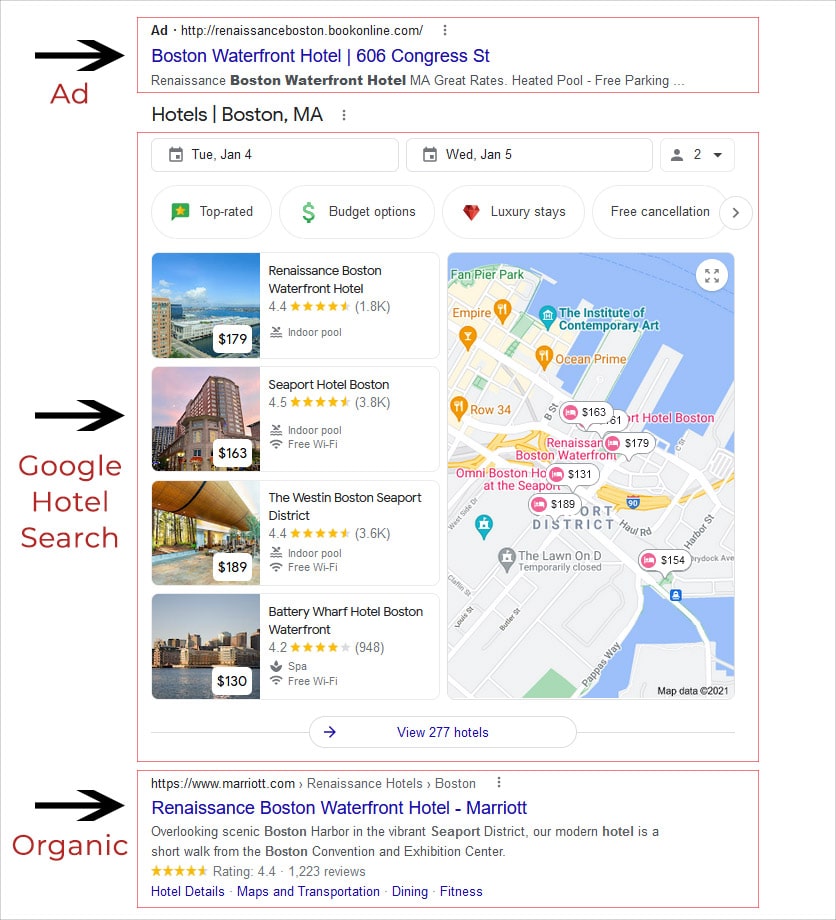 As shown above, the Hotel SEM is a complex topic. Large booking sites, hotel chains and smaller niche hotels all spend large amounts of money for paid advertising.
Besides Hotel SEO, the following marketing strategies will help generate a greater interest in your hotel:
Search Engine Advertising (Google Ads)
Social Media Optimization
Social Media Marketing
Direct Booking Acquisition by use of OTAs, Metasearch engines & affiliate advertising
Conclusion
In a very competitive hotel booking landscape, hoteliers need to follow all the strategies above; both SEO and SEM in order to accomplish best results.
If you aren't able to execute all strategies, implementing some is better than none at all.
A complete Google My Business profile, a presence on the top hotel directories, and an optimized website - including optimized title tags and the effective use of long-tail keywords - are crucial for your hotel SEO efforts.
As a result, your hotel will get more visibility and rank higher in search results, and ultimately increase the number of reservations and bookings.