Backlinks & The Art Of Link Building
Jan 25, 2022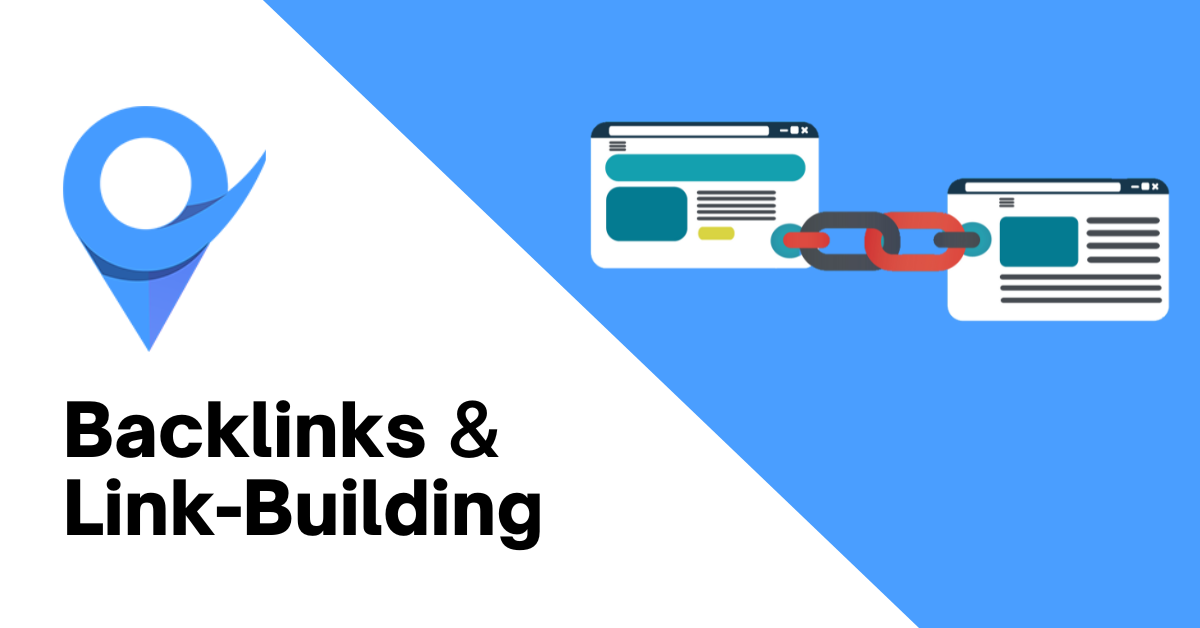 Table of Contents
What Are Backlinks?
What Is Link Building?
Importance Of Backlinks and Link-Building
What Makes A Backlink "High Quality"?
Authority Of The Page and Website
Relevance Of The Site and Content
Anchor Text Of The Link
Dofollow vs Nofollow Links
How To Get More Backlinks With Link-Building
Manually Add Links
Earn Links Naturally
Link Outreach
Fix Broken Links
Copy Your Competitors
Guest Blogging
Conclusion
So you've completed all the on-page SEO optimizations on your website, but you're still not getting that jump in organic traffic that you've been expecting to see?
On-page SEO will only take you so far, there's another key ingredient to ranking higher in the search engines results page.
That key ingredient to increasing your search engine rankings is via backlinks and link-building.
In this article, you will learn about backlinks and the process of link-building. We will cover the components of what makes a "high-quality" backlink. Additionally, we share 6 ways to get links to your site and content.
Let's begin by briefly discussing the definition of backlinks and link-building.
What Are Backlinks?
The most basic definition of a backlink is any link from one website that points back or links back to another website, hence the term "backlink."
Here's an example of a backlink in action from our website, High Rankings, to another web page on SEOptimer's site:

In the HTML source code of the web page:

Before we discover why backlinks are so important, it would be a good idea to understand the anatomy of a link.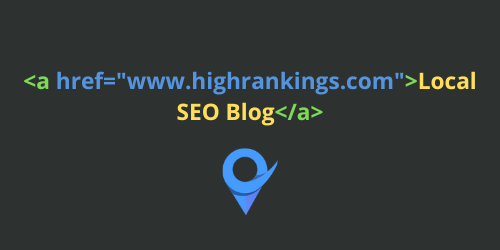 Here's the breakdown of each element of a backlink, as indicated above:
The green section of this illustration indicates the start and the end of the link. Also known as anchor tags, these HTML tags tell the search engine that there's a link in the text. Anchor tags are declared using the <a></a> HTML elements.
The blue string of text tells the search engines and web browsers the destination URL to where the link is pointing to. In this example, this link is pointing to the High Rankings home page.
Lastly, the anchor text of the backlink (as indicated in yellow) is the visible and clickable part of the link. This is a key element of the backlink because search engines use this information to determine what the context is of the link and the content that can be found by clicking on it.
What Is Link-Building?
Link-building is basically the process of acquiring or getting backlinks from other websites that point back to your website.
The ultimate goal of link-building is to increase search engine traffic and rankings by improving the "authority" of your web pages and content in the eyes of Google and other search engines.
The most common ways to go about link-building are:
Content marketing
Link outreach
Broken link building
Guest posting
We will discuss each one of these link-building strategies and more at a later stage in this article.
Now that you know the definition of backlinks and link-building, we'll now take a look at why backlinks and link-building are so essential to increasing search engine rankings.
Importance Of Backlinks and Link-Building
You may be thinking, "Why would backlinks be the key ingredient to ranking higher in the search engine results pages?"
The answer is simple, Google views backlinks as "votes" on behalf of other webmasters that your website, pages or content is valuable and authoritative.
Not only do links count as votes from other websites, they also help Google and other search engines to discover new pages that haven't been crawled yet.
Google has also publicly stated that links are part of the top 3 ranking factors that are used in their ranking algorithm.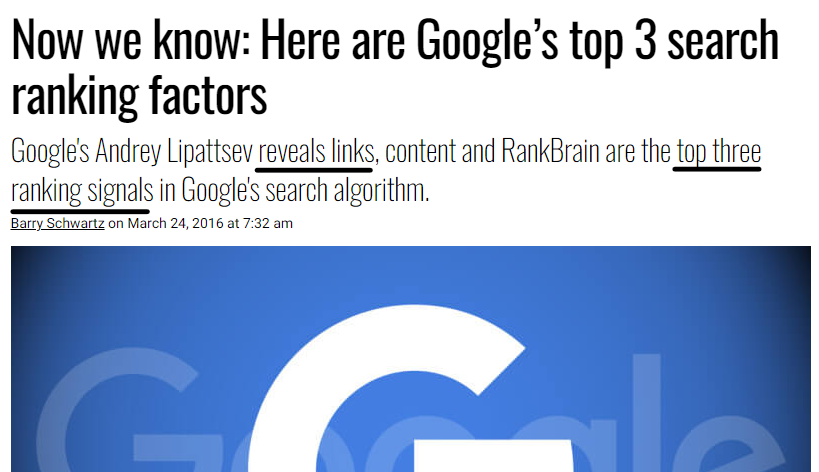 Based on that statement from Google, a page with more backlinks should rank higher than similar pages with fewer backlinks.
So, should you then just be focusing on building as many links as humanly possible?
Well not quite, because of the Google Penguin update, Google not only looks at the number of links pointing to a web page when determining its rankings.
Now it also looks at the quality of those links in determining page rankings.
The aim of this update was to penalize websites that made use of link schemes that artificially increased search rankings by manipulating the number of links pointing to a page.
Seeing as acquiring high-quality links is such an important part of link-building, let's discuss the elements of a high-quality backlink.
Authority Of The Page And Website
Backlinks from authoritative web pages and sites pass more authority to your site than sites that don't have as much authority.
For example, a link from a site such as TechCrunch has got a lot more authority and therefore has a much bigger impact than a link from a one-man tech and startup blog.
You can check the authority of a page and website using the DomainRating (DR) and URLRating (UR) metrics from Ahrefs.
To check the site-wide authority of a domain, add the URL of the site into the Ahrefs Site Explorer.
The DR metric serves as a guideline on the authority of a website.
So for this example, the Domain Rating, or DR, of TechCrunch is 92.
Compared to the DR of a one-man technology blog that has a DR of 30, a link from TechCrunch would be much more beneficial and of a higher quality.
To check the authority of a specific web page, add the specific URL into Site Explorer and look for the UR metric:

You can also use SEOptimer's White Label Reports tool to get an indication of the Moz Domain Authority for a website:

So when you're embarking on the link-building process, be sure to look for links from highly authoritative websites and pages.
Relevance Of The Site And Content
Links from sites and web pages that are relevant to your website and pages are also considered to be high-quality.
Actually, according to an ex-Google employee, links from websites or blogs that are related to your website's general theme are more important than links from unrelated, high-authority sites.

Google themselves state that a link from an authoritative site that covers the same subject is useful in determining if the content is of a good standard.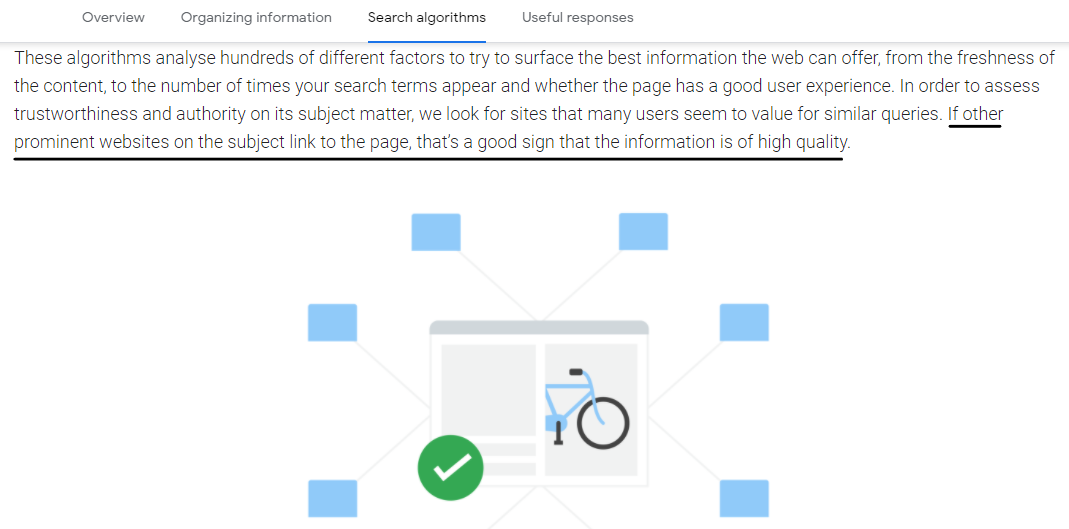 This means that if you've got a website about Home DIY, you should be acquiring links from websites and blogs that are in the same or similar industry such as interior design, landscaping, etc.
So when you're busy with link-building, be sure to get links from authoritative sites that are related to your website's theme.
Anchor Text Of The Link
The anchor text is the visible and clickable part of a link.
As noted earlier, the anchor text aims to give more information about the page that the link is pointing to.
Google uses the anchor text of the link to determine what the context is of the relevant page, this has an impact on what keywords that page will rank for.
So yes, anchor text is used as a ranking signal, as evident in this extract from The Anatomy of a Large-Scale Hypertextual Web Search Engine by the original founders of Google.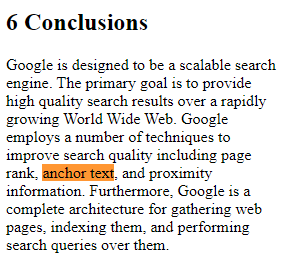 So if you've got a piece of content about "best yoga mats", then you shouldn't be building links with anchor texts that aren't related to yoga or health.
Of course, you can't control which anchor texts different webmasters use when linking back to your website.
Dofollow vs Nofollow
The last element of a high-quality link that we'd like to discuss is dofollow and nofollow links.
Nofollow, or rel="nofollow", is a link attribute that tells Google to not count the link as a vote.
As a rule, you should be trying to build dofollow links because they count as votes from other websites.
How To Get More Backlinks With Link-Building
Now that you have a better understanding of what makes a link high-quality, it's time to discuss some of the most popular ways to build backlinks with link-building.
Manually Add Links
The first stage of any link-building campaign should be to try to build as many links without the help of any external webmasters.
An example of manual link-building is adding your website in relevant web directories and 3rd party platforms.
For example, if you're marketing a local business, you should be creating business profiles on various online directories such as Yelp, Bing Places, Yellow Pages, Hotfrog, etc. On each of these platforms, you'll have the opportunity to add a link back to your website.
In local SEO this process is known as local citation building.
But even if you don't have a local business, this link-building strategy is still useful.
Take for example this G2 listing of SEOptimer, a popular SEO audit tool, you'll see that they've got a link from G2 to one of their product pages.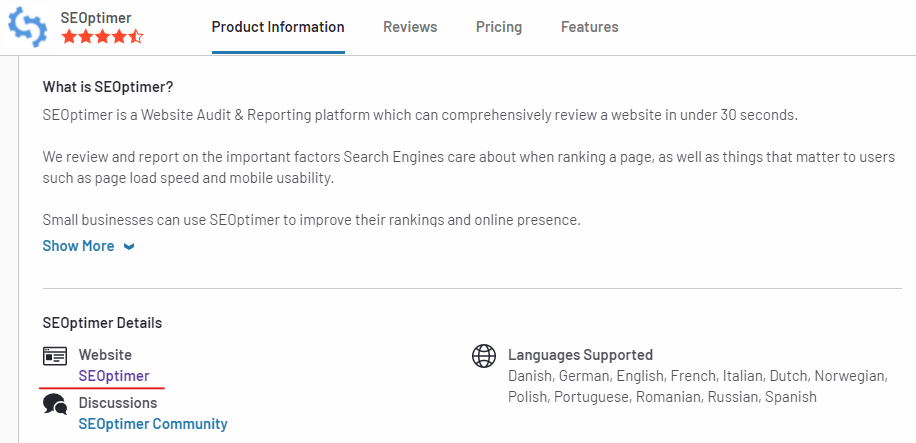 You should note that links from directories are often "nofollow" links: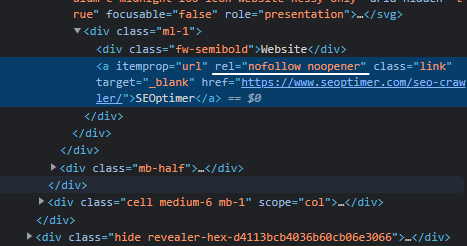 And yes, we mentioned that you should strive to acquire dofollow links as they are better than nofollow links, but if you have the opportunity to get a link back from a highly authoritative website, it will still be useful to your link-building efforts.
The rule with manual link-building is to avoid building links from low-quality directories or bookmark sites.
This is in direct violation of Google's guidelines.

Earn Links Naturally
The best way to build links is to actually earn them in a natural way.
Webmasters can do this by creating really useful content and assets. Examples of useful assets are:
Guides and whitepapers
Videos
Diagrams and infographics
Online tools
Podcasts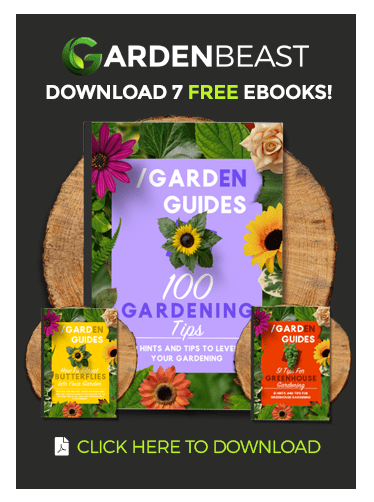 The idea behind earning links naturally is to create "link-worthy" content. Or in other words, content that other webmasters or bloggers will link to in a natural way without any manual action or outreach from you.
And if you're not sure what to create, check out your competitor's websites to see if they have any assets that you can replicate, obviously with your own twist.
Link Outreach
Link outreach is another useful way to go about link-building and acquiring backlinks from other websites.
Simply put, link outreach is the process of finding blogs or websites that have talked about a topic related to your business.
The idea is to then create a really good piece of content that you'll pitch to these blogs with the hopes of them linking to your newly created article.
Note: You can also do link outreach for already created content.
An essential part of the success of a link outreach strategy is the email pitch that you send to bloggers and webmasters.
Here are a few pointers to keep in mind when writing your link outreach email:
Keep it brief, no one wants to read an essay on why they should link to your web page.
Make it personal by adding the recipient's name, website or anything you noticed about their content.
Try to impress the recipient with your content. You can share stats like how many times it has been shared on social media or how much traffic that post has received. You want to make the recipient believe that they are missing out by not linking to your content or link-worthy asset.
Here's an example of an email outreach template that SEOptimer has been using for their link outreach campaigns: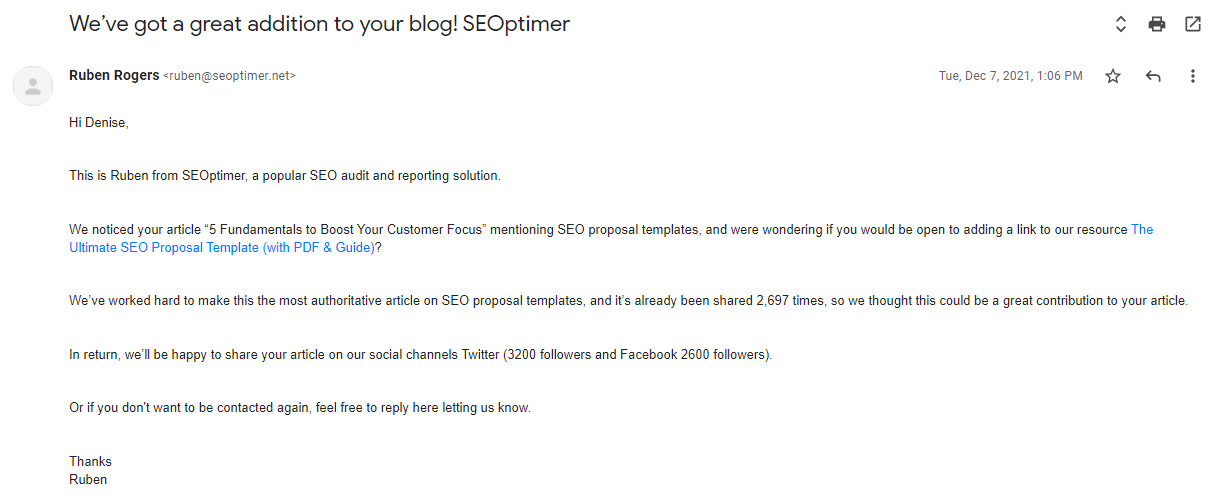 Fix Broken Links
The next link-building strategy that we'd like to share is broken link building.
This link-building strategy basically entails that you find broken links on websites and then replace them with functioning links to a target web page.
This strategy is quite different from the link outreach strategy or guest blogging because you will be adding value to webmasters instead of begging them for a link.
With broken link-building, you offer to help someone by giving them a working link to put in the place of the dead link on their site.
You can install the Check My Links Chrome extension to find the 404 or "dead" pages on any website.

The next step is to find pages with a lot of outbound links on them.
By browsing blog posts or resource pages on websites within the same industry as your business, you'll be able to find several outbound links that display a 404 error.
Check My Links will highlight any broken links on a page with the color red: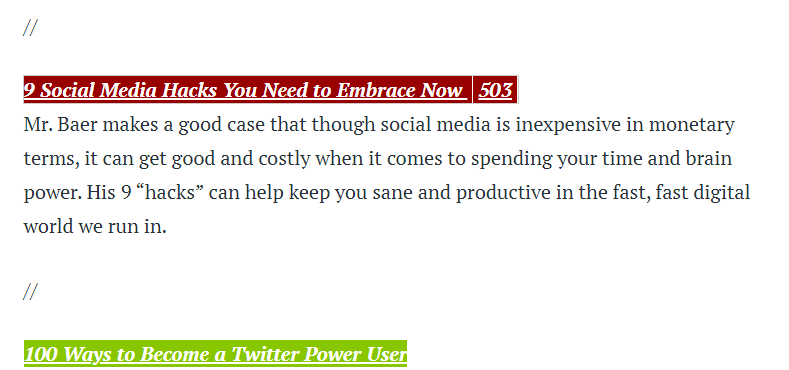 You can then reach out to the website owner and inform them of the broken link that you found on their page. This is the perfect time to pitch your content as a suitable replacement for the broken link.
Copy Your Competitors
Chances are that the top-ranking results on Google have got a lot of links pointing back to them.
And that's probably the reason why they're ranking in the top positions - because Google views them as superior since many other sites have linked to them.
This next link-building strategy entails spying on your competitors to see how many links they've got and from which websites.
You can use a tool like Ahrefs to find the links that your competitors are getting from other websites. Simply type in your target keyword in Keyword Explorer and go to SERP Overview.
This tab will show you the number of links the top-performing websites have.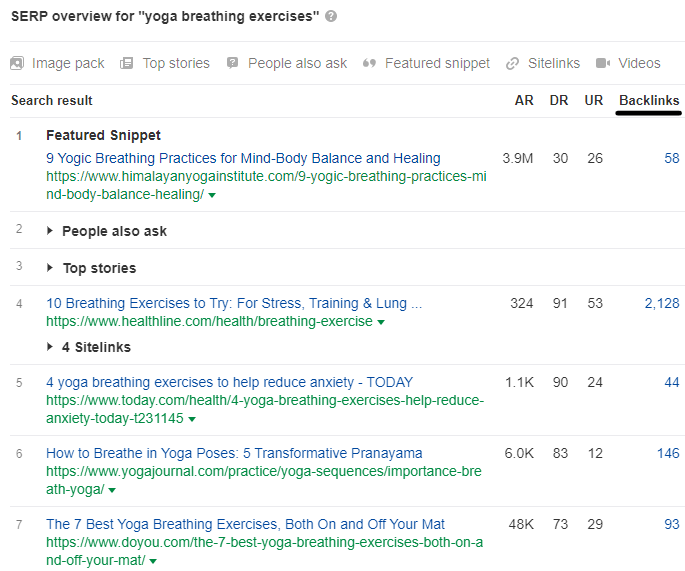 You can then click on any one of the "Backlinks" links to view the sites that are linking to the respective web pages.
With this information, you can contact each of the sites and ask them to link to one of your related pieces of content too.
Alternatively, you can create an entirely new piece of content for them. This leads us to our next link-building strategy.
Guest Blogging
No list of link-building strategies will be complete without mentioning guest blogging.
Guest blogging is one of the most popular ways to build links and to increase online awareness of your website.
The idea behind guest blogging is to create a piece of content that will be published on someone else's website. In essence, you act as a "guest" writer on another website's blog.
Guest blogging has got advantages for both parties involved:
The "guest" author has an opportunity to get one or two links back to his or her website.
The site publishing the guest post will have an entire piece of content to publish without having to write a single word.
A word of caution, some sites have been built solely for the purpose of publishing paid guest posts. If a site looks spammy and all you see are different guest authors, you should probably stay away.
When starting out with guest blogging, try to pitch your guest post to lesser-known blogs in your industry. The reason for this is that top-performing blogs won't take your pitch seriously if you can't prove that you've got a portfolio of guest posts.
Like with link outreach, you will need to pitch your guest post idea to your target website.
Instead of sending the same regurgitated pitch of "I will write a high-quality article for your site", rather offer them something valuable.
For example, you can find a topic that they haven't covered yet but is bringing in a lot of traffic for their competitors.
By pitching them the idea that they're missing out on a lot of traffic and that you can write the post that could bring in that traffic, you increase the odds in your favor for securing a guest blog post.
Conclusion
Backlinks are one of the most important elements of a successful SEO strategy.
If you want to rank higher on Google and other search engines then you've got to add link-building to your SEO strategy.
By following these link-building strategies, you'll be able to increase the number of backlinks to your site.