How much does Local SEO Cost? 10 Agencies Share their Pricing
Nov 26, 2021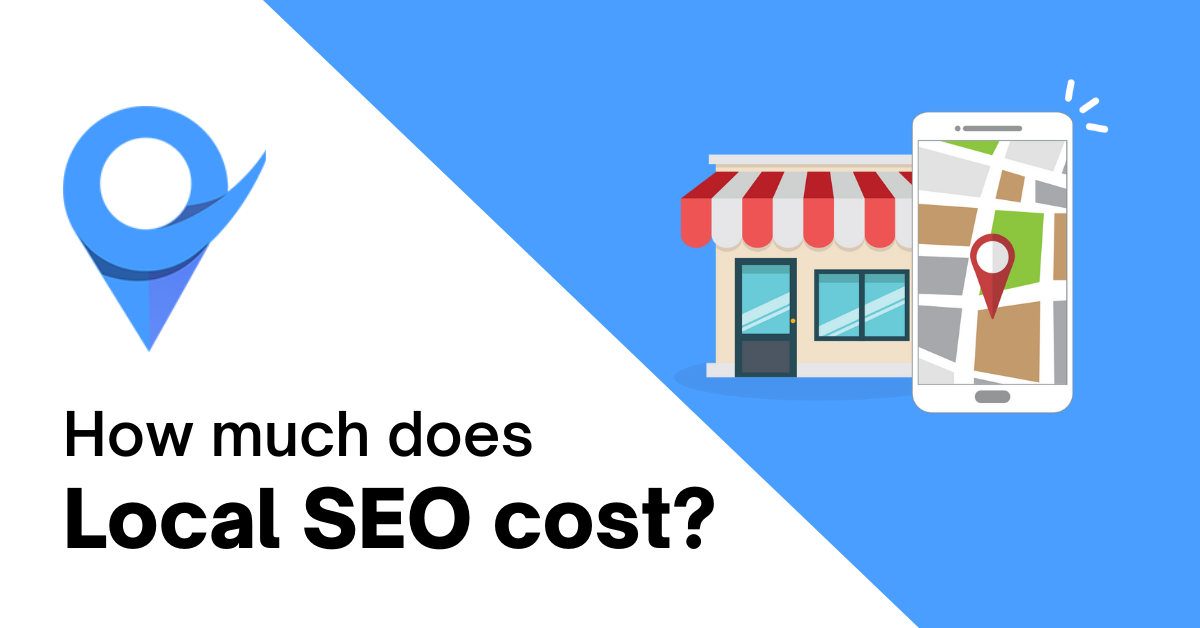 Table of Contents
Why is Local SEO Important?
Which types of Businesses benefit from Local SEO Services?
Who provides Local SEO Services?>
Digital agencies
Local SEO Freelancers
In-house
What's included in Local SEO Packages?
Factors that impact Local SEO Pricing
Competition
Agency type
Agency size
Local SEO Agencies Pricing
WebMarketers
Local Business First
RyTech
Local Leap Marketing
Atiba
SociallyInfused Media
SEO Growth Partners
PittCrew WebServices
Always Relevant Digital
The Links Guy
Next Steps
Why is Local SEO Important?
63% of Google searches take place on a mobile device (US organic search traffic, Merkleinc). And of these mobile searches, 46% have local intent (Pew Research Center) – ie: the search query is accompanied with a location or the user is searching for something in a specific area.
Furthermore, a Google Mobile Movement Study found that 88% of people who search for a local business on a mobile device either visit or call the business within 24 hours.
These are incredible stats for any local business and should convince even the most apprehensive business owners of the power of organic search. Furthermore, 'local intent' has a much higher probability to visit and/or purchase. Increasingly, customers and potential customers are much more likely to have visited a local business virtually first, before they visit in person.
Local SEO (Search Engine Optimization) has the same overall purpose as SEO, increasing search rankings, but additionally focuses on optimizing for locative searches on both Google and Google Maps.
Put simply, local SEO helps local businesses gain visibility with local customers on search. This challenge is universal for all local businesses, so optimizing for local SEO is perhaps the most important marketing tactic that local businesses can use to increase awareness with local customers.
Which types of Businesses benefit from Local SEO Services?
First and foremost, if your business relies on face-to-face communication with customers (either in-store or in-home service businesses) – you will be the biggest benefactor of local SEO. Think of the typical hospitality (bars, cafes, restaurants) or retail businesses ie: high-frequency purchases where repeat visitation is high and the number of potential customers is also high. This is the perfect fit for local SEO.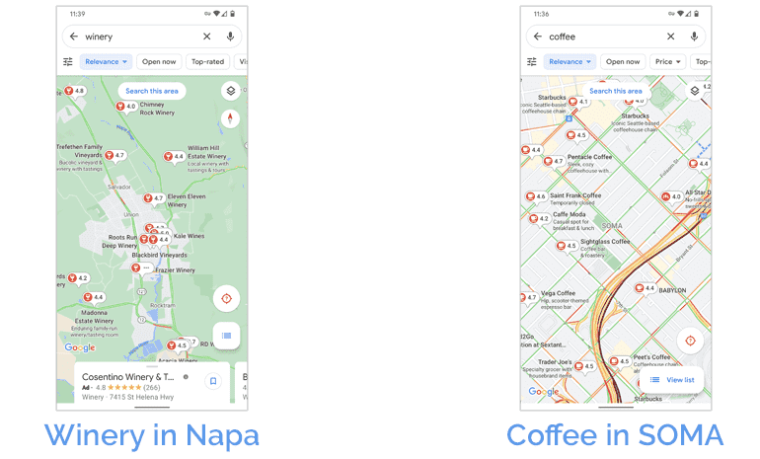 These two examples of local searches for a winery in Napa or coffee in SOMA showcase typical examples where local SEO can help make or break a business in locative searches. Both examples show high competition but at the same time represent great opportunities to capture thousands of potential views per day. Local SEO in Google Maps relies on a well-optimized and maintained Google Business Profile with recent, high-rated reviews and plenty of local citations.
When thinking of local businesses, one tends to think of small businesses but local SEO can be important for big businesses or large organizations too. Think of corporate buildings, hospitals, shopping malls, schools, law firms and more. Other big businesses that benefit from local SEO might have many locations (eg: restaurant chains) or franchise businesses in a network (eg: gyms).
The bottom line is that local SEO can benefit most businesses especially given the high percentage of Google searches on mobile devices and consumers' increasing desire to shop local or find businesses and services nearby.
Who provides Local SEO Services?
Digital agencies
Where ever you are in the world, there's a good chance you'll find a digital agency in your city or at least in your state who offers local SEO services. This is the most popular option and for good reason. Digital agencies provide great expertise and value especially with a service offering like local SEO. This is because you can generally see an immediate result in the short term from their activities – be it increased website traffic or better still, increased sales/conversions.
Local SEO Freelancers
Of course, digital agencies aren't the only option, you could also explore working with an individual such as an SEO freelancer or consultant. You might find that local SEO services pricing from a freelancer might be more cost-effective than an agency however they may not be able to deliver the breadth and depth of services that an agency can provide. That will depend on the exact services and deliverables you need.
In-house
You could alternatively bring local SEO in-house and upskill yourself or someone on your team by investing in local SEO education through an online learning platform like The SEO School.
What's included in Local SEO Packages?
Local SEO Audit
Everything starts with an audit. Without a site audit, you have no baseline upon which to measure performance and how it changes over time. Agencies use advanced software like SEOptimer to audit websites. They also use additional local SEO software to audit local listings, reviews and citations. You can run SEO audits yourself with SEOptimer's DIY SEO tool.
Some agencies include a list of insights and/or recommendations as part of the site audit. This is important for distilling all the data into meaningful actions. Often agencies will start with the 'lowest hanging fruit' and fix any on-page SEO issues like missing tags, unoptimized text, broken links and any other technical issues that might be holding back your site from ranking.
Google Business Profile Optimization
Google Business Profiles are absolutely vital to any business concerned with ranking in their local area. These profiles provide business owners with a free profile on Google (one for each location) which contains all the relevant business information (name, address, phone, website, other contact details, photos, descriptions, etc) plus visitors can leave reviews of the location, message the business, get directions and more.
Many local SEO agencies offer Google Business Profile optimization which involves optimizing the profile based on learnings from the site audit, best practice and local SEO techniques to help the business rank higher in Google and Google Maps. This process is relatively straightforward with one location but grows in complexity with more locations. This is why businesses with many locations must rely on SEO agencies to optimize and manage all their locations.
Another aspect of Business Profile optimization is posting regular content. Again, with many locations, this can become a sizable task. Like a typical social network, these profiles enable businesses to post updates such as photos, videos, text and offers which appear as part of their Business Profile in Google search results.
Keyword research
Keyword research is a big part of any SEO project and local SEO is no different. The big difference with local SEO is the presence of local terms (particularly city names) as part of the search query.
Consider this example above: you can see there's nearly twice the monthly search volume on "coffee shop san francisco" than there is on "coffee shop new york". Let's say a coffee chain with locations in both cities was trying to find short-term opportunities to increase their local search visibility. Clearly based on search volume, the San Francisco store would make the most sense to start optimizing first.
Agencies offering keyword research will trawl through potentially hundreds of keyword combinations to highlight the target keywords with the best potential to increase ranking and visibility.
Competitor benchmarking
Previously we discussed the importance of local SEO for businesses in competitive spaces (eg: wineries in Napa) where there are many competitors in a small geographical area. This dynamic plays out in many industries and cities around the world. When performing competitor research, a popular method that agencies use is the 'geogrid' ranking method.
For example, if you were a local business located in Richmond, Indiana – you would obviously be interested in the position of your search rankings on your target search terms within the geographical boundary of Richmond itself. But you might also be interested in how you rank in the greater area around Richmond too.
The geogrid below shows the ranking position of a website based on a target keyword in each geographical area. The site ranks in the 4th position for a target keyword in Richmond itself but that rank drops as you zoom out from the city center, and in some areas around the edge of the geogrid, it doesn't rank at all:
Agencies utilize geogrid research to benchmark their clients' rankings against competitors to understand where (geographically) their competitors are stronger or weaker.
Review analysis
Reviews and star-ratings are the currency of trust on Google. Not only are 5-star reviews good for helping rank higher in local search but they are the primary trust signal and help audiences decide what results to click on. A CXL study found that positive star ratings can improve click-through rates by as much as 35%.
Agencies offering local SEO services might bundle this service together with a Reputation Audit or might suggest an ongoing Reputation Management program to incentivize customers to leave 5-star reviews. Optimizing for reviews from Google Local Guides (a community of ordinary users who earn points and level-up by writing reviews, adding location photos, fixing map errors, answering questions and more) may also be beneficial for establishing a strong reputation in Maps results.
Local Citations & NAP/NAPW
A local citation is a page or directory site that mentions a local business. Typically these mentions contain some or all NAP details. NAP stands for Name, Address and Phone. More recently this is being referred to as NAPW, which adds Website too. As these local citations build up, there's a good chance that not all will be 100% correct. This is all the more relevant if your business moves location or updates phone numbers etc.
Fixing local citations is what agencies usually offer clients early on because this is a logical place to start optimization. Once that's done, building more local citations as well as backlinks will help a local business rank higher in their city.
Factors that impact Local SEO Pricing
Before we answer the question of "how much does local SEO cost?" – we need to cover the various factors that impact local SEO pricing, especially when seeking quotes from digital agencies:
Competition
The amount of other digital agencies in your city offering local SEO services will likely have a big impact on what you pay. In a bigger city with many agencies vying for work, local SEO pricing can become competitive. Of course, in most cases there'll be a reason why the cheapest option exists however the more agencies in competition with one another, the lower the average cost those services are likely to be.
Agency type
Digital agencies typically position themselves in one of the following ways:
Service offering: for example, an SEO agency that only does SEO work vs a "full service" digital agency that does everything including SEO but also development, paid search, social media, content, etc.
Industry niche: for example, a digital agency that only works with clients in the real estate industry. Their service offering may seem more like a full-service agency however their industry focus means they can niche down
Location-specific: relevant for local SEO, these are agencies that only work with clients in a particular city.
Agency size
The headcount of the agency can also have a big impact on what you'll pay for local SEO services. Small agencies (under 10 people) will be generally more cost-effective than Mid-size agencies with more than 10 people. However, this is a general rule and isn't always the case since some large agencies can achieve efficiencies in scale and offer comparatively low-cost services due to process automation.
Local SEO Agencies Pricing
WebMarketers: Ottawa ON, Canada
WebMarketers are a leading Canadian digital agency who also offer specialized local SEO services. In fact most of WebMarketers clients are local businesses who benefit from the range of local SEO tactics.
Roch Lavoie, their Digital Marketing Specialist wrote a complete Ottawa SEO Guide which covers Local SEO in section 5.
WebMarketers offer local SEO services that start from CA$500 per month.
Local Business First: Franklin MA, United States
Olympia Caswell is the founder of Local Business First, an SEO agency specializing in local SEO services. Local Business First exists to serve the small business owner who wants to use the latest technology to build their business but doesn't know-how.
Apart from monthly packages, Local Business First also provides bundles that can be purchased – for example, Local Directory Submission for $420.
RyTech: La Grange IL, United States
RyTech is a digital agency that offer Local SEO services among a whole range of other digital marketing services. Justin Rockow, their SEO Associate explained the difference that RyTech provides to clients:
"Our point of difference revolves around our commitment to consistent and genuine client communication that helps us understand the goals/needs of the business. We go beyond others by having the expertise to suggest or (when possible) make on and off page changes to a client's website to optimize for local SEO."
A local driving school client gained an impressive 93% increase in conversions thanks to RyTech's local SEO work.
RyTech's local SEO prices typically start at $1,000 per month. Factors such as the number of locations for a business can increase this price.
Local Leap Marketing: Allen TX, United States
Ryon Gross is the Founder & CEO of Local Leap Marketing, a digital agency that offers local SEO Services among other digital marketing service areas too. Their local SEO packages start at $800 per month. They also have separate local SEO service offerings broken down into Content Generation, Local Citation Building, Local Leap Analytics and Competitive Keyword Research.
Atiba: Nashville TN, United States
Jake Peterson is the SEO Specialist at digital agency Atiba. Jake explains the agency always starts off with a fixed service – usually an audit. This helps provide a gauge of how much work is required based on what the client wants to achieve.
"We strive to be the be-all, end-all solution for the client and build a package around what they need i.e. social ads, local SEO, digital marketing help, consulting, a full-scale SEO campaign, etc."
Atiba's SEO audits start from $500 and are a cost-effective way to assess where you stand in the world of SEO. The agency recently helped a summer camp client bounce back after COVID.
The SEO audit identified a number of keyword and content issues on the website as well as some technical issues, lots of dead links, HTTP pages not redirecting properly, an outdated sitemap and more. After implementing these changes, multiple pages on the client's website began ranking in the top 10 results.
You can read more about this case study here.
SociallyInfused Media: Hamilton ON, Canada
SociallyInfused Media is a digital agency that provides SEO and Local SEO services. The latter being a focus on dominating the 3-Pack:
Vincent Bucciachio is the CEO & Founder of SociallyInfused Media and reminds us that consumers rarely scroll further than the first page when performing a search. So being listed in the prized 3-pack for relevant searches in your area is the goal. The agency starts with a local SEO audit for most clients with pricing starting from CA$500.
SEO Growth Partners: Las Vegas NV, United States
Joey Randazzo is the Founder of SEO Growth Partners – a specialist SEO growth agency. He has a team of 21 people, 20 of which are women (mostly military spouses) that produce over 2 million words of SEO-focused content each year.
Joey says that on average, their clients pay $2,300 per month and the first month's investment is often higher, closer to $3,100 per month where they do the initial optimizations and audits.
PittCrew WebServices: Johnson City TN, United States
Christopher Pittman is the Founder of PittCrew WebServices and offers a Local SEO package costed at $1,000 which is delivered within a week. However, they discount this if it is part of a broader SEO piece of work (often to $500).
"Local SEO is for every business! Even if you don't see customers physically, your company still needs some limited local SEO namely a Google Business Profile, some social media profiles, and a Yelp account".
Christopher is an authority on the topic of internet marketing having completed a Doctorate in Business, focusing on E-Commerce and website conversion factors. He has his Master's Degree in Internet Marketing and also recently published a book Google Analytics and GA4 – Improve your online sales.
Always Relevant Digital: Richmond IN, United States
Josh Imhoff is the Owner of Always Relevant Digital and focuses almost entirely on local SEO.
Our main service is Google My Business Optimization which we price at three tiers. The difference in tiers is primarily how many keywords we optimize for at once. This involves creating different onsite and offsite assets around those keywords. So more keywords, more cost.
It's not just about keywords though, their packages starting from $400 per month also include Google Business Profile optimization, building service & location pages, sending out press releases and running automated review campaigns.
In 2021, Always Relevant Digital helped a local accounting firm client increase visits to their website by 163% and increase tax clients 25% – all thanks to local SEO strategies. More info is provided in their case study.
The Links Guy: Paisley, Scotland
Amit Raj is the Founder and CEO of The Links Guy – a bespoke link-building company that works with international, as well as national/local clients. Amit explains they're a little different from other SEO agencies in that they specialize in link-building services. This is a much-needed aspect of traditional SEO – however, it is still crucial for local SEO too.
"We do not build citation links, or directory links, but instead help our clients build partnerships with websites that are industry-relevant, audience-relevant or have some kind of local or regional relevance."
The Links Guy offers a handy SEO pricing calculator on their site where you can choose the number of monthly backlinks you want and it provides the monthly cost. For example, 10 backlinks per month cost $3349.
Next Steps
If you're reading this guide, you're likely in the market for a local SEO agency. The next step will be finding a local SEO agency that's right for your business. The most obvious place to start looking is in your local city since we know that most businesses who need local SEO, work with agencies in their city. But in reality, a local SEO agency anywhere can deliver high-quality services to you. Examine the list below and consider how important each deciding factor is to you. This will help narrow your shortlist and point you in the right direction:
Face-to-face contact: how important is it for you to maintain face-to-face contact with your agency. If this is at the top of your list, you'll need to find a local agency in your city
Reviews & referrals: we would suggest this is a high priority consideration and that you should find agencies with positive reviews and ratings or one that is recommended to you from a trusted source
Worked with similar clients: finding an agency that works with clients that look like your business is a good indicator that they have a deep understanding and passion for your industry
Achieved desired results: case studies and proof that the agency has historically delivered outcomes that you want for their other clients is a really great way to de-risk your decision
Awards and recognition: agencies who are highly regarded in the industry through awards and accolades might be important to you