Meta Keywords Tag: Is It Still Being Used Today?
Jan 19, 2022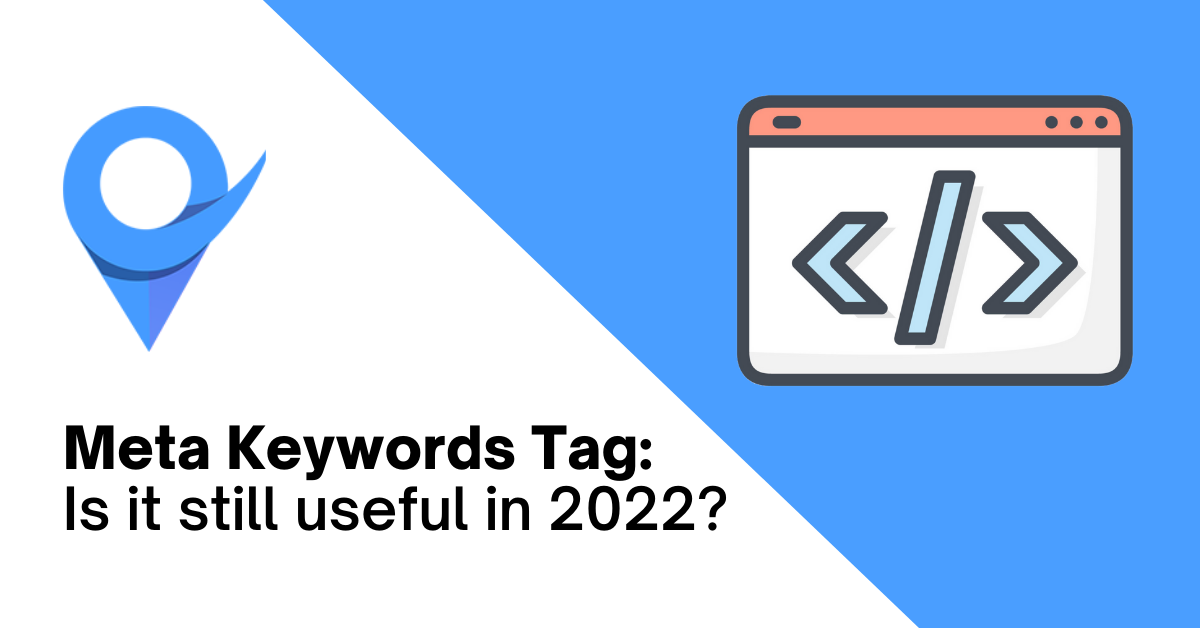 Table of Contents
What Is the Meta Keywords Tag?
Example of Meta Keywords Tag
History of Meta Keyword Tags
Are Meta Keywords a Ranking Factor in Google in 2022?
Meta Keyword Tags and Other Search Engines
Bing
Yahoo
Yandex
Baidu
What to Focus on Instead
Content
Link-Building
Conclusion
Do meta keywords help search engine rankings and are they still relevant in the year 2022? This is a common question that gets asked by those new to Search Engine Optimization, marketing professionals and business owners.
And with so much information available on the web, it's easy to feel uncertain about the answer to the above question.
In this article, we will briefly cover what the meta keyword tag is, share an example of this meta tag, if any other search engines still use meta keywords and answer the question of whether meta keywords are still being used by Google today.
In short, you don't have to worry too much about using meta keywords for improving your Google search rankings. In fact, there are plenty of other optimizations that you can focus on instead.
But if you're here to learn more about meta tags and why you shouldn't use them, read on.
What Is the Meta Keywords Tag?
Meta keywords are a type of HTML meta tag that can be used to tell the search engines what the topic of a web page is.
Similar to the title meta tag of a website, website visitors aren't able to physically see meta keywords since they are "hidden" in the HTML source code of a web page.
You can think of meta keywords as "behind the scenes", whereas regular keywords are visible and readable by the website visitor.
In the past, meta keywords were used by Google and other search engines to understand which keywords a web page or piece of content targeted.
Example of Meta Keywords Tag
Here's an example of what the meta keywords tag looks like in HTML:
<head>
<meta name="keywords" content="running shoes, mens running shoes, womens running shoes, nike running shoes, mens nike running shoes, womens nike running shoes">
</head>
As you can see, the meta keywords tag goes between the <head></head> HTML tags on a page.
If you want to view which meta keywords are being used on a website, simply right-click anywhere on the page and click on "View page source".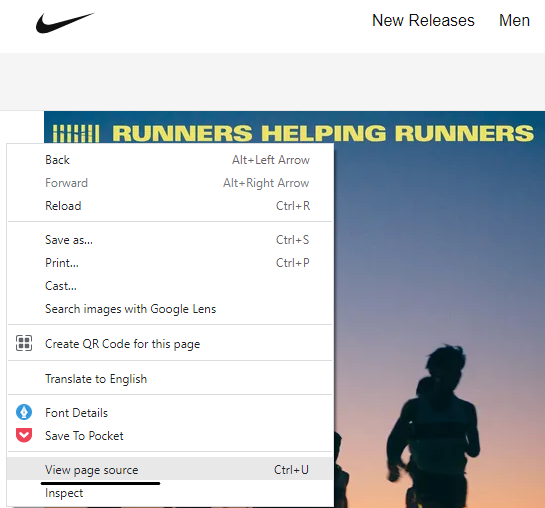 Then hit Ctrl + F and search for "<meta name="keywords" to find the tag.
Take note, you'll most likely not be able to see any meta keywords on most websites. The reason for this is that adding meta keywords to a web page is an old-school and outdated SEO tactic.
History and Demise of Meta Keyword Tags
Let's briefly discuss the history of meta keywords and what caused the demise of this meta tag.
Before search engines were as smart and sophisticated as they are today, they heavily relied on the meta keyword tag to understand and interpret the information on a web page.
The meta keywords tag was used as a way to determine the content on a web page's relevance to search queries.
Webmasters who wanted to rank for certain keywords and topics would insert their target keywords in the "content=" section, separated by commas.
This would have worked fine if webmasters were restrained in adding keywords to the meta keywords field. But it didn't take long before marketers and SEOs started over-loading the meta keywords tag with keywords and phrases with the hopes of raking in more organic traffic.
This is probably where the term "keyword stuffing" originated from.
Not only did webmasters stuff the meta keywords tag with their target keywords and variations thereof, they also added in unrelated, high-volume keywords in order to boost organic traffic stats.
This made it simply too easy for a marketer to rank for certain topics and keywords by making use of this spammy SEO tactic.
Are Meta Keywords a Ranking Factor in Google in 2022?
The short answer is no, meta keywords are not a Google ranking factor.
Meta keywords haven't been part of Google's ranking algorithms for a long time.
In fact, on September 21, 2009, Google publicly stated that they don't use keywords meta tag in their search ranking algorithm.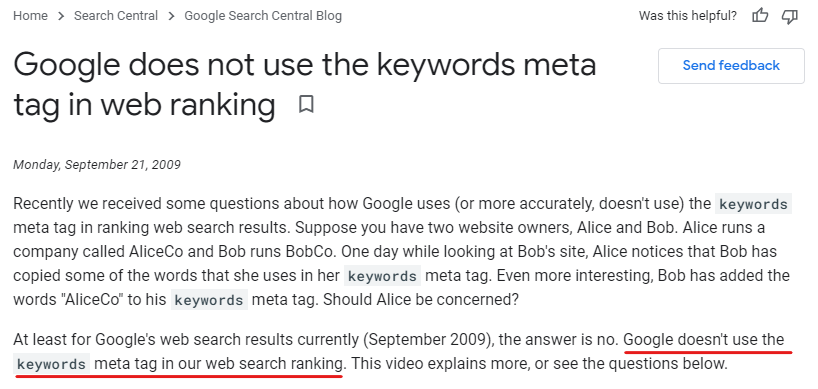 Meta Keyword Tags and Other Search Engines
But remember, SEO is about much more than just Google. The question is, do other search engines still use meta keywords as a ranking signal?
When all major search engines noticed that webmasters were using the meta keywords tag as a way of manipulating search engine rankings, they stopped using it as a ranking signal.
Here's what each major search engine has to say about meta keywords:
Bing
In a post, published on Bing's blog, a senior product manager at Bing stated that meta keywords have no SEO value at all.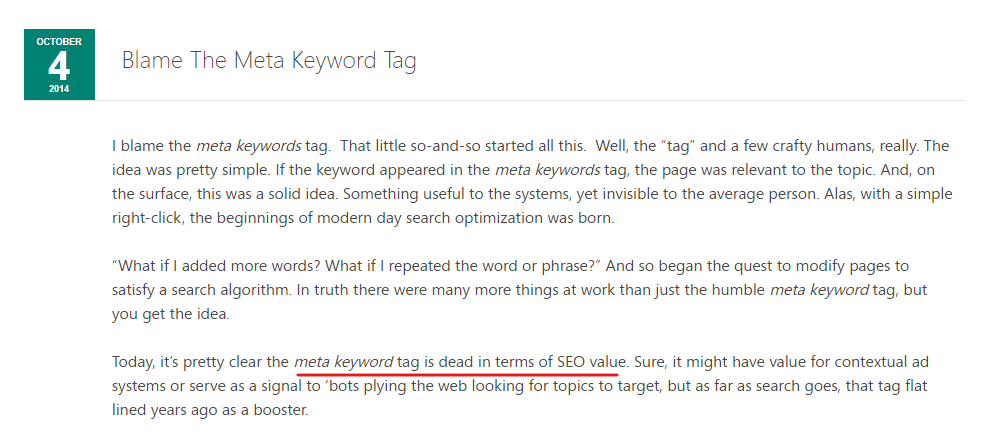 In fact, Bing has hinted that meta keywords may actually be a way to identify low-quality, spammy pages.
Yahoo
Seeing as Yahoo is powered by the Bing search engine, it's safe to say that they don't use meta keywords as a ranking signal.
Yandex
Yandex is the largest Russian search engine on the internet.
According to Yandex documentation, meta keywords "can be used when determining the page's relevance to search queries."

Baidu
Baidu, the most dominant search engine in China, has stated that "Meta keywords have long been in the garbage heap of history, and we will ignore them directly."
What to Focus on Instead
Seeing as most search engines, and more importantly, Google, sees no SEO value in meta keywords, it's safe to say that you shouldn't focus on optimizing meta keywords as part of your SEO strategy.
There are many other things to focus on instead as part of your SEO strategy:
Content
I'm sure you've heard of the saying "Content is king."
By focusing on producing and creating SEO-optimized content that serves the needs of your target audience, you'd be much better off than wondering which keywords to add to your meta keywords tag.
Creating content that answers a searcher's search query will lead to a longer page dwell time, which is something that Google looks at when determining whether your web page is worth ranking.
In fact, according to Andrey Lipattsev, a Search Quality Senior Strategist at Google, content is one of the top 3 factors that help you rank better on Google Search.
Link-Building
Backlinks act as "votes" from other websites that your content is valuable, trustworthy and worth linking to.
So the more backlinks, or "votes", your content has, the higher your web page will rank in Google and other major search engines.
Furthermore, links also form part of one of the top 3 things that help a site rank higher in the search engines.

Webmasters and SEOs need to prioritize link building, the process of getting backlinks, as part of their SEO strategy.
There are 3 main ways to get more backlinks:
High-quality content. By producing high-quality content, other websites will naturally link back to your content and web pages.
Link outreach. Marketers can do link outreach by getting in touch with other website owners to ask them for a link placement in their already published content.
Guest posting. This is the process of producing and writing content for another website with the goal of adding links back to your website. Most sites that allow guest posting allow anything from 1 to 3 links back to the writer's website.
Conclusion
To summarize, meta keywords are dead and they're no longer considered a ranking signal in the eyes of Google and other search engines.
Webmasters, marketers and SEOs should rather focus on producing stellar content, link-building and other on-page SEO tactics as part of their overall SEO strategy.