Restaurant SEO: 12 Secrets to Dominate Local Search
Dec 1, 2021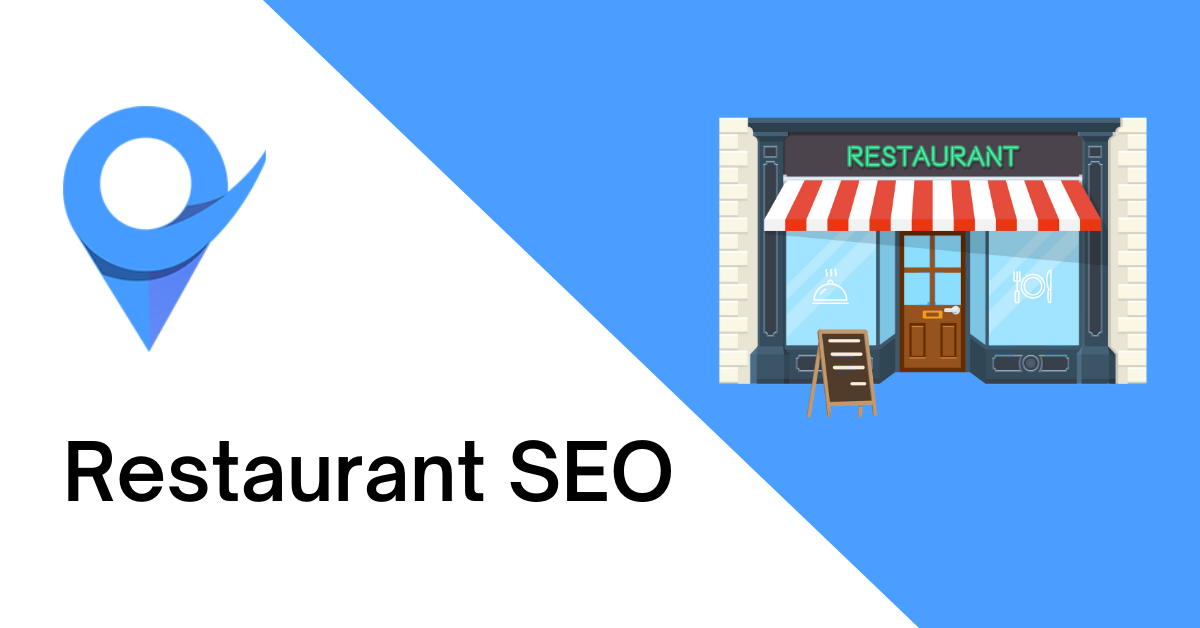 Table of Contents
What is Restaurant SEO?
Why is SEO for Restaurants so Important?
Restaurant SEO Tips and Tactics
Target Relevant Keywords that Describe Your Restaurant
Optimize Your Restaurant Website and Content
Add Menu to Website
Clearly State Restaurant Address and Phone Number on Your Website
Enable On-Site Reservation Booking Functionality
Ensure Site is Mobile-Friendly
Optimize Your Website for a Great User Experience
Optimize Google Business Profile – Short URL, Interior Pictures & Posts
Add Your Restaurant into General Citations Directories, Restaurant Directories and Review Sites
Local Link Building
Utilize Schema Markup for Restaurants
Monitor your Restaurant SEO results
Conclusion
The world of Search Engine Optimization (SEO) is very complex, but there are simple things that any restaurant owner can do to improve their search engine ranking and drive more traffic to their website. This guide will help you understand how search engines work and what it takes to get your business noticed online by potential customers.
What is Restaurant SEO?
So how do you get to the top of the search results, improving your business and your revenue? The key is through restaurant SEO.
In its basic form, SEO, is the process of optimizing your online presence, including social media and your website, to rank higher on search engine results.
This is particularly important for the big search engines: Google and Bing. Higher means that your website and socials will come up sooner than your competitors, thus driving more business to you.
Restaurant SEO is the optimization of your restaurant's online presence to gain traction and customers. This optimization takes the form of several actions including localized keywords in your pages, adding exciting and relevant content for your consumers, and prioritizing the local community with things such as fundraisers and other such events.
Why is SEO for Restaurants so Important?
So why should you care about restaurant SEO? Optimizing your sites and improving your standing with the community not only increases your influence in the local area but will put you a step ahead of your competitors. Your website will be on the top of the search engines, local businesses and communities may spread your citations, and it'll be easier for you to get reviews and recommendations.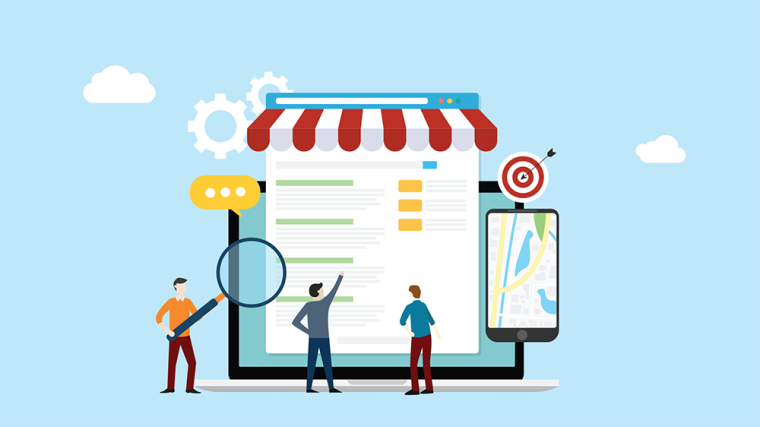 Image source: Next Restaurants
A solid restaurant SEO campaign will help turn the time and money spent on your website and social media into increased revenue and a more active consumer base.
Restaurant SEO Tips and Tricks
A great restaurant SEO strategy starts with defining your target audience, creating a brand voice for the restaurant, and then creating engaging and helpful content.
Target Relevant Keywords that Describe Your Restaurant
A restaurant should start building out a strong SEO strategy from the beginning. This means having a clear understanding of what target keywords, how much search traffic those keywords generate, and which pages on their site are best suited to ranking for those keywords. Keyword research is one of the most important things a restaurant owner can do to ensure their website ranks well for relevant search terms.
There are three different kinds of keywords to know and understand in restaurant SEO.
Broad Restaurant Keywords
Broad keywords are those that describe a broad category of products or services such as "restaurants", "bars", or "coffee shops". Searching "restaurants in Massachusetts," would be an example of a broad keyword search.
Restaurant Niche Keywords
Niche keywords are more specific and include more detail for the product or service. Good examples are "pizza delivery restaurant" "gluten-free restaurants in Boston."
Brand-Related Restaurant Keywords
Brand-related keywords are those that relate to the company name itself. These types of keywords are simple, in the case of a brand it's usually just the brand or franchise title, such as "Chick-fil-A".
Restaurants need to use all three types of keywords in their SEO strategy.
The keywords that you use, especially if you are promoting a local franchise, generally should not be broad keywords. Instead, aim to target the local area around you as best you can. Doing keyword research of your own and analyzing your competitor's keyword usage is extremely important to ensure that you end up on the top of the search results.
How to do keyword research
Understanding and doing effective keyword research takes time, but that doesn't mean it's out of reach. Here's how to get started:
First, brainstorm a list of basic keywords that pertain to your business. If your restaurant sells Thai food, these words could include things like "Thai food", "Thai street food", "Asian food". These words encapsulate the basic keywords for your restaurant.
Find niche-related keywords like "organic Thai food", "vegetarian Thai food", "healthy Asian food" and so on.
Engage the Search Console. Once you've confirmed that your site is verified and you can access the Google Search Console, go to Search Traffic, then to Search Analytics. Here you will see the following: keywords; keyword phrases people use to find your site; most searched pages and so on.
Use a keyword research tool to further expand your keywords. Tools such as Google Keyword Planner, Ubbersugest and SEOToolsSet can easily locate frequently searched keywords in relation to your base words or business. These tools also give you keyword ideas relevant to your product, service, and target customers. It also reveals search volume data for these keywords so that you can decide whether to include them in your blog in your web pages.
Check out your competitor's pages. Using a tool such as Ubbersugest Ahref's Site Explorer, you can easily sort your competitor's pages and find the top keywords embedded within them.
While important to do additional research into more specialized keywords and phrases that are a part of your business, these steps above should be enough to set you up for success!
Optimize Your Restaurant Website and Content
The way users search for information has changed dramatically since Google first launched its algorithm. As users get more sophisticated, search optimization gets more complex as well, requiring business owners to keep their sites optimized over time.
Optimize website content for user intent
Today, users don't just enter one word into a search box and click "search." This means that instead of just looking up keywords, search engines will also look for synonyms, related terms (also called semantic terms), and other information that helps determine which pages should rank highest in searches.
This means that when someone searches for "health food restaurant" they may mean something like "restaurants that have vegetarian food options" or " restaurants that have gluten-free entrees". So, instead of focusing on keywords, marketers should focus on understanding how users think about their needs and wants, or the user intent.
So, it is important that the website content be unique, tells your brand's story, and contain semantic terms to better match the searcher's intent.
Create useful content by the means of a blog
A restaurant blog can accomplish two goals: increase customer loyalty and attract new customers.
Blogs allow restaurants to share information about their menu, recipes, special events, promotional offers, and the overall story of your business. It helps them build relationships with their customers and potential customers.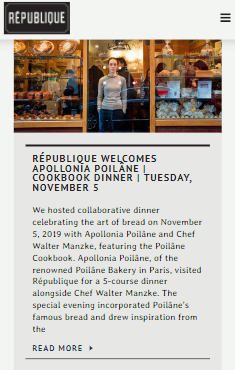 Here are some popular topics:
Owner/franchise highlights
Behind-the-scenes stories
Restaurant promotions and updates
Local events and happenings
Optimize content for SEO
SEO content on websites refers not only to visible on-screen elements like text and images, but it also includes elements that are initially invisible, such as meta-tags, alt-tags, and meta information. Optimizing content is important for searchers and search engines alike.
Here are some specific items for optimization:
Headings, paragraphs, and other structural text elements
Graphics and videos
Optimize meta descriptions
Optimize the meta description tags
Internal linking structure
Add Menu to Website
A great way to outrank your competition is to have an easy-to-find, accessible food menu on your site.
Having your menu isn't enough, however: optimizing the menu and making sure it's user-friendly is important. Here are a few tips to make sure your menu is the best that it can be:
Post your menu on a page, not just as a PDF file. PDFs, while convenient, tend to load poorly on mobile and tablets. PDFs cannot be indexed by search engines unless they contain searchable text. If you use a scanned PDF, make your scan searchable by using OCR to convert scanned text into digital text that a search engine can read. That said, having a pdf of the menu available to download is a great idea, just make sure it isn't the only option.
Make sure the menu is easy to read. You want the user experience to be as seamless as possible. Ensuring the navigation is easy both on the header and footer is a great way to show your customers that you care. Also, keep your menu to a single page if possible as this greatly increases legibility.
Clearly State Restaurant Address and Phone Number on Your Website
If users are checking out your website and like what they are seeing, the two things they will want to know immediately are the address and the phone number of the establishment. These two things need to be prominent on your site and easily accessed. Whether that's in the header, footer, or somewhere else, that's up to you, but they need to be easy to find for your average viewer.

Make sure that they are displayed and easy to find on both the desktop version of your website and the mobile/tablet versions as well. Almost 80% of customers search for where to eat on their mobile phones, so not including these formats when displaying information is a huge mistake. Specifically, make sure that the phone number is "clickable" to enable easy calling from a mobile phone.
Enable On-Site Reservation Booking Functionality
A great way to ensure that your customers know that you have their best interest in mind is to set up a one-click reservation form right on your website. 25% of users regularly make online reservations, and without a solid reservation application form set up on your site, this is almost a quarter of customers that you could potentially miss.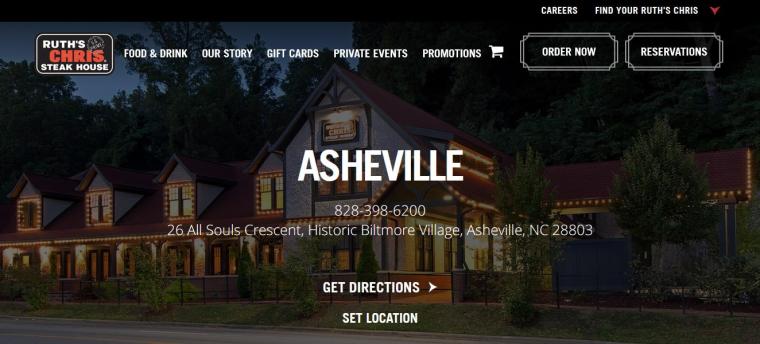 Make sure that it's a one-click reservation. No one wants to go through multiple clicks and pages just to get to their reservation!
List the online reservation function in multiple places and make sure it is visible. Pages like your homepage and your menu are excellent areas for making a reservation!
Invest in an online ordering app. It is great for the user experience.
Be creative! Your forms don't have to be drab and boring – just don't over-complicate them by making them too cute.
Ensure Site is Mobile-Friendly
Mobile devices are now used for almost every aspect of our lives. So, if you want to reach your audience, you need to ensure that your site is optimized for mobile users. If your website is not responsive, customers will just end up leaving your page without examining your content or menu at all, causing a huge loss of potential revenue. Responsive Web Design is a technique used by designers to create websites that adapt their layout to different screen sizes.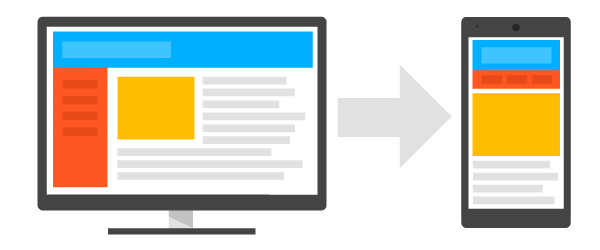 Image source: Google
You can use Google's Mobile-Friendly Test to verify that your website will look great on mobile devices.
While it may be tempting to ignore optimizing your mobile content in favor of desktop, with 68.1% of searches coming from mobile in 2020, it is far more beneficial to optimize your site for mobile with today's customers. Google now focuses on the mobile version of a website for understanding its content and search engine indexing.
Optimize Your Website for a Great User Experience
Google Core Web Vitals are a set of factors that are part of Google's "page experience" score, a.k.a. Google's way of judging your page's overall user experience (UX).
The user experience is important because it helps users understand the restaurant's website. A good user experience makes it easier for customers to find what they need and provides them with a pleasant experience navigating your website.
There are so many website builders out there: from WordPress to Wix to Duda platforms. When compared, some of these builders make it easier to optimize for a good user experience. So, if you are just developing a website for your franchise, you might consider the user experience part of the website building platform.
To test your restaurant website for this algorithm, install the Lighthouse Chrome extension, type in the URL of your website, then hit the lighthouse icon and generate the report.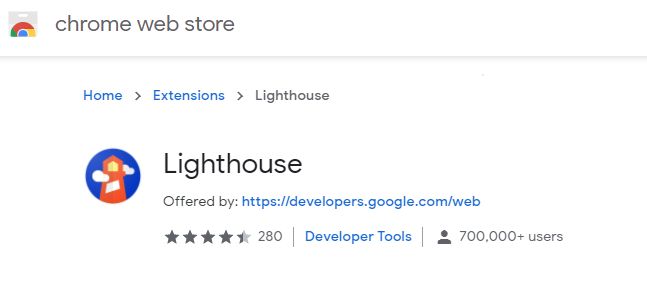 Google sets the bar very high when it comes to user experience - and for good reason. If the user does not have an efficient and great user experience, they will leave your site and you will lose the sale.
Optimize Google Business Profile – Short URL, Interior Pictures & Posts
One of the most important business listings for your restaurant is the Google Business Profile. (you can optimize your listing for Google Maps and the Google organic Search here).
Add Quick URLs to GMB Listing
Quick URLs are a feature that Google added to Google My Business which allows you to put shorter links for your different pages on Google. For example, if someone searches for your restaurant on Google and your information comes up, you can have links on your GMB profile to different pages, such as the menu, reservations, phone number, etc.
This is a useful tool to set up so that customers can get to the pages that they want faster than ever!
Here's how to set up quick links:
Step 1: Sign into your Google My Business account under the location you want to set up quick URL's for.
Step 2: Click on the Info panel in the top left.
Step 3: Select the Add Profile Short Name option.
Step 4: Enter the quick link name you'd like. It needs to be between 5-32 characters.
Step 5: Once you hit the apply button, wait for Google to approve you, then you'll be all set!
Add Interior pictures
People like to not only read about what's going on with your business, but also to see examples of your products, services, team members, and the inside of your business. Google has published a detailed guide to uploading business-specific photos to your GMB listing.
Google's own study shows that businesses that have photos get 42% more requests for directions and 35% more clicks to the company website.
Create Google Posts
One of the more underutilized features of Google My Business is the Google Posts section. Google Posts allows you to post to Google My Business directly, exactly like you would on a social media platform like Facebook. Using Google Posts effectively is great for both your clients and search engines, as it will give you more backlinks when customers share your posts, increase your organic traffic for your website when people click on your content, and allow you to reach a wider customer base.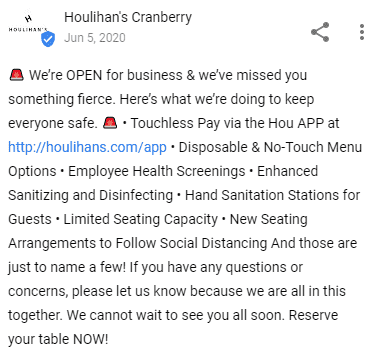 There are 4 different types of Google Posts that you should be aware of and when to use each one:
Update - These allow you to share new info about your website or your restaurant. You can include photos, videos, a description, a link, and a call to action (CTA) button. This is useful for promoting news, new menu items, new hours and more.
Events - Gives you a chance to share about any upcoming events that your restaurant or company may be planning. You include in these the title of the event, the start and end date and time, photos or videos, a description, and a CTA button. Useful for any holiday parties or special events of any kind.
Offers - Any kind of promotional deal or sale goes here. This type of post includes a title, start and end date, description, coupon, and terms and conditions.
You should be constantly optimizing these posts and using these posts to further expand your sphere of influence and to promote your business at the same time.
Add Your Restaurant into General Citations Directories, Restaurant Directories and Review Sites
Submit to restaurant directories
One of the better ways to get your restaurant noticed by consumers is to list it in restaurant directories that people typically search when looking for a great place to eat.
Most of these restaurant directories require you to create an account with them and register your business.
These directories include information at a glance including the location, hours, reviews, menus and price. Any information that a customer could want will be at the tip of their fingers.
Create citations on general online directories
While there are specific directories for restaurants alone, those aren't the only places where you want your business listing information - name, address, phone number and website (NAPW). Directories for local areas, such as Yelp, TripAdvisor, Yellow Pages, and others are also just as useful for featuring your website and restaurant business.
Add your restaurant to review sites
If you want to increase your chances of making sales, then you should focus on getting online reviews and especially positive reviews from your happy customers.
The best way to get 5-star reviews is to provide excellent customer service and ensure that your product is easy to use.
This means that you must be available to answer any questions potential customers may have about your product. Also, you should try to proactively resolve any issues that your customers might encounter when using your product.
Most people are familiar with general review sites such as: Google My Business, Yelp, and Facebook, but another way to obtain reviews are industry-specific review sites. For restaurants, for example, the most important review sites are OpenTable, TripAdvisor, Zagat, Zomato, Foursquare, Gayot, The Infatuation, and more.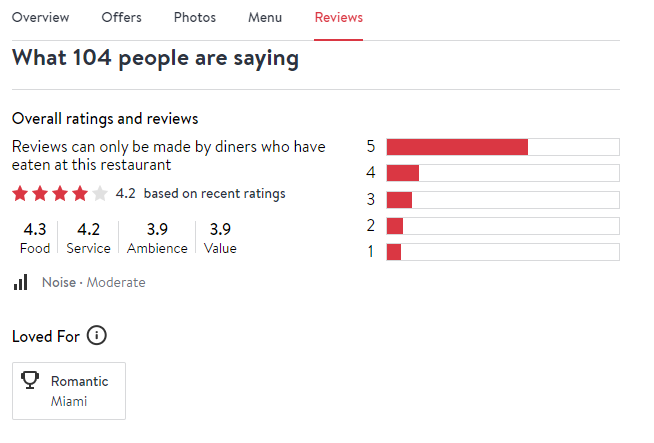 Once your restaurant is submitted in these review sites, make sure you respond to both positive and negative reviews. Just remember that having one negative review among many positive reviews is better than not having any reviews at all.
Local Link Building
One of the best things that you can do to promote your website and business is to promote a link-building strategy. This will build domain authority for your website, which will help you to improve your search rankings. Backlinks are an important factor for search engine ranking.
These links from other websites tell Google that you are trustworthy and credible, promoting you as an authority within your area of expertise to Google. If you have more backlinks than any of your competitors, Google sees it as a sign that you are the better restaurant, which will help you massively in search rankings.
A link-building strategy is anything that you do to get other websites and figures of your local community to link back to your website. All these may vary, whether you are catering to local events, hosting a big town party, volunteering at your local shelter, writing for a local food blog, giving taste tests or tours, or any other connection you make. A link from a blog post can go a long way.
Ways to build backlinks to your restaurant website:
Sponsor a sports team or donate to a local organization
Partner with local bloggers
Publish discounts in local news outlets
Support local charities
Advertise in your local community pages
Get accredited with the Better Business Bureau
Join your local Chamber of Commerce
Utilize Schema Markup for Restaurants
Schema markup or structured data markup is the use of standardized formats to provide Google additional information on your webpage content. This markup may be added to a website to help search engines provide more detailed results for users, appearing in the form of a rich snippet like star ratings, recipe markup, and much more.
To test if your website has this schema code, you can use the Google Rich Results Test free tool and test your website. The most important restaurant-specific schema include: AggregateRating, acceptReseservation, hasMenu, and starRating. A complete listing is available at schema.org.
Here is an example of a restaurant schema for Chick-fil-A. Read this detailed article on structured data to learn more.
When the searcher types something like "home-made pizza Boston" the keywords home made or house made in the query appear in the local pack list.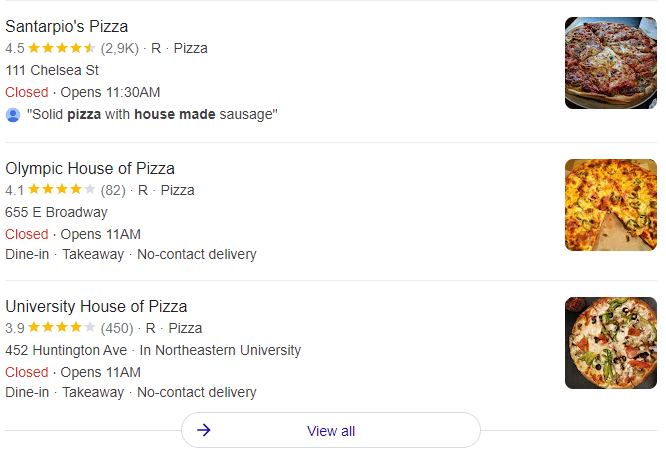 Google loves rich snippets and so do users, especially on the search results for recipes and products.
Monitor your Restaurant SEO results
Analytics data help marketers understand the source of the best website traffic, a marketing campaign's success or failure, and provide an understanding of website visitors and potential customers. Google Analytics and Bing Analytics should be a key element in every restaurant's marketing plan.
Things to look at in Google Analytics:
How many people visit your restaurant's website?
How people access your site: organic search, direct, social media, referral, or ads.
Which pages are most visited?
Where your website visitors are based.
Conclusion
There are many different tips and tricks to utilize when going for that number one slot on the search engines. While some things work better than others, employing a wide variety of techniques can help you skyrocket ahead of your competitors. Anything from helping your local community, to simply putting in a lightweight and easy-to-use menu onto your site can help improve your ranking.
While it may seem intimidating looking at all the options, pulling it all together is huge in increasing your overall revenue and customer retention, and should not be taken lightly – it is well worth the investment.