150 Roofing Keywords for Local SEO in 2023
Jun 9, 2023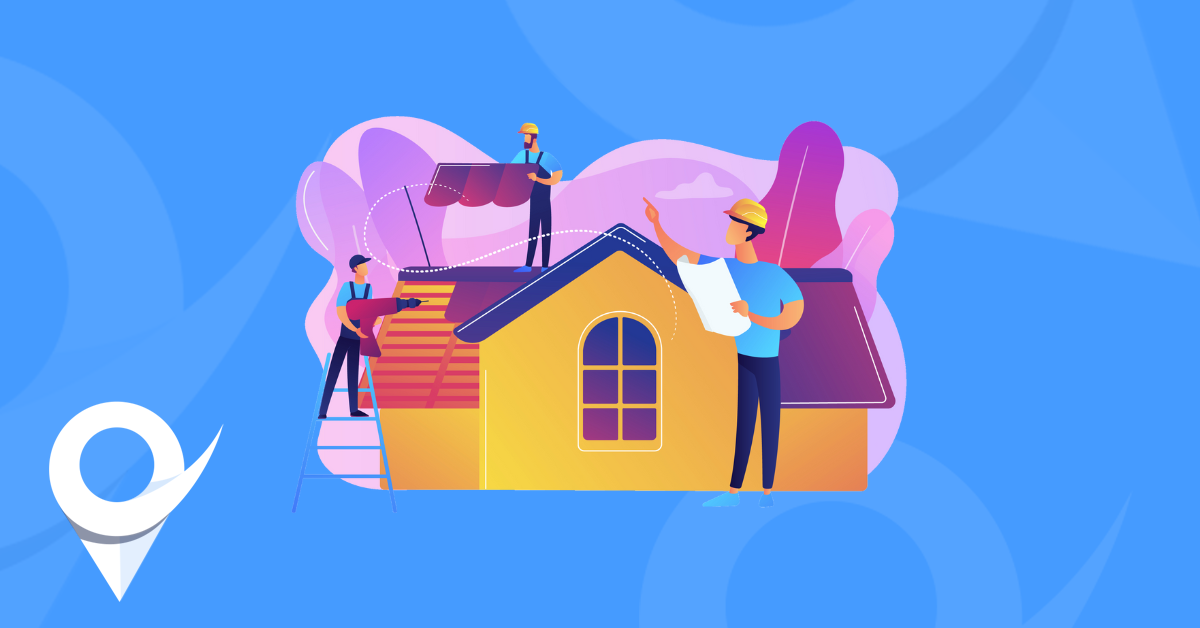 When it comes to establishing a strong online presence for roofing companies, search engine optimization (SEO) plays a critical role.
Having a well-optimized website can significantly boost your chances of reaching potential customers and standing out among competitors in the roofing industry. One of the key aspects of effective SEO is identifying and utilizing the right keywords that align with your local business objectives.
In this comprehensive guide, we will delve into the world of roofing keywords and how they can powerfully impact your local SEO strategy.
We'll explore the methods that you can employ to discover the perfect roofing keywords for their websites.
Additionally, we'll provide you with an extensive list of 150 carefully curated roofing keywords that you can use on your website to create content, build location pages, and in your Google Business listing.
Best Roofing Keywords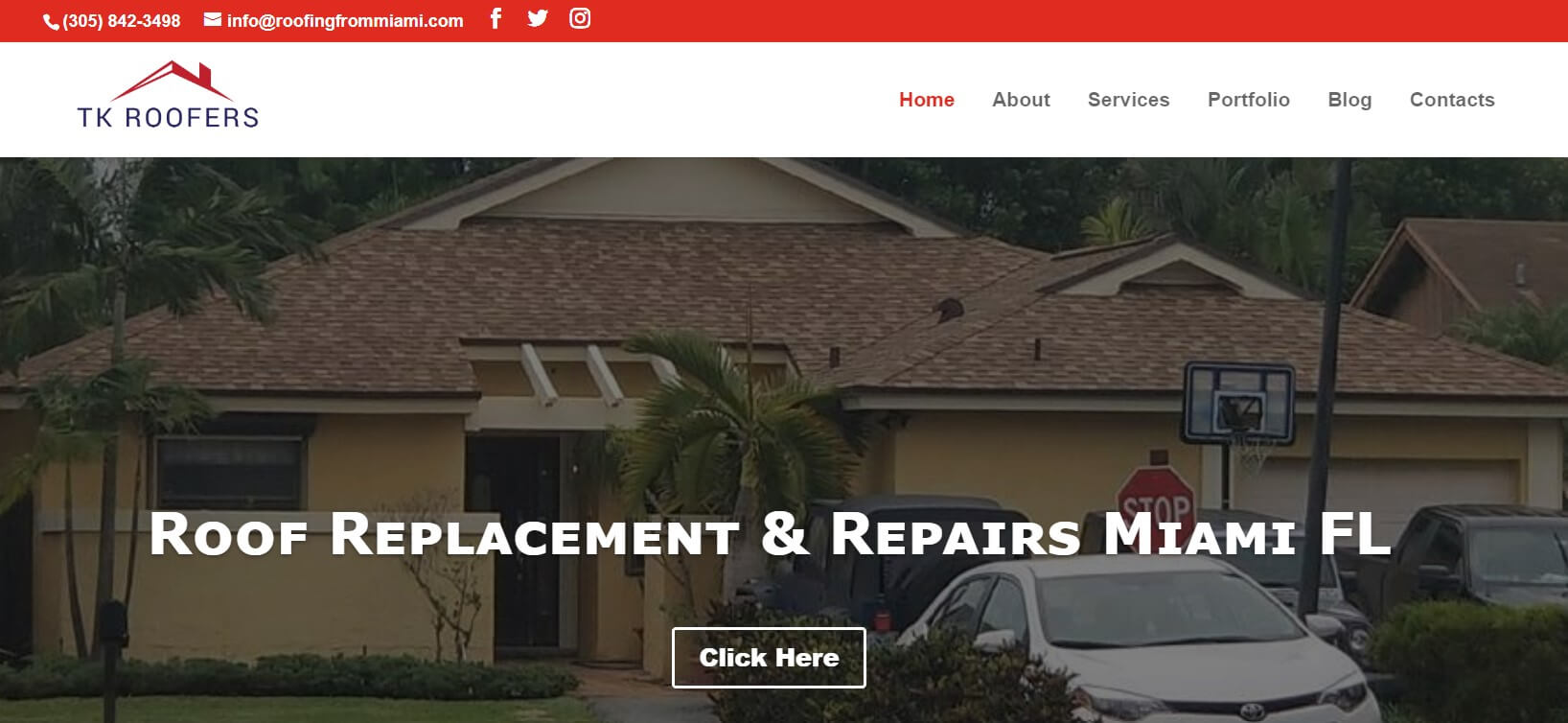 Here's a list of 150 roofing keywords that can be used by roofing contractors in their Google Business listing, location pages, and website content:
Roofing services
Roof repair
Roof repair services
Affordable roof repair
Affordable roofing services
New roof cost estimate
Roof replacement
Roof replacement cost
Roof installation
Residential roofing
Commercial roofing
Emergency roof repair
Roof inspection
Roof maintenance
Roof leak repair
Roof leak detection
Flat roof repair
Metal roofing
Tile roofing
Asphalt shingle roofing
Slate roofing
Slate roofing company
Roof waterproofing
Water damage roof repair
Roof restoration
Gutter installation
Gutter repair
Gutter cleaning
Skylight installation
Skylight repair
Roof ventilation
Soffit and fascia repair
Roof flashing repair
Chimney repair
Roof coatings
Green roofing
Solar roof installation
Storm damage repair
Hail damage repair
Wind damage repair
Roof insurance claims
Roofing warranty
Roofing estimates
Roofing quotes
Roofing contractors near me
Local roofers
Licensed roofing company
Affordable roofing
Quality roofing
Reliable roofing
Professional roofing
Experienced roofing
Trusted roofing
Best roof repair
Best roofing companies near me
Best roofing contractors
Roofing promotions
Roofing discounts
Roofing specials
Roof financing
Financing for new roof
Roof payment plans
Home roofing companies
Home roofing contractor
Home roofing services
Energy-efficient roofing
Cool roof systems
TPO roofing
EPDM roofing
PVC roofing
Built-up roofing
Modified bitumen roofing
Roof deck repair
Roof truss repair
Roof cleaning
Roof moss removal
Roof algae removal
Roof mold removal
Roof snow removal
Ice dam removal
Roof heat cable installation
Roofing safety
Roofing certifications
Roofing associations
Roofing materials
Roofing products
Roofing brands
Roofing suppliers
Roofing distributors
Certified roofing company
Certified roofers
Sustainable roofing options
Estimate for roof replacement
Free roof estimate
Trusted roofing professionals
Common roofing problems
DIY roofing repairs
Signs of roof damage
Roofing maintenance checklist
Choosing the right roofing material
Benefits of regular roof inspections
Finding the right roofing contractor
Roofing safety guidelines
Steps to prevent roof leaks
Importance of gutter maintenance
Roofing emergency preparedness
Roofing project timeline
Roofing industry regulations
Roofing service areas
Roofing FAQ
Roofing warranties explained
Types of roofing warranties
Roofing materials comparison
Roofing color options
Enhancing curb appeal with a new roof
Roofing and home value
How to choose a roofing style
Roofing maintenance tips for all seasons
Sustainable roofing benefits
Roofing options for historic homes
Roofing solutions for commercial buildings
Roofing ventilation and energy efficiency
Common roofing myths debunked
Roofing safety gear and equipment
Roofing material lifespan
Identifying roof problems early
How to maintain a roof in harsh weather conditions
Roofing maintenance for aging roofs
The importance of proper roof flashing
Roofing inspection checklist
Roofing maintenance for rainy seasons
Roofing maintenance for snowy climates
Preventing ice dams on the roof
Roofing maintenance for high-wind areas
Roofing maintenance for extreme temperatures
Roofing maintenance for coastal regions
Roofing maintenance for desert climates
Roofing maintenance plans
Roofing safety standards
Best roofing practices
Professional roofing advice
Roofing cost estimates
Roofing project management
Leak detection
Attic insulation
New roof quote
New roof cost
Tile roof replacement
Tile roofing company
Tile roofing contractor
These keywords can be used strategically across various digital platforms to improve the online presence and visibility of a roofing contractor's business.
How to Find Roofing Keywords for Local SEO
Finding the right roofing keywords for local SEO can be the key to unlocking your business's full potential online. In this section, we'll explore various techniques and tools that you can utilize to discover new keyword ideas and even learn from your competitors.
1. Leverage Keyword Research Tools
Keyword research tools are invaluable when it comes to identifying the most relevant and high-performing roofing keywords in your local area. Some popular tools include:
Google Keyword Planner: This free tool from Google allows you to find keywords related to your industry and provides data on search volume, competition, and even suggests bid amounts for Google Ads campaigns.
SEOptimer: A comprehensive SEO tool, SEOptimer offers a keyword research feature that can help you identify trending and high-volume keywords in your niche.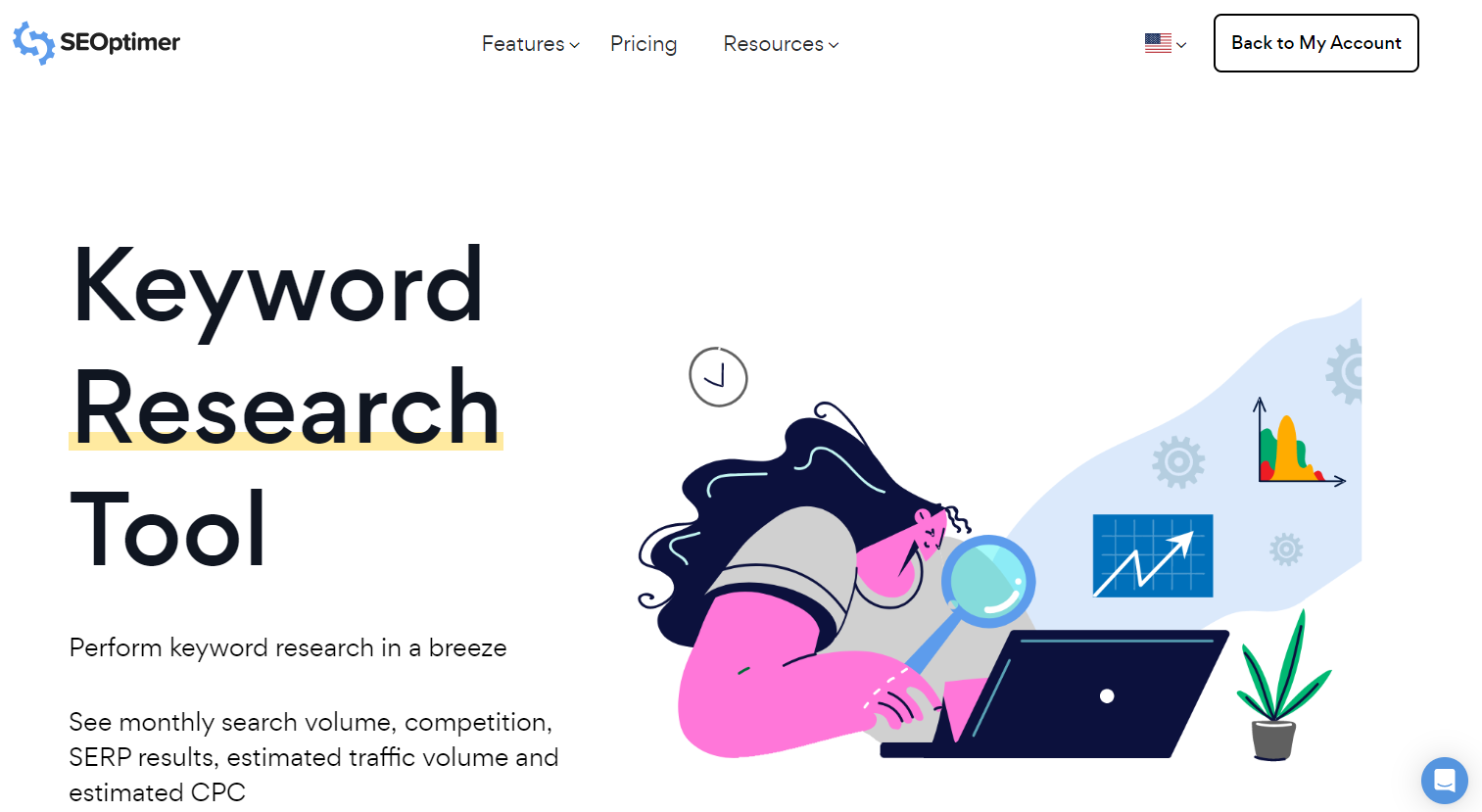 2. Analyze Your Competitors
Spying on your competitors can provide valuable insights into the keywords they're targeting and ranking for.
This information can help you identify gaps in your own keyword strategy and capitalize on opportunities your competitors might be overlooking.
To analyze your competitors' keywords, you can:
Manually review their website: Go through your competitors' website content, meta titles, and descriptions to identify the keywords they're using. Pay special attention to their service pages, blog posts, and location pages.
Use competitor analysis tools: Tools like SEOptimer allow you to analyze your competitors' websites and discover the keywords they're ranking for.

3. Utilize Google Autosuggest and Related Searches
Google Autosuggest and Related Searches are simple yet effective ways to find new keyword ideas.
To use these features, start typing a roofing-related query in the Google search bar or scroll down to the bottom of the search results page to find related searches.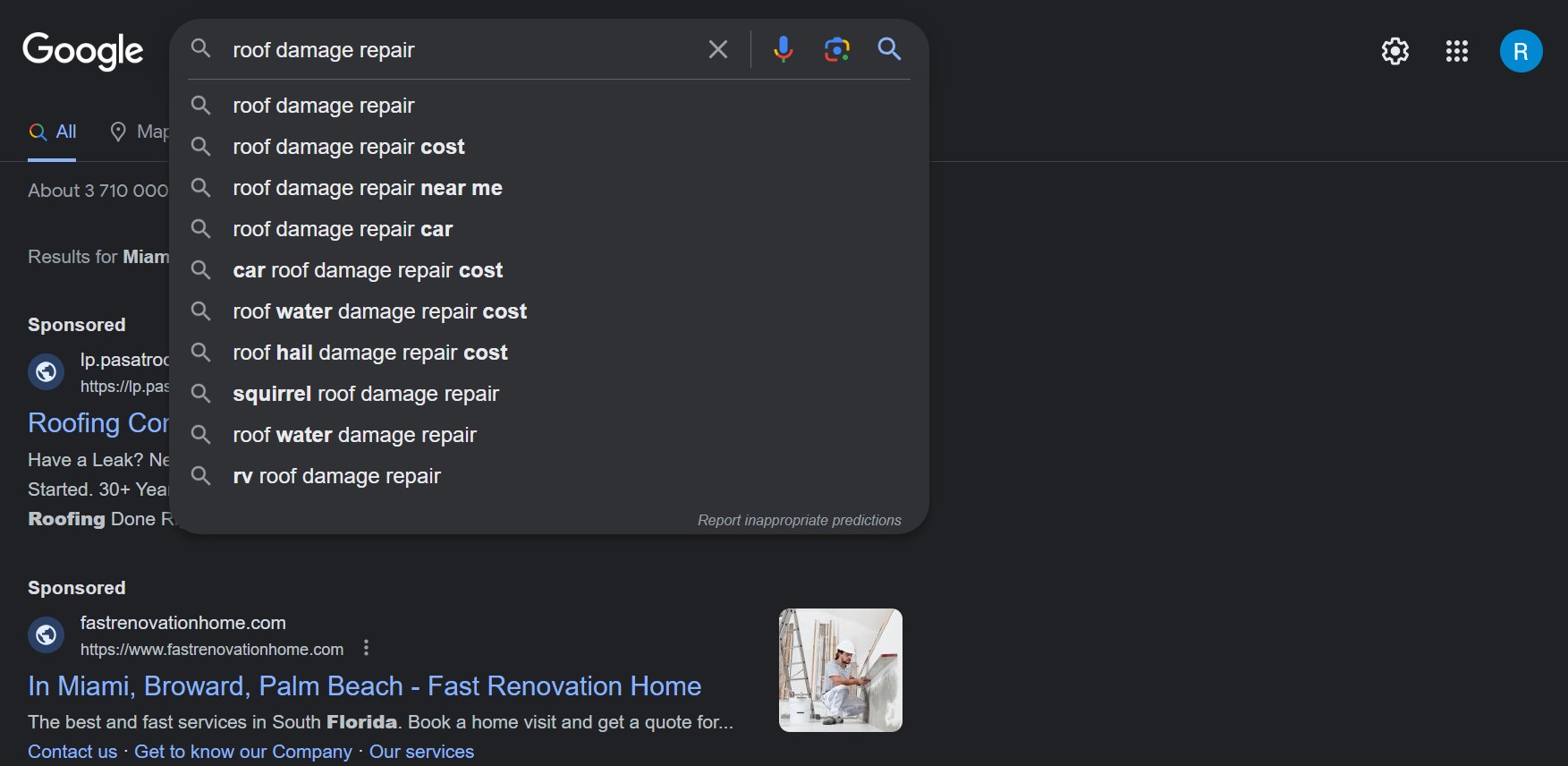 These suggestions are based on real user queries, which means they're relevant to your target audience.
4. Monitor Industry Forums and Social Media Platforms
Keeping an eye on industry forums, social media groups, and online communities can help you identify common questions and topics that people are discussing in relation to roofing services.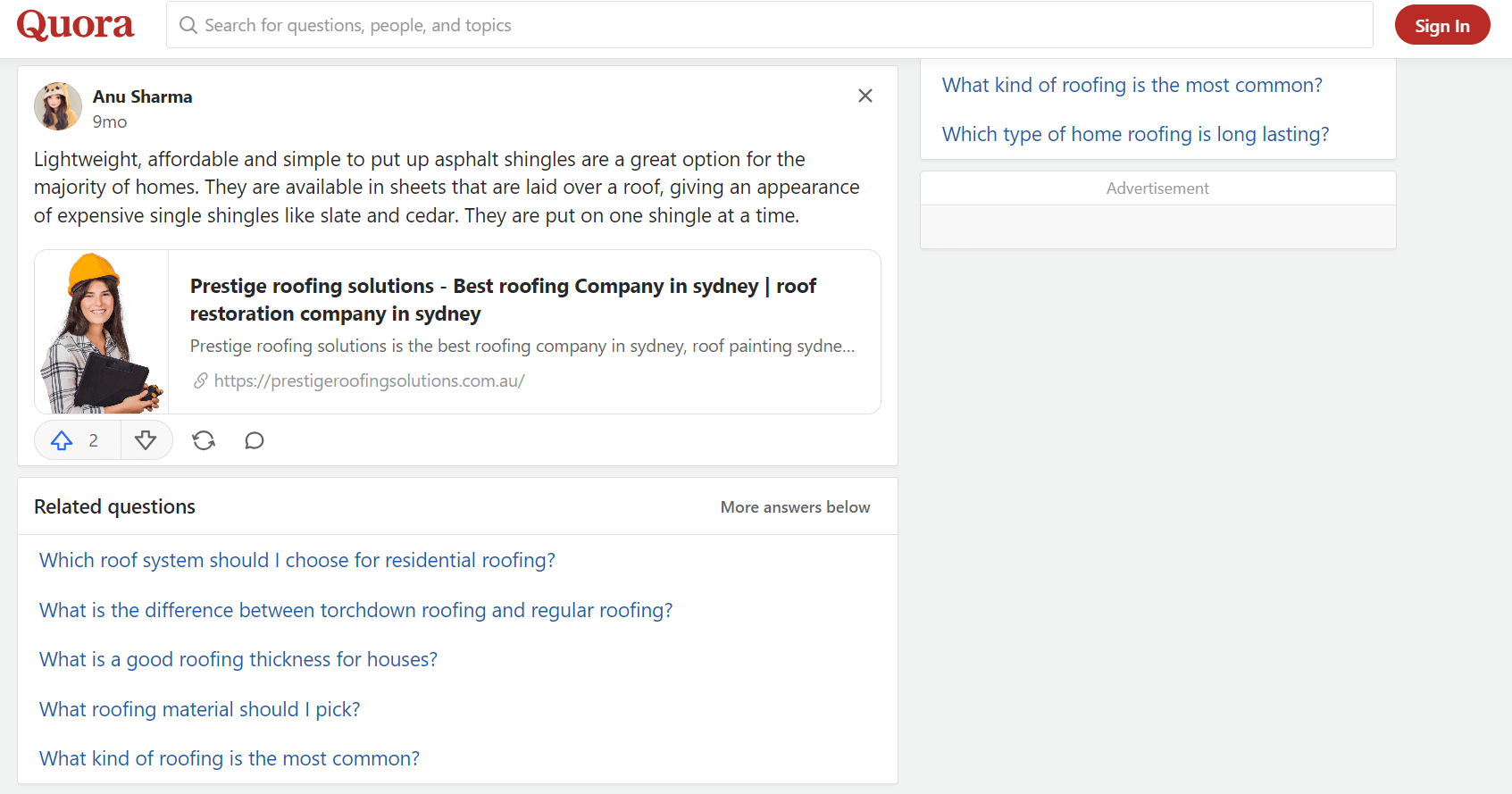 These insights can inspire new keyword ideas and inform your content strategy, ensuring that you're addressing the needs and concerns of your target audience.
By employing these techniques, you'll be well-equipped to find the most effective roofing keywords for local SEO.
Remember to continually monitor your keyword performance and adjust your strategy as needed to maintain a strong online presence and drive more traffic to your website.
Where to Use Roofing Keywords on Your Website & Google Business
Now that you have a list of targeted roofing keywords for your local SEO strategy, it's crucial to know where to implement them effectively on your website and Google Business listing.
In this section, we'll discuss the key areas where you should use your roofing keywords to optimize your online presence and improve search engine rankings.
1. Google Business Listing
Your Google Business listing is an essential tool for local businesses, as it helps potential customers discover your services when searching for roofing companies in your area.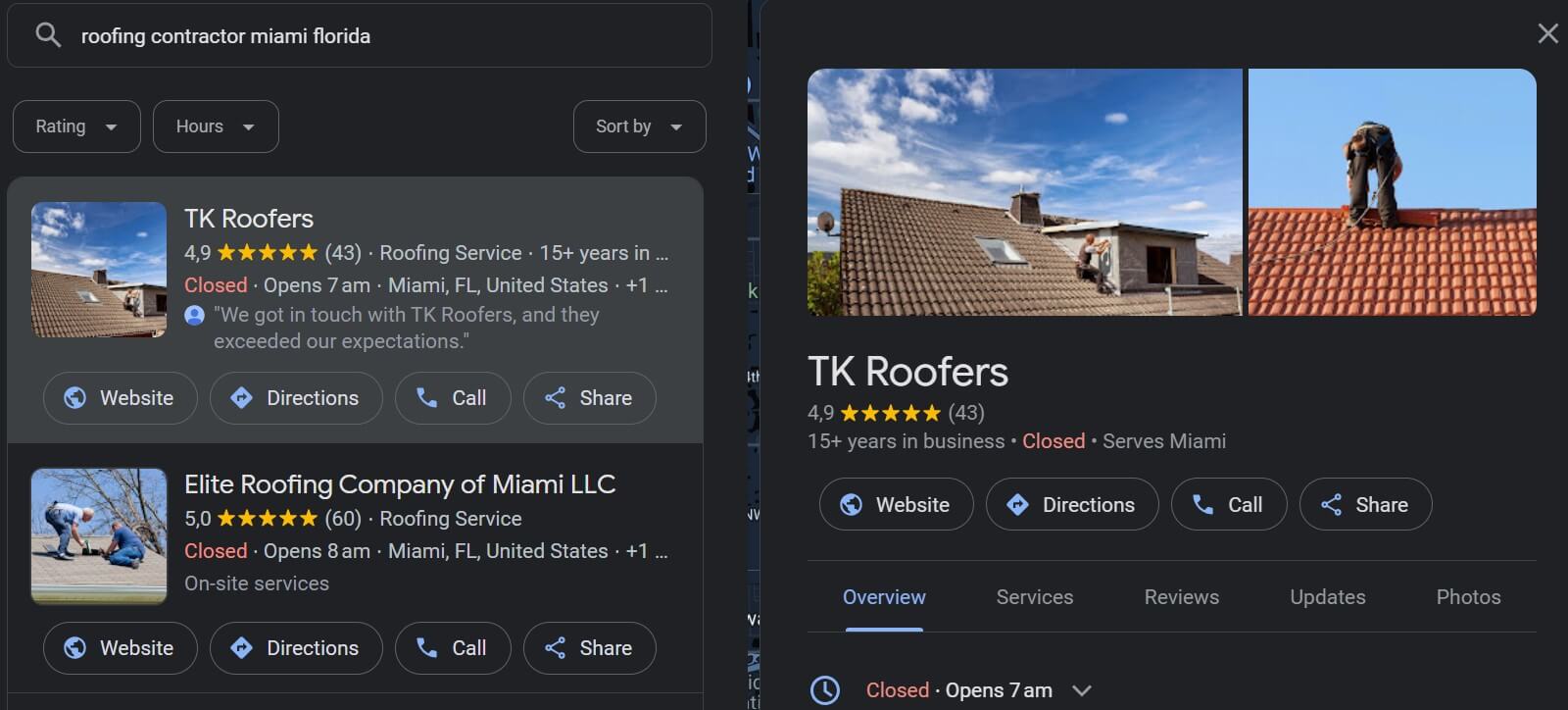 To optimize your listing with roofing keywords, be sure to:
Include relevant keywords in your business description.
Add keywords to the services and products section of your listing.
Incorporate keywords in your Google Business posts.
Encourage customers to use targeted keywords in their reviews.
2. Meta Titles and Descriptions
Page titles and descriptions are crucial components of your website's SEO, as they provide a brief overview of your content and help search engines understand its context. To optimize your these tags, keep the following in mind:
Include your primary roofing keyword in the page title and description of each page.
Keep your page titles under 60 characters and descriptions under 155 characters to avoid truncation in search results.
Write compelling and informative meta descriptions that encourage users to click through to your website.
3. URL Structure
Optimizing your URL structure with roofing keywords can further improve your website's search engine visibility. To do this:
Incorporate relevant keywords in the URLs of your service pages, location pages, and blog posts.
Keep URLs concise and descriptive, making it easy for users and search engines to understand the content of the page.
4. Header Tags (H1, H2, H3, etc.)
Header tags help organize your website content and make it more accessible to both users and search engines.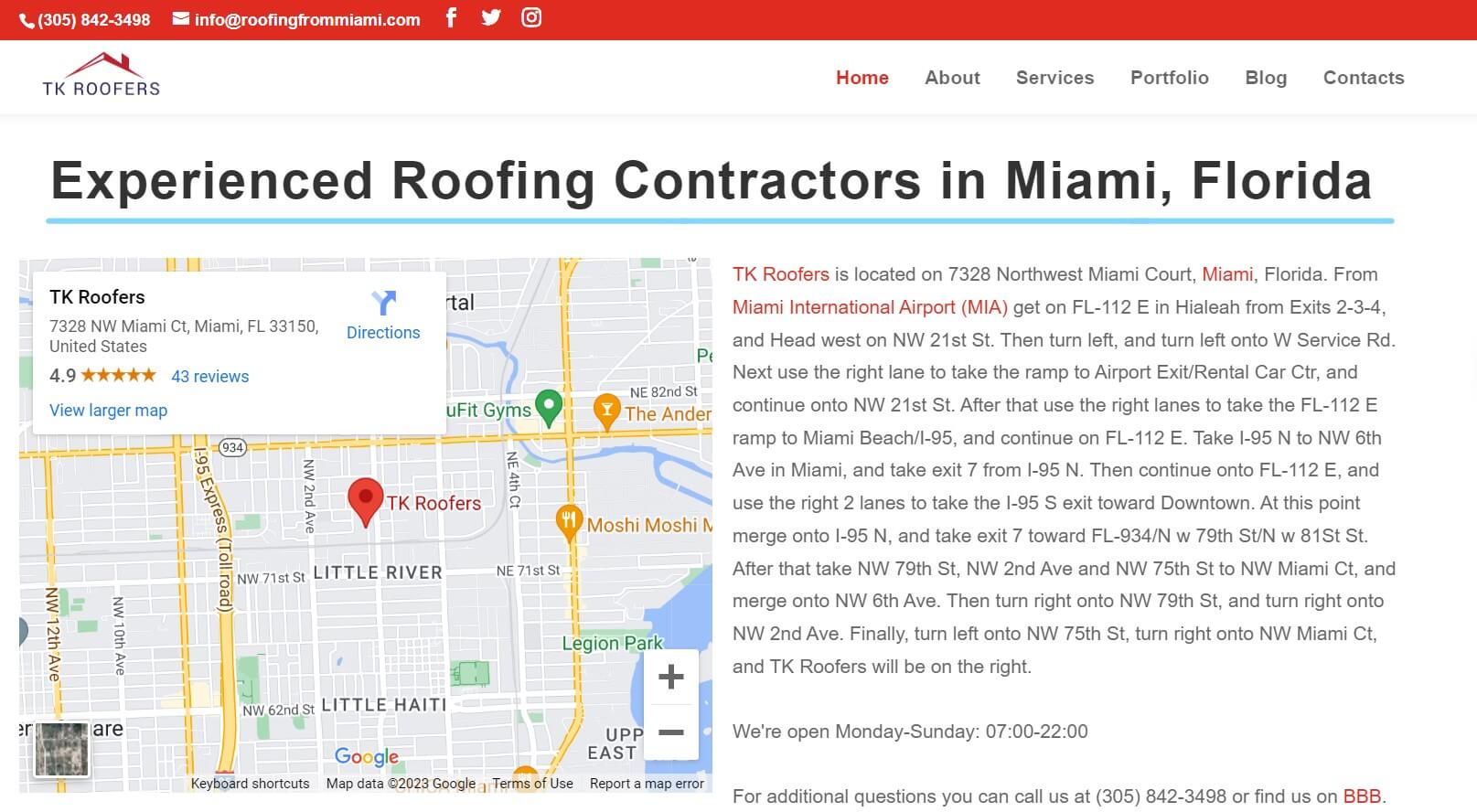 To optimize your header tags:
Include your primary keyword in the H1 tag, which is typically the title of a page or blog post.
Use H2 and H3 tags to break up your content into subsections, incorporating secondary keywords where appropriate.
5. Body Content
Naturally integrating roofing keywords throughout your website's body content can improve its relevance and readability. To optimize your content:
Use your target keywords in the main text, but avoid keyword stuffing. Aim for a balanced keyword density of around 1-2%.
Incorporate LSI (Latent Semantic Indexing) keywords, which are semantically related terms that help search engines understand the context of your content.
6. Image Alt Text
Adding descriptive alt text to your website's images not only makes your site more accessible to users with visual impairments but also provides an opportunity to incorporate roofing keywords.
When adding alt text:
Describe the image using relevant keywords, but ensure the description remains accurate and informative.
Keep alt text concise, usually under 125 characters.
By strategically implementing your roofing keywords across these key areas of your website and Google Business listing, you can significantly improve your online visibility, attract more local customers, and ultimately grow your roofing business.
Conclusion
Optimizing your roofing business's online presence with a well-researched and targeted local SEO strategy is essential for success in today's digital landscape.
By utilizing the techniques and tools discussed in this guide, you can find the most effective roofing keywords and implement them strategically across your website and Google Business listing.
As a result, you'll be better equipped to attract more local customers, boost your search engine rankings, and ultimately grow your business in 2023 and beyond.