SEO for Doctors: The Key To Getting More Patients
Dec 28, 2021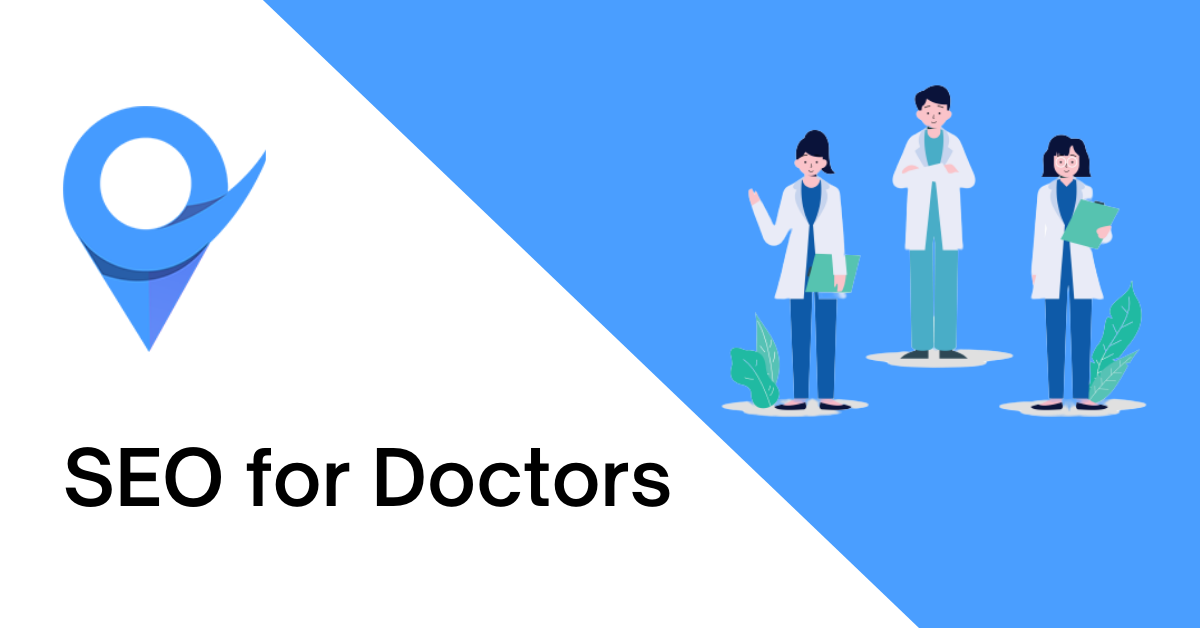 Table of Contents
Importance of SEO for Doctors
Benefits of SEO for Doctors
Targeted Leads
Greater Authority
Lower Marketing Costs
SEO for Doctors and Medical Practices 101
Create Relevant Content
Write Content on Relevant Health Conditions
Create Health Assessments and Quizzes
Share Content on Social Media
Optimize your Google Business Profile
Optimize Your Website for Local Search
Identify Relevant Keywords
Optimize for Voice Search
Optimize Your Website for Mobile
Create Location & Individual Services Pages
Build High-Quality Backlinks
Conclusion
So, you have a great medical practice and an awesome website. But is anyone actually finding you online? Search Engine Optimization (or SEO) can help your business rise to the top as people search for a physician or a medical practice!
SEO for doctors is the process of helping your website improve its visibility so potential patients searching for services related to your medical practice in Google, Bing, and other search engines will actually find you!
Local SEO is similar to general SEO, but the search intent is local. Local SEO for doctors is especially crucial, as it helps you reach people in the local area where you practice.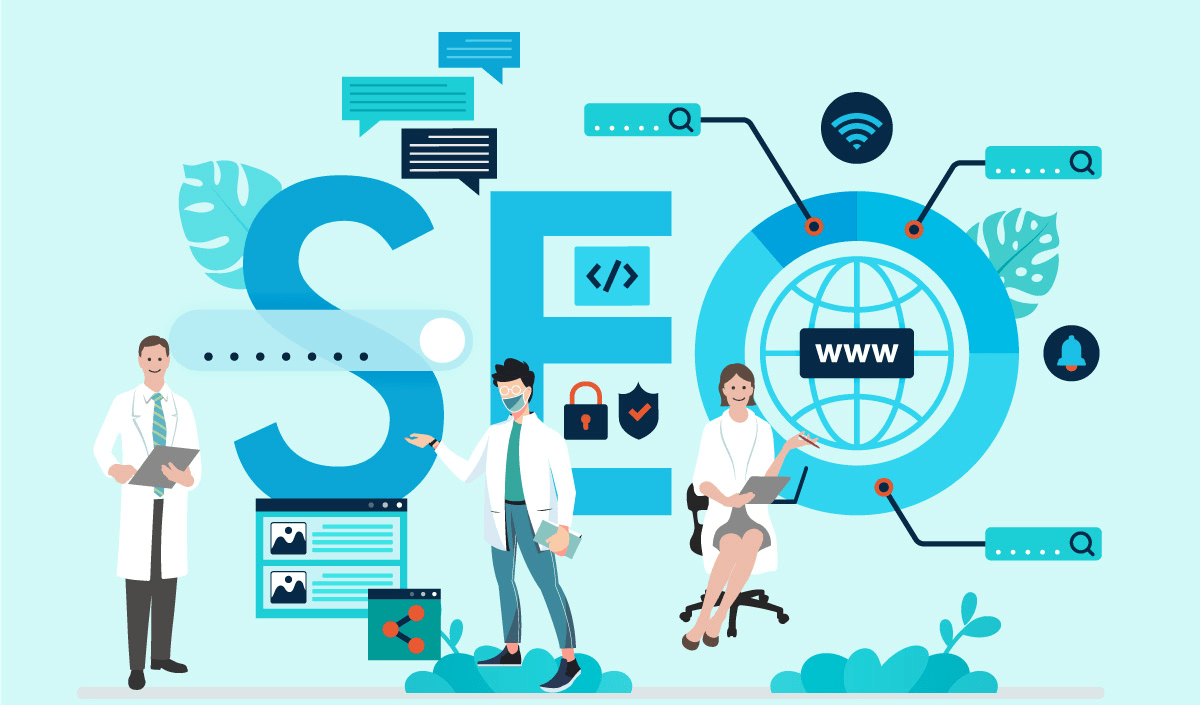 If you're a doctor and you don't have your SEO in order, you miss an opportunity every time a potential patient is searching online for someone in your medical specialty. Studies show that 92% of searchers pick businesses on the first page of local search results.
Importance of SEO for Doctors
Google's main goal is to "deliver the most relevant and reliable information available" to its searchers. If you can align your goal with that of Google's, SEO is a great strategy for your medical practice or doctor's office.
If your potential patients can find the relevant information they seek on your website, can verify online that you have a good reputation, and can know that you accept their insurance, they're more likely to call your office and make an appointment. And that's the goal, right?
Binary Fountain's survey found that more than 60% of patients start their search online. Additionally, 40% rely on other patients' online reviews to find a doctor.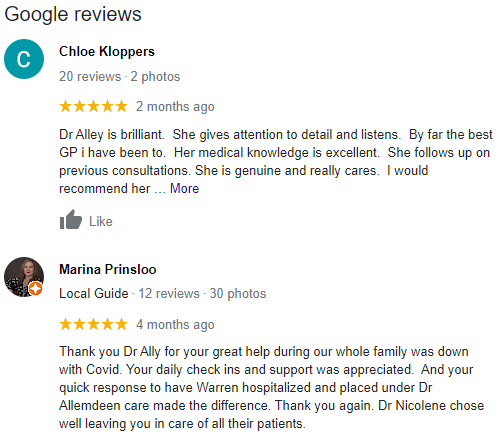 Because people are relying more and more on online searches, SEO is a powerful tool for any business's online marketing strategy - doctors and other health care providers included.
Benefits of SEO for Doctors
Optimizing your medical website means making sure it ranks high in Google searches for relevant keywords. You want to be the first result for "doctor near me" or "family medicine specialist" or "pediatrician" or any other keyword related to your specialty.
The benefits of such high rankings include more credibility and authority online, increased targeted traffic to your website, and lower marketing costs relative to traditional or paid advertising.
Targeted Leads
Most potential patients are now researching healthcare options online before making decisions about their care.
To stand out from the crowd, doctors need to write content that gives the readers the information they need in deciding about medical services. And they need to make sure that this content can be accessed on multiple channels - their social media, local listings (including their Google Business Profile), and - most importantly - their website.
Greater authority
An online authority is someone who has expertise in a particular field but has also translated that knowledge into something useful for others. Search engines and your potential customers will take notice and as a result, you will get more traffic and more sales.
To rank websites, Google uses web crawlers that scan and index pages. Every page gets a score based on signals such as authority, the relevance of web pages, and their usefulness to the user. Google uses over 200 known factors to order pages on a Search Engine Result Pages, also known as SERPs.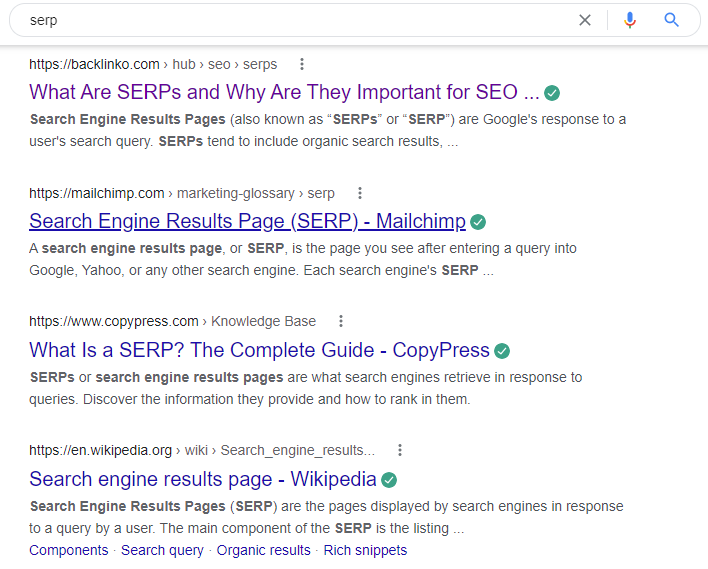 So, what are the most important signals for ranking? And makes your website more trustworthy to your prospective patients?
SEO specialists keep on trying to figure out what these ranking signals are, and by the time they think they've figured it out, Google adds more ranking factors or just moves the goalposts! But the most consistent ranking signals come from content and links.
If users are spending a couple of minutes or more on your webpage (low bounce rate), that sends a positive signal to Google that they found the content on your webpage highly relevant.
So, if you can increase the amount of time people spend on your site reading content, your medical practice SEO ranking will be higher on search engines, which will increase your authority and credibility online.
Lower marketing costs
In addition to being less expensive than traditional marketing methods, SEO for doctors offers a much more focused impact, targeting only the patients who are actually looking for a doctor.

This means that you can get greater visibility with potential patients, rank higher in search results than your competition, and reach a more customized audience without spending too much money.
SEO for Doctors and Medical Practices 101
So, you want to make it easier for local patients to find you online? Optimize your medical website for geo-target keywords and make it more SEO-friendly from the local search point of view (also called Local SEO).
Local SEO includes the same basic SEO strategies as regular SEO - keyword research, competitive analysis at the local level, title tags, meta tags, heading tags, and content optimization - with the addition of localized keywords.
Create Relevant Content
When it comes to SEO for doctors, content is still king! This is true for all businesses including doctors or medical offices.
Content marketing is a great way for searchers to get more information about your medical practice and the type of services you have to offer. In turn, this will help you generate leads that will turn into new patients.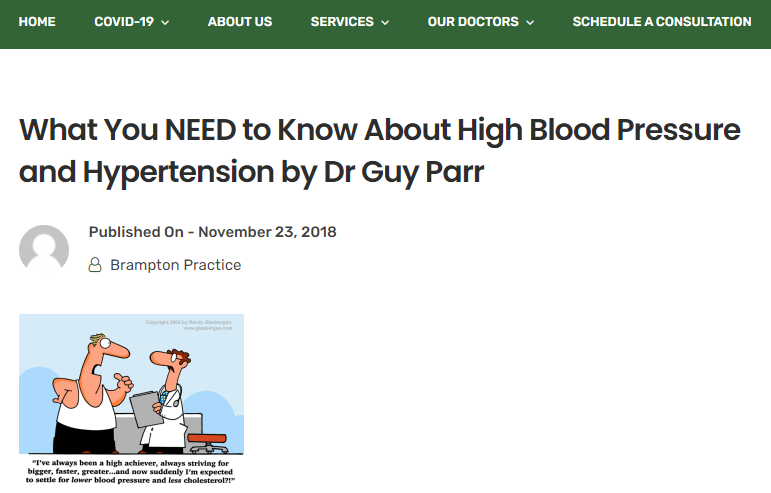 The key to getting better rankings in Google and Bing is to create quality content that answers questions people have about your specialty. The more useful and unique your content is, the easier it will be for Google to understand what your site is all about.
What kind of content should you write?
Write Content on Relevant Health Conditions
Blogs are a great way to share useful information about relevant medical information. For example, dermatologists could write on the importance of sunscreen; nutritionists might write about ways to improve the immune system; eye doctors might write about back-to-school eye exams in the digital age, and so on.
See below a useful article written by a dietitian: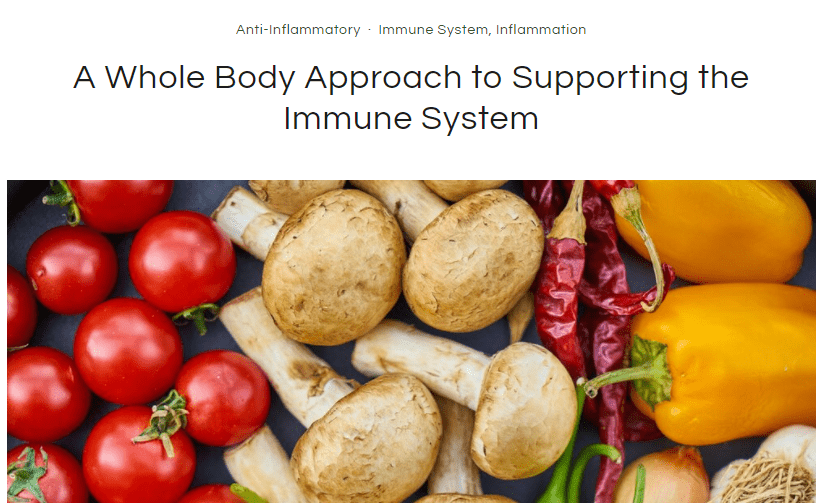 Post regularly on your website and you'll be able to attract more patients to your practice and improve
Create Health Assessments and Quizzes
We live in a world where people expect quick and easy answers to all their questions. People looking for medical information are no different. Online quizzes and assessments can help patients determine the level of care they need or if they need any care at all.
This example shows a quick quiz to find out your risk of developing skin cancer. This assessment can be found by anyone browsing online, but the key is that it has a link to "locate a doctor."
This is a great example of how to use a quiz or assessment to attract potential patients and get them engaged in your online presence.

Share Content on Social Media
You might not think about your doctor being on social media. But if used properly, it can be a great tool to interact with potential patients!
Great content marketing has the ability to attract and convert prospects into patients as well as help retain and engage existing clients.
Patients are able to get a feel for what kind of doctor or nurse they'll be working with by looking at pictures and videos on social media before scheduling appointments. And by posting key medical facts, the latest medical news, and important safety tips, doctors can establish themselves as experts in their respective fields.
Creating quality content on social media can answer specific questions potential patients might have about your medical practice or specialty and can also be informative.
Get Listed and Optimize your Google Business Profile
If your practice does not have a Google Business Profile (formerly known as Google My Business or GMB), you should create one ASAP. Optimizing this free Google listing is the most effective way to achieve higher search rankings on Google Maps and organic local searches.
See an example of such optimized listing below: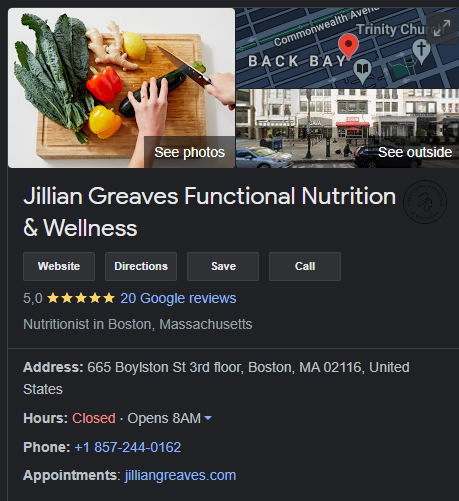 Once you claim and verify your Google listing, do the following in order to complete the information and optimize your listing:
Complete your business information including the main business category, description, subcategories, phone number, physical address, areas of service, and whether or not you accept Google Assistant calls.
Include your business logo, interior and exterior pictures, videos, acceptable payment methods, services, attributes, and a custom URL.
Post on GMB like you do on Facebook and Other Social Media channels, keeping your patients up to date on news and events.
Manage and respond to all reviews (both negative and positive reviews) and encourage your patients to review your business. According to a survey by BrightLocal, 82% of consumers read online reviews for local businesses, and 91% of consumers state that a positive business review makes a big impact on them.
Answer questions from users, as this will be displayed on your profile. Make sure to thoroughly answer these questions. If potential customers get the information they need, they are more likely to become patients.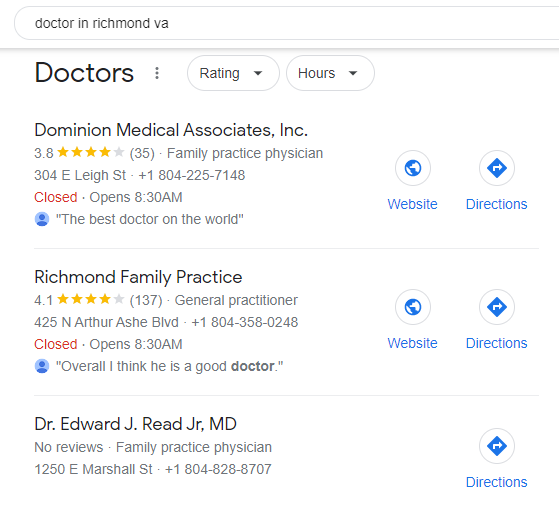 Optimize Your Website for Local Search
As mentioned earlier, the aim of writing content is to create something uniquely valuable for your website visitors while adding keywords relevant to local customers.
SEO for doctors starts with knowing your target audience and providing them with the information they want.
First, you need to do keyword research and learn what keywords internet users use to find your business online, then provide content that matches those keywords. Then you perform the on-page SEO which includes: optimizing content, titles, descriptions and images, and off-page SEO which includes: optimizing pages for speed and user experience and building quality backlinks.
Identify Relevant Keywords and Create Local Content
Keyword research will help you learn about your competition, which keywords are best for your practice and location, and which keywords have the highest search volume.
Use Autocomplete and People Also Ask Google features, and also, of the many keyword research tools in your keyword research:
Ubersuggest
Ahrefs Keyword Explorer
WordStream Free Keyword Tool
Bruce Clay Keyword Research Tool
SEMRush
Once you have identified the local keywords, create pages or publish blogs that contain these keywords.
These SEO keywords are also used in what is called local justifications.
What are local justifications? A local justification is an extra snippet of text Google can display on listings in the local packs, or Google Maps to signal to searchers that a feature of the business matches their search intent. For example, when a searcher uses the terms like "functional nutrition in Whitinsville MA" in their queries, the following justifications display:

As you can see, the keywords you use in the content on your website are an important and useful SEO strategy.
Optimize for Voice Search
As voice search grows, it is reshaping how people search online. It is becoming more and more common to ask your phone or another device an entire question, rather than typing out a few keywords into a search bar.
In local search optimization, it's crucial to focus on how people ask questions about your practice when speaking into mobile phones or other devices, as opposed to typing out their queries.
In addition to submitting your medical practice to the most important local listings that feed data to voice assistants (Google Business Profile, Apple Maps, Bing Places, and Yelp), you also need to make sure your content is written in a conversational tone. To do this, include longer keyword phrases and account for the traditional question starters (how, what, when, where, why, and who) when you write content.
There are three types of actions that can be executed through voice search:
Direct commands -These include directions such as "call Dr. Smith's office" or "get directions to 1 Main St, Boston MA"
Knowledge type commands — These are generally broad questions such as "Is skin cancer hard to cure?"
Discovery commands -These include queries like "Find a dermatologist near me" or "Find a dermatologist in Boston, MA."
When optimizing for voice, it is very important to consider the intent of your potential patients and anticipate the questions they might have in looking for a new healthcare provider. The goal is to answer their questions better than your competitors.
Optimize Your Website for Mobile
An ever-increasing number of users are using their mobile devices to research their health care providers. According to Google, "mobile-friendly sites show up higher in search results" and "visitors are 5 times more likely to leave" if your website is not mobile-friendly.

Google suggests the following elements to build an effective mobile website:
It loads fast - To help users navigate your site more efficiently, you should minimize the amount of time it takes to load content on your page. According to Google, "nearly half of all visitors will leave a mobile website if the pages don't load within 3 seconds."
It is easy to navigate - Visitors should be able to easily find what they're looking for on your website. Simplify your navigation menus and try to keep everything visible without too many clicks. And remember, on the phone you click with a finger! So keep navigation to a minimum.
It is easy to take action - Mobile web pages should be designed to help users quickly accomplish common tasks such as contacting your practice or making an appointment. Make sure that forms and transactions are simple and straightforward.
Test whether or not your website is mobile-friendly here! Then make sure you take the necessary steps to make sure your website is mobile-friendly.
Create Location & Individual Services Pages
If you have more than one location for your practice, you should create individual location pages for each site. These pages need to provide the following information for each specific location: name, address, phone number, store hours, and individualized descriptions and testimonials. Each page should have Google Maps embedded for each location as well as unique and localized content.
Another good practice is to have dedicated web pages for each local service you offer in an area, making sure to change the local content from page to page.
For example, the health care provider below offers "chiropractic care" and "functional medicine" and "food sensitivity" services. Each service has a dedicated webpage and uses location-specific keywords to draw potential clients looking for these services in a specific area.

Build High-Quality Backlinks
Links from other websites to your site are called backlinks. They tell Google that your website is trustworthy and credible. A link building strategy is anything that you do to get other websites to link back to your medical practice website.
Here are some common practices used to build backlinks to your medical practice website:
Submit to general business directories like Google My Business, Yelp.com, Yellow Pages and so on.
Submit to health care directories like: Webmd.com or Healthgrades and many others.
Support local organizations and charities
Advertise in your local community pages
Join your local Chamber of Commerce
Get accredited with the Better Business Bureau
Engage with local influencers to get them to link back to your website
Conclusion
SEO changes very rapidly - you never know when Google will introduce new features on its search engine results. It is crucial to stay on top of local SEO as best you can so you can.
By implementing the action items above, you will ensure that your medical practice ranks high in local searches, making you easily discoverable by potential patients and successfully converting them to actual patients!