Why Doesn't My Business Show Up On Google Maps? + How To Fix
Feb 11, 2022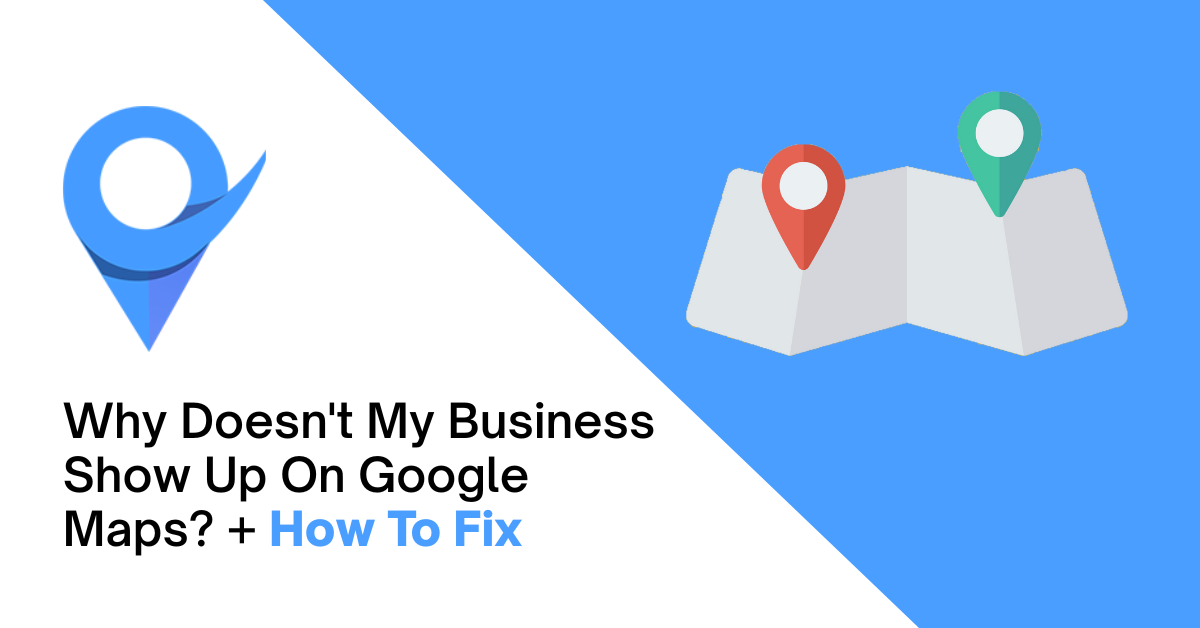 Table of Contents
Importance of Google Maps for Local Businesses
Reasons Why Your Business isn't Showing in Google Maps + Solutions
Listing Hasn't Been Created Yet
No Local Ranking Authority
Shared Office Space
GMB Not Verified
Listing Has No Category Tags
Business Address Recently Changed
Search Location is Too Far Away from The Business
Suspended Google Business
Conclusion
Google Maps is an essential tool for any local business owner. This free marketing tool can help local business owners attract more customers and increase exposure in the local market.
Now, imagine that you, the business owner, wanted to check out your business listing from a web user's perspective.
So, you search for your business in Google Maps, but you don't seem to find your business listing at all. The obvious question to ask is, "Why doesn't my business show up on Google Maps?"
Well, there could be several reasons why your business is not showing up in Google Maps. In this article, you will learn some of the most common reasons why this happens and how to fix it.
Importance of Google Maps for Local Businesses
Google Maps is no longer just a tool used to find directions to a new restaurant that you'd like to try out.
Instead, it has become a powerful marketing tool that should be part of any business owner's local SEO marketing toolbox.
A great feature of Google Maps is that it's integrated with Google Business and completely free to use and create a business listing. This means you can get free exposure on one of the web's most popular websites - Google.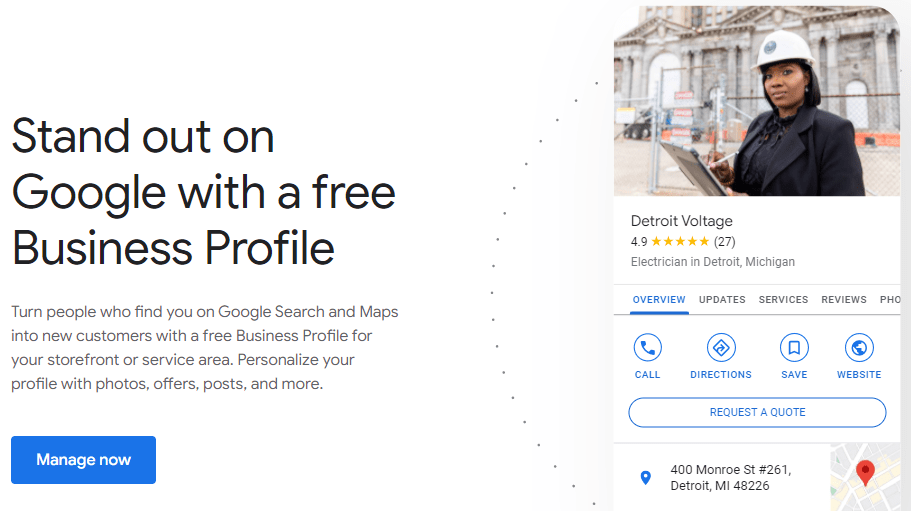 Not only is it free to use, but Google Maps levels the playing field for small to medium-sized businesses to compete with the larger players in the market.
Google Maps can help you market your business to hyper-local, targeted buyers.
Because Google Maps matches search queries to businesses that are close in proximity to the user's location, business owners and marketers can use this tool to reach highly motivated, local customers.
For example, if someone is searching for "plumbers in Phoenix Arizona", this person is probably looking for a plumber in Phoenix to fix a broken pipe in his or her home.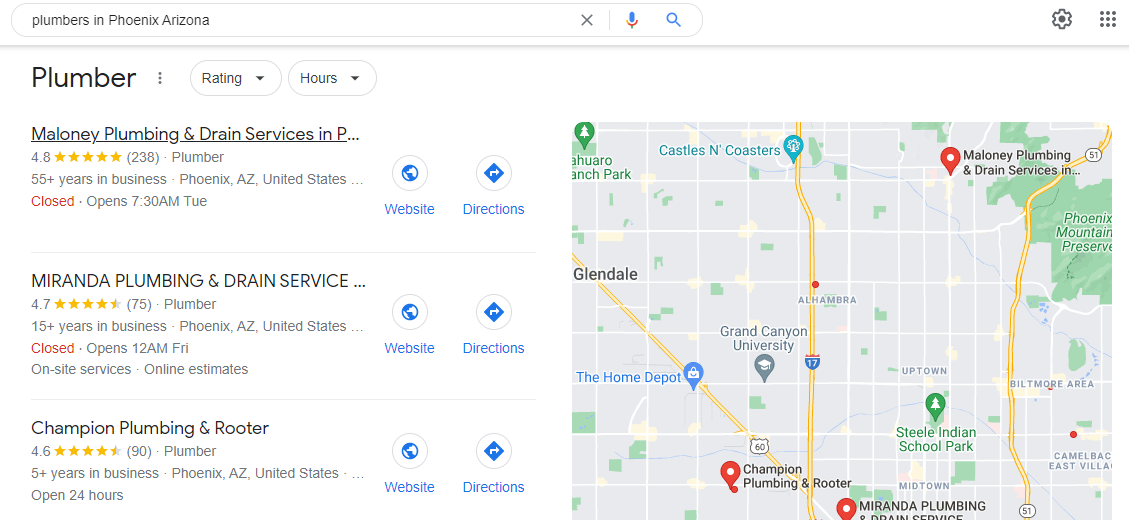 The leads you can get from Google Maps are usually "piping hot", meaning they usually have high-buying intent behind them.
So let's discuss why your business isn't showing on Google Maps.
Of course, there could be other causes why you can't find your business on Maps, but these are probably the most common ones that you should check first.
8 Common Reasons Why Your Business isn't Showing in Google Maps + Solutions
Listing Hasn't Been Created Yet
This is probably the most obvious reason why a business wouldn't show up in Google maps.
If you own a local business and you haven't created a Google Business listing, then that might be a reason for your business not showing in Google.
Another reason why you might not see your business is that Google hasn't added it yet.
Google themselves can create a business listing if they've got all the necessary information such as name, location and category. They can extract additional data from other sources on the web to populate the business listing.
The drawdown to this is that business owners can't manage the information that is displayed.
No Local Ranking Authority
Simply verifying your business is not enough to get your business to show on Google Maps.
One of the local SEO ranking factors is local authority and/or prominence.
When your business has a high ranking authority, then it will rank for search results from a larger search radius.
To increase local ranking authority, you need to ensure that all of your business information is accurate and consistent across the web.
We are referring to the following business information:
Business name
Business address
Business phone
Website URL
If you really want to increase your local ranking authority, then you've got to make sure that you create citations on relevant directories and websites across the web.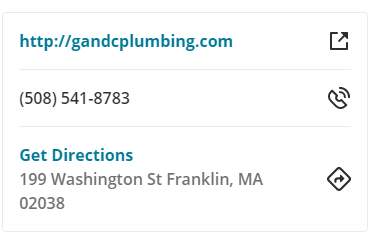 Doing this is similar to building backlinks to your website for organic search engine optimization.
As a business owner or marketer, you should constantly be looking for relevant directories to create a citation for your business.
If you are the owner of a local law firm, you should be looking for both local directories such as Hotfrog, Yelp, etc. and industry-specific directories such as Lawyers.com and Findlaw.com.
The same could be said for doctors, dentists, plumbers, HVAC companies, marketing agencies and almost any other local business you can think of.
Shared Office Space
If you share an office space with another business, this could decrease your chances of showing up in Google Maps.
This can be avoided by adding your office suite number to your GMB listing address field.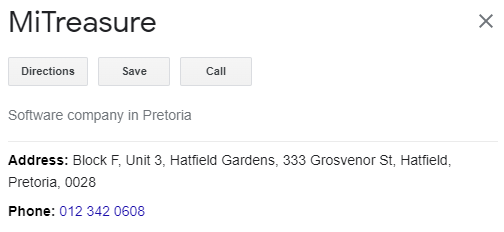 If the office block doesn't have suite numbers, we'd suggest contacting Google Support to find out what they would suggest in this situation.
GMB Not Verified
One of the easiest and fastest ways to determine why your business doesn't show up on Google is by making sure your business is verified on Google My Business.
For your business to have any chance of appearing in Google Maps, it needs to be verified.
To check if your business is verified, simply search for your business name and city in Google.
Find your GMB listing and check to see if you can find the "Own this business?" text string. If you don't see this on the listing, then it means your Google My Business is verified.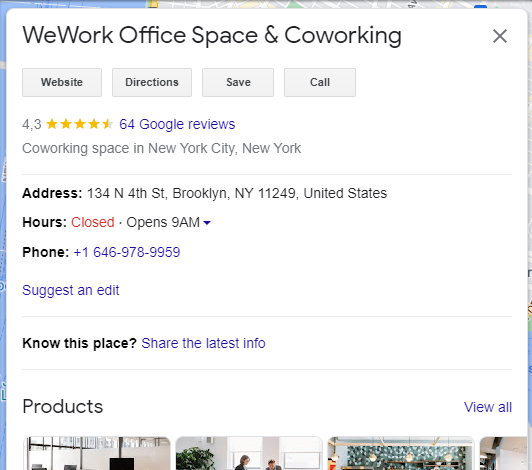 If you notice that you haven't verified your business, then you need to claim the Google My Business listing for the business in question.
You may also have to create an entirely new profile if one doesn't already exist.
By completing the GMB verification process, you confirm ownership of your business and you will start appearing for searches in Google Maps.
Listing Has No Category Tags
When you create a new GMB profile or complete the verification process, Google will ask you to choose an applicable category for your business.
Category tags are labels that classify what type of business you have.
Category labels can be found on the business listing: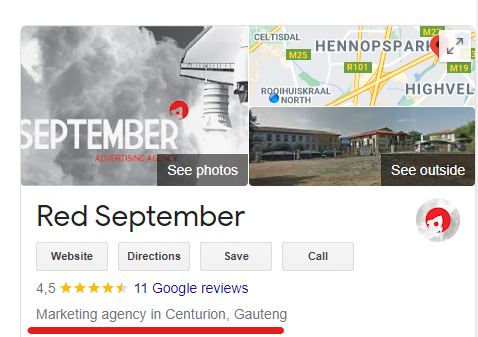 You should make sure that you've added a business category to your Google My Business listing. Also, make sure that you choose the correct category related to your business.
Business Address Recently Changed
If you've recently changed or edited your business address in GMB, you might not be able to see your business on Google Maps.
Google Maps may take up to 3 days to update your business listing address, so just be patient if you've recently updated it.
You may also have to complete the entire verification process again if you've edited your address.
Google will usually send you a verification postcard via mail to confirm that the new address is legitimate.
Your Search Location is Too Far Away from The Business
Google Maps shows results that are close to the user's search location, this is referred to as proximity.
So when you're checking if your business appears in Google Maps, make sure that you are not 50 miles away from the listing address. It simply won't show up because you are too far away.
Suspended Google Business
One of the reasons why your business may not be appearing on Google Maps is because your Google My Business listing has been suspended.
Having your GMB listing suspended is probably one of the worst experiences that any business owner can endure.
A GMB suspension usually occurs because of a violation of one of Google's policies.
Here are some of the most common reasons for a GMB suspension:
Keyword stuffing your listing title with the hopes of higher rankings.
Adding multiple addresses for the same business.
Inconsistent listing information.
Misleading or false Google My Business descriptions.
Spam listings.
Unfortunately, Google rarely gives a clear reason why your listing gets suspended.
If you discover that your listing has been suspended, we suggest that you contact Google Support to get the real reason for the suspension.
Once you've got the reason(s) for the suspension, you can fix it and apply to get the suspension lifted.
Conclusion
It can be a challenge to figure out why your business doesn't show up on Google Maps.
But don't be dismayed, it is possible to get your business to show on Google Maps for your target keywords. Simply check if any of these 8 common reasons are applicable to why your business isn't appearing in Maps and address the problem.