Yelp SEO: How to Optimize Listing To Rank Higher in 2022
Jan 5, 2022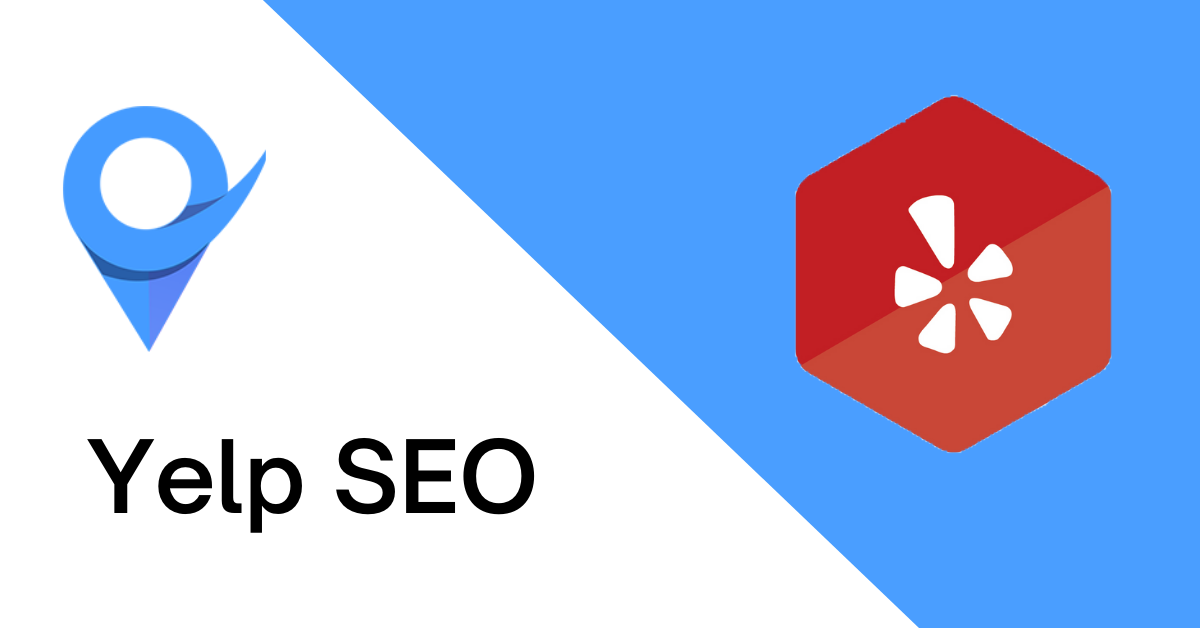 Table of Contents
Why is Ranking on Yelp so Important?
Yelp SEO Strategies
Choose the Correct Yelp Service Category
Update Business Specialties Section
Add Target Keywords to Images
Add Images of Business
Share your Business Story
Complete the Meet the Owner Section
Create a Check-in Offer
Optimize Your Profile for Local Voice Search
Create Deals and Gift Certificates
Add a Video to Your Yelp Listing
More Paid Yelp Features
Conclusion
I don't think anyone can deny the importance of having a high ranking on Google, Bing, and other search engines these days. But in order to be ranked first, you need to spend some time and effort on optimizing your online presence.
Search Engine Optimization (SEO) is the process of optimizing your website so that search engines like Google or Bing can discover it and display it to your potential customers.
SEO includes creating optimized content on your web pages that answer searchers' questions, creating optimized titles, meta description tags, and other technical SEO tactics.
Local Search Engine Optimization (Local SEO) takes this process and focuses it on a local level to ensure that your website ranks higher than other local competitors.
The most important practices for local SEO are optimizing websites for local searches by using the right keywords and phrases, and claiming Google, Yelp, Bing, and other local citations directories or platforms.
Yelp Search Engine Optimization (Yelp SEO) is the process of optimizing your Yelp Business page as part of your larger Local SEO strategy.
Yelp is not only a powerful local citation or a review site, but it is also a platform that provides ways to request quotes, make reservations or join wait lists, make appointments, or purchase products or services.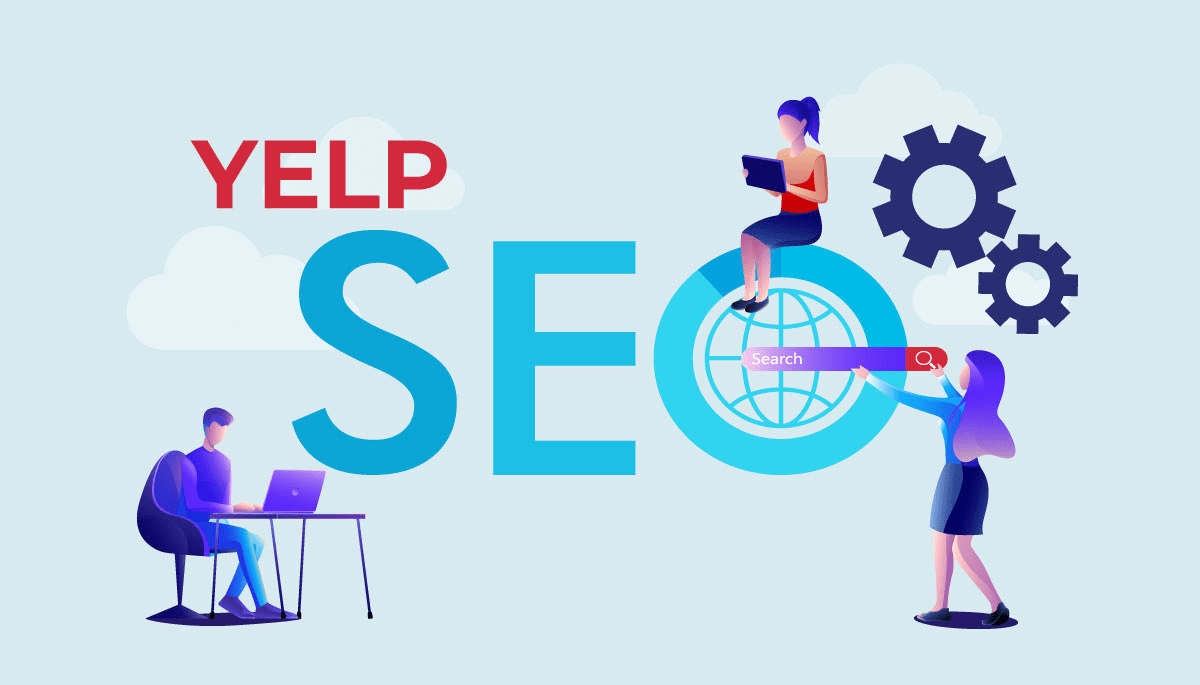 Why is Ranking on Yelp so Important?
Yelp's history and backstory are quite interesting. Yelp actually began as a glorified email circle for a handful of Paypal employees. Friends inside this circle would write and share business reviews with each other, and the rest is history. This is how Yelp was born!
Now, Yelp is one of the largest crowd-sourced local business review and social networking sites.
Yelp is becoming one of the most critical business citation sites, disseminating business data to other online sources. Yelp also operates Yelp Reservations which is a restaurant reservation service.
Yelp is one of the top review sites, but it also functions as a search engine. By the end of 2020, it had a total of 224 million reviews, which is second only to Google. People leave reviews about local products and services which appear alongside other user reviews, which, in turn, helps consumers make purchasing decisions.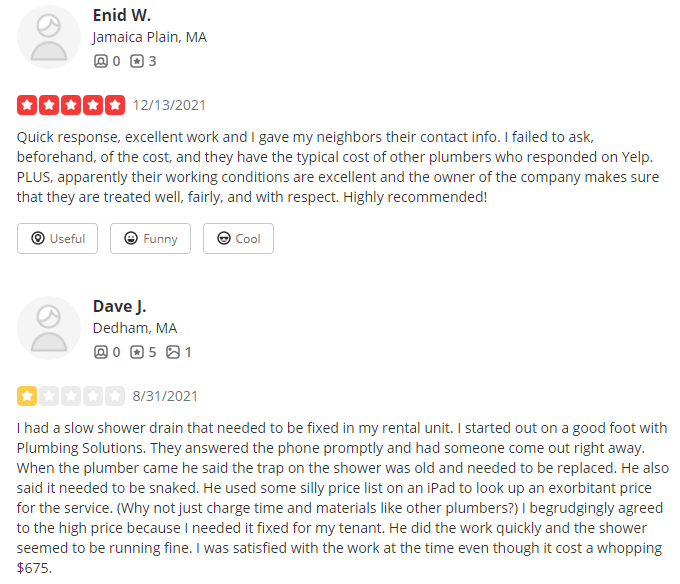 Almost every Yelp visitor (98%) makes a purchase from a business listed on their site, and a single star increase in a Yelp rating leads to between 5 to 9% increase in revenue.
The bottom line is that your Yelp business profile page needs to be optimized and needs to contain target keywords, relevant content, and proper search terms that satisfy searchers' questions and research.
You also need to take advantage of the paid yelp features. The following list of Yelp SEO strategies will help you rank higher in Yelp's search results.
Yelp SEO Strategies
The question that remains is this: what can you do to optimize your business listing so that it can rank higher on the Yelp platform?
To start with, Yelp for Business users can create a free business profile, then create a strategy to optimize it. But unfortunately, as shown below, not all Yelp features are free. Actually, most of them are not.
Start by optimizing your profile by following the best practices below:
Choose the Correct Yelp Service Category
When creating or updating your Yelp business profile, it's key to market to your target audience. That means you need to ensure that you choose the correct business category for your Yelp profile.
Categories should be as specific as possible, and they should contain the primary activities of the business, rather than the entire scope of the business' activity.

Yelp allows for a maximum of three categories, but businesses can appear in search results for more than one category (e.g. a restaurant listed under the "Pizza" category will still appear in a search for the broader category, "Restaurant").
So for maximum SEO impact, list all allowed business categories.
In addition to the correct business categories, make sure you complete the Business Information tab including amenities, hours of operation, etc.
To update this, Log in to your Yelp for Business account, and click on the Business Information tab, then edit Categories.
Update the Business Information Specialties Section with Target Keywords
In order for your small business profile to reach maximum visibility, you need to update the Specialties located in the "From this business" section with target keywords.
For example, Ruth's Chris steakhouse uses specific keywords: "SDA Prime steaks, each seared to perfection, finished with butter and freshly chopped parsley, and served sizzling on a 500-degree plate".
This describes in detail what this restaurant specializes in. Feel free to be detailed here - you are allowed 1500 words.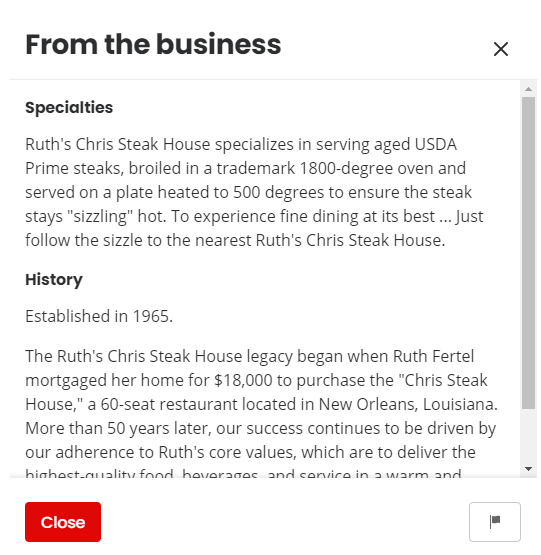 For example, if your local business is a restaurant, the Specialties section should contain target keywords that pertain directly to the restaurant menu and services.
This section is also where you can be specific about what your business does best. For a restaurant, you'll want to be sure to add the top menu items.
That being said, you should be careful of keyword stuffing (the practice of dumping a whole bunch of words you think people will search for - search engines see right through this!) and instead, naturally add keywords and location info in the Yelp specialty section.
The Specialties section is found in the same section as specialties in the Business Information tab.
Here are some items you should avoid:
Providing a list of excessive or repetitive keywords for your business
Excessive punctuation and capitalization
Providing contact information that is already included elsewhere in your profile
Special offers that are already running in Yelp ads
Solicit reviews
Add target keywords in a natural way in order to help your customers learn more about your business.
Share Your Story In the Business History Section
Any professional marketing agency will tell you that your story and your business brand personality are incredibly important regarding the marketing of your products or services. The same holds true when it comes to ranking high on your Yelp profile.
This means you should share your story in the business history section to help potential customers get to know you. There is a 1000 character limit - so be succinct!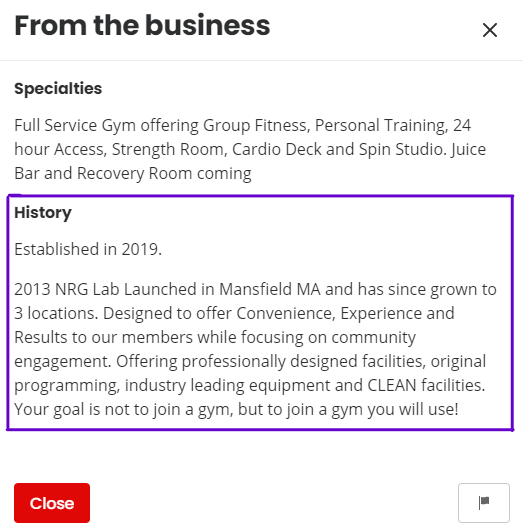 As the section title indicates, this is the place to relay your company history, how you got started, when and where your business was founded, etc.
In short, you can add any information here about how you are, what you are, and why - YOUR story.
People connect with stories, so capitalize on this!
Be sure to use this section to once again relay your location and any other keywords that reflect your services and products. Also include the year the business was established.
The content in this section is important for Local SEO, so make sure to include the necessary keywords to reflect your business products and services.
Sharing Your Story is a simple step to help distinguish you from your competition. Your potential customers or clients want to know about you and your business. This will help them connect with you and better relate to you as a person, not just a faceless business owner.
Share your story is found in the same section as Specialties in the Business Information tab.
Complete the Meet the Owner Section
Completing the Meet the Owner section goes hand-in-hand with sharing your story in the business history section.
It's all about providing business information that helps potential customers or clients relate directly to you, your business, your products, your services, and your overall brand.
You can also include reviews from customers in this section, as long as the reviews include your business name. You can even share some examples of your blog posts if they are published on your website.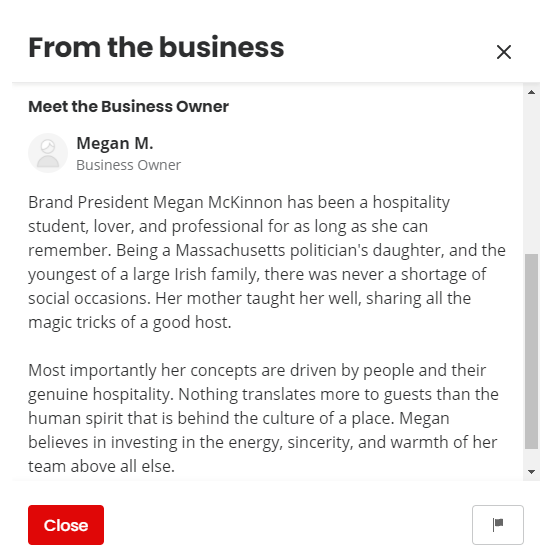 Completing the Meet the Owners section on your Yelp profile will go a long way in helping you finish your profile. This is good news because complete profiles are viewed favorably by the Yelp algorithms.
Meet the Business Owner is found in the same section as Specialties and Share Your Story in the Business Information tab.
Add Target Keywords to Images When Naming Them
It's important to upload high-quality pictures to your Yelp profile that relate to your products, services, and /or brand image. If you want to rank higher for certain keywords, then it makes sense to optimize image titles and file names.
For example, if you're trying to rank for "Brick Oven Pizza," then you should give your images descriptive titles like "Sierra's BBQ Chicken Pizza" or "Sierra's Hawaiian Pizza" and name your image files names like "bbq-chicken-pizza.jpg" or "hawaiian-pizza.jpg" instead of names that don't make any sense, like IMG_112345.jpg.
You can add photos two different ways: from your Yelp business page, or from the Yelp for the Business app (home, Photos & Videos, Add Photo).
Make sure the image, title, and file names contain target keywords but are still relevant to what customers look for!
Do not stuff keywords. The Yelp algorithm recognizes when you are doing that and will not rank you very high!
Add Images of the Exterior and Interior of Your Shop or Restaurant
In order to take full advantage of Yelp Search Engine Optimization tactics, you need to add high-quality images of the exterior and interior of your shop or restaurant.
This is because consumers want to get an idea of what your place looks like before they actually take the time to visit. If you're not good at photography or don't have the time to take great pictures, ask for professional help - hire a photographer!
Here are some samples of inside and outside images of a restaurant:


In addition, only post accurate pictures of your business. Consumers will be immediately turned off if your place looks different in reality than it does in your profile picture.
Create a Check-in Offer
Businesses can create and post offers as a way to reward consumers for their loyalty to them. When a person checks in at a business that has posted a loyalty reward, they will receive an offer on their phone that can be redeemed on that visit or at a later time.
Log in to your Yelp for Business account, and click on the Check-in Offers tab to create an offer.
Check-in Offers appear on Yelp's Mobile Apps on your business listing, as well as in search results related to your business.
Optimize Your Profile for Local Voice Search
Did you know that voice searches are quickly becoming the preferred method of conducting online searches? They're even more popular than standard text services. This is due to the fact that voice search technology, such as Apple Siri, Amazon Alexa, Microsoft Cortana, Google Assistant, and Samsung Bixby has improved significantly in recent years.
Yext plays an extremely important role in voice search, as 58% of people have used voice search to find information about a local business. Have you ever asked your iPhone something like "find pizza near me" and Siri responds "here is what I found... " and gives the names of the pizza places near you?

These results are usually directly from Yelp because the Yelp data (including reviews) feeds the Siri voice assistant, just like Google feeds the Google Assistant and Bing Cortana Assistant.
When you optimize your Yelp listing, it is essential to focus on how people ask questions about your business when speaking on mobile phones or other devices, as opposed to how they type similar queries.
When you submit your business to local listing directories that feed data to voice assistants, make sure you also submit to Yelp.
How can you optimize your Yelp profile for voice search?
Remember to write your content in a conversational tone. To do this, include longer keyword phrases and account for the traditional question starters (how, what, when, where, why, and who) when you write content for your history, about the business, and meet the owner sections.
People tend to be significantly more expressive when they talk. That means voice search ends up yielding better and far more extensive search results.
It is important to optimize your Yelp profile for local voice search. Otherwise, you're missing out on a tremendous opportunity to attract more business.
Create Deals and Gift Certificates (Paid)
Consumers love deals, gift certificates, and special offers. Yelp Deals are discounted vouchers that customers can purchase for your business. As shown below, this is not a free service. Yelp charges a 30% commission for deals and 10% for gift certificates.
Yelp Gift Certificates are non-discounted vouchers that customers can purchase through your Yelp business page.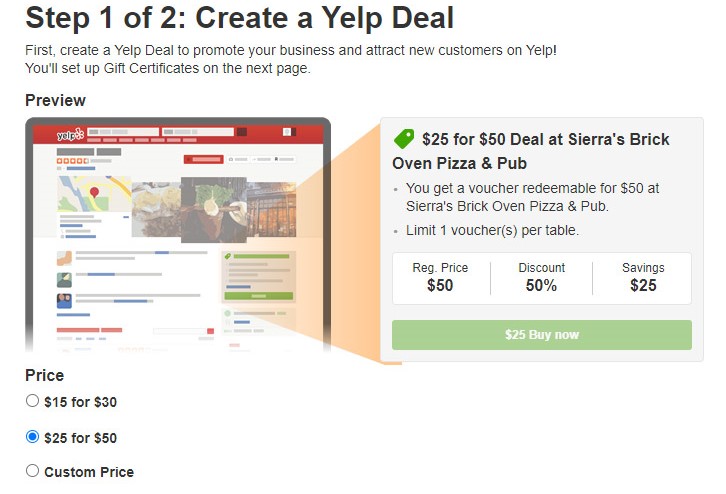 Yelp charges 10% for gift certificates. Once you've posted a Yelp Deal, you'll have the option of also posting a Yelp Gift Certificate.
Creating new deals also provides you with a perfect opportunity to add fresh content to your profile, which will lead to a higher star rating due to positive customer reviews.
They also give you the opportunity to provide your business services to new customers or clients who would not have otherwise conducted business with you. This is particularly important for business service specialties that need to attract new customers or clients.
Add A Video to Your Yelp Listing (Paid)
If a picture is worth a thousand words, how many words are videos worth? Arguably many more!
Did you know that Yelp allows for uploading videos? Unfortunately, the video feature is not free - it's an additional package within the Yelp Ads service.
If you do decide to use the Yelp Ads, you need to be aware of the following:
Links from YouTube and other streaming video sites won't work. You need to deliver the actual file to Yelp
The length of the uploaded videos cannot exceed 2 minutes and 500MB.
Video content needs to be informative and clear
Yelp accepts the following file formats: .mp4, .wmv, .mov, and .avi file
Consumers are able to upload videos, but only from an iPhone or Android.
More Paid Yelp Features
Logo
For $1/day, Yelp will display your business logo in your listing.

Business Highlights
Eligible businesses can showcase up to six highlights on the Highlights From This Business section of their business page.
For example, "Locally Owned & Operated", "Women-Owned", etc.). The top two highlights will also display in organic and sponsored search results for that business. The cost for this feature is $2/day.
Call to action
For $2/day Yelp will show a call to action in your listing and link directly to the order form, coupon image, or any other custom landing page.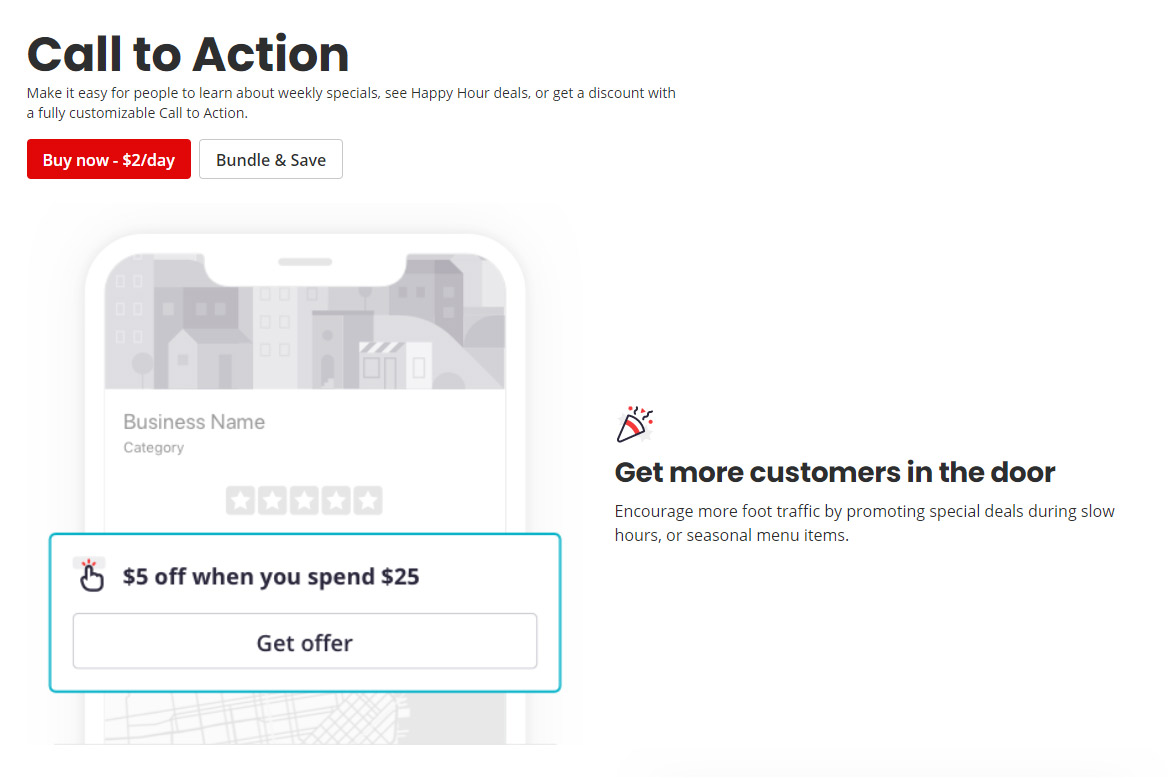 Page Upgrades
Page Upgrades allow you to bundle several of the features above ($6/day) and provides the following advantages:
Remove competitor ads from your business page
Create and promote posts and let people know what's new
Add customizable Calls to Action
Add Business Highlights
Choose featured photos
Promote weekly emails and on the Yelp app home screen
Yelp Connect
Yelp Connect is a paid feature that allows businesses to share posts, updates, or news directly on their Yelp business page. The Yelp Connect posts will display and promoted to all users on your business page, emails, and more.
Yelp Guest Manager
Yelp Guest Manager helps restaurants manage their front-of-house operations. It includes Yelp Waitlist, Reservations, Kiosk, Takeout & Table Management.
Standard - $249/month: Basic Reservation tools and Waitlist
Plus - $299/month: Full-service guest management with advanced Reservations and Waitlist
Enterprise - Group pricing for 10+ locations: Guest management system built for multiple locations.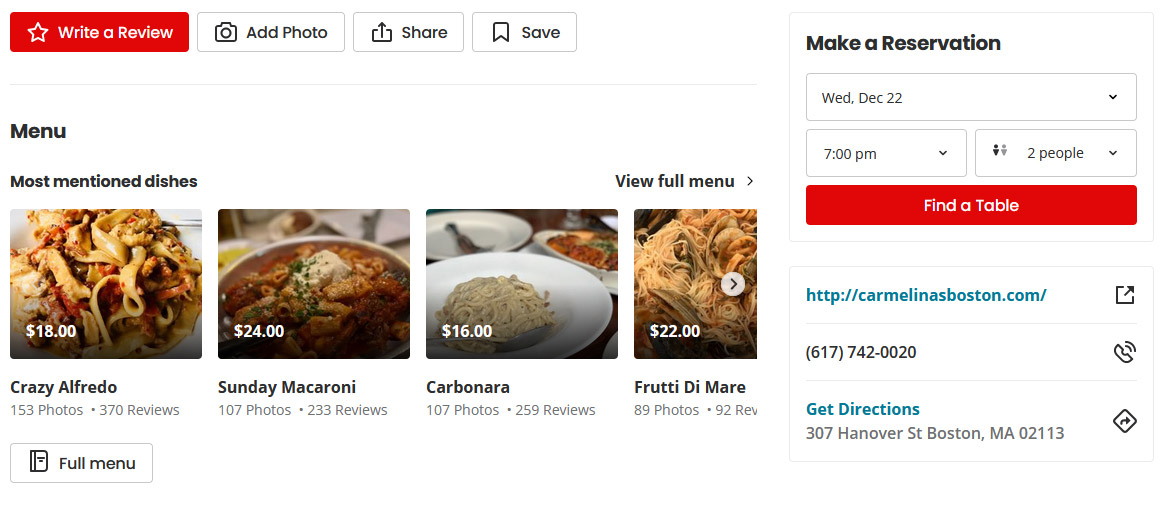 Yelp Ads
Yelp Ads will place your business on top of the Yelp search results and on your competitor's business page. Many business owners complain about how forceful Yelp salespeople are and how expensive their advertising is.
Conclusion
Even if you have a negative Yelp review or even multiple negative reviews, Yelp business page optimization is still a great SEO strategy. Yelp has many tools that help with its ranking factors: both paid and unpaid.
With 184 million reviews worldwide, Yelp helps countless consumers see which businesses are available in their area, how they are reviewed by their clients, and ultimately how to provide services and products their users need.
Yelp search rankings provide your target audience with a powerful method of finding your local business. From there, your potential customers or clients can be directed to your store, shop, restaurant, office, or business website, and ultimately buy your products and services.