Franchise SEO: 9 Essential Strategies to Improve Local Rankings in 2021
Dec 8, 2021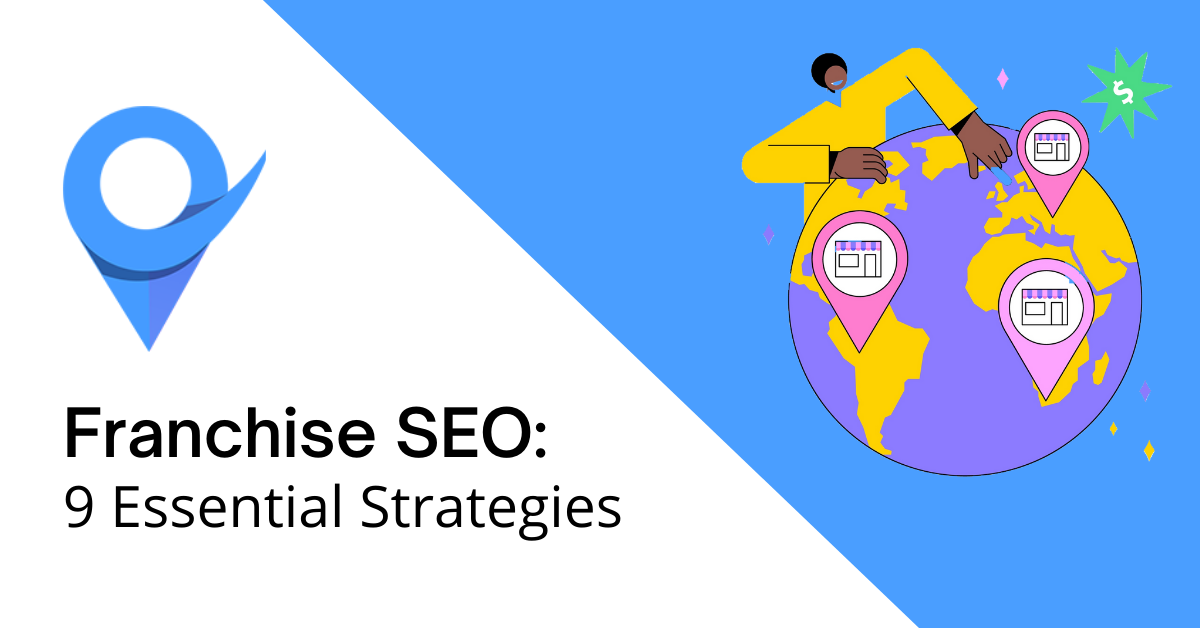 Table of Contents
What is Search Engine Optimization (SEO)?
What is Local Search Engine Optimization (Local SEO)?
Why is Franchise Search Engine Optimization (Franchise SEO) Important?
9 Strategies to Improve Franchise Local Ranking
Create individual websites for each franchise location
Create landing pages that are optimized for local search
Provide all of the necessary business information on each individual website
Add location-specific schema markup to all websites
Get all locations listed in Google Maps
Optimize all locations for voice search
Optimize all other local citations and check for accuracy
Encourage online reviews from customers
Get backlinks from local websites
Conclusion
As an inherently local business, franchises should focus on local search engine optimization to increase their customer base and drive sales through digital marketing.
What is Search Engine Optimization (SEO)?
Search Engine Optimization (SEO) is the process used to achieve better rankings for your website in organic search results search engines, Google in particular. SEO includes creating high-quality content and optimizing it around specific keywords and phrases, building backlinks, providing great user experience, and much more. In addition to the website itself, the SEO strategy is implemented across many different platforms including Google My Business, social media, and all sites where your business has a digital presence.
What is Local Search Engine Optimization (Local SEO)?
Local SEO is the process of optimizing a website in order to increase traffic from local search queries. A local search has two parts: Google My Business which includes the map and local pack (also known as the snack-pack) and the organic search result.
Ranking high in these areas is important because 89% of people search for a local business on their smartphone at least once a week, with an average of 58% of people searching daily.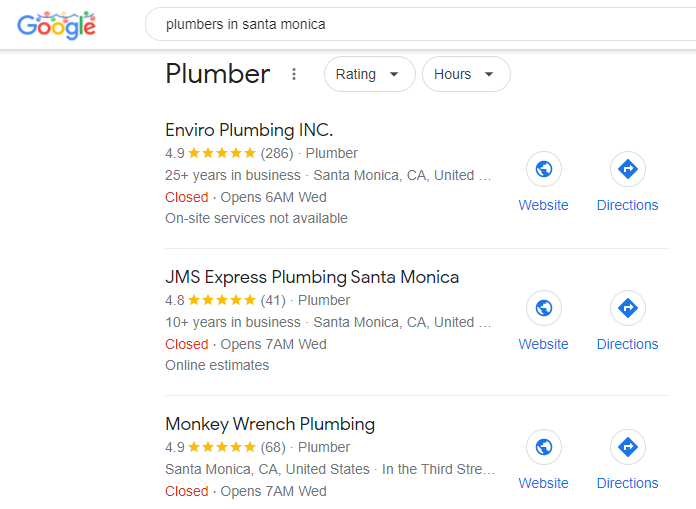 Why is Franchise Search Engine Optimization (Franchise SEO) Important?
Franchise SEO is search engine optimization with the main goals being to promote the corporate brand and/or individual franchise locations.
In this article, we are going to focus mostly on local franchise SEO and operational franchise marketing, which includes any SEO done by franchisors and franchisees in order to retain or acquire new customers.
In addition, franchise development marketing is done solely by the franchisor and includes any kind of advertisement or marketing in order to promote a brand and sell more franchises.
9 Strategies to Improve Franchise Local Ranking
So how do franchisors make sure that potential customers find their individual franchise business?
The most important factor to improve local ranking is to create and optimize individual websites.
This can include providing all the necessary business information, creating optimized pages for local search, listing all locations in Google Maps and local and industry-specific directories (especially those important for voice search), adding location-specific schema markup, and providing the tools for easy review collection and link building.
Which are the best ranking strategies to improve a local SEO for individual franchises? We will explore 9 different important strategies to improve the local search rankings, using Chick-fil-A's franchise structure as an example throughout.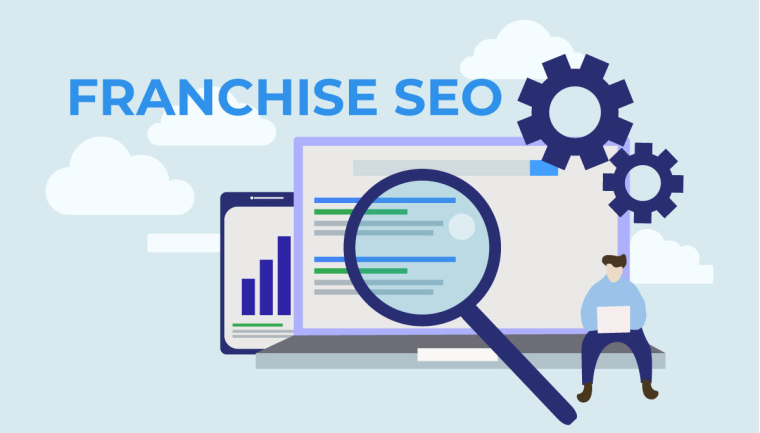 Create individual websites for each franchise location
A solid web foundation includes SEO-optimized content, a fast loading, and a mobile-responsive website. For example, Chick-fil-A has done a great job creating corporate and location pages that are consistent with the brand and contain all localized information applicable for individual franchises.
When it comes to creating websites for your franchisees, there are two possible structures: a single corporate website or an individual website for each location.
The first option is by far the most efficient and popular as the corporate website can contain content, videos, and resources for all individual franchisees without duplicating content. For franchise corporate sites, it is absolutely crucial that the location finder is easy to locate and to use.
If, however, the franchisor company chooses separate websites for each franchise location, the individual franchises have more control over the content and SEO strategy.
Chick-fil-a has the main franchise website and each franchise location has a separate directory on their main website: https://www.chick-fil-a.com/locations.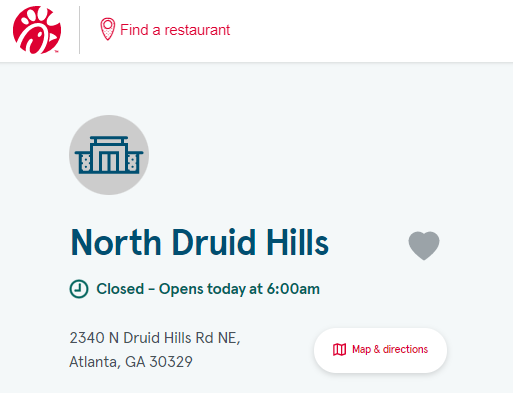 Here are some best practices franchisors should follow in order to build a successful web website for their franchisees:
Make sure all web pages are mobile-friendly and load fast
For our generation of shoppers, mobile browsing is the preferred way of searching for products and services.
Data from Statista shows that 56% of online consumers have searched for local businesses via smartphones. So, it is imperative that franchisors develop responsive websites which means they can adapt and deliver the best experience to users whether they're on their desktop, laptop, tablet, or smartphone.
Mobile load speed is also an essential factor for ranking as required by the latest Google's Core Web Vitals update.
Use location-specific content and keywords
Each franchisor needs to have a solid content marketing strategy in order to support franchisee locations.
Through content marketing, franchises create awareness for their brand, help local franchises build a good reputation, and display accomplishments of a certain franchise location to potential customers.
The webpage for each franchise location should have all the pertinent business listing information including location-specific content, forms, name, address, business hours, location, and local ordering information. Google wants to see consistency in the use of your name, address, and phone number (NAP).
Place the form above the fold and remove unnecessary fields
The forms on the websites are also important as they might be the only customer interaction on your website. According to Neil Patel, he boosted the conversion rate on his website by 26 percent just by removing a single form field.
Make sure you have a strong call to action
As you can see in the example above, the Order Food call-to-action is present on each page - present in both headers and the footer of the website. Simple and easy to find!
Make sure important content is available to all franchisees and customers
Important news, blogs, and customer information - i.e., allergy information for restaurants - should be present and very visible on the corporate website. Franchise owners need to be able to leverage all of the content available on the corporate website.
Have a location map
86% of people look up the location of a business on Google Maps. Google Maps users can follow and make lists of their favorite local businesses, so it is very important that every franchise website has a map.
Create a Q&A page
A Q&A page for a restaurant can answer questions like: "Do you offer vegetarian entrees?" or "Do you take reservations?" This provides a better user experience and better customer service.
Create landing pages that are optimized for local search
A landing page is a web page designed for one specific purpose. The goal of a landing page is to convert visitors into leads, sales, or customers. Landing pages are often used when someone visits a website and wants to learn more about a product or service. They also work well for lead generation campaigns.
Franchisors provide franchisees with landing pages templates, in order to maintain the brand and company image.

Here are some attributes of a well-designed location-specific landing page:
Clear, concise, and distraction-free call-to-action (CTA)
Multiple contact methods: contact form, clickable phone number, and chat
Has locally targeted content like a list of local events
Has location-specific reviews
Location-specific rich media including videos
Has relevant keywords and localized metadata
Links back to the franchise location page, not the corporate site
Provide all of the necessary business information on each individual website
It is critical for franchises to have a high-functioning, easy-to-navigate, fast, mobile-friendly, and engaging website.
For Local SEO, in addition to the regular SEO best practices, the franchise pages need to have all necessary business information:
Location information and image
Address and phone number
Map and directions
Ordering information
List of delivery options
Hours of Operations
Add location-specific schema markup to all websites
Structured data or schema is the use of standardized formats to provide search engines with information on webpage content. It is "behind the scenes" code that tells search engine crawlers what specific content is on the page.
This code enables more informed searches across websites for enhanced results like featured and rich snippets, video carousels, and knowledge panels.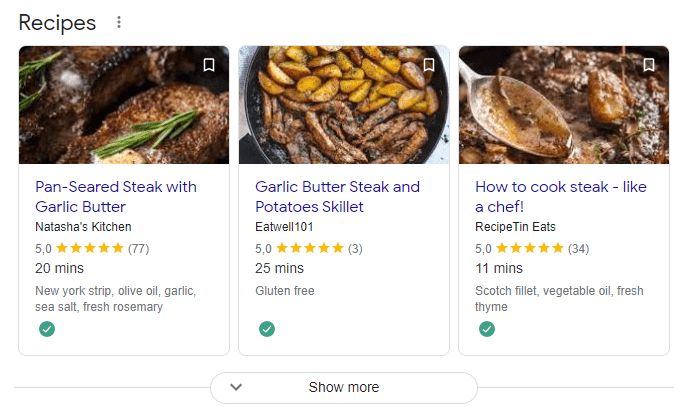 Local businesses can benefit from schema markup to generate rich snippets and help bring their pages to the top of a search.
Get all locations listed in Google Maps
It is critical that your business shows up in the first page of a Google search as 92% of searchers pick businesses on the first page of local search results.
It is well known that Google My Business (GMB) is the most important tool for local SEO - and franchise SEO is no different. It is crucial that corporate franchisees or franchisors list their individual locations on Google Maps and local search results via Google My Business listing.
This helps customers get relevant information related to a specific local franchise's products, services, news, and events.
Although the franchisors might be responsible for the creation of the Google Business Profile, it is the franchisee's responsibility to complete, maintain, and optimize their listings in order to improve their ranking in Google Maps and local organic search.
As you can see below, all Chick-fil-A map locations display when searching by a specific location.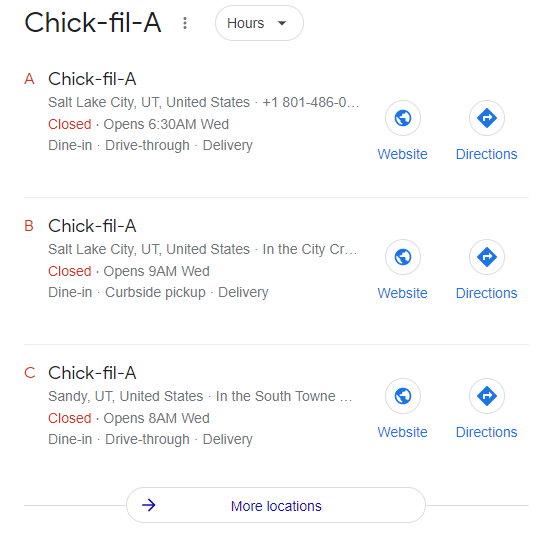 Here are a few ways to optimize the Google Business Profile (and Google Maps along with it):
Claim and verify your Google listing. This is as simple as claiming your business on Google My Business and verifying it through a postcard.
Make sure to complete and optimize your GMB profile by selecting the correct category, services, products, and other important business information
Add quality photos and videos of your physical location. Research from Bright Local found that "businesses with more than 100 images on GMB get 520% more calls, 2717% more direction requests, and 1,065% more website clicks than the average business."
Make sure to post updates, news and events
Add locally-relevant photos and videos, specific to your business. Click to learn how optimizing your GMB profile affects your local ranking.
See the example below of a well-optimized list of a local Chick-fil-A franchise.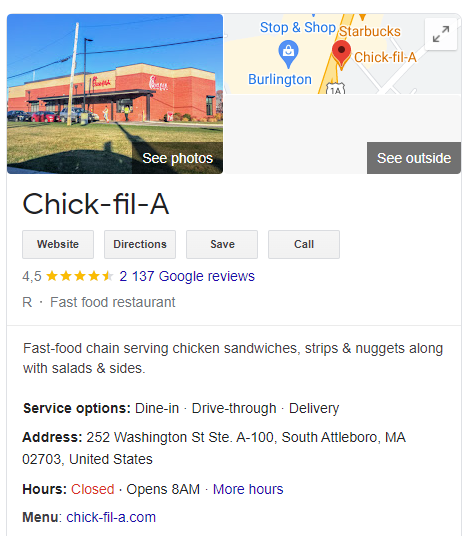 Optimize all locations for voice search
According to a study on voice search by Search Engine Land, 58% of users voice-search for local businesses. Voice assistants like Alexa, Siri, Google, and Cortana rely on information and content from directories or citations such as Google, Google My Business, Apple Maps, Bing, Bing Places, and Yelp to come up with their answers.
Have you tried to ask your iPhone to find a Pizza place near you? Most people have. Siri responds by finding places and giving you their ratings on Yelp (because Siri gets data from Yelp).
The franchisor should be responsible for submitting corporate and individual location websites to the main search engines (Google and Bing) and to the local citation sources like Apple Maps, GMB, Bing Places, or Yelp. These directories play an important role in the voice search and local SEO for franchises as a whole.
Optimize all other local citations and check for accuracy
A local citation is any online mention of a business name, address, phone number, website address (NAPW). These citations are provided by local directories, social platforms and other places with information on local businesses. While these local listings are important for search engines, they are not quite as powerful as they once were. To learn more about local citations click on this article from Duda.
Citations could be general in nature like Google My Business, Apple Maps, Facebook, Foursquare, Bing Places, Yelp, TomTom, Yellow Pages, and so on. Or they may be industry-specific like these citations for restaurants: OpenTable, Grubhub, Urbanspoon, Zomato, and others.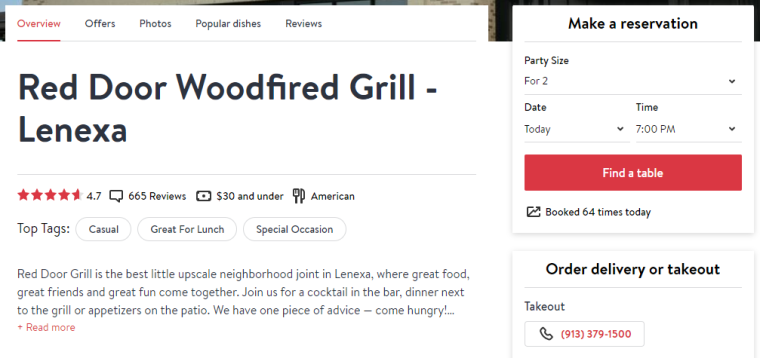 Local citations may be created automatically via local data aggregators and listing management platforms or they may be manually created one at a time. The price of submitting through automated platforms varies depending on the number and features included but can save users significant effort when listing with a number of platforms.
Franchisors might submit the information of the local franchises to citation providers for submissions, but it is up to the individual franchise to maintain and optimize these listings.
Encourage online reviews from customers
A major contributor to local SEO for franchises is reviews. Online reviews are important for lead generation because they help potential customers decide whether to purchase from you or not. If you want to generate leads, then you need to provide great products and services. This, in turn, will prompt happy customers to give you high-mark reviews, increasing brand loyalty.

A large number of reviews increases your chance to make sales as 87% of consumers read online reviews for local businesses in 2020, and 72% of consumers report that they won't even look at buying an item without reading the reviews. It is important to encourage your customers to leave feedback and reviews for your products or business. It is also critical to respond to each customer review.
Responding to reviews builds a further sense of connection between the company and its customers. It will help you stand out from your competition, as 75% of businesses don't respond to their reviews regularly. Make sure to reply carefully to neutral or bad reviews, as 7 out of 10 consumers say a well-thought-out and empathetic response can change people's minds on a company.
Franchisors might also provide a reputation management system for each franchisee. However, the reviews from these systems are down-ranked by Google and other search engines because the reviews can be filtered and only the high-mark reviews would be added to the respective web page.
Franchisees are responsible to maintain and acquire new reviews. The best way to get reviews is to let them happen organically and ask customers for feedback occasionally.
Get backlinks from local websites
Inbound links from other websites are called "backlinks" and they are one of the best indicators of quality and authority of the site. If you have a lot of backlinks coming from authoritative sites, then you are likely to rank higher than those who don't. Backlinks have become one of the most valuable assets for businesses today because they provide free publicity and brand recognition as well.
This part of Local SEO falls mostly on the franchisee. Here are some ways for them to create backlinks organically:
Sponsor or Donate to a Local Organization
Get involved in local organizations and groups that stand for something you love! It doesn't even necessarily have to relate to your business, as long as it's something you care about. You can support a local animal shelter, a town soccer team, or an art gallery. Most groups or organizations love to support their sponsors by creating links to their business websites.
Offer location-specific discounts
Giving discounts to groups such as students or veterans can catch the attention of local alumni associations and websites that track discounts, who will in turn offer a link to your website. Groupon is another way to offer discounts, so list a deal with Groupon. The Groupon deals often contain links back to the merchant's website.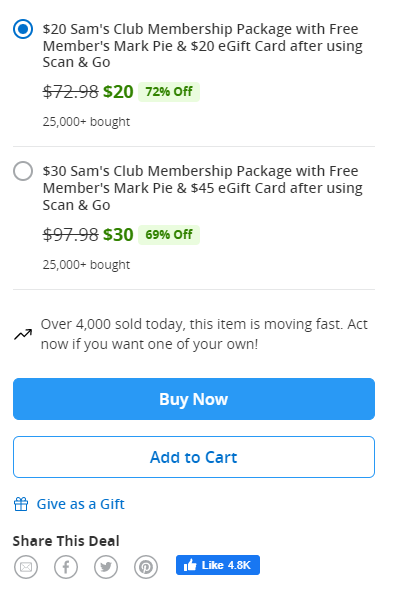 Local Partnerships
Support other local businesses or nonprofits by promoting their upcoming events, talking about them in your blog posts, writing a testimonial, etc. They'll be likely to return the favor and support you by giving you an inbound link.
Join Your Local Chamber of Commerce
Another way to get links to your website is by joining your local Chamber of Commerce. The links provided include a business directory link to your website, links from events you sponsor, job postings from your business, member-to-member discounts you offer, and much more.
Get Accredited with the Better Business Bureau
People will usually only put links on their websites or blogs if they believe in the quality of the business. Getting accredited with the Better Business Bureau assures not only your customers, but also those in the position to support your business and link to your website on their own. If they can be assured that your business is trustworthy and of high quality, they are more likely to openly support your business on their website.
Join Alignable Network
Alignable is a useful resource for anyone who is starting a small business. With over 5 million members and 30,000 communities, Alignable is a place where small business owners across America can form relationships and connections.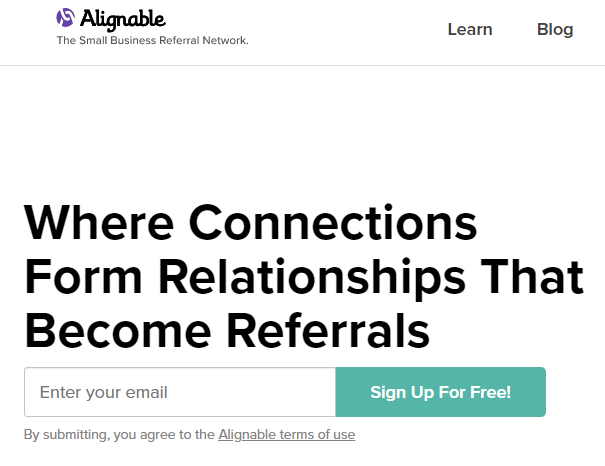 Advertise in Your Local Community Pages
Another great way to generate high-quality links in your community is by adding events to community pages like Patch.com, Community Kangaroo, and others.
Link building is probably more successful if it is done by each individual franchise. They are more in touch with their local target audience than the corporate franchise. Franchisors are able to help by advertising local functions or events.
Conclusion
For an outstanding marketing strategy for local rankings, franchisors must start the ball rolling by creating a website and local listings and providing all the necessary tools for franchisees. The website should be optimized for Local SEO for each individual franchise as described above. However, much of the work is to be done by the franchisees - from optimizing local listings, to posting on social media, to creating inbound links from other local websites.