How Google Map Citations Help Local SEO
Dec 31, 2021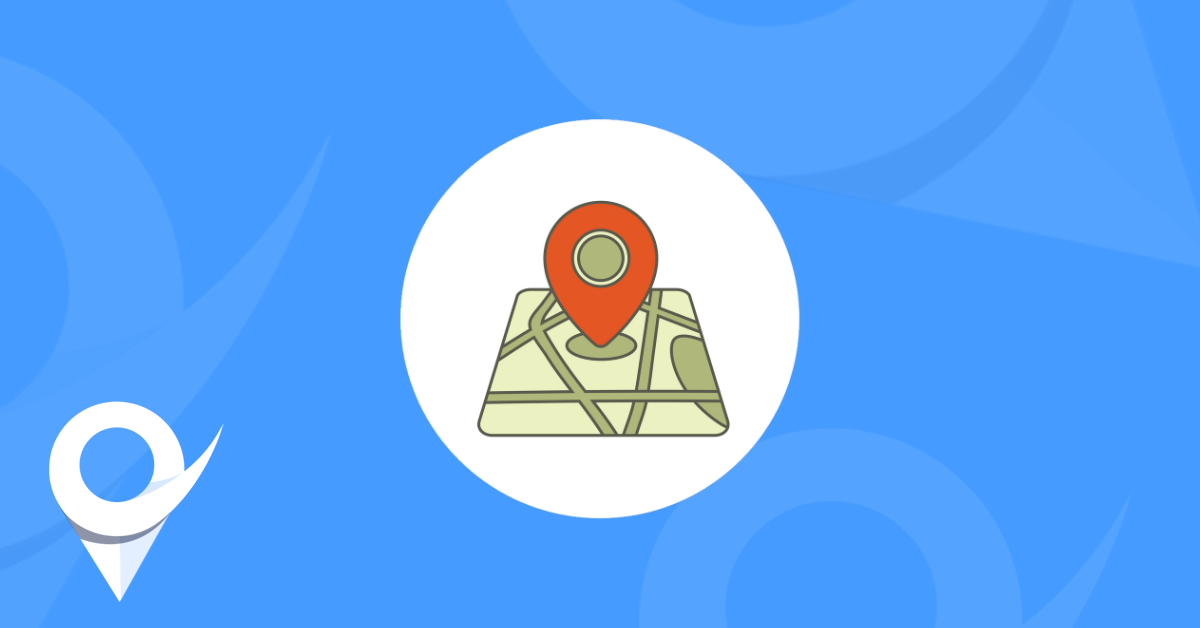 Table of Contents
What are Google Map Citations?
How Google Map Citations Improve Local SEO Rankings
Relevance of Citation Sources
Authority of Citation Sources
Volume of Citations
What are the Types of Citations?
How does Google Determine Local Ranking?
Elements of Good Google Map Citations
Completeness
Accuracy
Consistency
Conclusion
According to Google,76% of consumers who searched for a nearby store visited that location within 24 hours. That means that when you're looking for something specific, like a restaurant or a hotel, chances are you'll find what you need very quickly. So, business owners need to do everything possible to get their products and services in front of their customers.
One of the best ways for local businesses to market themselves online and increase their visibility in local search is to rank higher in the Google Local Pack (also known as the Google Snack Pack) and its integrated Google Maps.
How do you make sure your business shows up on top of the Google Local Pack so that your local customers can find your products and services? It is through Google Map citations!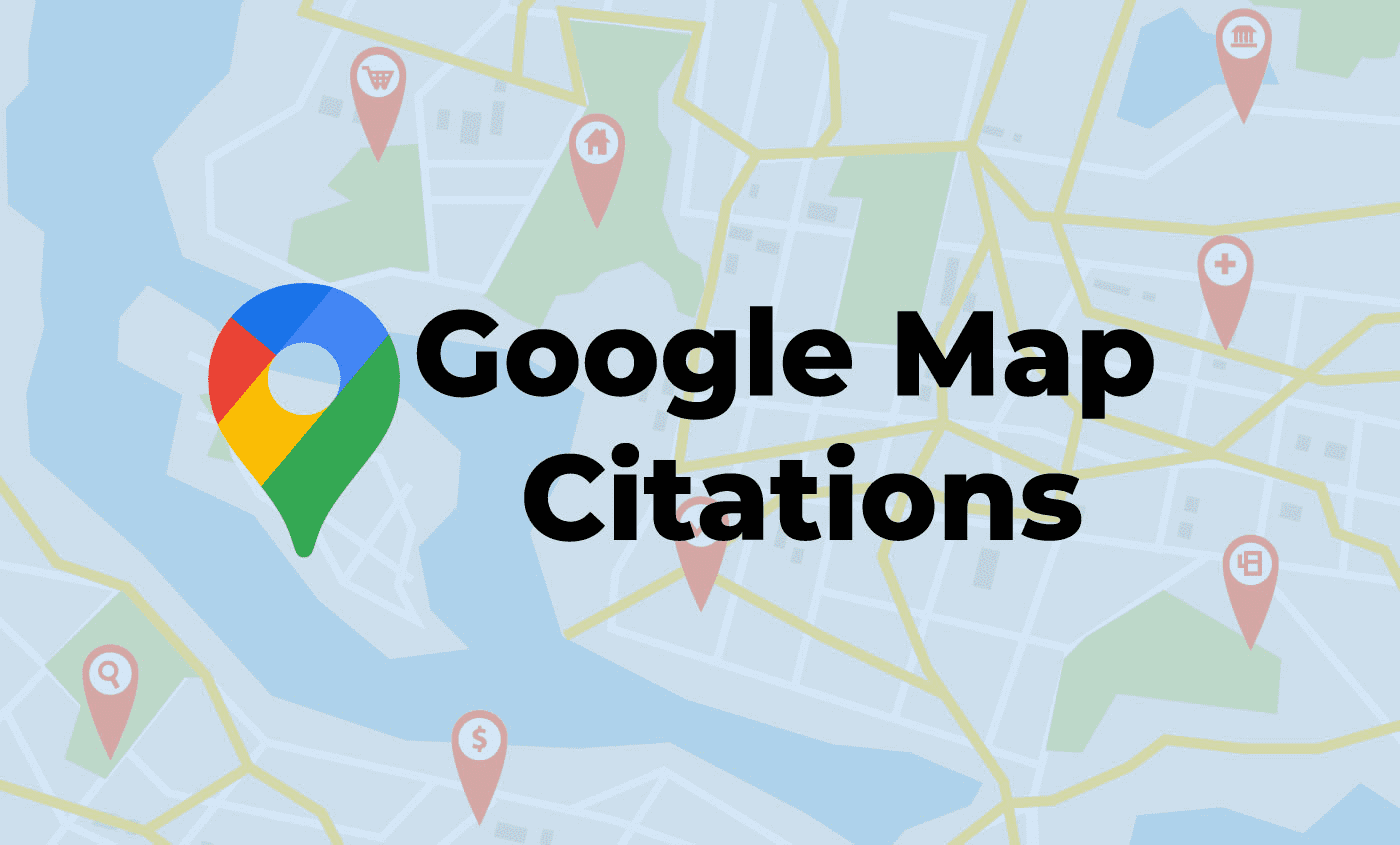 In this article, we are going to explain the importance of Google Maps citations and give you top strategies for creating and optimizing these citations.
What are Google Map Citations?
A citation is any online mention of your business name, phone number, address (NAP) on another website, usually a directory, which will help consumers find your business online. Most of the local citations include website address, email address, opening hours, business category, driving directions, and links to social media.
Some directories even link to your website creating backlinks for important SEO benefits.
Citation submission is important because it helps Google and other search engines know more about your content, which means you'll rank higher for search terms related to what you're offering.
The most important local citations sources include:
Google My Business
Yelp
Apple Maps
Bing Places
Yahoo
Foursquare
Better Business Bureau
Yellow Pages
How Google Map Citations Improve Local SEO Rankings
Quality citations show Google and other search engines that your business is legitimate, it has a real physical address and isn't just a phantom listing.
But just having the citations on many websites isn't enough, though. It is crucial to understand what specific directories need in order to host your business information effectively. And understanding the main three aspects of citations - relevance, authority, and volume - will boost your Local SEO and you will rank higher than your competitors.
Relevance of Citation Sources
Take the time to research and understand which directories are relevant to your customers. Generally, it is recommended to obtain citations from general directories, industry-specific directories and review websites.
General citations
Submit your business information to general online directories for local areas, such as Google My Business and its integrated Google Maps, Yelp, Apple Maps, Bing Places, Yellow Pages, and others. Voice assistants rely heavily on information from local directories and citations. Google Assistant relies on Google and Google Business Profile to come up with answers to local searcher questions.
Industry-specific citations
Submit your business information to industry-specific directories. If your business is a restaurant, for example, the following sites might be relevant to your business: yelp.com, tripadvisor.com, opentable.com, zomato.com, grubhub.com and more. Find a complete list here.
Although Yelp is a citation used for many other types of businesses it is one of the most important business listings for restaurants, sometimes more important than even a website!
According to TechCrunch, "about 75% of Yelp's traffic, overall, is sourced through Google one way or another. About 50% is traffic coming from people who start their search on Google and eventually find their way to Yelp; the other 25% is people qualifying 'Yelp' as one of the keywords in their search…"
Yelp is considered an important citation for restaurants, and it should not be ignored.
The majority of your "foodies" are visiting Yelp before they consider visiting a restaurant. So, make sure your business is listed on Yelp.
Review citations
Today's consumers are increasingly relying on reviews to make decisions about the products, services, places to eat and 90% of people read reviews before purchasing.
Make sure you list your business to review sites and once submitted make sure you respond to both positive and negative reviews. General review sites such as Google My Business, Yelp, and Facebook, and the most important review sites for the restaurant industry, for example, are Yelp.com, OpenTable, TripAdvisor, Zagat, Zomato, Foursquare, Gayot, The Infatuation, and more.
Make sure that all citation directories are relevant to your business. If you own a café in the middle of New York City, getting your citation published in a directory for hotels won't be useful. However, getting your citation listed in a directory for coffee and pastries will be much more useful to your business.
Authority of Citation Sources
The second thing to pay attention to when submitting and finding citations is the authority of the source. This concept is similar to domain authority, which is a score that "predicts how likely a website is to rank in search engine result pages."
For example, say you own an Italian restaurant and are searching for places to submit to or backlink your citation. A website like Restaurant.com or Phantom Gourmet is going to have far more authority as a restaurant directory than a small blog writer who doesn't have many followers.
The backlinks from these directories give your business credibility in comparison to your competitors who may not have them.
Here are some citation sites and their correspondent domain authority:
| Citation site | Domain authority |
| --- | --- |
| google.com | 100 |
| maps.apple.com | 100 |
| facebook.com | 96 |
| bing.com | 94 |
| yelp.com | 93 |
| foursquare.com | 92 |
| bbb.org | 91 |
Tip: There are two types of links: "DoFollow" and "NoFollow". DoFollow links to your website pass authority or "link juice" from the destination site. This signal tells search engines to trust your website as having more authority, and thus, boost your ranking. However, most citations from local directories are "NoFollow, so they are less useful when it comes to link building. Click this article for an explanation of the types of links.
Volume of Citations
The third and final thing that you need to take into consideration when publishing and distributing your citations is volume. The more mentions of your website online, the better your business will do, although high authority sites exert a greater weight.
Local citations can be created three different ways:
submission using local data aggregators
submission using management platforms
manual citation submission
Local data aggregators are companies that distribute local business data to third-party directories, mobile apps, GPS services, and mapping services. The main data aggregators are:
Data Axle
Neustar Localeze
Factual
Listing Management Platforms automate the process of listing your site on local databases. These platforms include
BrightLocal
Moz
Synup
Uberall
Yext
These listing management platforms send business information including (NAPW), images, videos, and posts through APIs to many local directories
All of the above platforms submit to multiple citation sites and local databases, but some more than others. Yext submits to over 65 sites, Uberall to over 50 sites, and so forth…
Manual submission is time-consuming but has one advantage – business owners can select the most important citations for their businesses. As of late, the most important local citations are those related to voice search which includes: Google My Business (which includes Google Maps), Apple Maps, Yelp, & Bing Places.
What are the Types of Citations?
Local citations can be categorized into two main categories: structured and unstructured.
Unstructured citations are citations that do not follow any particular format. They are usually found in the form of sentences and paragraphs describing an event, a thing, etc. The words used to describe are not well-defined and they vary site-to-site and author-to-author.
Web content, photo sharing, and social media sites are examples of unstructured information.
See a local unstructured citation example below:

The value of the unstructured local citation date is dependent on three factors: location, industry relevance and website authority.
Structured citations refer to the process of adding markup language tags to web pages to help search engines understand what each element means. This helps search engines better understand the meaning of the text on the page and how it relates to other pages.
For example, when a piece of content on a webpage needs to be representative of a certain "thing" like a recipe, a job posting, or a local business, the code needs to be structured and marked properly so that the search engine understands the context and content of the page.
See a local structured citation below:

To learn more about structured data read this article.
How does Google Determine Local Ranking?
According to Google, local results are based on three important factors: relevance, distance, and prominence. Google defines these terms as follows:
"Relevance refers to how well a local Business Profile matches what someone is searching for."
"Distance considers how far each potential search result is from the location term used in a search."
"Prominence refers to how well known a business is… Prominence is also based on information that Google has about a business, from across the web, like links, articles, and directories. Google review count and review score factor into local search ranking. More reviews and positive ratings can improve your business's local ranking."
Some of the factors that affect local rankings include Google My Business (GMB) signals, review signals, on-page signals, link signals, citation signals, behavioral signals, personalization signals, and to a lesser extent social signals.
As you can see from the graph from Brightlocal, the significance of the GMB signals, and therefore Google Maps citations have increased greatly over time.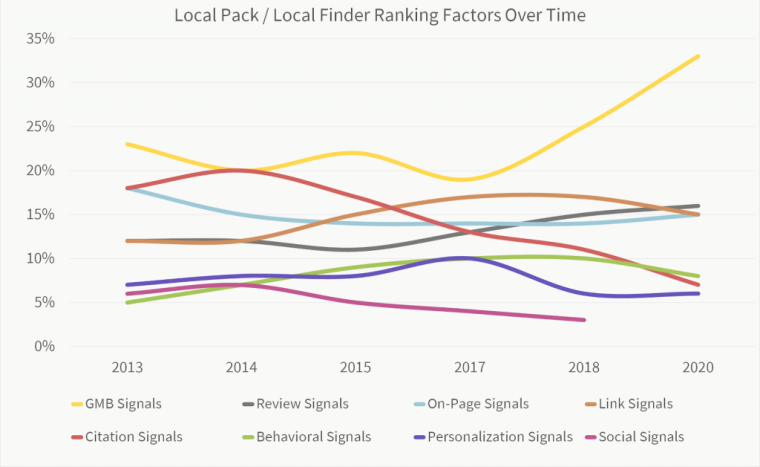 As you can see the most important factors for local pack rankings are grouped as follows:
Google My Business & Google Maps
Reviews
On-page optimization
Links
Elements of Good Google Map Citations
There are three key elements that make a good Google Map citation: completeness, accuracy and consistency.
Completeness
The first thing that you should watch out for is confirming that your citations are complete when submitting to citation sites. Including every single part of your Name Address Phone (NAP) + Website (NAPW) where appropriate is integral and omitting your address, for example, affects the quality of your citation negatively.
Not only does that lessen the authority of your citation for Google and other search engines, but customers won't be able to find the location of your business from that website, lessening the chance that they'll end up finding you.
Accuracy
The second thing is the accuracy of citations. Having up-to-date, reliable and accurate information throughout the citation directories is very important and will lead to success in using these citations to aid your local SEO.
When changing business location, this is even more important! You either have to add the updated information yourself or inform the citation sites of the changes.
Incorrect phone numbers, for example, might be a red flag for Google, and this might prevent your GMB listing from displaying as a top map citation.
Consistency
The third thing that you need to pay attention to is the consistency of citations throughout different websites and directories.
Having the name of the company or the address listed in several different ways might be confusing to search engines. They look for consistency!
Here is an example of a good Google Map citation for a restaurant.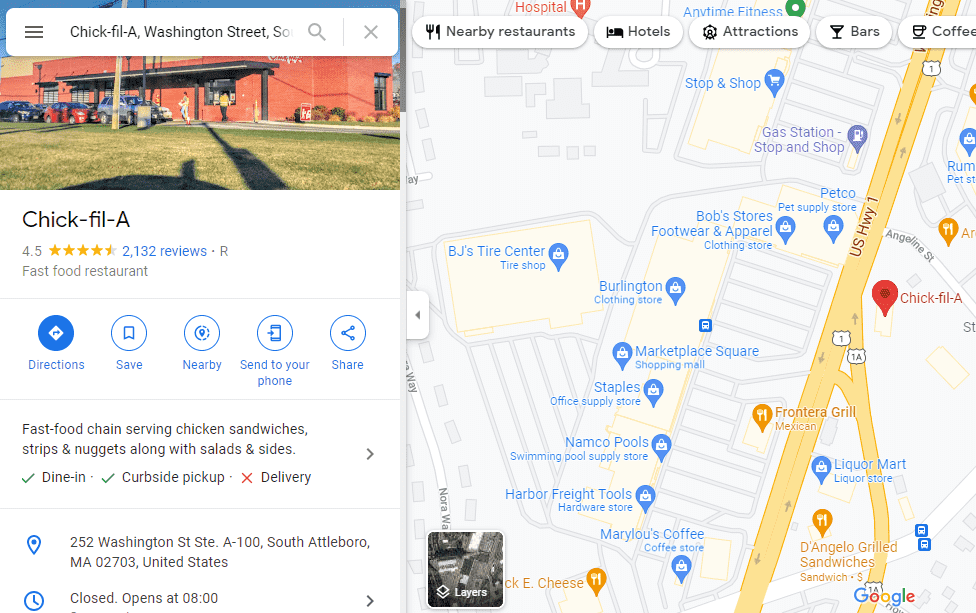 In addition to the NAP and website, the local listings can further be improved by adding photos, special offers, store hours, a compelling business description and more.
Here is another great citation of the Chick-fil-A listing of City of Industry, CA on Yelp. This citation looks a bit different than Google one, but overall has the same type of business details.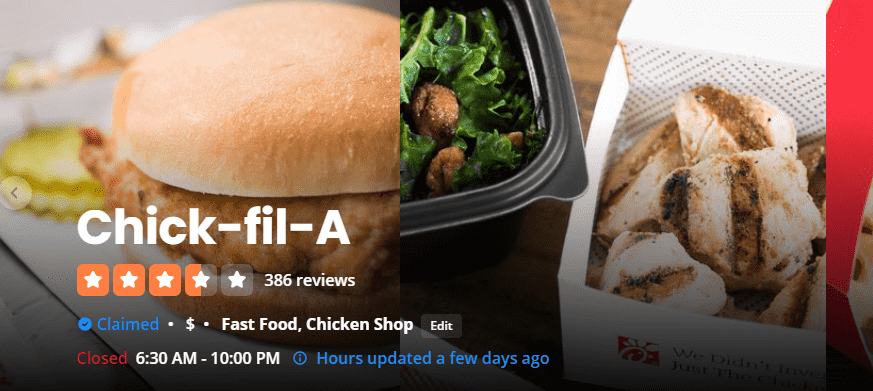 Right underneath there is more information including NAP + W including website, phone number, physical address, hours of operation, menu and more.
The citation itself is complete and is a good representation of what a citation should look like.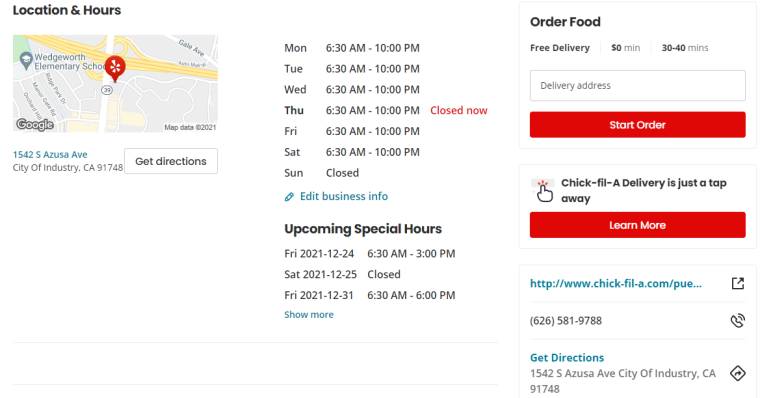 Conclusion
There are approximately 40-60 billion searches happening on Google each month in the US alone and 46% of them have local intent. A Google report found that 60% of smartphone users contacted businesses through the Google Business Profile/GMB listing using the "click to call" option. So, ranking high on the Google Snack pack is essential.
Google My Business, Google Maps, and other relevant citations can aid in a higher ranking in local searches and therefore result in more clicks and sales for your business.