Google Stacking for Local SEO: What Is It, and Does It Work?
Nov 29, 2022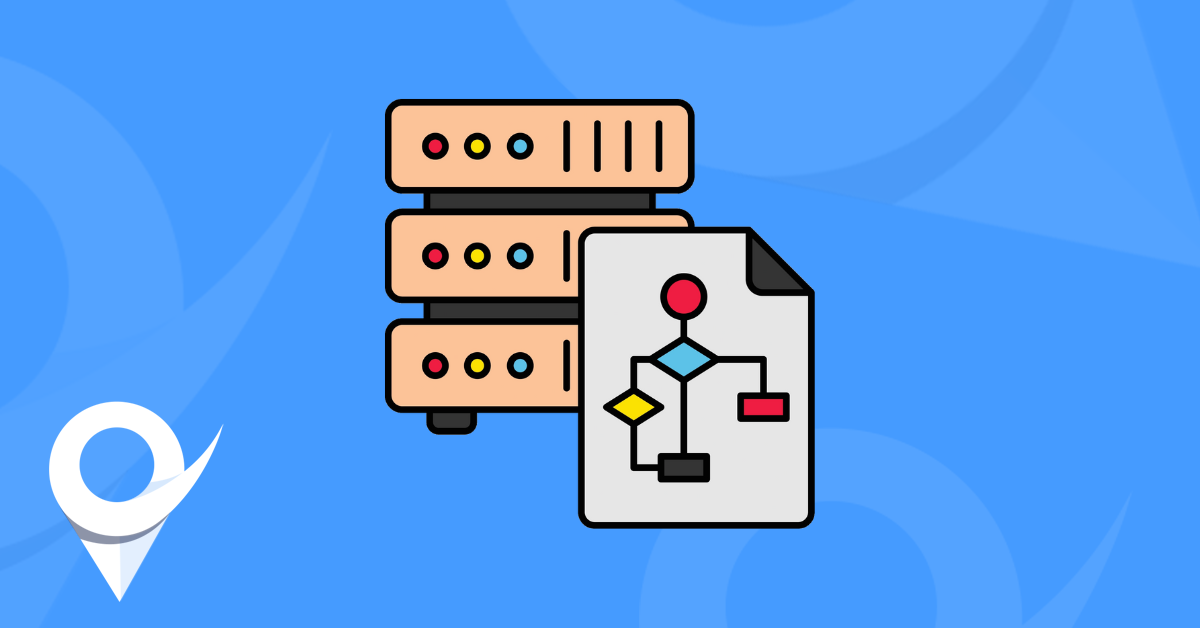 Table of Contents
What is Google stacking?
Is Google stacking black hat or white hat SEO?
What are the Google stacking entities?
Does Google stacking work for local SEO?
How to create a Google stack for SEO
Conclusion
As local business owners and search engine marketers, we're all looking for additional ways to improve our search engine rankings. One such tactic that you may have come across is Google stacking.
In this article, you will learn what Google stacking is and if it works for local SEO.
What is Google Stacking?
Google stacking is a type of link-building tactic that aims to take advantage of the authority of various Google entities (Docs, Sheets, Sites, Photos, etc.) in order to improve a domain's backlink profile.
The entire premise behind Google stacking is to link different Google entities to one another and to add links to your website from these entities.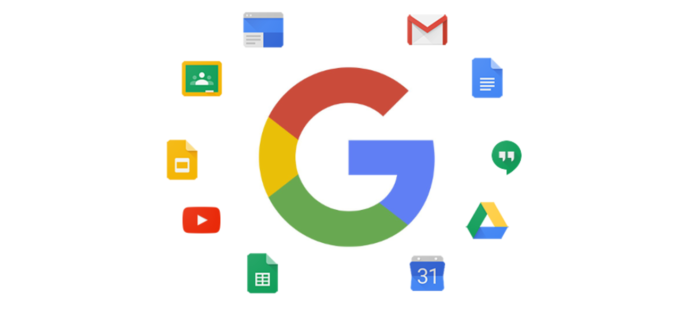 Image source: ResellerClub
The Google stacking process includes some of the following activities:
Creating a Google Doc file that contains business information such as the name, address, contact information, description of the business, and a link to the website. This stage of the Google stacking process can also include writing an article with your target keyword in Google Docs.
Creating an album on Google Photos with the business name and target keyword in the title of the album. Marketers upload the business logo and other images of the business to the album.
Creating a folder on Google Drive with the photos of the business and its logo.
Creating presentations on Google Slides with links to important website pages.
Publishing a Blogger post with information about your website and links to the other entities in the Google stack.
Creating a free Google Sites website with important information about the business. This includes the business name, a keyword-optimized business description, business address, and contact information. From this site, you should link to a Google Sheets document that contains links to all the other Google entities you've created.
I think you get the idea, you're basically adding as much information about a business to different Google platforms, making these "entries" public, and then adding all of the links to a common Google entity like Google Sheets.
You may be thinking that this sounds all too easy for free backlinks from high-authority websites. So then, is Google stacking black hat or white hat SEO?
Is Google Stacking Black Hat or White Hat SEO?
Google stacking is a white hat SEO link-building technique. If you think about it, Google won't penalize its own network of entities (Sheets, Docs, etc.) for linking to different websites. Nor will it see those backlinks going to your website as spam.
However, this doesn't mean that you should link to your Google stack entities from other link-building websites or sources. While this isn't strictly defined as black hat SEO, marketers should avoid overdoing it by creating hundreds of documents with links pointing to them.
The Google entities should only be linking to one another and to your website.
What are the Google Stacking Entities?
Here's a list of all the entities that you can use to create your Google stack, as well as where you can add content about your business:
Google Docs: write an article with the target keywords added to the piece
Google Sheets: create cells with links to different Google entities and your website
Google Photos: add content to photo and video descriptions
Google My Business: add more information about your business in the GMB description field
YouTube: add links and content to video or channel descriptions
Google Forms: create a form with a short intro paragraph about your business and the products/services you sell
Google Slides: create different slides about your business
Blogger: create a blog post about your business
Google Sites: add information about your business in text blocks
Does Google Stacking Work for Local SEO?
There are mixed opinions as to whether Google stacking works. For instance, John Locke, a well-known local SEO consultant, posted a video in 2019 stating that this tactic is outdated and simply doesn't work.
However, there are other marketers who believe that Google stacking is still an effective SEO tactic.
The thing to remember is that you won't rank in the top spot for target queries by simply implementing one SEO tactic.
Instead, search engine marketers and local business owners need to use a combination of SEO tactics ranging from link-building, guest posting, local search engine optimization, content marketing, etc.
So, yes, Google stacking can work for local SEO, but only when it's used in concert with other tactics.
How to Create a Google Stack for SEO
If you want to use Google stacking for local SEO, then follow these next steps to create your own stack of Google entities. To create a Google stack, you'll need to use the Google account you created when you signed up for a GMB profile.
For the sake of explaining the steps involved in creating a new Google stack for local SEO, we're going to imagine that we've got a house painting company called HomeBound Painters in Denver, Colorado.
Step 1: Decide on 5 Target Keywords
Before you begin creating your Google stack you should first decide on which SEO keywords you want to target.
Pick about 4 to 5 keywords that you'd like your homepage to rank for. This is important because you don't want to be using the same keyword repeatedly.
To decide which keywords you'll be targeting, be sure to do some keyword research using your favorite keyword research tool.
Remember, this is just for the homepage. You can create Google stacks for individual product pages or location pages that target different keywords.
For our house painting business in Denver, we've added the generic term "house painters denver" to the SEOptimer keyword research tool.

The tool generates a list of other keywords that we can target and add to our Google stacking entities. Additionally, we can also use our competitors' websites to get an idea of what keywords they are ranking for.
In this example, we're going to add one of the competitors to the "Search by Domain" feature in the keyword research tool.

For this example, we're going to use these target keywords:
House painters in Denver
Denver house painters
House painters Denver
Denver paint company
Painting company Denver
Step 2: Start Off with Google Drive
The first thing you need to do when building a new Google stack is to go ahead and create a Google Drive folder. This is where all the other entities in the Google stack will be saved and connected.
Naming the folder is an important step when creating your Google stack. Here you want to use your main target keyword followed by the name of your business.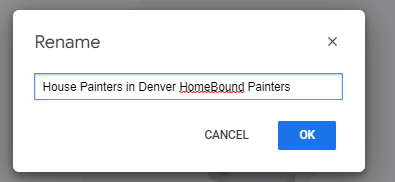 In our example, it would be something like "House Painters in Denver HomeBound Painters". Once created, edit the folder description by right-clicking on the folder and clicking on "View details".
Then add the relevant NAP (Name, Address, and Phone Number) and your main target keyword to the "Edit description" field.
For our example, we can say something like:
"HomeBound Painters LLC
101 Cherry Creek Drive
Denver, CO 80246
+1 720-507-4548
House painters in Denver"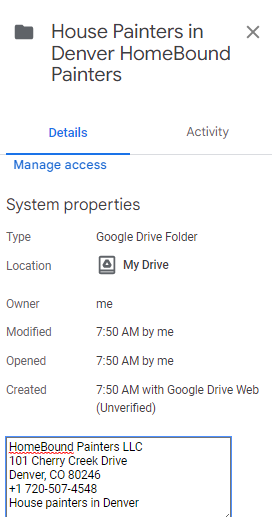 Next, make sure to edit the sharing permissions for the folder you just created. You can do this by right-clicking on the folder and then choosing "Share". Then under "General access" toggle the option and choose "Anyone with the link".
Then create subfolders for each of the target keywords inside the folder you just created by following the same process as outlined above.

Remember to add the exact NAP details to each subfolder, only changing the keyword based on the keyword you're targeting in each subfolder.
Step 3: Create Google Stack Entities
The next step in the Google stacking process is to create the actual entities in your stack. For each of your target keywords, you should create about 5 to 8 Google properties, which means you'll have 5 to 8 entities in each of the subfolders you created.

Here are a few things to keep in mind when you're creating each of the Google properties:
Always make sure that you edit the sharing permissions/settings of each Google asset you create. To do this, click on the "File" option in the top left corner, then go down to "Share" and choose "Publish to web".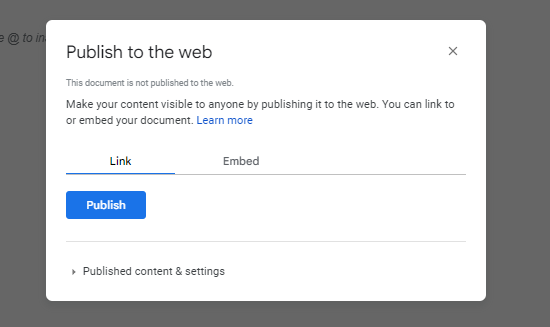 Use the relevant target keyword and the business name in each of the document titles. This means that the titles of all of the different properties in your stack will change depending on the subfolder you are working in.
So, how do you start with creating a Google stack for local SEO?
First, create a Google Docs property for your target keyword. Be sure to stick to the naming conventions as outlined earlier.
Once created, write a 1,000 to a 1,500-word article that is optimized for SEO. This article can be about your business and the services that you offer, your background story, experience, etc. Be sure to also add a link to your website in this article and add the NAP information of your business at the start of the article.
Next, create a Google Sheets property for your target keyword. This document should contain NAP details, a link to your website, and a short description of your business.
In another tab, add all of the links to the other Google entities that you're going to create or have created.
Do this for all the other Google properties that you can think of, this includes:
Create a Google Slides document with detailed information about your business, NAP information, and links to relevant web pages.
Create a YouTube channel for your business and complete the channel description with all of the relevant information on your business. This includes a short description of what products and services you sell and NAP details. It's a good idea to also create a short YouTube video introducing your business.
Write and publish a Blogger article introducing your business and the services or products that you offer. Add useful information about your business, its history, photographs of your premises, etc. Also, remember to avoid copying the article you wrote in the Google Docs property or any other information that is on your website. You've got to try and keep the Blogger article unique.
Repeat this process for each of the target keywords or subfolders that you have created.
Step 4: Create a website using Google Sites
After you've created all of the properties in your Google stack, you need to create a Google Site. Your Google Site is where you will be embedding all of the Google stack entities that you created during the process.
Not only that, but you can use your Google Site to create a complete website that is branded and SEO-optimized according to your needs.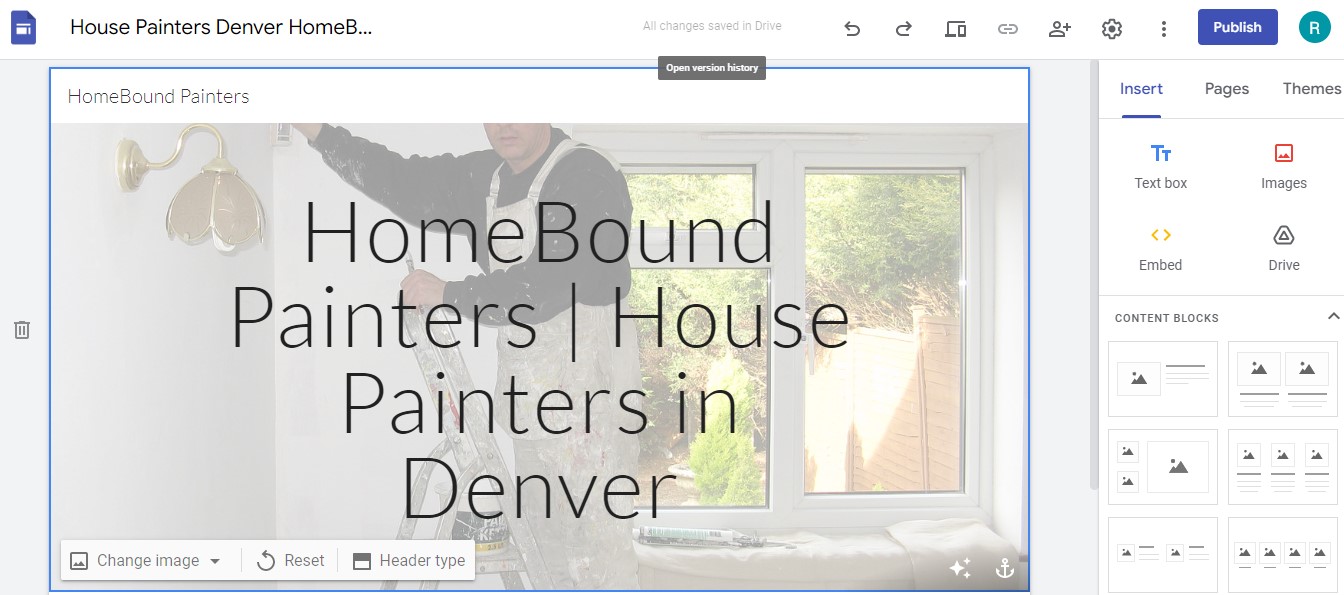 A few things to keep in mind when creating your own Google Site:
Think of this website as your own website, so add in your business' logo, tagline, etc. The homepage should be optimized for your target keywords and should include a link back to your main website.
Add the NAP details of your business to the homepage in the header, footer, and body content of the page.
Elect to create a URL that includes your main target keyword. So for our example, we can create a URL like "https://sites.google.com/view/house-painters-in-denver".
Create separate pages for each of your target keywords or subfolders you created at the start of the Google Stacking process. On each page, embed the properties that you created for each respective keyword.
Blog posts describing each of the services that you provide with links to the relevant web pages on your company's actual website. These blog posts should be optimized for the relevant service or product keywords that you're targeting. So for our example, we can write blog posts about "interior house painting in Denver", "exterior house painting in Denver", "townhouse painting in Denver", etc.
Embed a Google My Business map in the footer of your website so that it appears on all your pages.
Create in-depth About us and Contact us pages using your target keyword and its variations in the text.
Step 5: Link All of Them Together
The last part of the Google stacking process is to make sure that all the entities are linked together.
This means all of the Google entities you made need to link to the Google Site you created in step 5 above. Also, make sure that all the entities (including your Google Site) have a link pointing to your main website's homepage.
If your business offers more than one service, you can create different Google stacks for each.
In our example, we can create a Google stack for "exterior house painters in Denver", "interior house painters in Denver", "apartment painters in Denver", "commercial painting in Denver", etc.
Each of these services would have its own Google Drive folders, containing Google Docs, Sheets, Slides, Forms, and so on. For each of these services, you should also build an entirely new Google Site targeting your target keywords.
Conclusion
Google stacking for local SEO is a tactic that should be used in combination with other SEO-related activities. Don't rely solely on Google stacking to improve your website's search rankings.
With that being said, Google stacking is a link-building strategy that offers high-value backlinks from one of the world's most reputable websites - Google. So if you're looking for even more ways to boost your SEO, then start building your own Google stack today.