150 SEO Keywords for Lawyers
Jul 27, 2023
Table of Contents
The importance of using the right keywords
150 SEO keywords for lawyers
How to optimize your website using lawyer keywords
How to optimize your Google My Business using lawyer keywords
Wrapping up
In today's digital age, optimizing your online presence has become an essential aspect of reaching and engaging potential clients.
For legal practitioners, understanding the right keywords is key to enhancing visibility in search engine results and attracting relevant traffic to your website.
In this article, we will share a list of 150 SEO keywords for lawyers.
This post will also show you how you can optimize your Google My Business listing and website with these keywords for lawyers.
Let's dive in!
The Importance of Using the Right Lawyer Keywords
Using the right lawyer keywords can make all the difference and significantly improve your online visibility.
Google, the world's leading search engine, relies heavily on on-page keywords to decipher the context of a page.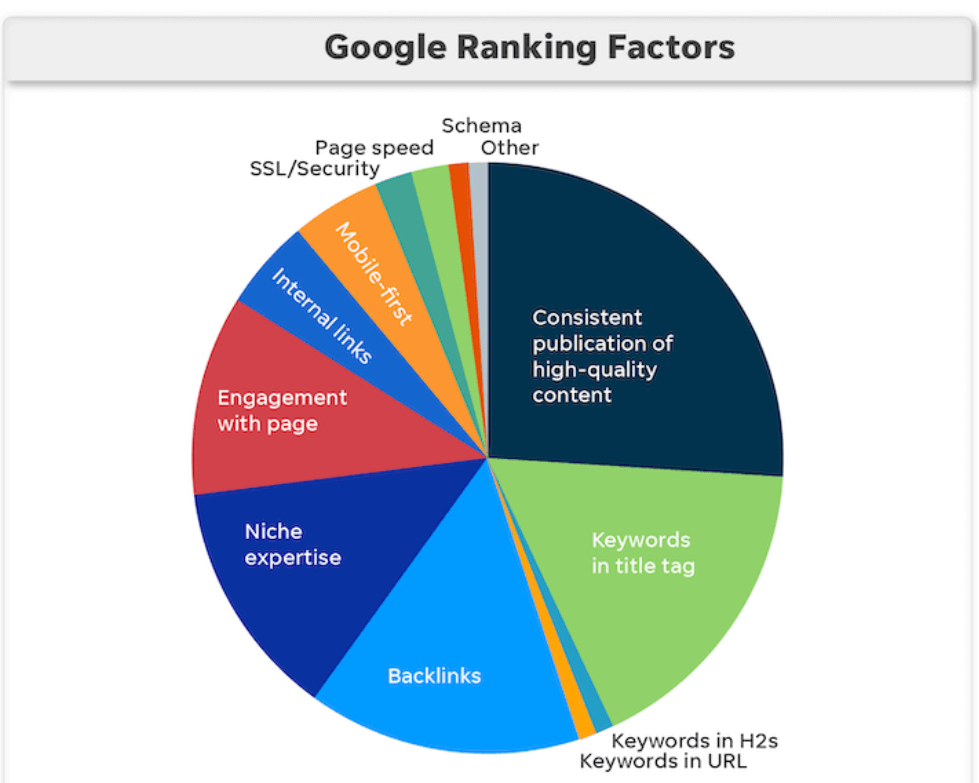 Image source: FirstPageSage
By strategically incorporating relevant and targeted lawyer keywords in your content, you help Google understand your page's purpose. In return, Google rewards you by ranking your page higher in search results for queries related to those keywords.
This can lead to increased traffic, potential client inquiries, and ultimately, business growth.
Moreover, the importance of using the right keywords extends beyond your website. It also plays a crucial role in optimizing your Google My Business (GMB) page.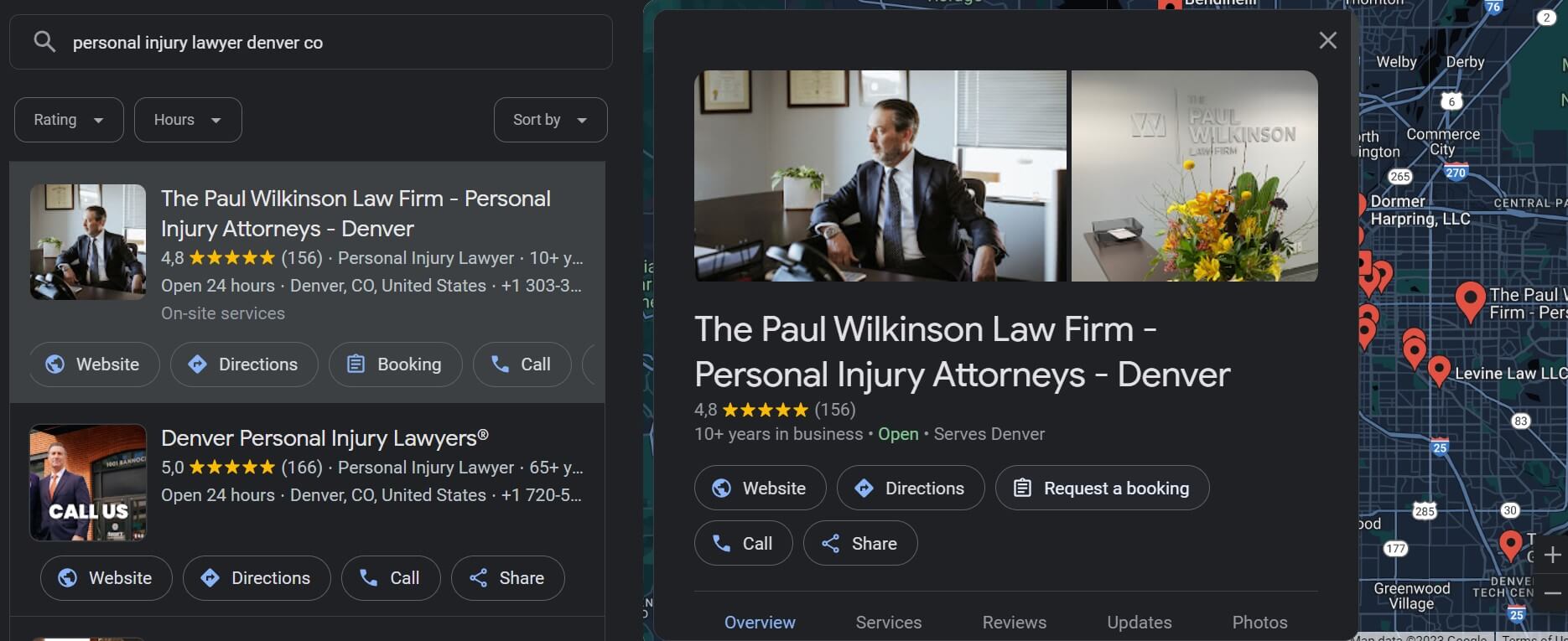 Your GMB page serves as a snapshot of your business on the internet. It's often the first point of contact for potential clients searching for legal services.
In essence, the right lawyer keywords are more than just search terms. They are powerful tools that, when used correctly, can propel your online presence, connect you with your target audience, and drive your business forward.
150 SEO Keywords for Lawyers
Below is a list of 150 SEO keywords for lawyers, covering various legal practice areas and relevant terms. These keywords can help legal practitioners optimize their online content and attract targeted traffic to their websites.
Note: for all these keywords you can add "near me" or the name of your city to give them more relevance to the location of the searcher.
Personal injury lawyer
Personal injury lawyer near me
Personal injury lawyer [city or town]
Divorce attorney
Bankruptcy attorney
Immigration lawyer
Employment law firm
Family law attorney
Real estate lawyer
Business litigation attorney
Intellectual property lawyer
Medical malpractice attorney
Estate planning lawyer
Tax law firm
Workers' compensation attorney
Social security disability lawyer
Environmental law firm
Insurance claims lawyer
Contract law attorney
Consumer protection lawyer
Cybersecurity law firm
Employment discrimination attorney
Securities law lawyer
Landlord-tenant attorney
Product liability lawyer
Trademark law firm
Copyright attorney
Immigration law lawyer
Bankruptcy protection attorney
Child custody lawyer
Mergers and acquisitions law firm
Workplace discrimination attorney
Business contract lawyer
Environmental protection attorney
Property law lawyer
Medical negligence law firm
Employment rights attorney
Social security disability claims lawyer
Civil liberties law firm
Corporate governance attorney
Tax planning lawyer
Work-related injury law firm
Consumer rights attorney
Data privacy lawyer
Family dispute resolution attorney
Entertainment law firm
International trade lawyer
Intellectual property rights attorney
Real estate transactions lawyer
Trusts and estates law firm
Corporate law attorney
Securities fraud lawyer
Landlord-tenant dispute attorney
Defective products law firm
Patent attorney
Immigration visa lawyer
Chapter 11 bankruptcy law firm
Child support attorney
Business contract negotiation lawyer
Environmental compliance law firm
Medical malpractice claims attorney
Wrongful termination lawyer
Social security disability benefits law firm
Civil rights violations attorney
Data breach law firm
Employment contract lawyer
Personal injury claims attorney
Product liability claims lawyer
Trademark registration law firm
Copyright infringement attorney
Immigration green card lawyer
Bankruptcy Chapter 7 law firm
Child custody mediation attorney
Business formation lawyer
Environmental impact assessment law firm
Tax evasion lawyer
Workplace accident attorney
Consumer fraud law firm
Cybercrime attorney
Family mediation lawyer
International arbitration law firm
Intellectual property licensing attorney
Real estate development lawyer
Estate administration law firm
Corporate compliance attorney
Securities regulation lawyer
Landlord-tenant eviction law firm
Defamation attorney
Patent infringement lawyer
Immigration naturalization law firm
Chapter 13 bankruptcy attorney
Child adoption lawyer
Business contract dispute law firm
Environmental sustainability attorney
Medical negligence defense lawyer
Employment harassment law firm
Social security disability appeal attorney
Civil rights restoration lawyer
Data protection law firm
Entertainment contract attorney
International investment lawyer
Intellectual property enforcement law firm
Real estate title search attorney
Trusts and estates planning lawyer
Corporate mergers law firm
Securities litigation attorney
Landlord-tenant rights lawyer
Product recall law firm
Trademark infringement attorney
Copyright fair use lawyer
Immigration asylum law firm
Bankruptcy Chapter 11 attorney
Child guardianship lawyer
Business dissolution law firm
Environmental remediation attorney
Tax audit lawyer
Workplace discrimination defense law firm
Consumer protection claims attorney
Lawyers that do wills
Family law consultation law firm
International business attorney
Intellectual property dispute lawyer
Real estate financing law firm
Estate planning and probate attorney
Corporate governance compliance lawyer
Securities fraud investigation law firm
Landlord-tenant lease attorney
Defective products liability lawyer
Patent application law firm
Immigration deportation attorney
Best injury lawyer near me
Child visitation law firm
Business contract review attorney
Environmental conservation law firm
Medical malpractice defense lawyer
Employment contract negotiation attorney
Social security disability eligibility law firm
Civil rights discrimination lawyer
Data privacy regulation law firm
Entertainment licensing attorney
International trade disputes lawyer
Intellectual property portfolio law firm
Real estate leasing attorney
Trusts and estates administration law firm
Corporate restructuring lawyer
Securities enforcement law firm
Landlord-tenant eviction defense attorney
Defamation defense lawyer
Patent litigation law firm
Immigration work visa attorney
How to Optimize Your Website Using Lawyer Keywords
Optimizing your law firm's website with the right lawyer keywords is a strategic move that can significantly improve your online visibility and attract more potential clients.
But where do these keywords go?
The answer is - almost everywhere. Your website consists of multiple elements, each providing an opportunity for keyword optimization.
Starting with the content on your pages, incorporating relevant keywords into your text can help Google understand what your page is about. This includes your homepage, about us page, service pages, and blog posts.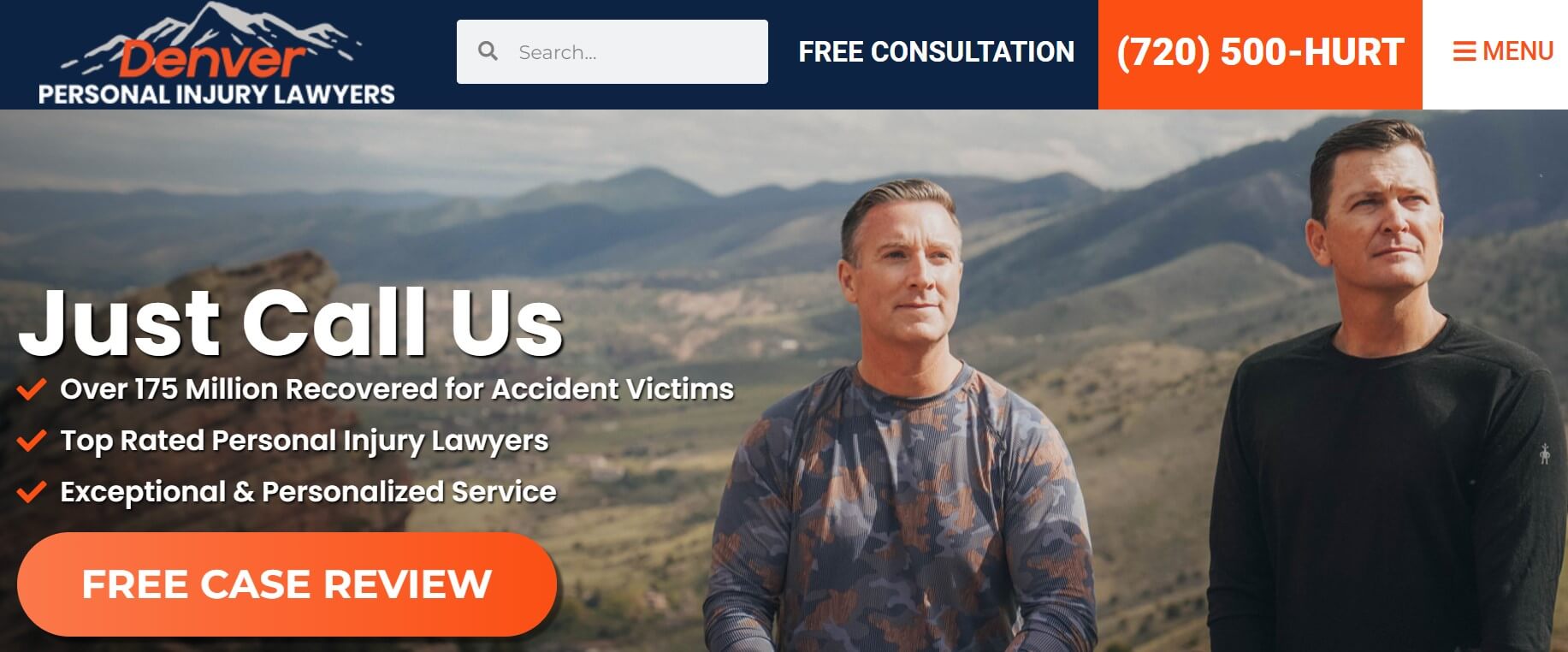 However, it's essential to maintain a natural and readable flow of information. Keyword stuffing, or overusing keywords in an unnatural way, can lead to penalties from Google.
Meta tags, including title tags and meta descriptions, are also crucial areas for keyword placement. These elements appear in search engine results and can influence whether a user clicks on your listing.
Including a targeted keyword in your title tag and meta description can improve your search engine rankings and click-through rates.
Your website's URL structure is another element that can be optimized with keywords. URLs that include relevant keywords can provide both users and search engines with more information about the page content.
Image alt tags provide an excellent opportunity for adding keywords as well. These tags describe the content of images on your website to search engines, helping to improve your site's SEO.
Remember, the goal of using keywords is not just to rank higher in search engine results, but to attract the right audience to your website. Therefore, it's crucial to use keywords that are relevant to your law firm's services and target market.
How to Optimize Your Google My Business Using Lawyer Keywords
Optimizing your Google My Business (GMB) listing with the right lawyer keywords is just as crucial as optimizing your website.
Here are some key areas where you can incorporate your lawyer keywords:
1. Business Category
Selecting the correct business category is the first step in optimizing your GMB listing. Google uses your chosen category to decide which searches your business should appear in, so it's essential to choose one that accurately represents your law firm. If you specialize in a specific area of law, such as family law or personal injury, make sure to select that as your category.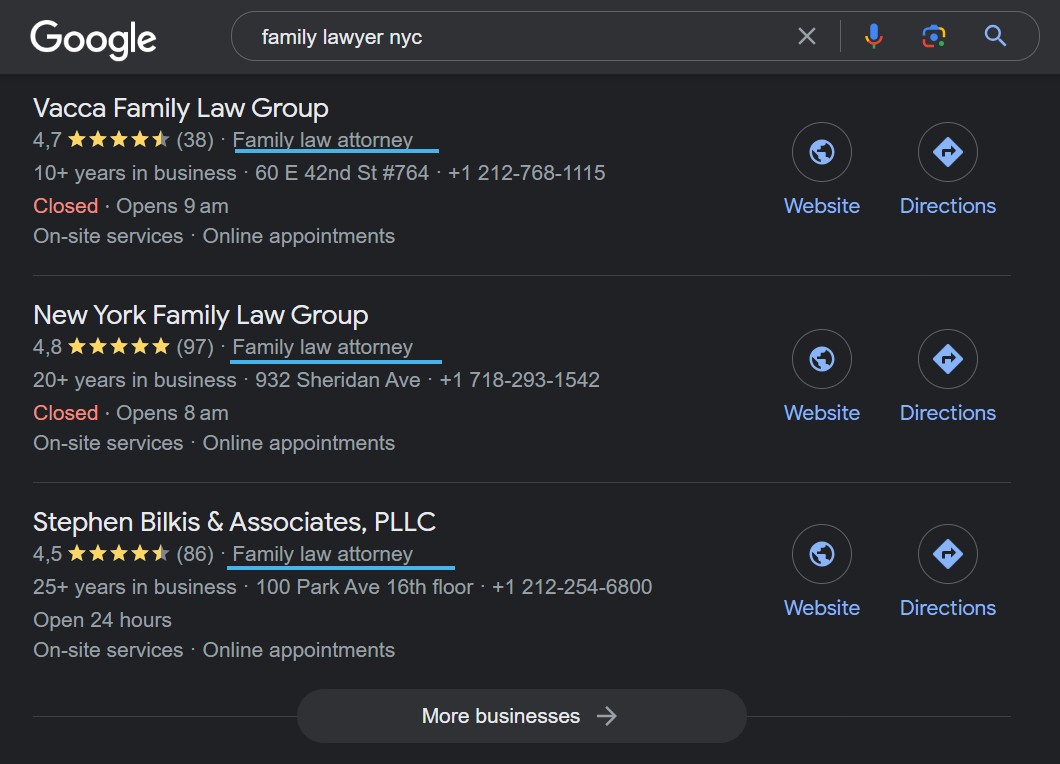 2. Business Description
Your business description is the perfect place to incorporate some of your targeted keywords. This section should provide a clear and concise overview of your law firm and the services you offer. By naturally integrating relevant keywords into your description, you can improve your listing's visibility for those terms.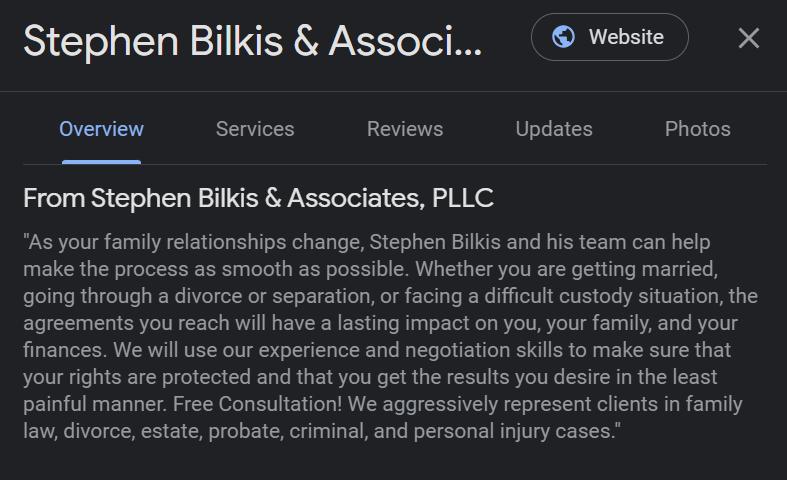 3. Google Posts
Google Posts allow businesses to share updates, announcements, or offers directly on their GMB listing. These posts appear on the search results page when someone looks up your business, providing an excellent opportunity to showcase your services. Incorporating your lawyer keywords into these posts can help boost their visibility in relevant searches.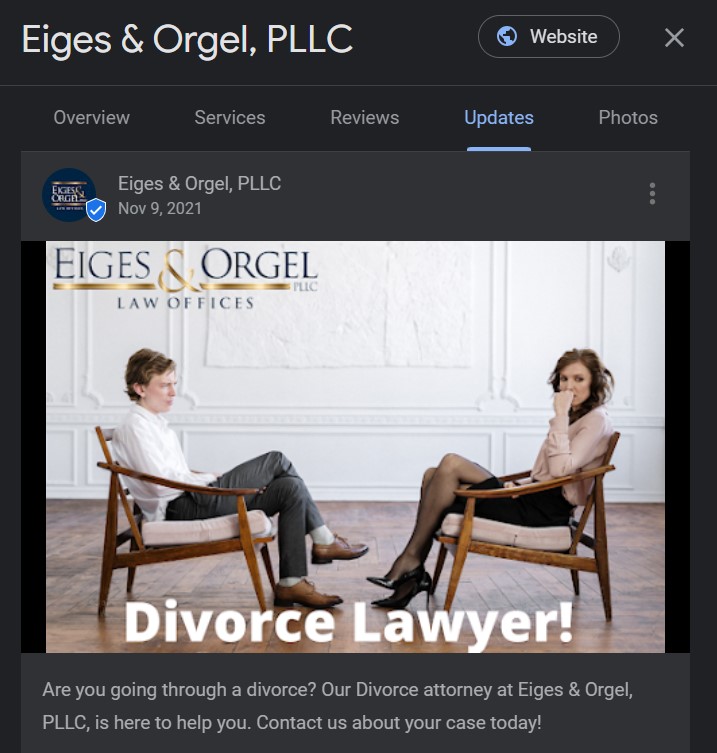 4. Photos and Videos
While you can't incorporate text-based keywords into your photos and videos, you can use them strategically to highlight your services. For example, if you've chosen "personal injury lawyer" as one of your keywords, you could include images or video testimonials from clients you've helped with personal injury cases.
5. Services/Products
The Services or Products section is another area where you can incorporate your keywords. List all the legal services you provide, and try to match these services with your chosen keywords where possible.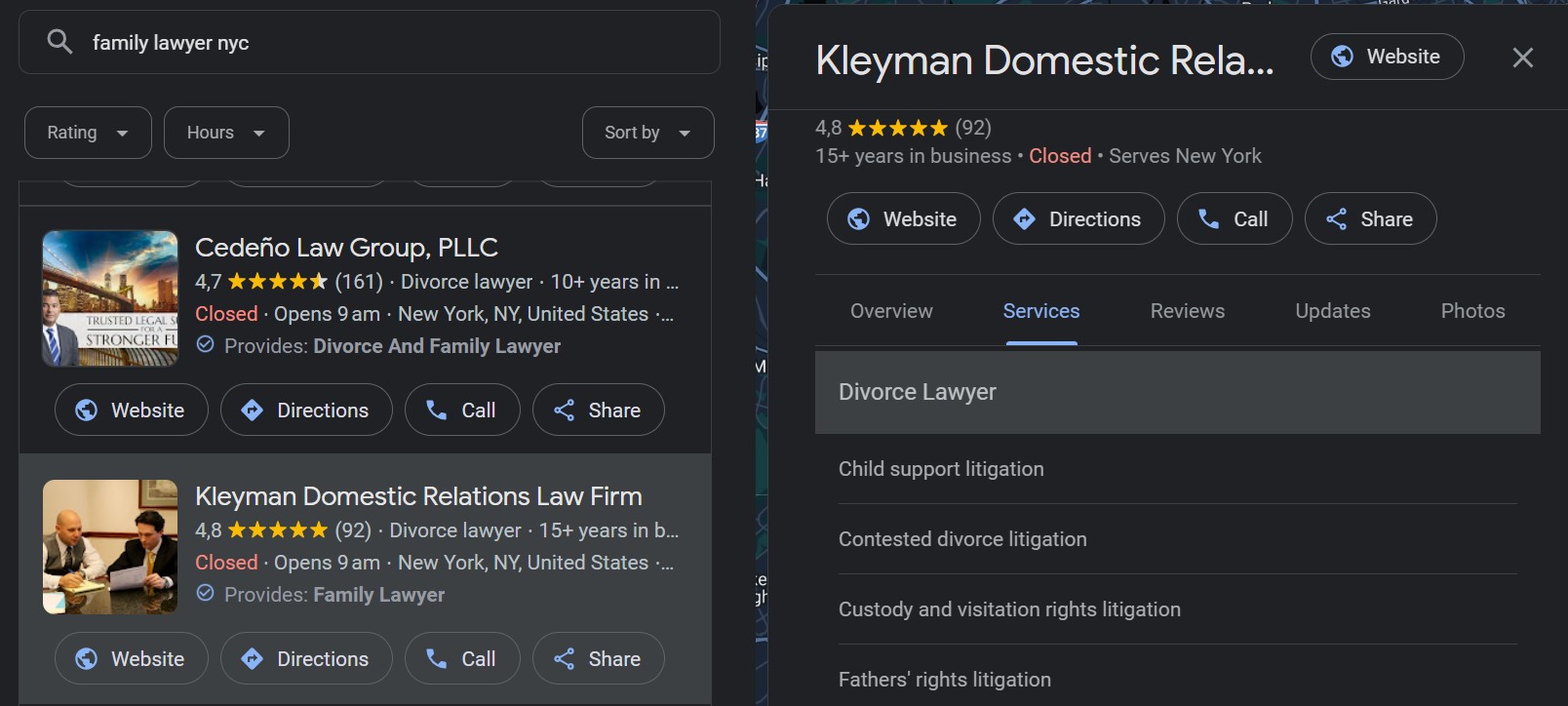 6. Reviews
While you have no control over what clients write in their reviews, having reviews that mention the legal services (keywords) you offer can be beneficial for your SEO.
Remember, consistency is key. The same keywords you target on your website should also be targeted in your GMB listing to create a cohesive SEO strategy. With the right approach, using lawyer keywords in your GMB listing can help you reach more potential clients and grow your law firm.
Wrapping Up
Mastering the art of SEO and understanding the power of keywords is an essential step towards success in the digital landscape for any law firm.
By strategically incorporating relevant lawyer keywords across your website and Google My Business listing, you can effectively communicate with search engines, enhance your online visibility, and connect with your target audience.