How to Add Keywords to Google My Business [Ultimate Guide]
Aug 30, 2022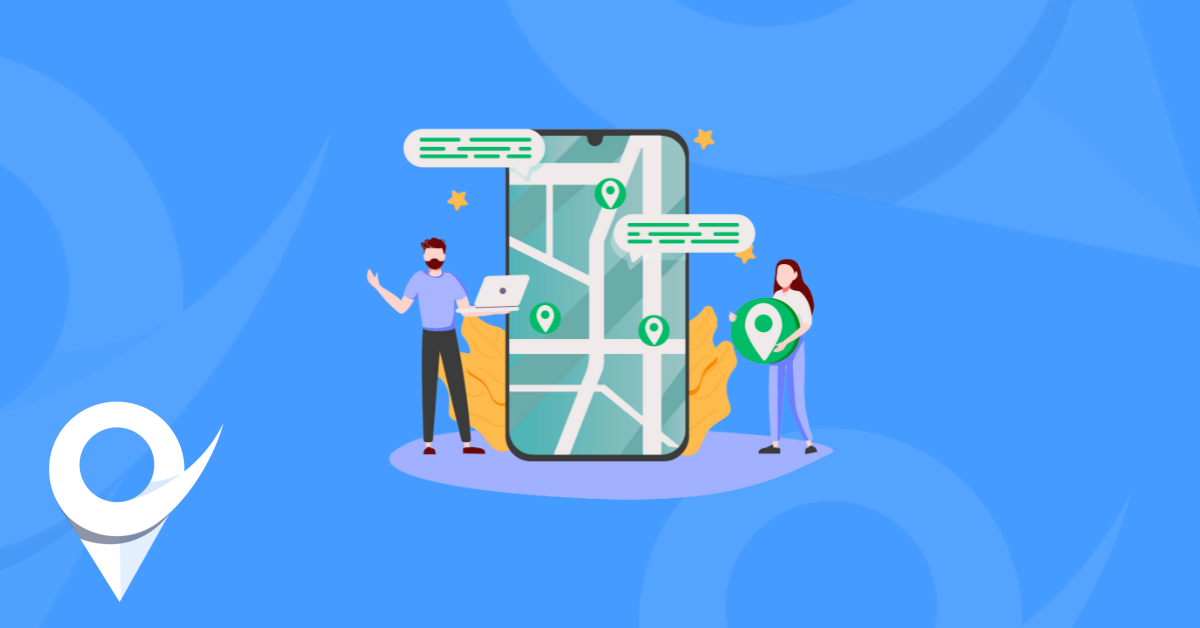 Table of Contents
Importance of keywords in Google My Business listing
How to add keywords to Google My Business
Choose the correct business category
Add keywords to the Google My Business description field
Add target keywords in Google Business Posts
Add keywords to GMB Q & A section
Prompt customers to add keywords to Google reviews
Add keywords to the Menu section (for restaurants only)
Add keywords to the Products & Services section
Choose your Google Business name wisely
How to choose the right keywords for your Google My Business profile
Conclusion
If there's one digital marketing activity you need to do as a local business owner or marketer, it's properly optimizing and managing your Google My Business profile. A major part of that process is to know how to add keywords to Google My Business.
If you come to think of it, GMB can be your number one source of targeted leads and web traffic compared to the other types of digital marketing.
This is because searches for local businesses such as "plumber in houston, tx" are backed with real search intent, which is to probably find a plumber that can fix something that's broken.

In this guide, you will learn exactly how to add keywords to your Google My Business profile without getting flagged for keyword stuffing.
Importance of Keywords in Google My Business Listing
Before we dive deeper into how to add keywords to Google Business, let's briefly discuss the importance of adding keywords to your profile.
Google uses 3 factors when determining which local businesses to show for matching search queries.
Here's what Google specifically says about these 3 factors in Google's Help Center:
"Local results are based primarily on relevance, distance, and prominence. A combination of these factors helps us find the best match for your search. For example, our algorithms might decide that a business that's farther away from your location is more likely to have what you're looking for than a business that's closer, and therefore rank it higher in local results."
For relevance, Google tries to find local businesses that closely match what the searcher is looking for based on all the information found in the GMB profile.
For prominence, Google checks which local businesses are the most popular offline. Information found across the web such as backlinks, local citations, and articles is also used to determine a business' prominence.
For the distance factor, Google uses the location of the searcher in relation to the location of various businesses to serve the best search results.
For instance, if the search query contains location information like "plumber in houston tx", then Google will automatically look for plumbing businesses located in Houston.
However, if the search query doesn't contain any location-specific information, then Google will just use the information they already have available on the nearest businesses to calculate the distance factor.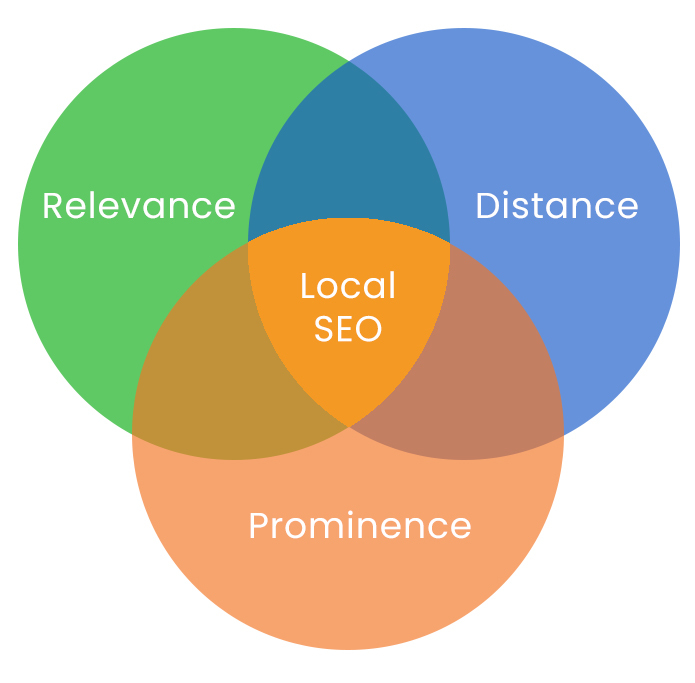 Image source: It's Eeze Websites
Adding keywords to Google My Business is more closely related to the relevance factor than any of the other two that we mentioned above.
How to Add Keywords to Google My Business
Now, let's talk about how to add keywords to Google My Business. The whole idea is to give Google the most relevant information about your business so that they can match it to the right search queries.
However, the key here is to avoid overusing or any abusive use of your target keyword. At the end of the day, you don't want Google to penalize your listing for spam.
Choose the Correct Business Category
The first, and probably the easiest, yet most important thing you should do to add your target keyword to GMB is to choose the most appropriate business category.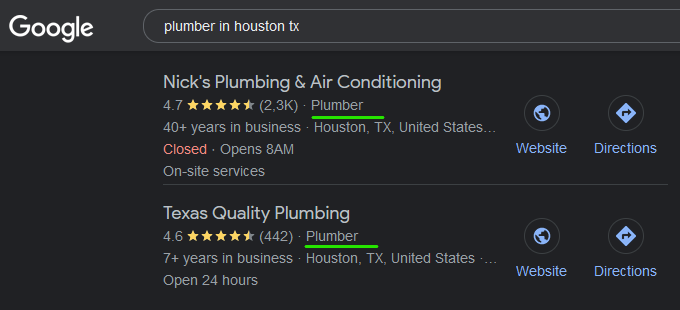 Choosing the right GMB business category is usually done at the start of the Google My Business signup process.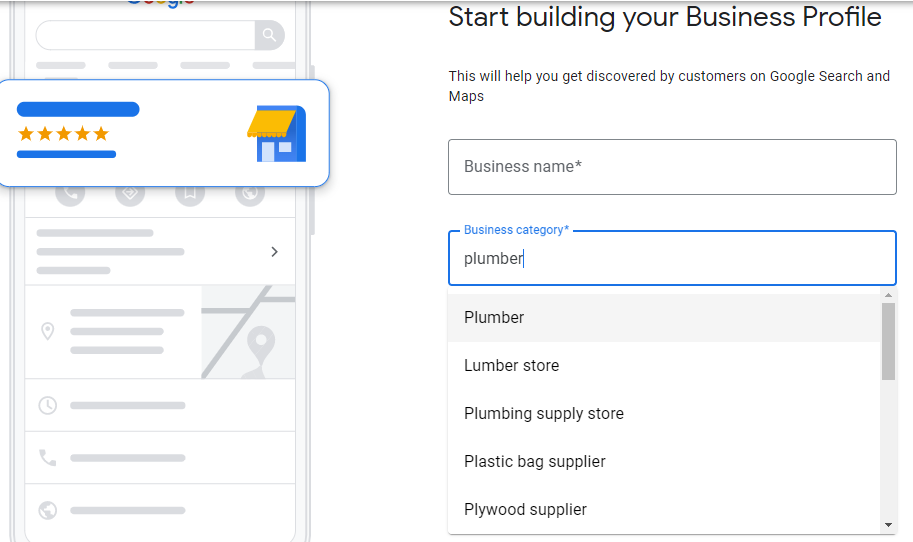 However, if you already signed up, but you'd like to change the business category, simply navigate to your GMB dashboard and click on the "Info" tab on the left. Then click on the pencil icon to change the business category.
For the most part, choosing the appropriate business category is a simple process. However, there is one scenario where this can get tricky.
Because Google keeps expanding the list of available business categories, you might encounter options that are very closely related to one another.
For instance, if you type in the business category "Engineer", you'll notice that the list of options includes "Engineer", "Engineering consultant", "Marine engineer", etc.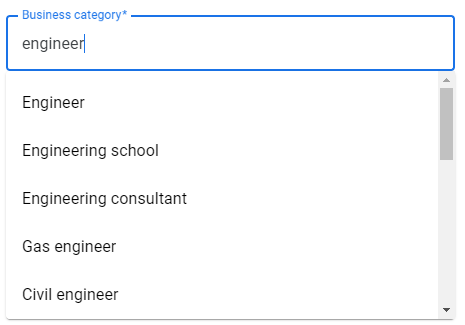 If you've got an engineering business, which one do you choose? Obviously, there's a difference between "Marine engineer" and "Civil engineer". But what about a civil engineering company? Do they select "Civil engineer", "Engineer" or "Engineering consultant" as their business category?
The best way to go about this is to choose the business category that is the most specific to your business. So in this example, the listing owner should choose "Civil engineer" as the business category.
Luckily, business owners can also select additional business categories. This can be done by navigating to the "Info" tab on your GMB dashboard as mentioned above.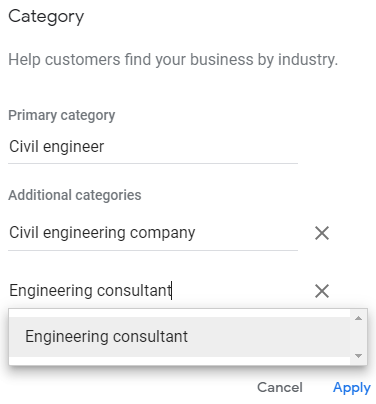 Here you'll be able to add multiple business categories that are also relevant to your business.
Now, you may be wondering, "If I add additional business categories, which one will Google select when determining if I should rank for a specific search result?"
Well, Google will actually take into consideration all of the business categories you chose, and then rank your business appropriately.
Let's illustrate this with an example.
If you search for "Highland Engineering Group Dallas", you'll notice that their primary business category is "Structural engineer":
But if you search for "civil engineer in dallas tx", you'll notice that they also rank for this search term and the business category on their search result is "Civil engineer":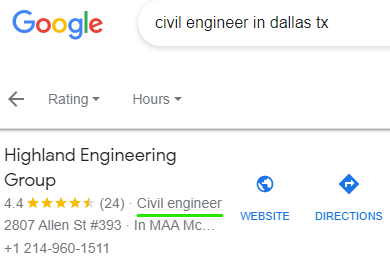 So, to wrap up this section on how to add keywords to Google My Business, you should select the primary business category that best matches your business and add any additional business categories that are similar.
Add Keywords to the Google My Business Description Field
Adding keywords to your Google My Business description is an often overlooked practice.
Not only should your business description be informative, unique, and creative, but it should also contain your target keyword. This will boost your listing's relevancy score for matching it with appropriate search queries. But remember, don't bombard the description field with the keyword you'd like to rank for.
When adding the target keyword to your GMB Description, try to add it in a natural, non-spammy way. You can even add some keyword variations to the business description.
Here's an example of a business that ranks for the search query "houston plumbing services".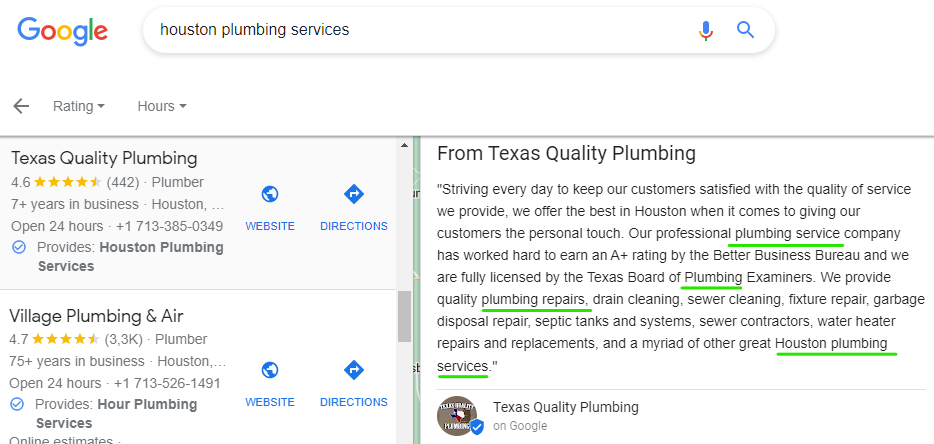 As you'll notice, the business description contains the target keyword "Houston plumbing services" as well as a few variations thereof, "plumbing repairs" and "plumbing service".
This is a superb example of how to add keywords to a Google My Business Description without being spammy.
Add Target Keywords in Google Business Posts
The second way to add keywords to Google My Business is to regularly insert your target keyword when uploading Google Business Posts.
Google Business Posts are "updates" that listing owners and managers can create and share with their followers. Google My Business Posts can almost be compared to the social media posts that a company shares on its social media profiles.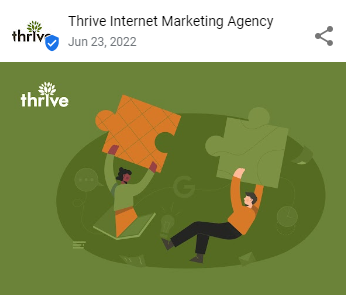 There are 5 different GMB Post types, each having unique features and input fields. But one feature that all Posts have in common is a text field either in the form of a product description, post description, event details, etc. These text fields can contain from 1,000 to 1,500 characters, depending on the post type.
Each time you create a Google Post, you should remember to add your target keyword in a natural, non-spammy manner to the available text field.
The reason why you should aim to add your target keywords to most or each of your GMB Posts is because they expire and get archived after a certain period. By regularly adding your target keyword to Google My Business Posts, you'll keep your GMB profile optimized for your main keyword.
Bonus tip: if you're creating a GMB Post to update your followers on a newly published blog post, add the blog post's target keyword to the text fields of the GMB Post.
Add Keywords to the Q and A Section
Whenever potential customers click on your Google My Business profile, they'll probably have a few questions regarding your business.
These questions are often related to your business' products, services, fees, operating hours, etc.
For instance, questions often asked on the GMB profiles of gyms include:
What are your operating hours?
What is the monthly membership fee?
Do you have day passes? How much do they cost?
What is required to join the gym?
As a listing owner, you should answer these questions using your target keyword. Another hack that you can try out is to ask questions on your GMB profile using a different Google account than the one you used when creating your listing. By doing this you can ask questions that can be answered with your target keyword.
For instance, if you're the listing manager for a local Mexican restaurant, then you can ask something like, "Do you serve any vegan Mexican food?"
Then, log in to your GMB account and answer the question in the following manner, "Yes, we serve vegan Mexican dishes. All of the meat in our dishes can be replaced with vegan substitutes."
Adding your target keyword in answers is a great GMB optimization hack. However, this is easier said than done. You'll find that it can be tricky to add your target keyword without sounding spammy.
Prompt Customers to Add Keywords to Google Reviews
This next tip for adding keywords to Google My Business has an element of luck to it and cannot be directly controlled.
By getting customers to add your main keyword to their reviews of your business, you can increase the overall visibility of your business, product, or services. This is because when people search for a product or service on Google Maps, some of the results will feature reviews containing the search query.
For example, if you search for the keyword "best italian food in austin", then you'll notice that the search results show customer reviews with bolded text such as "best Italian food" and "best Italian restaurant".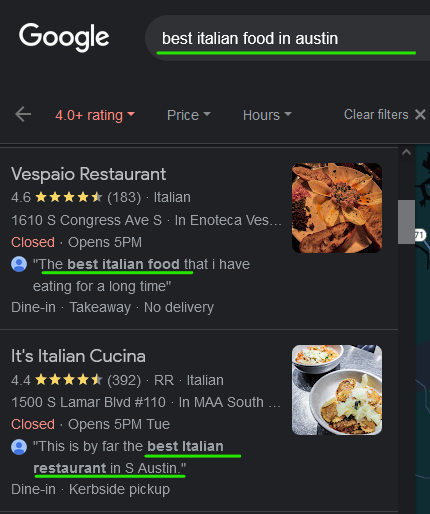 So how do you go about this?
Well, seeing as writing reviews is done by the customer, you don't really have much control over what they say about your business. The only thing you can really do is encourage or ask them to use your target keyword in their reviews.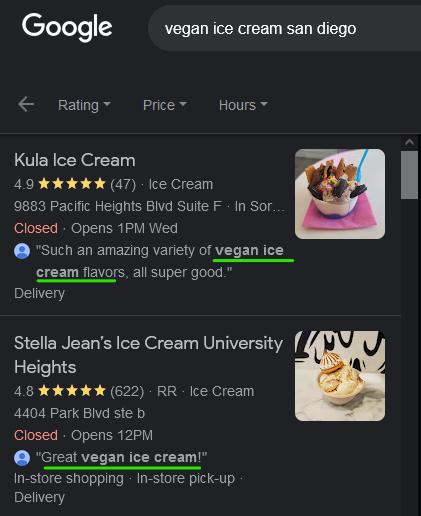 Add Keywords to the Menu Section (for Restaurants Only)
If you're a restaurant owner then you should definitely use the Menu feature on Google My Business. This feature allows owners or managers of food and drink businesses to add menu items to their GMB profiles.
This is the perfect place to add different dishes and other edible options in order to give Google additional information to improve the relevancy of your business.
For instance, if you own a Texan steakhouse restaurant, you can add menu items using target keywords such as "Texan steak", "beef fillet", etc.
Add Keywords to the Products & Services Section
The Products & Services section on your GMB is where you can give Google and search engine users even more information on your business, and the products or services you sell.
The Products & Services section offers another opportunity to optimize a Google Business listing. This section is the ideal place to add keywords that target your products or services.
Yes, this is an obvious tip, but you'd be surprised at how many listing owners and managers simply don't use this feature to add keywords to their Google My Business profiles.
Here's an example of a local business fully utilizing this feature to add its target keywords to its Google My Business profile.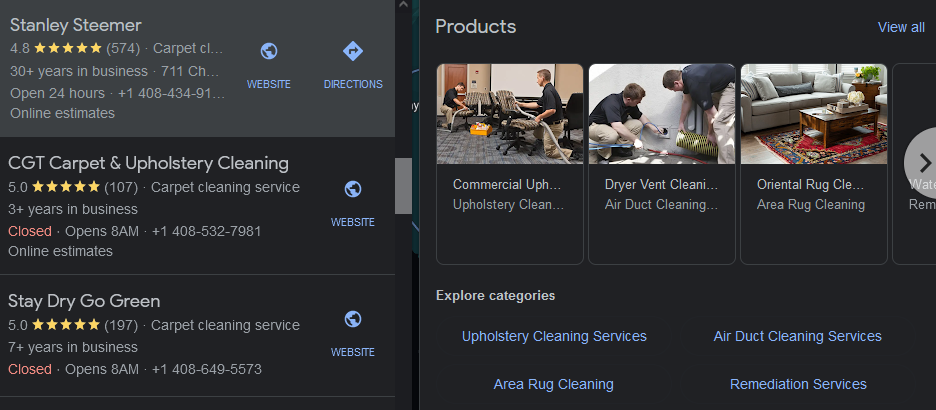 As you can see they've created multiple product categories based on the different cleaning services that they offer. Each category title and product title contains the target keyword or some variation thereof.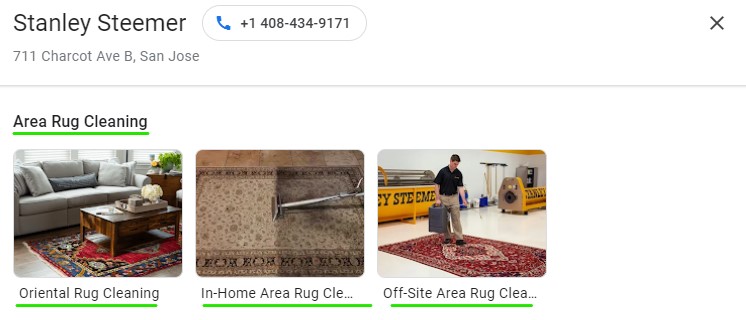 Furthermore, if you click on one of the products, a product description pop-up appears. Here you'll notice that they've added the target keyword to the product description too.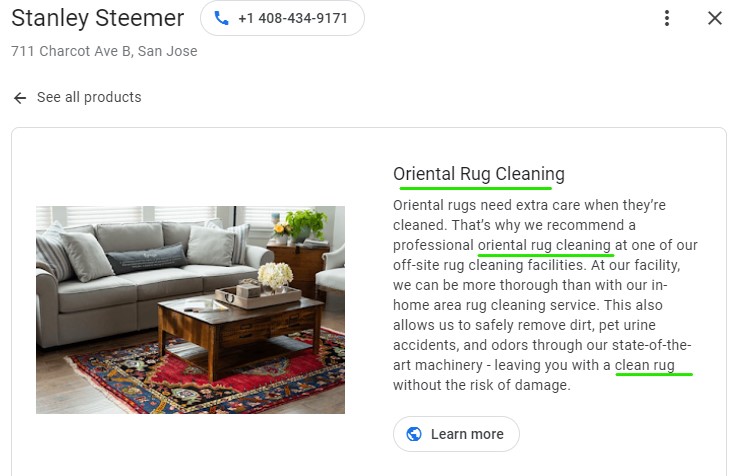 Now, not all businesses have access to this feature, but if you're one of the lucky ones, then don't miss out on this opportunity to further optimize your Google Business profile.
Choose your Google Business Name Wisely
There's a lot of debate about whether you should add keywords to your Google My Business name or title.
The answer to this question isn't a simple "yes" or "no". In fact, if you have a look at some of the top listings in GMB, you'll notice that the business titles have got keywords in them.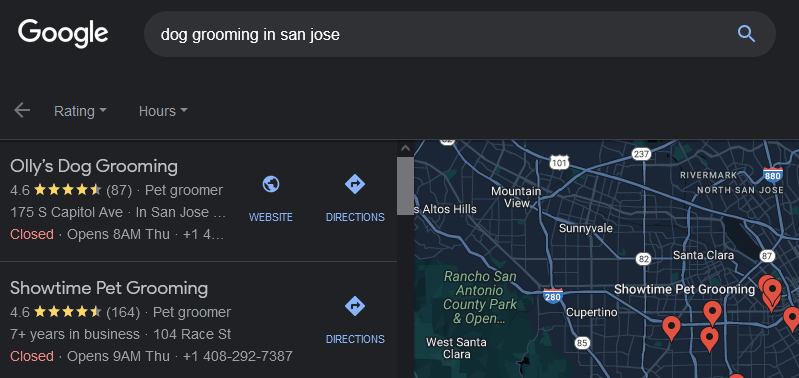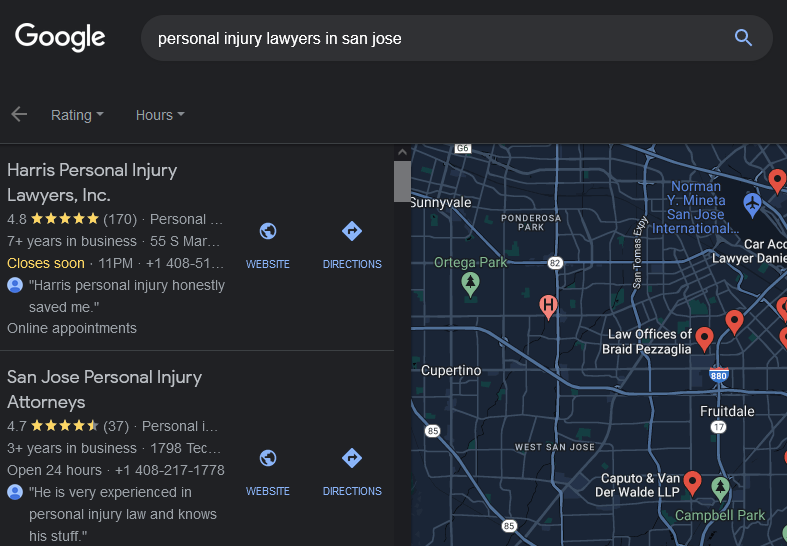 But, you'll also notice that some business listings, don't feature the target keyword or primary search term in the business name at all.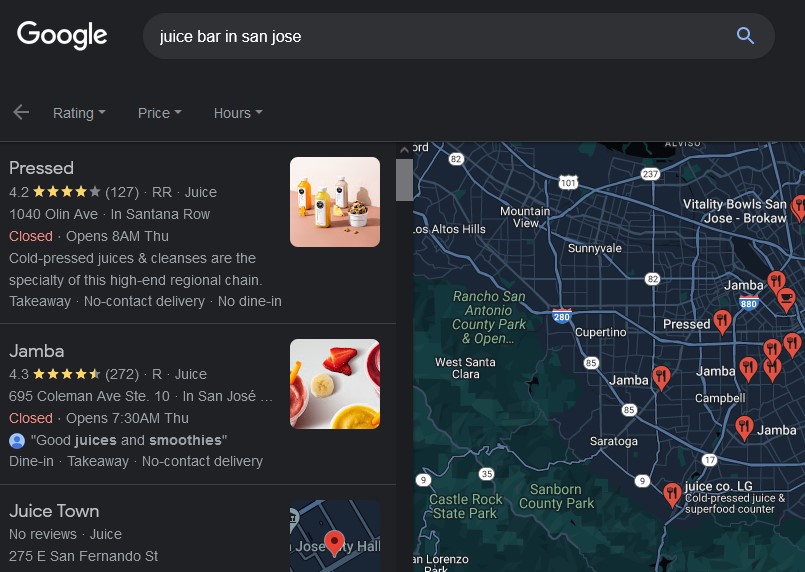 Because some businesses use keywords in their GMB titles and others don't, it can be confusing to know if you should do the same. But, what does Google say about adding keywords to the business title?
Google has said that "Including unnecessary information in your business name is not permitted and could result in the suspension of your Business Profile."
However, studies have shown that adding keywords to the business name can actually boost rankings.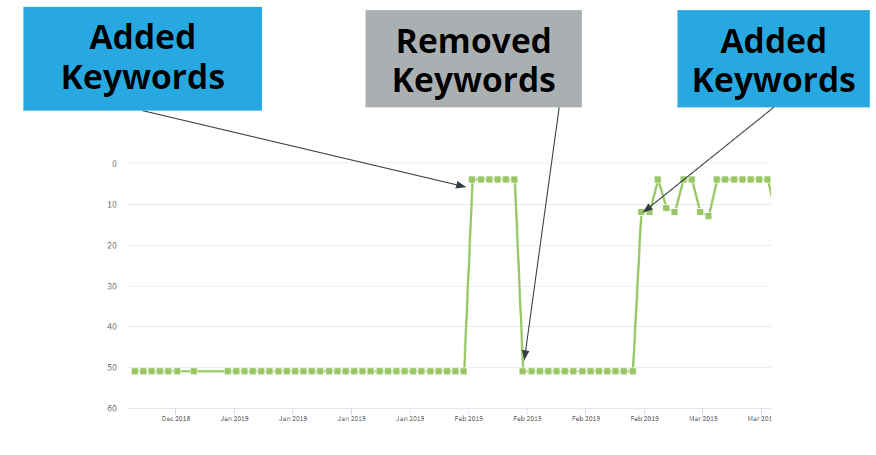 Image source: Sterling Sky
So, it seems that some businesses can get away with adding keywords to their Google My Business title and still rank in the top spot.
If Google picks up that you are stuffing your GMB title with keywords, then one of 3 things can happen:
Google can issue a soft suspension
Google can issue a hard suspension - your business listing is completely suspended and you'll have to create a new listing.
Google can do nothing
Additionally, if one of your competitors picks up on it they can decide to report your listing to Google.
Adding your target keyword to your Google My Business listing title comes down to how much risk you are willing to take.
There are benefits to adding generic terms like "Pub", "Italian Restaurant", "Dry Cleaners", "Juice Bar", etc. to your listing title, but there's also the risk of getting flagged.
How to Choose the Right Keywords for your Google My Business Profile
You now know how to add keywords to your Google My Business profile in all the right places, but how do you determine which keywords you need to add?
The answer is simple - keyword research. By doing in-depth keyword research you'll be able to know which keywords to add to your GMB profile.
You can use any keyword research tool on the market to help you with this.
The first step is to have a look at your competitors' GMB profiles and to note down any keywords that they're using. Look at the following fields to see what keywords they are using:
Business category
Business description
Menu items (for restaurants only)
Products & Services
Google My Business Post titles and descriptions
Customer reviews
Competitors' websites
Once you've assembled a list of commonly used keywords, plug them into your favorite keyword research tool to find any keywords that have low competition, but adequate search volume.
Here's an example of how to do keyword research for local SEO. Let's take our example of carpet cleaning services in San Jose.
Simply search for the keyword "carpet cleaning services san jose" in Google. Let's choose the competitor Dalux Carpet & Upholstery Cleaning Services.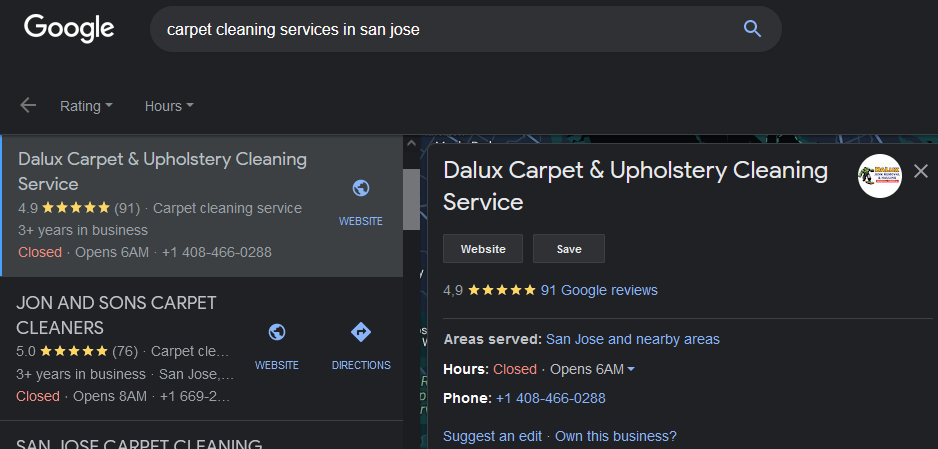 Next, let's scroll down to the business description. Here you'll notice that they've cleverly placed the target keyword "carpet cleaning services in San Jose" all throughout the business description without sounding unnatural.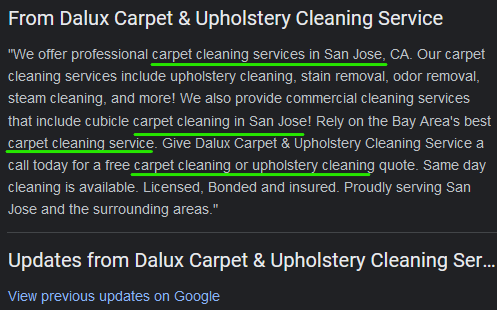 Let's look at their GMB Posts to see what keywords they are using.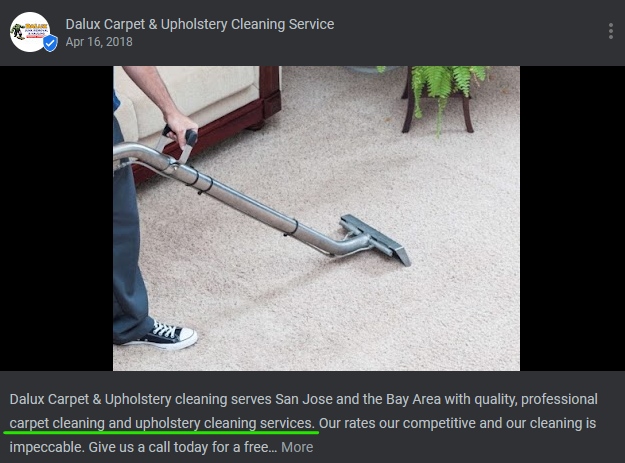 As you'll notice, they are using their business name with a variation of the target keyword in the post description.
By also looking at their website, we can clearly see that they're using the keyphrase "carpet cleaning service in San Jose":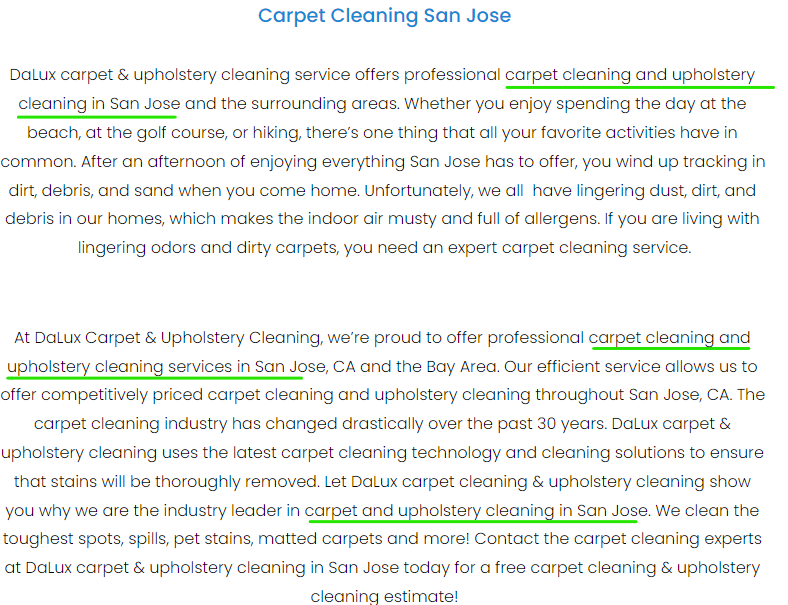 The next step is to use a keyword research tool to determine if we should also be using "carpet and upholstery cleaning in San Jose" or some close variation thereof.
For this example, we're going to use SEOptimer's keyword research. We've added the URL of their website to the tool to find their best ranking keywords.

As you can see the keywords "upholstery and carpet cleaning service", "upholstery cleaning san jose", and "carpet cleaning service san jose" have low to medium competition and adequate search volume.

I'd elect to use "upholstery and carpet cleaning service" or "carpet cleaning San Jose" as my main keyword seeing as these two terms have got high search volume and low to medium competition.
Conclusion
Now you know how to add keywords to Google My Business. By following these tips and suggestions you'll be able to add your target keyword to GMB without being spammy.
And remember, the golden rule is to avoid stuffing your Google Business profile with keywords, this can lead to a Google penalty and simply creates a bad impression on prospective customers.