9 of the Best Local SEO Forums
Feb 22, 2023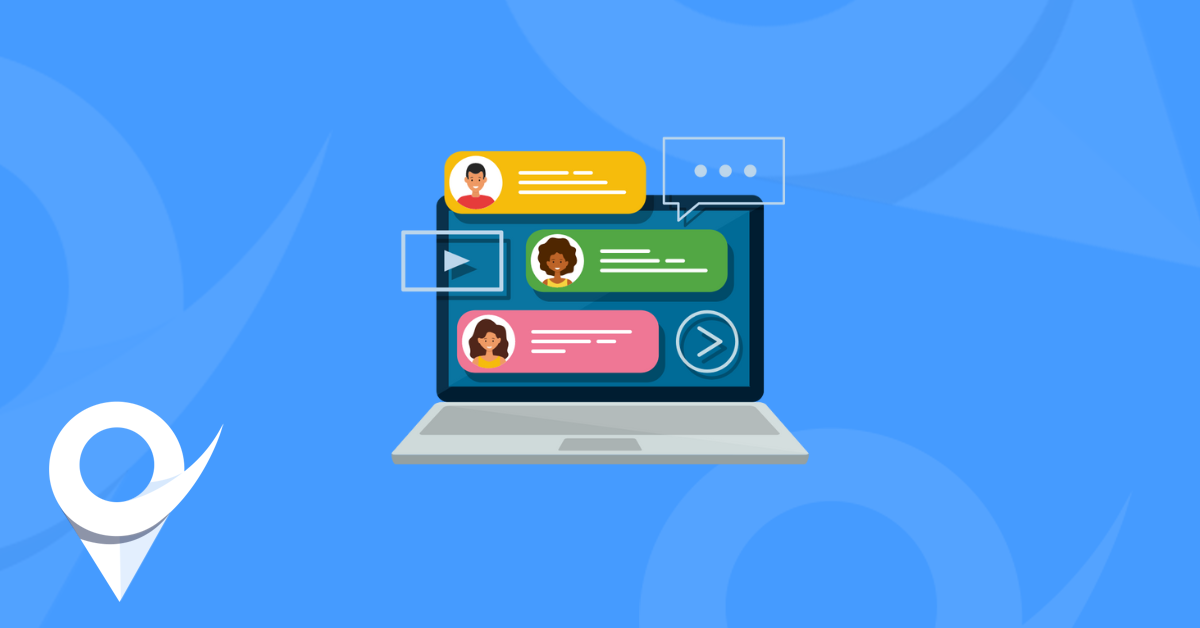 Table of Contents
Best Local SEO Forums
Google Business Profile Help Community
Local SEO Community
Local Search Forum
Best Local SEO Facebook Groups
Local SEO Community
Local SEO Strategies & GMB Help with Tim Kahlert
Local SEO Tips and Google Help with William Jones
Google My Business & Local SEO Mastermind Group
Best Local SEO LinkedIn Groups
Local SEO, Local Map SEO, Local Business SEO
Local Internet Marketing - Local SEO & Search Marketing
Next Steps
Local SEO Forums offer a wealth of knowledge and provide a great way to network and connect with other local area marketers online. Discussion forums are great for asking questions, searching previous questions and even answering questions yourself and helping others in the community.
Some digital agency founders answer questions in Local SEO Forums to help build their authority and credibility online. This is a big part of personal branding and raising awareness as well as lead generation.
Best Local SEO Forums
You can't go past the official Google Business Profile Help Community. In terms of help forums run by the actual providers of the service, this one is really good. There are many active threads with plenty of knowledge shared from both community members and Google reps.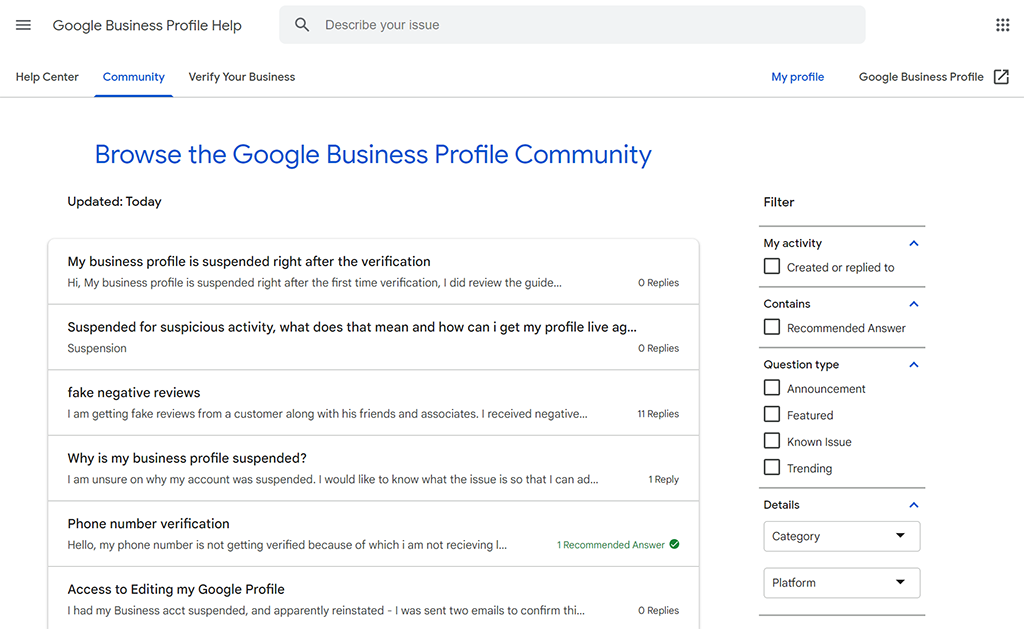 The Forum also has links to Google's 'Help Center' with official documentation and also a contact method for seeking direct help from Google privately.
The Local SEO Community is run by OneUp and is a member-only community. It's free to become a member and once registered you can access the forum and some of the other sections including a Local SEO job board, industry newsfeed and software discounts.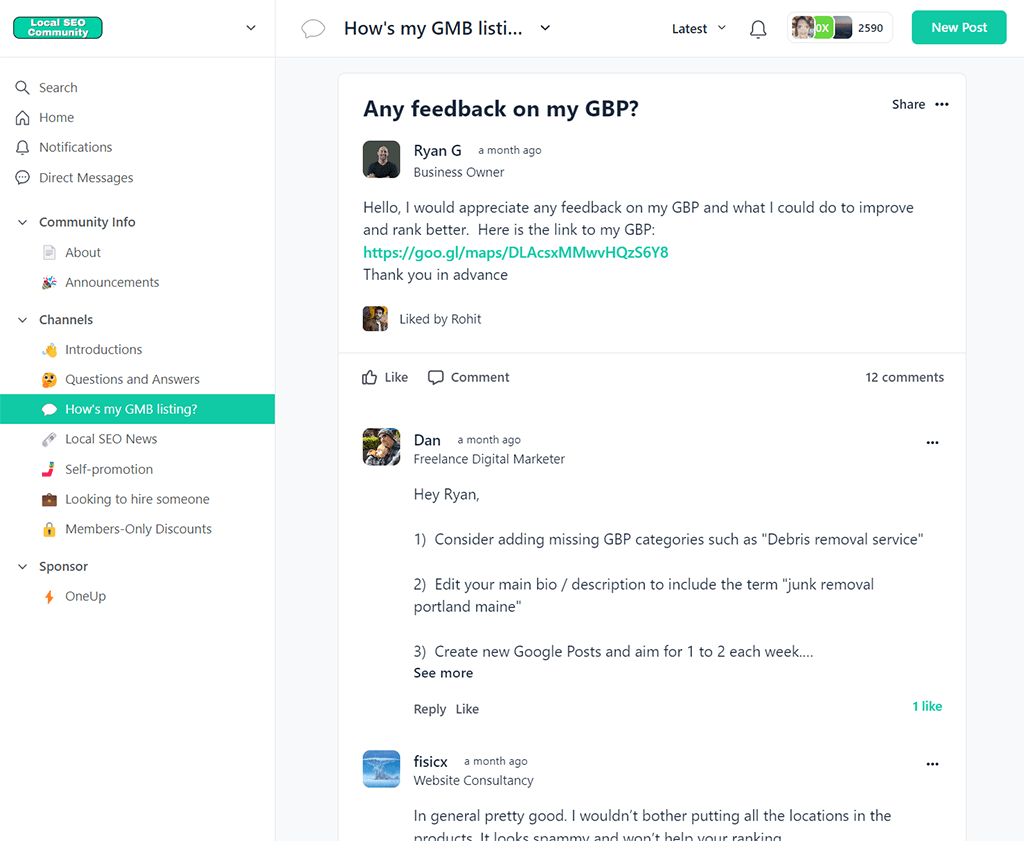 A nice touch is a forum channel called "How's my GMB listing?" whereby members can post links to a GMB Profile and get feedback from others in the community about how it can be improved.
Local Search Forum is run by Canadian digital agency Sterling Sky and Local University. The forum is buzzing with questions, discussions, reviews and a job board. The Local Search Forum discussion is quite broad and even covers general SEO topics, paid search, websites and digital marketing too.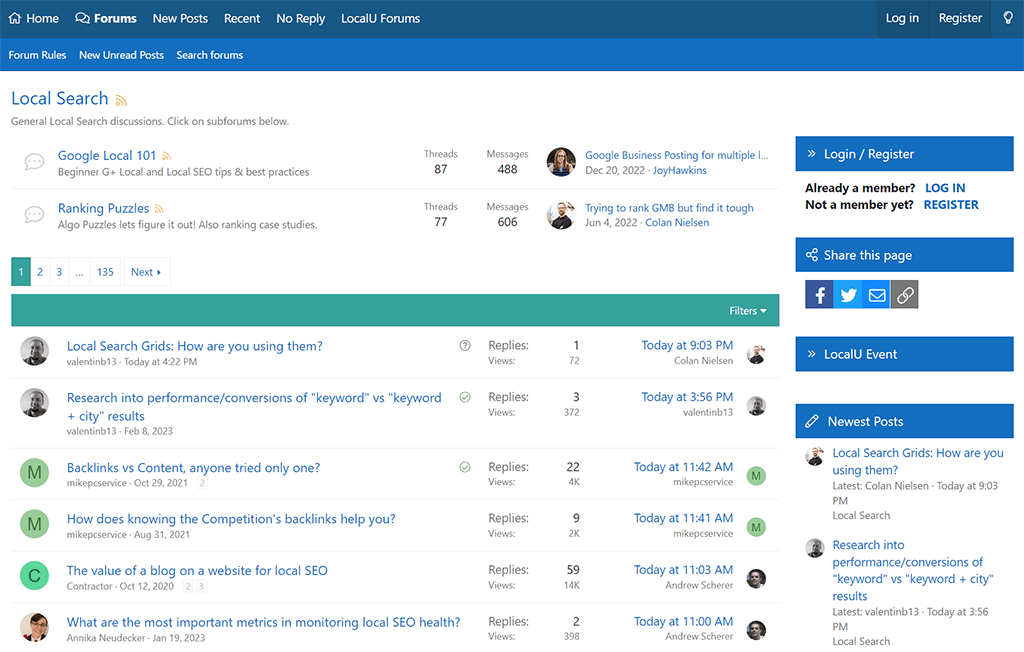 If like me, you're active on Twitter, it would be worthwhile following Local Search Forum on Twitter as well. The account tweets super-useful thread updates plus Joy Hawkins (Owner of Sterling Sky) also shares insights and updates from the world of Local SEO too.
Best Local SEO Facebook Groups
Facebook Groups have risen in popularity given the ease of admin, engagement and visibility of content in Facebook's Newsfeed. Although we've highlighted some Local SEO Forums above (ie: traditional discussion boards), Facebook Groups have become the defacto standard for online discussion.
Although some Facebook Groups are 'Public' (ie: posts and members can be seen publicly by anyone), most Facebook Groups are now 'Private', meaning posts and members cannot be seen publicly and you need to be 'approved' by a Group Admin before you can gain access.
All 4 Facebook Groups featured below are 'Private' Groups:
Not to be confused with the Discussion Forum of the same name, Local SEO Community is a Private Facebook Group with over 10K members. The Group is run by Web 2.0 Ranker and Local Client Takeover.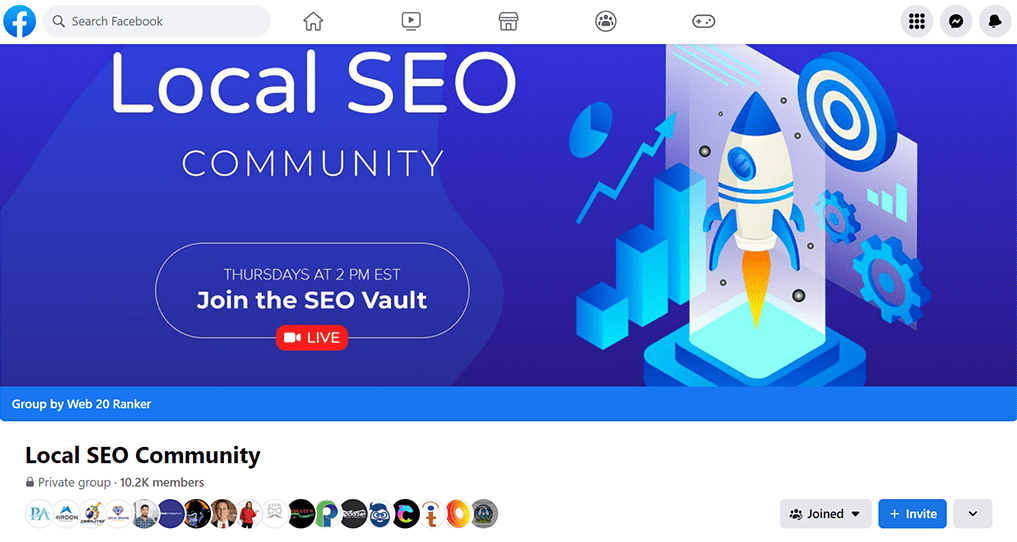 A great initiative run by the Group Admins is a weekly Facebook Live show called The SEO Vault which runs at 2pm EST every Thursday. The SEO Vault is an interactive livestream where any Group members can bring their Local SEO questions to have them answered live on air by experts.
Local SEO Strategies is another Private Facebook Group with over 50K members. The Group is run by Tim Kahlert, author of Local SEO Bible. The group is focused primarily on strategies around Google Business Profiles including verification, support and map pack ranking tactics.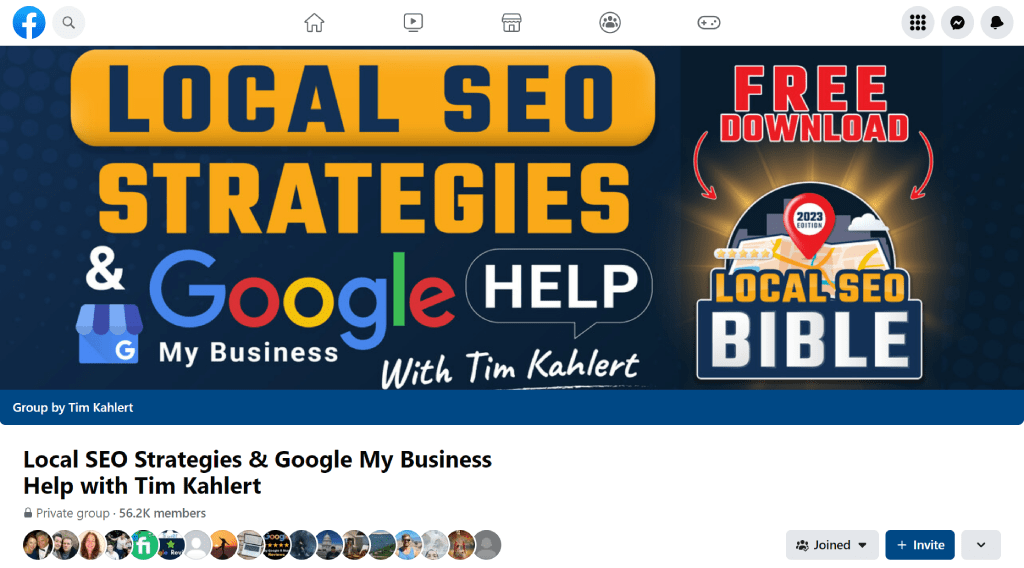 Tim also sells a Local SEO Checklist consisting of guides, templates, agency blueprint and more for $67.
This Private Facebook Group has over 95K members and is run by William Jones from Rank-Fortress. William is an active presence in the group posting articles, memes, offers and has even dropped the idea of a Local SEO Mastermind in Bali - sign us up!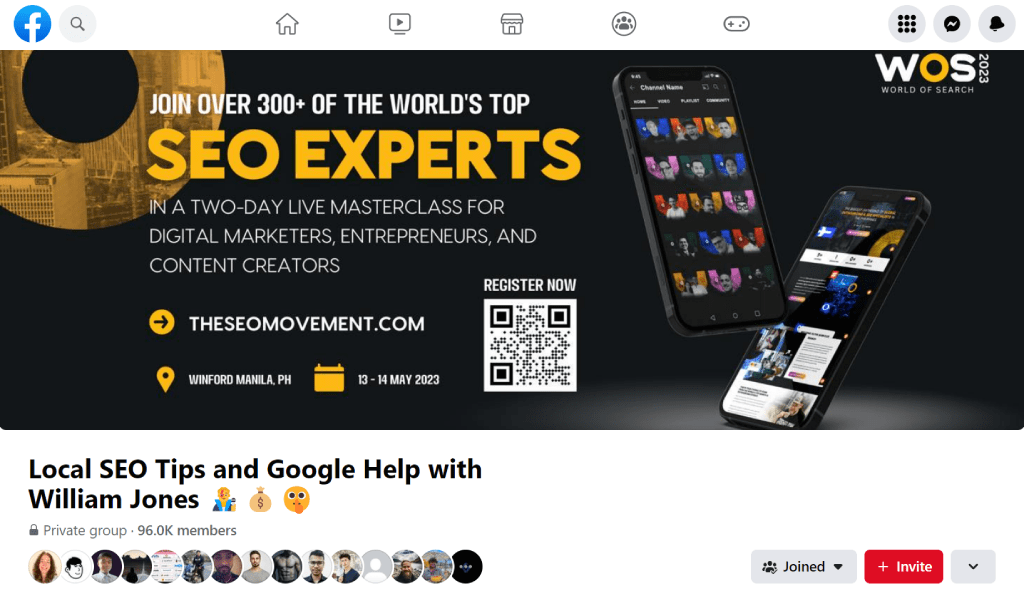 William is quite the character and occasionally you might even see him staring in his own memes!
This Private Facebook Group is run by British digital agency Black Diamond Marketing. The group is quite UK-centric which is fantastic for Local SEO marketers based in the UK. With over 11K members, this Mastermind Group is a top pick for knowledge sharing and troubleshooting.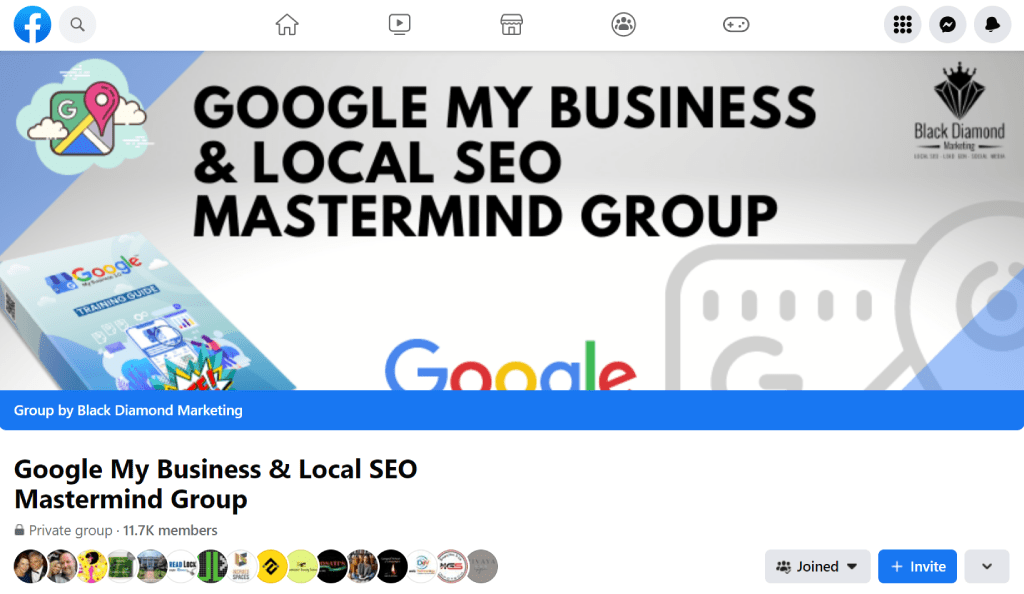 Best Local SEO LinkedIn Groups
While LinkedIn Groups aren't as popular as Facebook Groups, there are still some great communities for local search marketers to check out on the biggest professional social media channel.
You have to hand it to the Group Admin, John Yang, this LinkedIn Group Name is very well keyword optimized! John is the Owner & President of US-based digital agency, Vizion SEO. With over 4K group members, this is one of the largest Local SEO Groups on LinkedIn.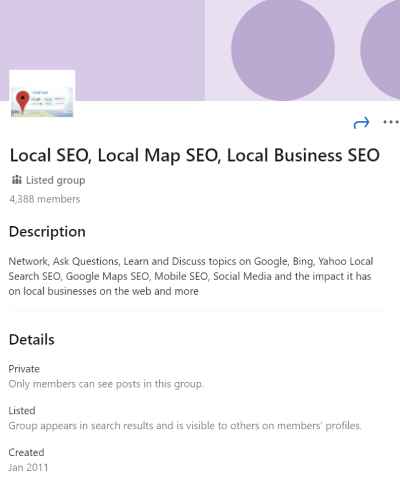 This LinkedIn Group was established way back in 2009 by US-based digital agency, Local Marketing Source. With 1.6K members, it's the smallest Group to make our list but given its longevity, is still a worthy contender in the world of LinkedIn Groups.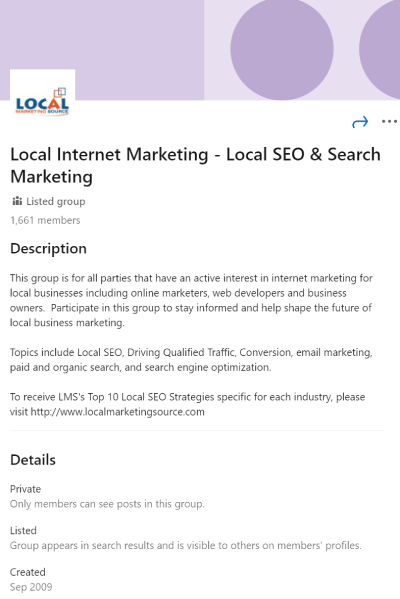 Next Steps
We hope you enjoyed this list of the best Local SEO Forums on both the web and social media. As you've seen, Forums and Groups are great for networking, asking (and answering) the community on Local SEO topics and connecting with like-minded professionals.
Let us know what you think and please feel free to suggest any other great Local SEO resources! Tweet to us @local_ranking.