10 Local SEO Hacks to Skyrocket Traffic & Rankings
Aug 16, 2022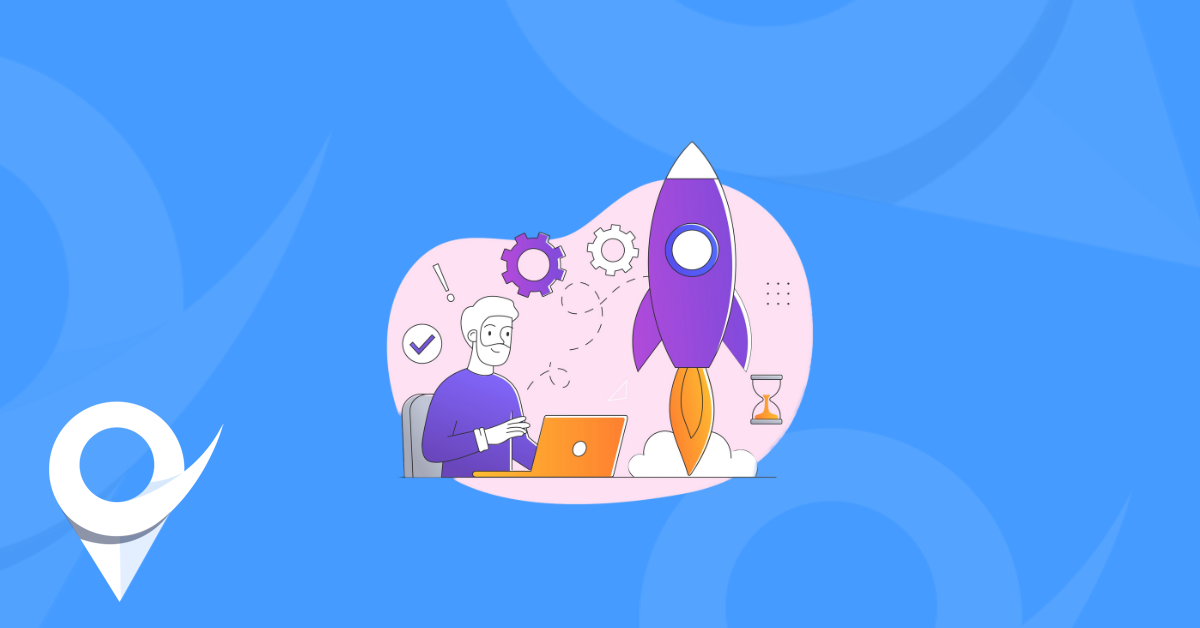 Table of Contents
Importance of a strong local online presence
Best local SEO hacks
Publish 2 to 3 GMB Posts per week
Add useful Q&As to your GMB profile
Fix any online citation inconsistencies
Build location-specific webpages
Create content targeting competitor keywords
Optimize your website for voice search
Publish high-quality, hyperlocal blog content and share them on your GMB profile
Replicate your competitor's backlink strategy
Develop a review generation strategy
Add useful SEO keywords to your GMB profile and other listings
Conclusion
97% of search engine users are looking for local businesses online, and 28% of all local searches lead to a purchase.
Hence, local SEO is a great way to acquire more customers for your local business.
Doing local SEO is challenging because you need to keep an eye on the latest local SEO trends. Moreover, you should have a good understanding of local SEO concepts such as NAP, local pack, local stack, citation volume, review management, and so on.
If you are ready to take your local SEO to the next level, this blog will share the top local SEO hacks to skyrocket your business traffic and rankings.
Importance of a Strong Local Online Presence
Online presence for any business is essential to build authority, gain credibility, and improve revenue.
When a tourist comes to visit your city and if they need the product or service you offer, how do they know about your business? They first pull out their smartphone and Google a relevant term with the keyword "near me."

When they do it and your business is not listed at the top of the search result, you lose them to your competitors.
That's why a strong local online presence is important. It improves your business awareness, credibility, authority, and customer relationships. Having a strong local presence increases your customer acquisition rate and helps to outsmart your competitors.
Best Local SEO Hacks
Now that you very well know why a strong local online presence is essential. It's time to look at the top 10 local SEO hacks for startups and local business owners to expand their local business presence.
Here are the top 10 local SEO hacks:
Publish 2 to 3 GMB Posts Per Week
Keeping your audience engaged and updated is the best way to keep your business top of mind. Over time, your reputation and loyal customer base will grow.
All you need to do to keep them mindful of your business is to communicate and share updates of your business with them. You can do this by creating and publishing posts on your Google My Business profile.
You can post about a new product or service launch, event updates, discounts, festival offers, and even customer reviews.
These posts should be enticing, informative, and engaging. If your customers love it, they will react and share it with their friends leading to more engagement.
You should post 2 to 3 times each week to get the most out of it Google My Business Posts.
For example, Schnipper's Hamburger restaurant in New York uses GMB posts to grab customers' attention to their products. Have a look at the below GMB post, where they have shared the image of their best-selling products along with a fun quote.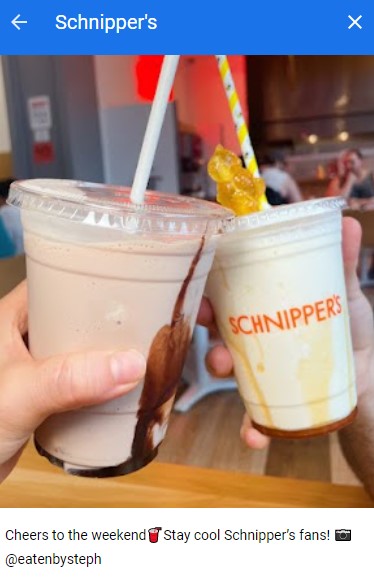 Similarly, you should add funny or emotional posts on your GMB profile to drive maximum user engagement.
Bonus Tip: Publishing posts at regular intervals is time-consuming, especially when you are targeting more than one location. You can use tools like LocalRanking to schedule posts to all your GMB locations at once. With LocalRanking's post management solution, you can schedule a variety of posts style across all your target locations.
Add Useful Q&As to your GMB Profile
One of the best Google My Business hacks is adding valuable questions and answers to your GMB profile.
When a customer first comes to know about your business, they may have plenty of questions running through their minds.
Answer your customers' frequently asked questions, and share them in your GMB profile.
When a customer searches for a specific "question-type" query, the GMB with the answer to this query has a higher chance of showing at the top of the SERP.
Here is an example of Clothingline clothing store which leverages the power of Q&A's in their GMB profile to answer user queries.
By providing answers to commonly asked questions in their GMB profile, they are doing their best to meet the needs and expectations of their customers.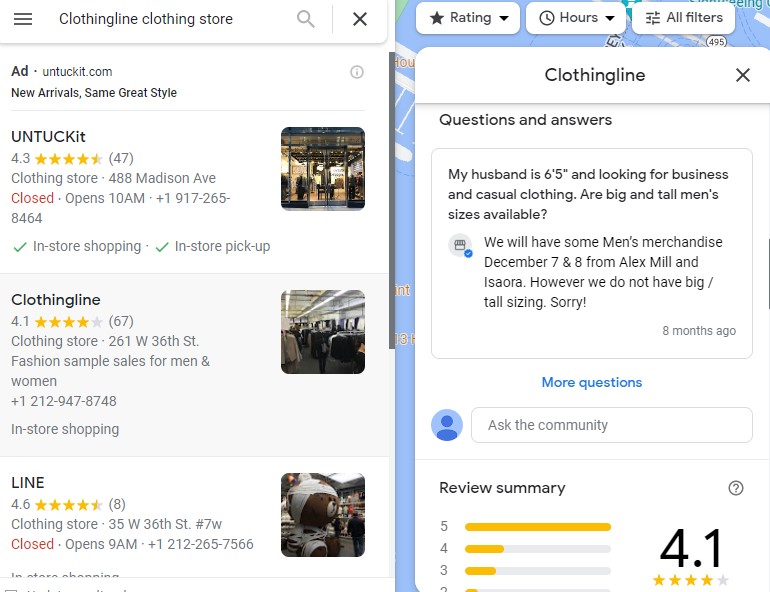 Here is an example of a People Also Ask snippet from a Google search that provides questions and answers related to the main search query. You can use these suggestions to create relevant Q&As for your GMB profile.

Don't forget to use your main keywords in your answers, as it will help the answer rank higher.
Fix Any Online Citation Inconsistencies
Citations are paramount for local SEO. Citing your website in top local business directories helps boost the authority and credibility of your website.
For local SEO, getting citations from local directories is as crucial as getting a citation from prominent global and regional directories. This will enhance your website's visibility for local keywords.
When you cite your website on directories, ensure you consistently provide accurate NAP details (Name, Address, and phone number) across the web since citation inconsistency is the number one issue affecting local rankings.
Google loves brands that share information consistently and accurately. So, if you have any inconsistent NAP citations, fix them because they can disrupt all your efforts.
Moreover, you should always increase your citations by mentioning your business in local business directories, newspapers, and blogs.
Build Location-Specific Webpages
One of the finest local SEO traffic hacks is to create location-specific web pages.
Having a dedicated location-based page will increase your chances of acquiring higher local search engine rankings.
For example, WebFX is a digital marketing agency that offers marketing services to multiple locations in the US. They have created separate pages for every location to grab the top position on the SERP for local keywords.

While creating location-specific webpages, you should use relevant local keywords in your page title, content, page description, H1, and alt tags.
Once you have built a location-specific webpage, devise a link-building strategy to get backlinks to the pages from relevant local websites.
This way, your local business page would be shown to customers searching for your business or services using local keywords and helping you improve brand awareness, traffic, and conversions.
Create Content Targeting Competitor Keywords
Don't you feel like beating all your competitors on the search engine results page?
It is essential to keep an eye on what your competitors are doing. Use a tool such as SEOptimer to keep an eye on your competitor's search engine performance.
To target competitor keywords, go to SEOptimer's keyword research tool and enter your competitor's domain. Now, you can see all the keywords for which your competitor is ranking in the top position.

List down the keywords that are performing well for them and create content targeting those keywords. Remember, you should always write unique and valuable content to increase your rankings and maintain them.
Optimize your Website for Voice Search
Embracing technological advancement is the best SEO hack.
Research shows that voice searches are 300% more likely to have local intent than text searches.
Voice search is booming. Current research shows us that 58% of consumers are using voice search.
Optimize your website for voice search by following the below tips:
Use long tail keywords
Add an FAQ section on prominent landing pages
Write as you speak
Design for mobile
Optimize for featured snippets
Optimize for core web vitals
Publish High-Quality, Hyperlocal Blog Content and Share Them on Your GMB Profile
As always, content and SEO can't be separated. If you wish to skyrocket your business and revenue, you should first help your customer.
Understand your audience's pain points and create content that solves their problem. If you're not aware of it, ask your customers who walk into your store.
Give stats and facts, and share your expertise to make your blog valuable and insightful. This will make you look like an expert in your industry.

While writing hyper-local blogs, don't forget to use local keywords.
Use the local keywords in your headings, titles, metadata, image alt text, and content. Regularly share these blogs in your GMB profile to attract customer engagement.
Replicate your Competitor's Backlink Strategy
Another top local SEO hack is replicating your competitor's backlink strategy.
By conducting competitor link analysis, you can find some quality local sites with high domain authority to acquire links from. You can use SEO competitor analysis tools such as Neil Patel's Backlink Checker to identify your competitor backlinks.
Links are one of the top ranking factors that work really well for both global and local SEO. The more links your website has from reputable sources, the higher will be the chances of ranking higher in the local search results.
Develop a Review Generation Strategy
89% of the buyers check reviews before making a purchasing decision. Because of this statistic, Google takes business reviews seriously. Higher positive reviews and ratings have a correlation with higher local rankings.
Hence, you should encourage your customers to share reviews and develop a Google review management strategy.
You can use review sites like - Yelp, Google, Facebook, Manta, Yellowpages, and other prominent local business directories to acquire customer reviews for your local business.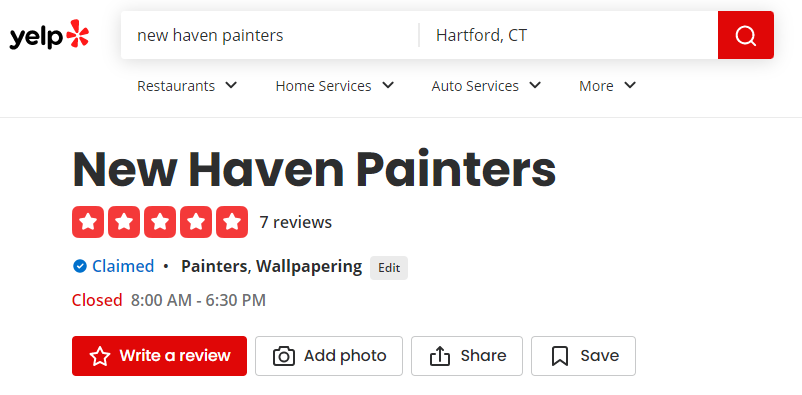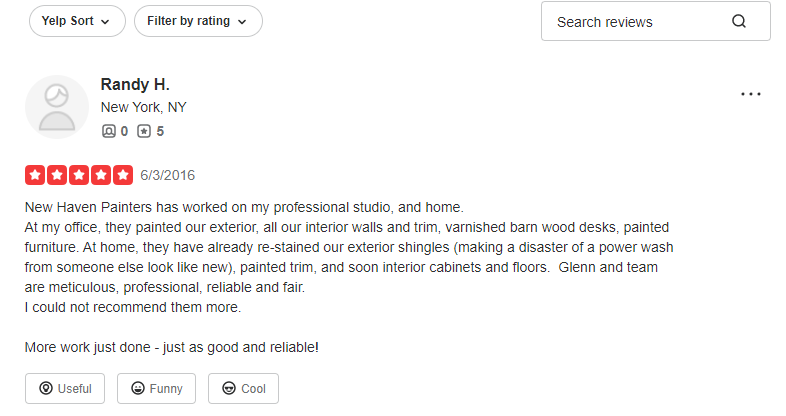 Moreover, you should always respond to customer reviews - both positive and negative.
Responding to reviews can be challenging. You can use a tool like LocalRanking to respond to reviews in a timely manner. This local SEO tool also helps you create SEO-optimized text content in your answers.
Here is an example of Twin Auto City, a used car dealer in New Jersey which promptly replies to negative comments from customers and offers the best help to fix their issues.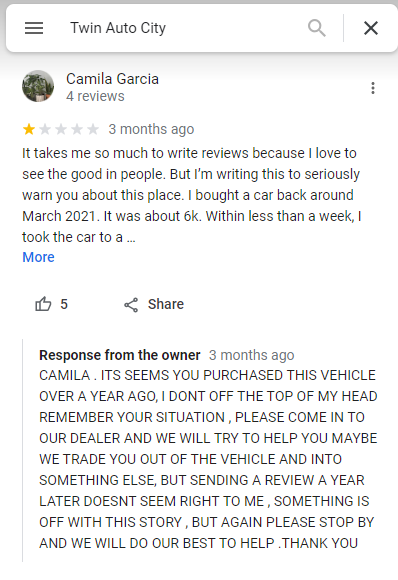 A clever local SEO hack is to use local SEO keywords in your messages wherever you reply to your customers because it can help to increase the relevance score of your GMB profile.
Add Useful SEO Keywords to Your GMB Profile and Other Web Directory Listings
Another great local SEO hack is to use your target local keywords in your GMB profile and other web directory listings.
Keywords are the best way to indicate to search engines what the content is and what the business is about.
For example, if you're running a marketing agency, you must use keywords like "internet marketing agency", "marketing agency", etc. on your GMB profile and web directory listing similar to the business below.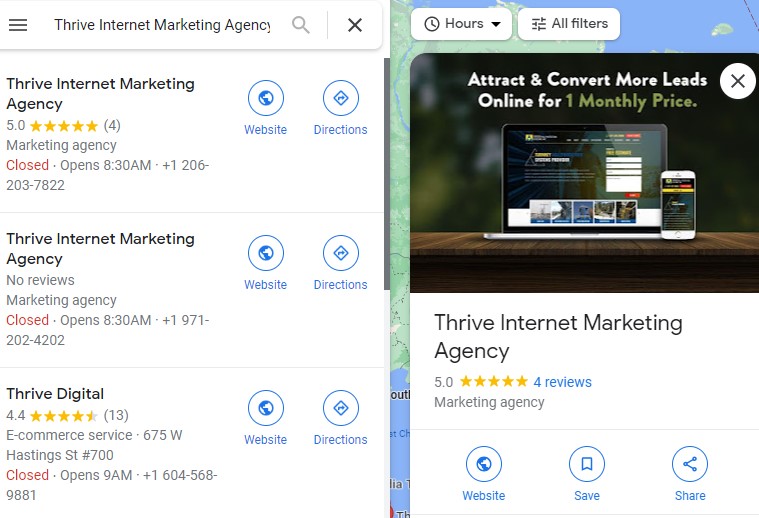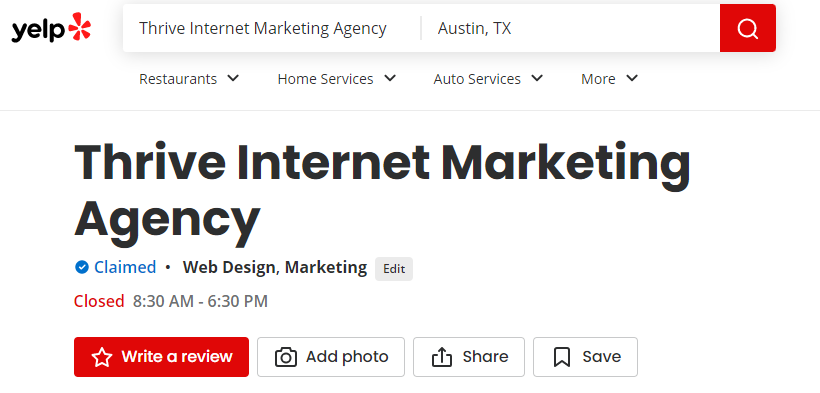 Conclusion
In the last few years, Google has seen a significant rise in "near me" searches.
Adopting a local SEO strategy is the key to establishing your business in the local market.
As a business owner, you are already doing your best to offer exceptional products and services to your customers, a little effort in your local SEO will drastically help you expand your business.
Start using the above top local SEO hacks to skyrocket your rankings and traffic.