Digital Marketing for Churches: 6 Ways to Grow Your Congregation
Mar 16, 2023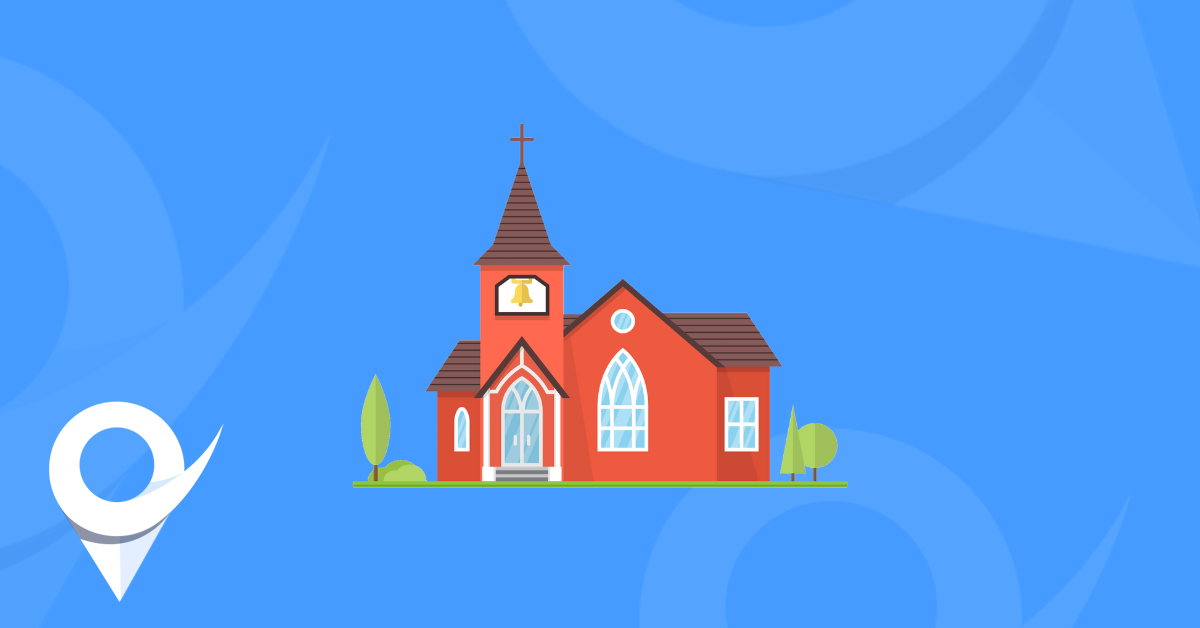 Table of Contents
Importance of digital marketing for churches
6 Marketing strategies for churches
Create an SEO-optimized website
Optimize your GMB listing for local searches
Create online listings
Regularly publish new content on YouTube
Post blog content addressing relevant topics
Utilize social media marketing
Conclusion
If your church or congregation has yet to create a digital marketing plan, you are missing out on one of the most effective methods for attracting new members.
Many churches may feel that marketing is too "secular", leading them to forgo investing in an effective church marketing plan. Nonetheless, church marketing doesn't need to be pushy or salesy - it can simply be effective!
Digital marketing can be an excellent tool for churches to expand their congregation.
By leveraging digital tools and platforms, churches can reach new people in innovative ways. A successful digital marketing plan for churches should aim to reach your ideal audience on all of the popular digital platforms they utilize.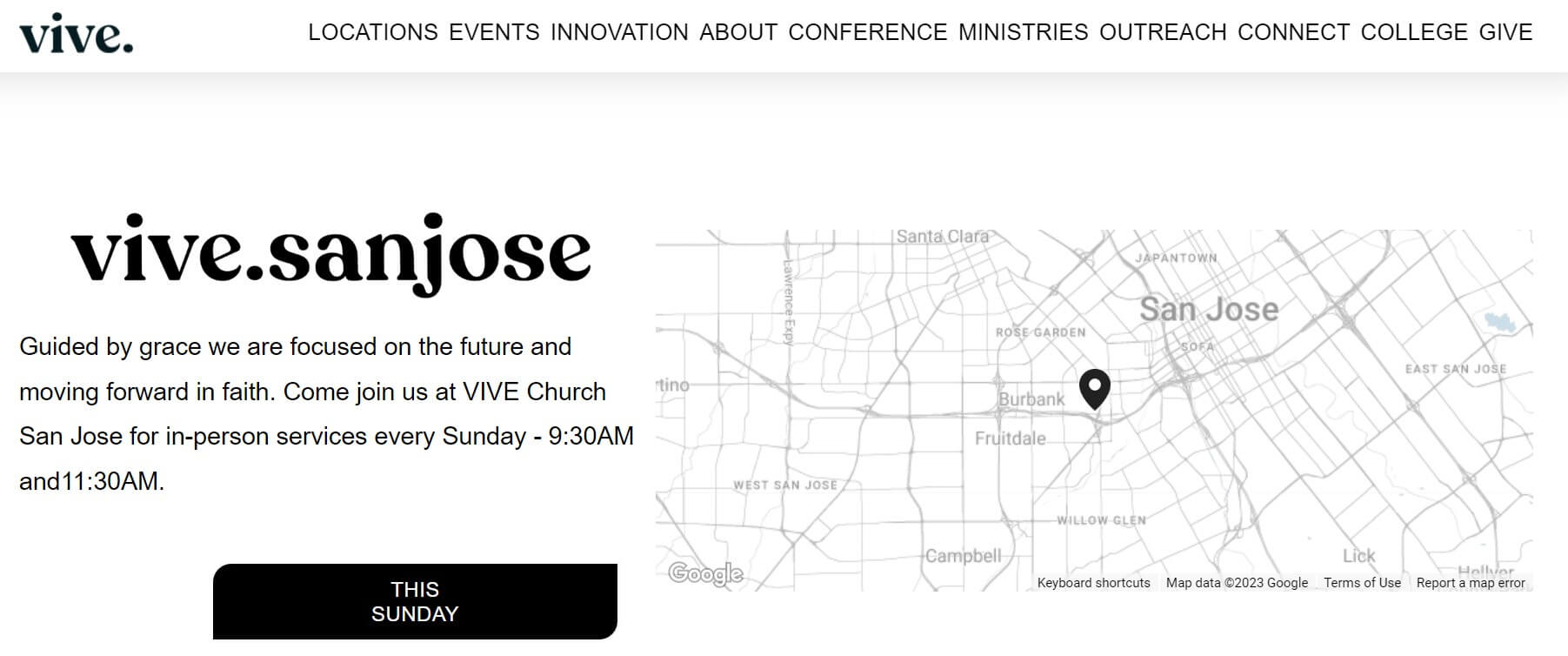 In this blog post, we'll look at six digital marketing strategies and tactics churches can utilize to connect with their community and expand their congregation.
Whether you're looking to launch a new website or improve your church's search engine rankings, digital marketing is the key to growing your congregation.
Importance of Digital Marketing for Churches
Digital marketing is an indispensable asset for churches seeking to expand their congregation. In today's connected world, having a strong online presence can help churches reach new people and introduce them to their church's message.
There's no denying the decline of church membership over recent years, with studies revealing US church attendance and membership at an 80-year low.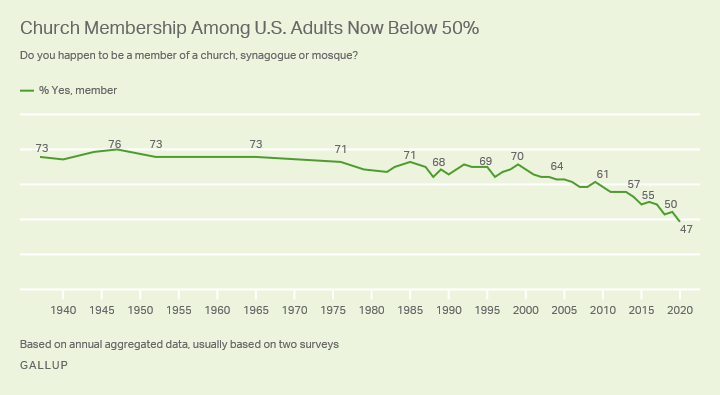 Don't let that discourage you; many people still find a home in churches and seek out like-minded individuals.
Your responsibility as a church marketer is to ensure your marketing strategy is successful and draws in potential attendees. Digital marketing for churches can help increase awareness about your congregation and bring new members or visitors.
Marketing can also aid in maintaining current members by creating relevant content, broadcasting church services, and keeping members informed about church events.
When it comes to marketing for churches, there are a plethora of strategies and tactics that you can use.
Digital marketing provides churches with a myriad of tools and platforms that can be leveraged to communicate their message in creative, effective ways.
Utilizing digital marketing, churches can enhance their visibility, spread their message, and build connections with those they serve.
6 Marketing Strategies for Churches
We've identified six of the best marketing strategies that churches can use to grow their reach and online awareness:
Create an SEO-Optimized Website
The first element of every successful church marketing campaign is the creation of an SEO-optimized website that ranks for relevant search queries.
More specifically, you need to create a website that ranks for local search queries such as "church in Austin", "family church in Toronto", "church for teens in Louisville", etc.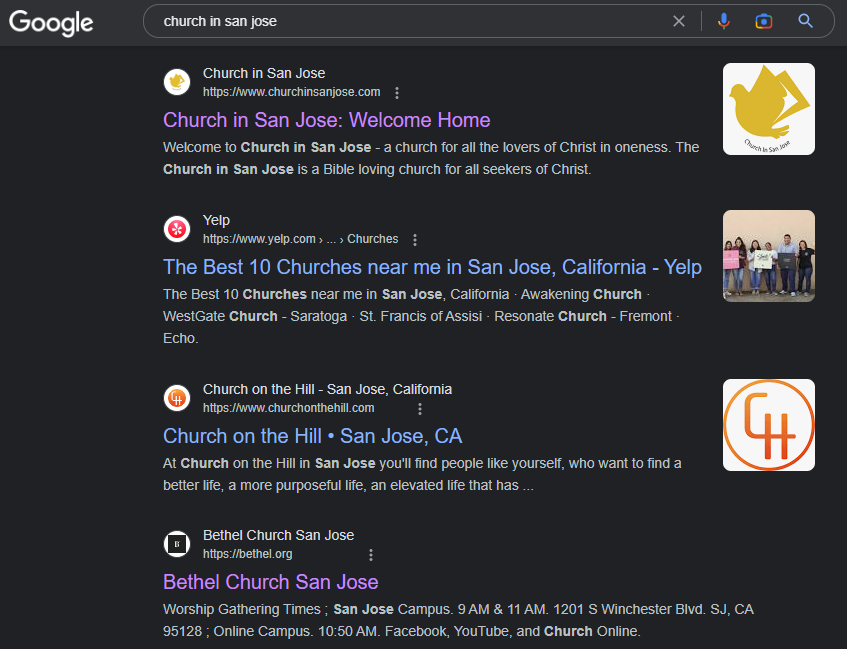 Having a website is essential for churches looking to grow their congregation. Your church's website is the first place people will go to learn more about your church, so it's important that it reflects the values of your organization and provides clear information about services, events, and activities.
You should optimize your website for local searches since these queries will lead to higher conversion rates and potentially more in-person visits.
Most churches can be compared to local businesses that generate most of their in-store visits and customers through local SEO.
And as a result, church marketers need to place a strong emphasis on their local SEO. Local SEO consists of creating a website that ranks organically in the Search Engine Results Pages, optimizing your GMB profile (more on that later), and building citations.
So, how do you create websites that rank for local search queries?
Creating an SEO-optimized website means making sure that the content is high quality and relevant, using keywords throughout the site to make it easier for search engines to find and index your pages.
Optimizing images, videos, and other media to make them search engine crawler-friendly requires using keyword-rich alt tags.
One way to guarantee that your church website ranks for local searches is by optimizing the content with location-specific keywords.
By including city and/or town names as well as other geographical landmarks on your website posts and pages, you will ensure that visitors understand where you are located.
For instance, a church in San Jose should use the keyphrase "church in San Jose" multiple times on its website.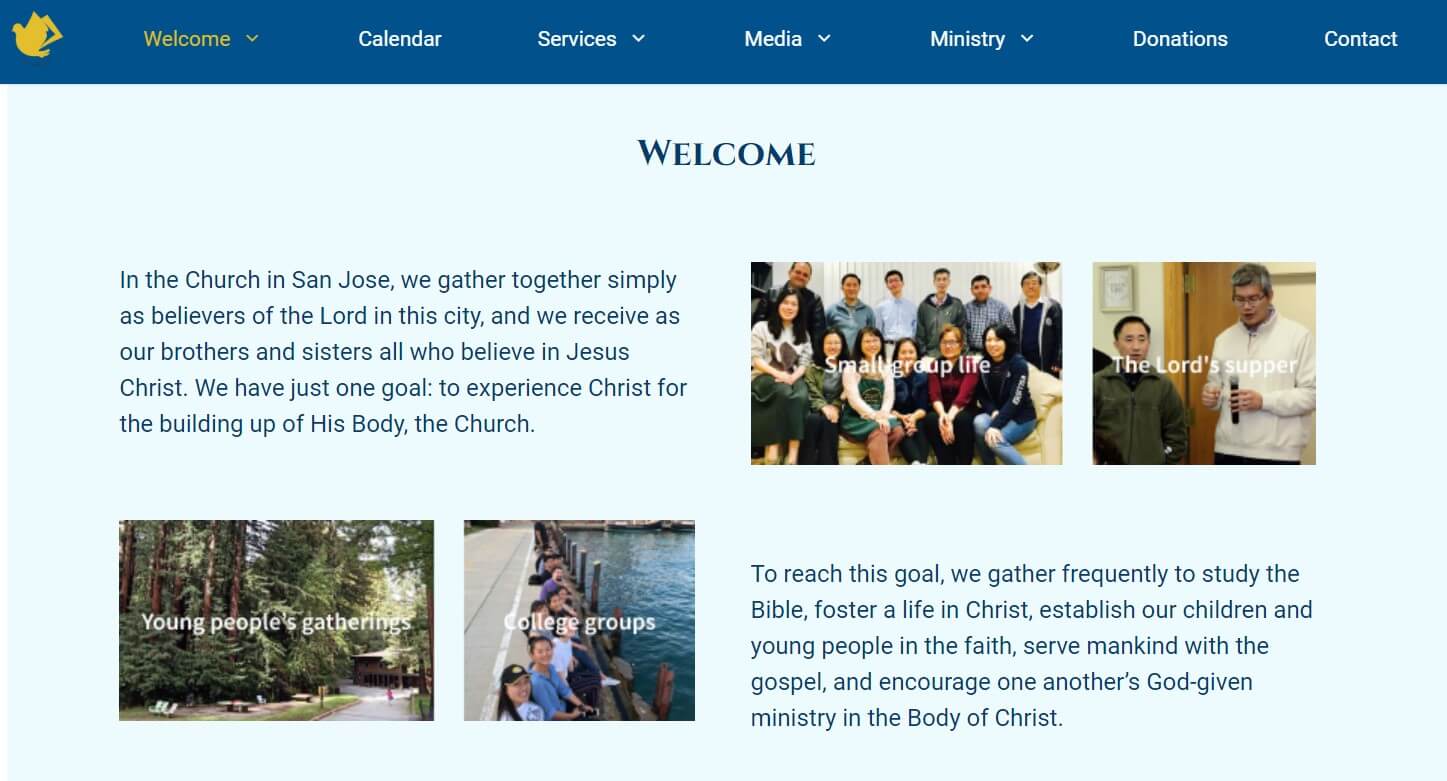 Additionally, include the name of your church, physical address, and phone number in order to provide visitors with accurate information about it. This should be visible both in the footer of your website as well as within its body section.

These details are known as your church's NAP (Name, Address, and Phone) details, which is used by Google to verify your church's location and the accuracy of the online information about your church.
Optimize Your GMB Listing for Local Searches
Google My Business (GMB) is a free tool that allows businesses and organizations to create an online profile on Google. You can think of your church's Google Business profile much like that of its other social media profiles, except this is specifically for Google.
Having an optimized Google My Business listing for a church is critical for connecting with local communities.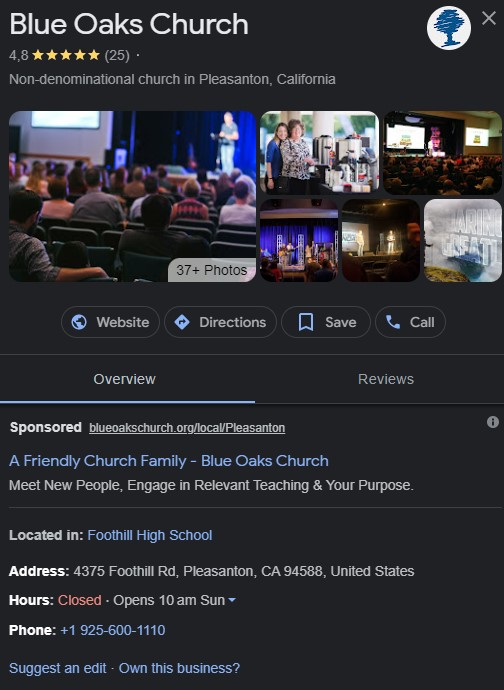 SEO-friendly listings ensure that potential attendees can quickly and easily find information about your church and its services, enabling them to plan their visit accordingly.
Here are some tips for optimizing a church's Google My Business listing and improving its ranking on local search queries.
Verify your listing: Verifying your listing ensures that it shows up in the proper locality in search results, as well as eliminating any confusion when people look up the church name manually.
Complete all section fields: Make sure to add as much relevant information as possible to each field – including hours of operation, contact info, website URL, and physical address – to accurately describe your business.
Add photos: Quality visuals are essential for presenting businesses in the best light online, and they can help set expectations with potential visitors. Upload pictures of the inside of the facility, along with exterior shots or any images related to services offered by the church, like Bible study groups or special events (e.g., holiday pageants).
Ask for reviews: Reviews add authority and authenticity to a GMB listing and can have a significant impact on rankings within search engine results pages (SERPs). Encourage current members of your congregation or alumni from past events to leave reviews; just make sure they are honest assessments without solicitation or messages of appreciation for participating members/visitors!
Use keywords appropriately: Use targeted keywords that reflect exactly what kind of activities take place at your church throughout descriptions of services provided and other text elements like titles/taglines associated with images uploaded onto GMB - this will keep your content consistent across multiple online channels while helping your local rankings too!
Use a local SEO tool: Church marketers should make use of a local SEO tool like Local Ranking to help them manage and optimize their Google Business listing. Our tool can be used to respond to reviews, audit your profile, manage Google Posts, and more.
By following these steps, churches can optimize their Google Business listings to rank for local searches, while making sure they provide an accurate representation of their own offerings online.
Create Online Listings
Creating online listings is an important part of local SEO.
By creating listings on websites such as Yelp, Foursquare, and Bing Places, you can help your church reach a wider audience and increase its visibility in search engine results.
Creating an online listing is fairly straightforward.
First, you need to choose the website or websites where you want to create a listing. Popular options include Yelp, Foursquare, and Yellow Pages.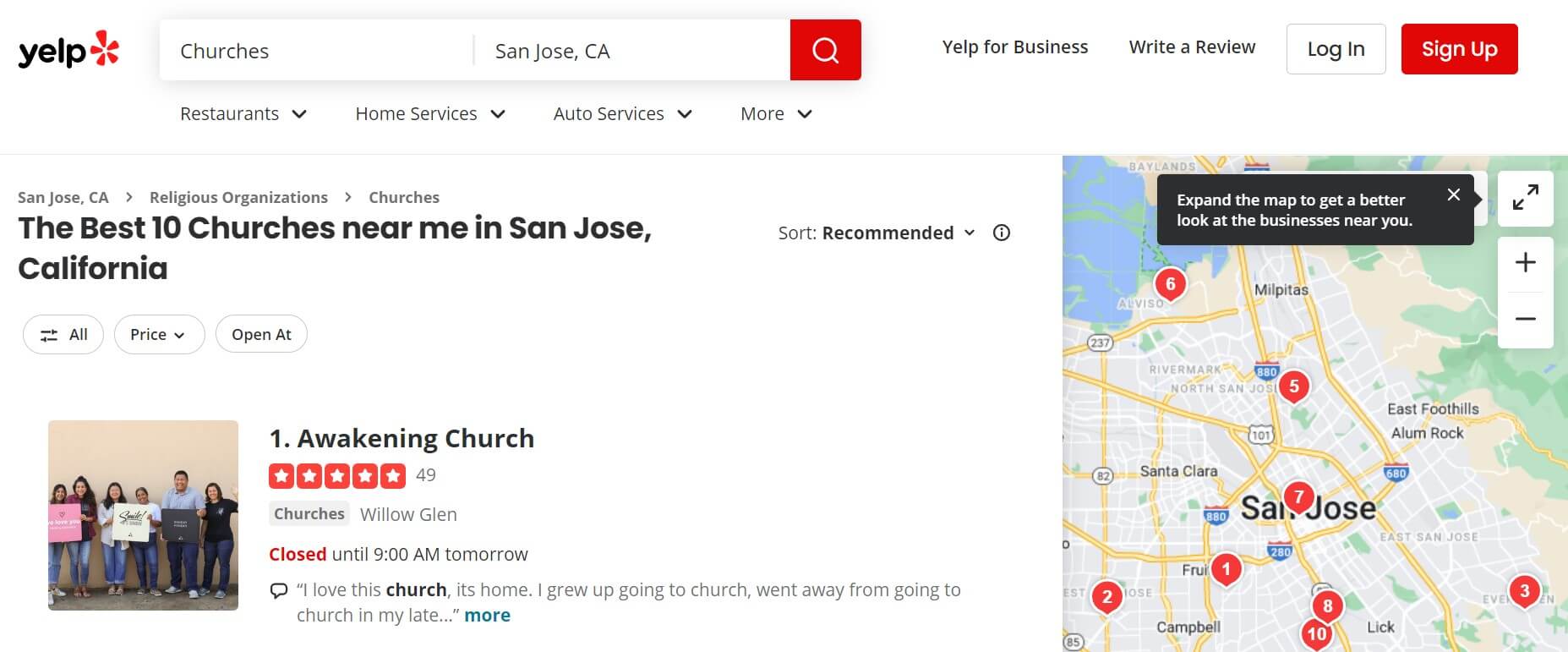 Once you have chosen the website or websites for your listing, you will need to fill out the necessary information about your church.
This includes contact information (such as address and phone number), hours of operation, description of services offered, photos and videos of your church, and more.
Once you have filled out all the necessary information for your online listing, it's time to optimize it for search engines.
This includes adding relevant keywords throughout the listing that are related to your church and its location.
You should also make sure that all of the information in your listing is accurate and up-to-date so that potential customers can easily find what they're looking for when searching for businesses like yours.
This is a vitally important aspect of creating online citations. NAP consistency across the web plays a significant role in your church's ability to rank for local search queries. This is because NAP consistency is one of the ranking factors in Google's local search algorithm.
And as a result, you should make sure that the name, address, and phone number are exactly the same on your website, Google Business profile, and any online citations.
Creating online listings is an essential part of local SEO and can help boost the visibility of your church in search engine results. By taking the time to create accurate and optimized listings you can ensure that potential members can easily find your church when searching online.
Adding to the list above, here are some other online directories where church marketers can create listings:
ChurchFinder.com
EZlocal.com
Hotfrog.com
AngiesList.com
FindUsLocal.com
YellowPages.com
Regularly Publish New Content on YouTube
Video marketing and YouTube are powerful tools for churches to reach online users.
In the wake of the COVID-19 pandemic, many churches have turned to video streaming services like YouTube to broadcast their services.
This has allowed them to reach a much larger audience than they would have been able to before, and it has also enabled them to keep their congregations connected during this difficult time.
Even before the pandemic, many churches had already started using YouTube as a platform to broadcast their services.

By regularly publishing new content on the video platform, churches can stay connected to their members and attract new people who might be interested in learning more about their mission and values.
Producing video content for your church doesn't need to be complex or costly.
With simple tools like smartphones and tablets, you can record videos that can then be uploaded directly onto YouTube.
Furthermore, production software like iMovie, Adobe Premiere Pro, or ClipChamp can be used to edit these videos and create captivating visuals that will draw in viewers.
YouTube is also a great platform for creating tutorials or in-depth videos that teach people about different aspects of your church's mission or values.
Videos such as these can be an effective tool to foster relationships with viewers and educate them on your church's beliefs and mission.
Ideas for video content include live streaming your services, recording and sharing sermons, sharing stories from congregants, and highlighting community outreach efforts. You can also use YouTube to advertise upcoming events, show behind-the-scenes footage of your church, and offer helpful tips and insights related to topics relevant to the members of your community.
By regularly publishing new content on YouTube, you can keep your congregation connected even when they're unable to attend physical services. This is especially vital during times when many people are unable to attend due to health concerns or other restrictions.
Overall, creating video content for your church is a great way to reach out and engage with online users who may not otherwise be exposed to your message or mission.
By regularly publishing new content on YouTube, you can keep your congregation connected even when they're not able to physically attend services and attract new viewers who may be interested in learning more about what your church stands for.
Post Blog Content Addressing Relevant Topics
When it comes to digital marketing for churches, one of the best ways to reach your target audience is through blog content. Creating SEO-optimized blog posts that address relevant topics can help draw more people to your church website and increase engagement.
When creating blog content, it's important to focus on topics that are relevant to your church and its mission. This could include topics such as faith-based teachings, community outreach initiatives, or upcoming events.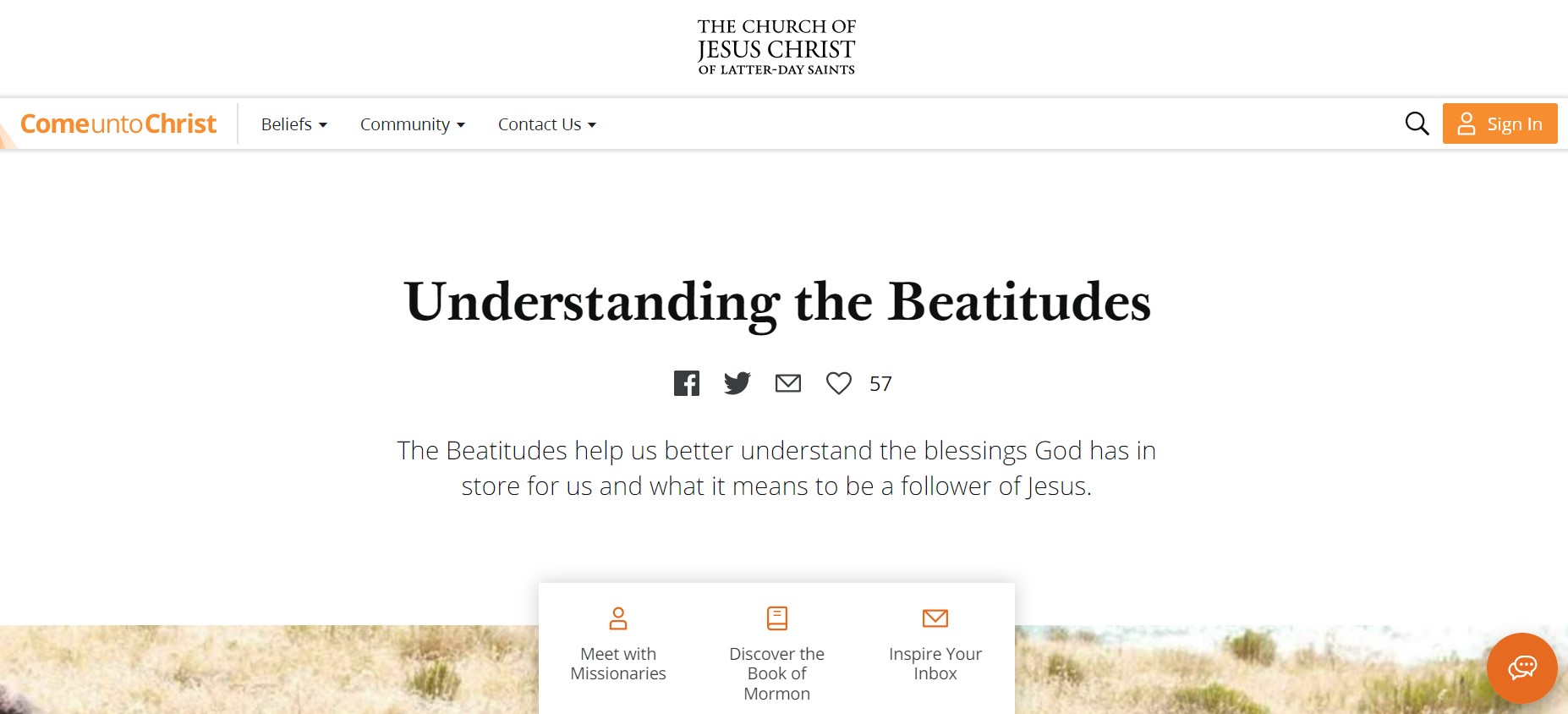 Church marketers can also think of answering commonly asked questions regarding various aspects of their faith.
You should also think about what keywords you want to use in order to optimize your blog posts for search engines.
Doing keyword research can help you determine which words and phrases are most likely to bring people to your website when they search for related terms online. You can write blog content targeting the content opportunities you find while doing keyword research.
Be sure to use the keywords in your post's title, meta description, and throughout the blog article to help search engines understand what your post is about.
In addition, it's important to make sure that your blog posts are well-written and engaging.
This means using a conversational tone, avoiding jargon, and breaking up text with visuals like images or videos.
You should also make sure that each post has a clear call-to-action at the end so readers know what action they should take after reading the post.
Finally, don't forget about promoting your blog content once it's published.
Sharing posts on social media platforms like Facebook and Twitter can help get more eyes on your content and drive more traffic back to your website.
Additionally, you can consider submitting links to your blog posts in relevant forums or discussion boards in order to reach an even wider audience.
By following these tips for creating SEO-optimized blog posts addressing relevant topics, you can ensure that your digital marketing efforts for churches are successful in reaching the right people and driving engagement with your church website.
Utilize Social Media Marketing
Social media is a powerful tool for churches to reach online users and promote their message. Churches can use both paid and organic social media marketing tactics in order to maximize the effectiveness of their campaigns.
When it comes to organic social media marketing, churches should focus on creating content that's engaging for their target audience.
This could include photos, videos, live streams, surveys, or other types of content that will interest their followers.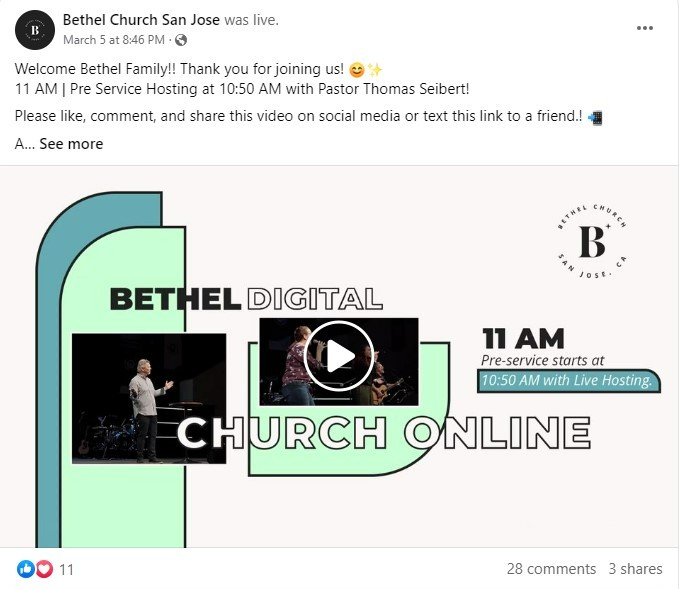 As previously discussed, churches should leverage video marketing to educate members and increase their online visibility.
Not only should churches create content specifically for YouTube, but Facebook can also be utilized for sharing video teachings and broadcast sermons.
Churches should strive to add value by offering helpful tips or resources related to faith-based teachings or community outreach initiatives. Furthermore, churches must engage their followers by promptly responding to comments and messages.
Churches can supplement organic social media marketing with paid advertisements on platforms like Facebook or Instagram.
This can enable them to reach a wider audience by targeting potential viewers based on age, location, interests, and more.
Additionally, churches can use remarketing techniques such as retargeting ads which allow them to show ads only to people who have already visited their website or interacted with them online in some way.
Overall, utilizing both paid and organic social media marketing is an effective way for churches to reach out and engage with online users who may not otherwise be exposed to their message or mission.
Conclusion
Finally, digital marketing presents churches with a tremendous opportunity to broaden their reach and engage with new audiences.
Through strategies such as optimizing your website for search engines, creating high-quality content, and using social media marketing, you can draw in more visitors, expand your congregation, and have a greater impact on the people in your community.
Navigating the digital marketing world may seem intimidating at first glance, but with the right strategy and an openness to change, your church can thrive in today's fast-paced environment.