10 of the Best SEO Newsletters
Feb 23, 2023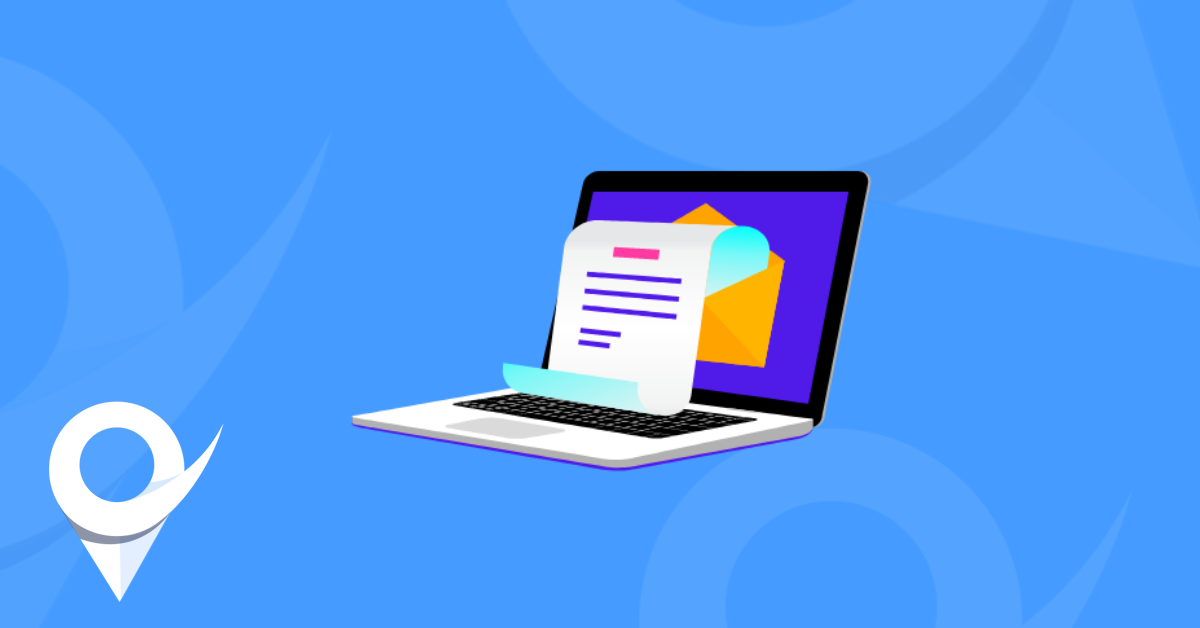 Table of Contents
Best SEO Newsletters
1. Search Engine Journal
2. Search Engine Roundtable
3. SEO Notebook
4. #SEOFOMO
5. WTF is SEO?
6. SEO MBA
Best Local SEO Newsletters
7. Local SEO Search Inc
8. Local Visibility System
9. SearchLab Digital
10. Marie Haynes' SEO Newsletter
Next Steps
These days there's no shortage of SEO Newsletters on the web to subscribe to. Digital agencies, software tools, industry news sites, thought leaders ... everyone has a newsletter! Maybe that's because email is one of the most effective marketing channels!
Ask most marketers and they'll tell you, email is their most important channel. Data from DMA's Marketer Survey shows that email is in fact considered the most important strategic marketing channel.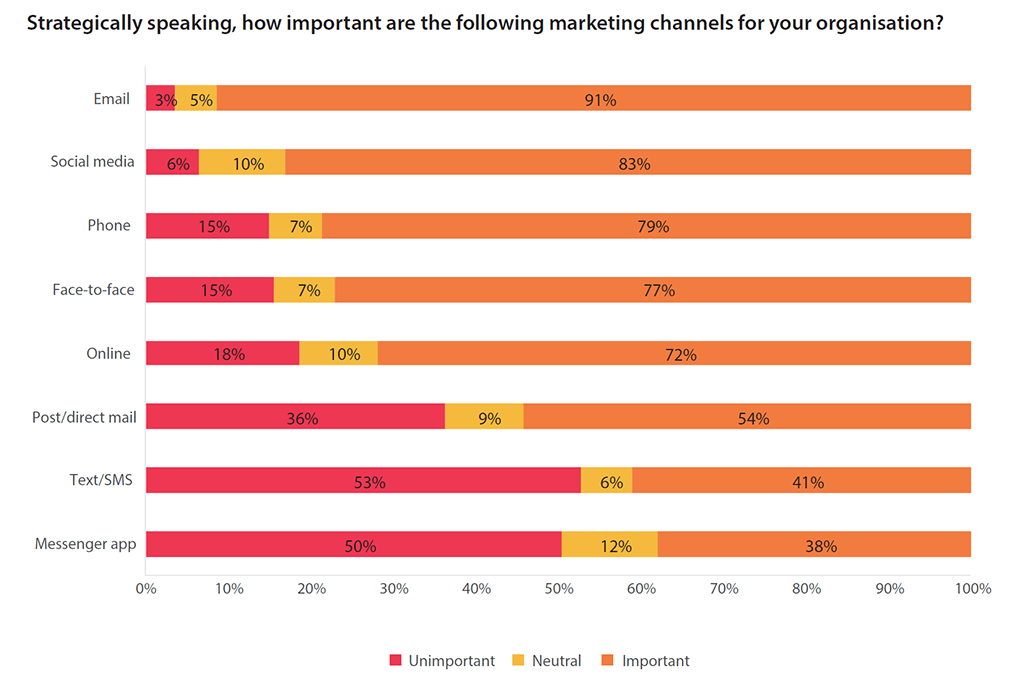 But we don't need to convince you. You already know how important email is, that's why you're looking for the best SEO Newsletters to subscribe to. So we've raided our Inbox, collated the best across the web and present to you the top 10 SEO Newsletters:
Best SEO Newsletters
Search Engine Journal (SEJ) is the leading search engine industry trade press site. Not only does SEJ cover search engine news, but also other digital marketing topics like social media, content marketing and paid advertising. SEJ is a top resource for keeping a finger on the pulse of the SEO industry and their newsletter is essential reading for all search marketers.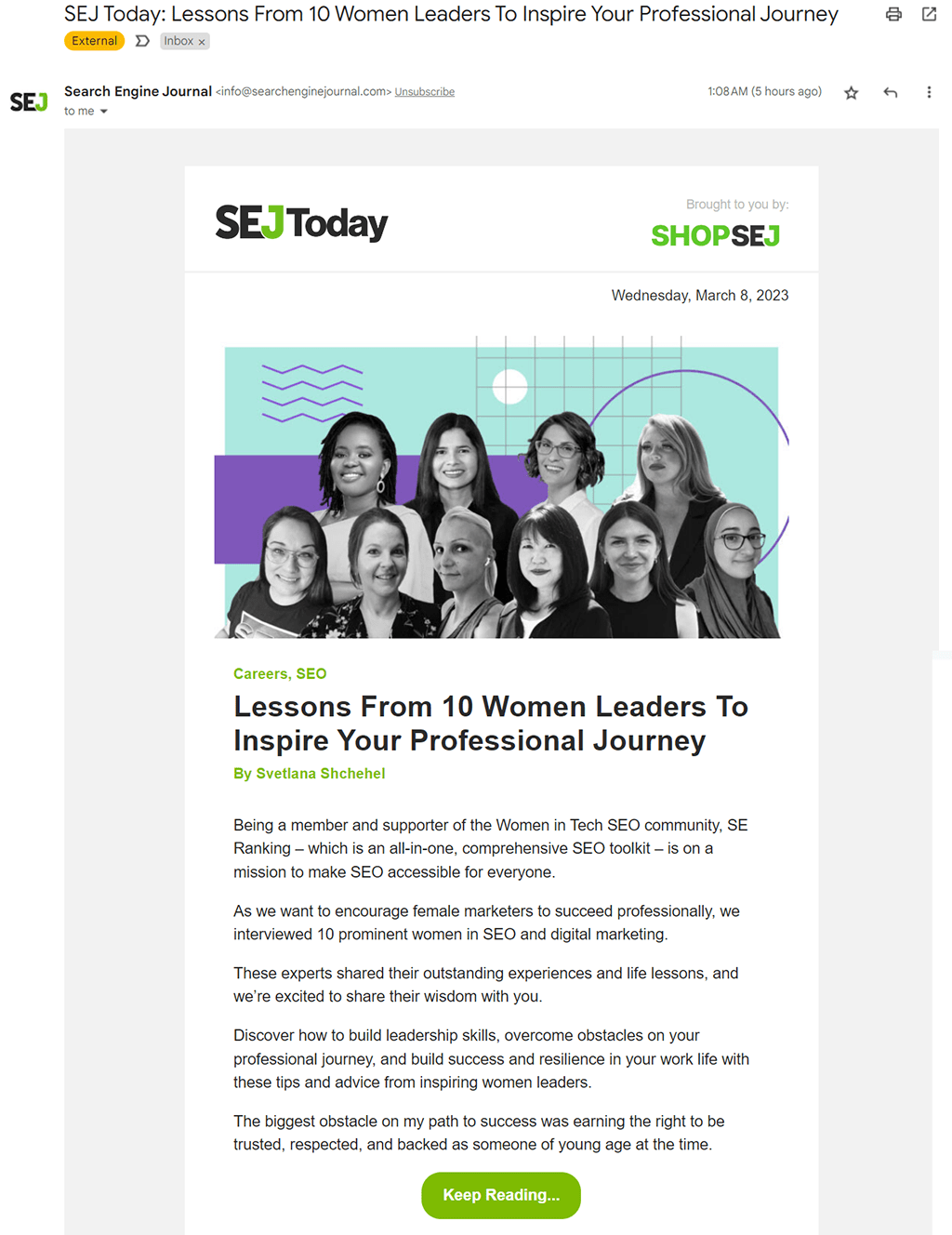 SEJ also publishes handy Ebooks each month and plus they produce the 'Search Engine Journal Show' Podcast hosted by Loren Baker.
Search Engine Roundtable is run by search marketing expert Barry Schwartz. Barry also runs a search marketing consultancy and writes for Search Engine Land. Search Engine Roundtable is focused on the technical updates to SEO - namely Google search algorithm updates.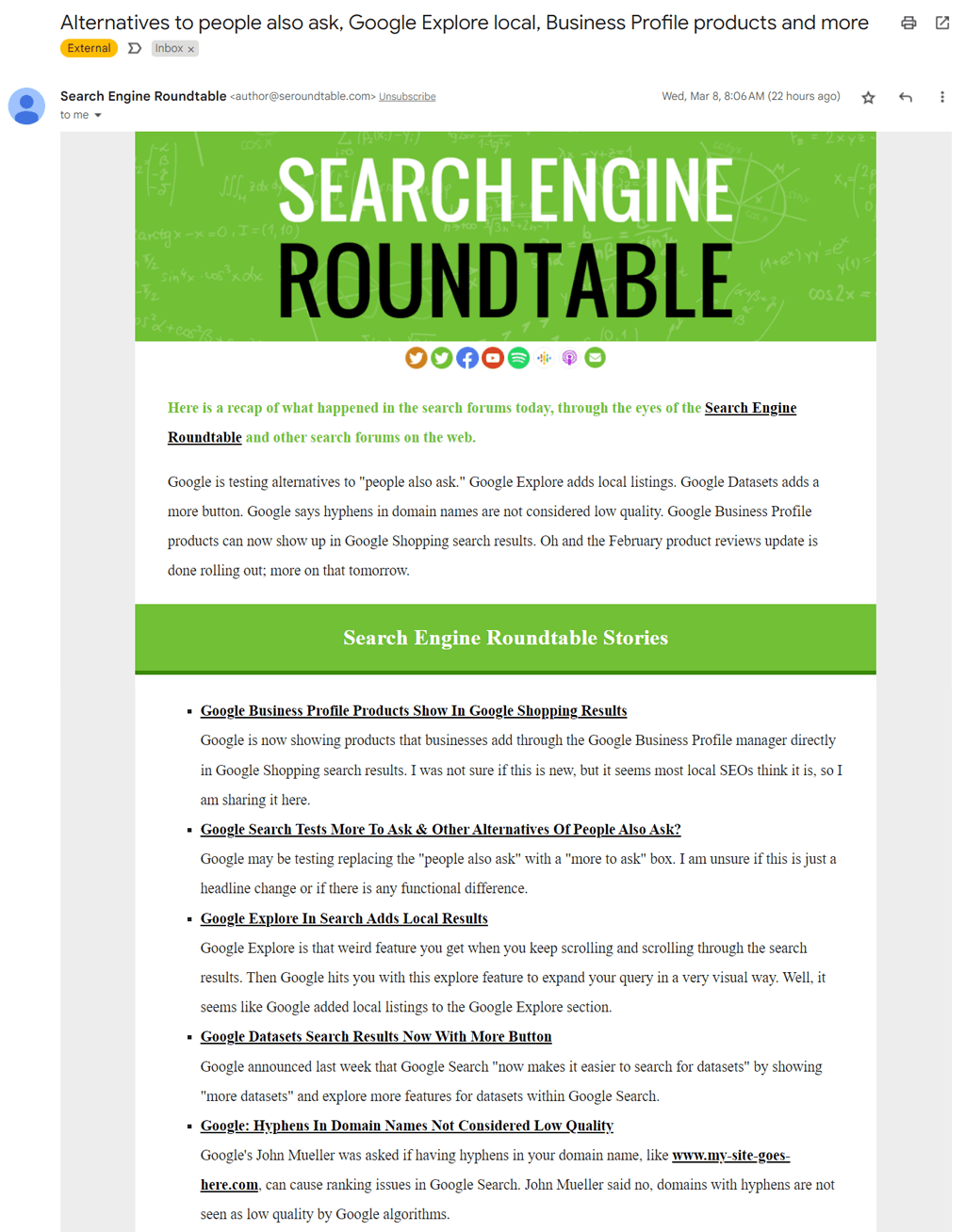 Their newsletter wraps up daily news, search-related Twitter discussions and broader industry news from around the web.
SEO Notebook is run by Steve Toth, former SEO Strategy Lead at FreshBooks. He started SEO Notebook as a literal notebook of SEO notes!
"I created SEO Notebook out of personal necessity. My notes were buried in Google Keep, Slack messages to myself, in email—they were completely disorganized. So I signed up for Evernote, thought of this idea, bought the domain on the same day and here I am."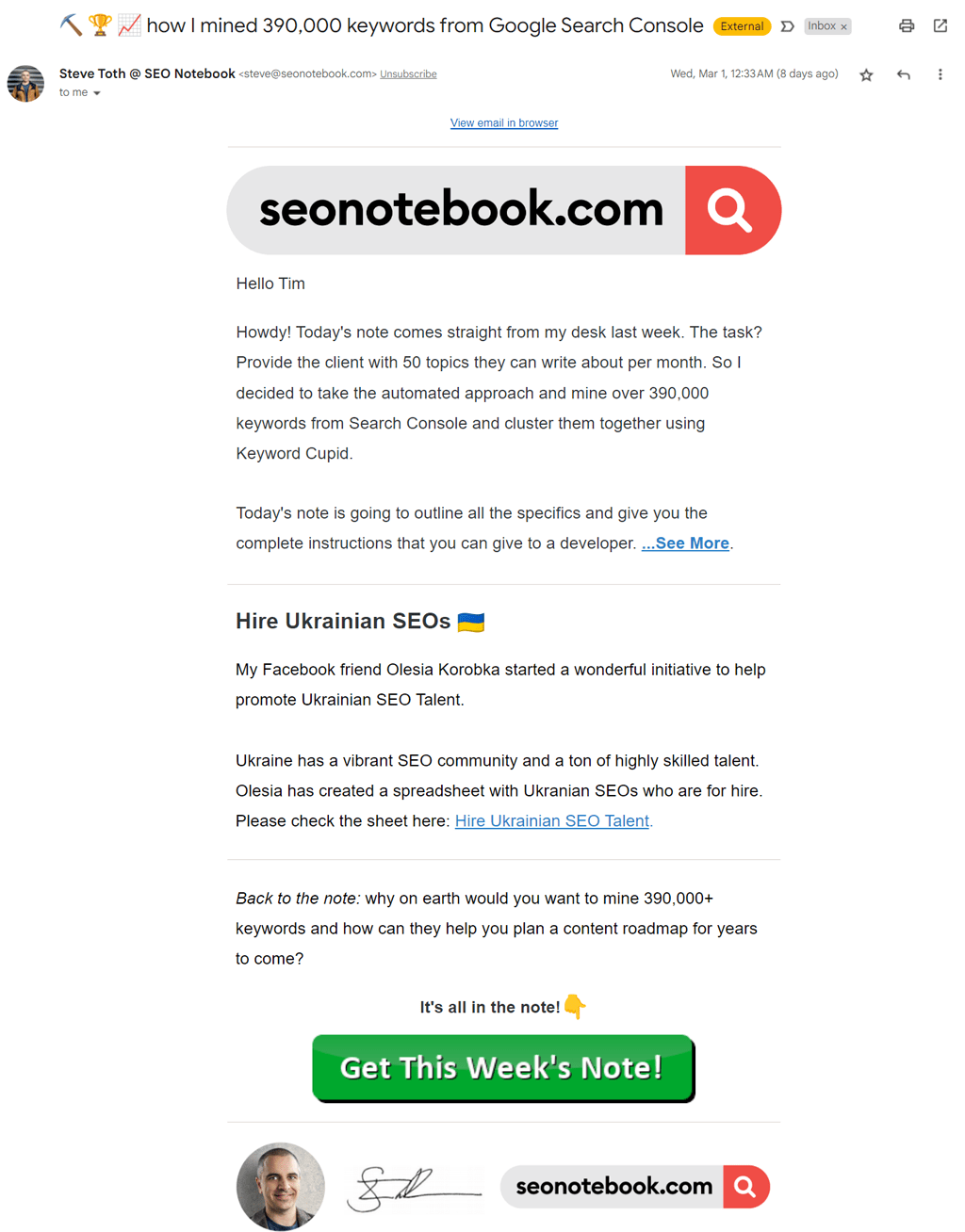 The personal perspective and opinion that Steve brings to his SEO notes is really unique and is why his newsletter now has over 10,000 subscribers.
#SEOFOMO is curated and written by SEO Consultant, Aleyda Solis. In her weekly newsletter Aleyda shares a roundup of all the SEO news headlines as well as curated opinion pieces from top SEO practitioners like Lily Ray, Derek Flint, Sam Torres and many more.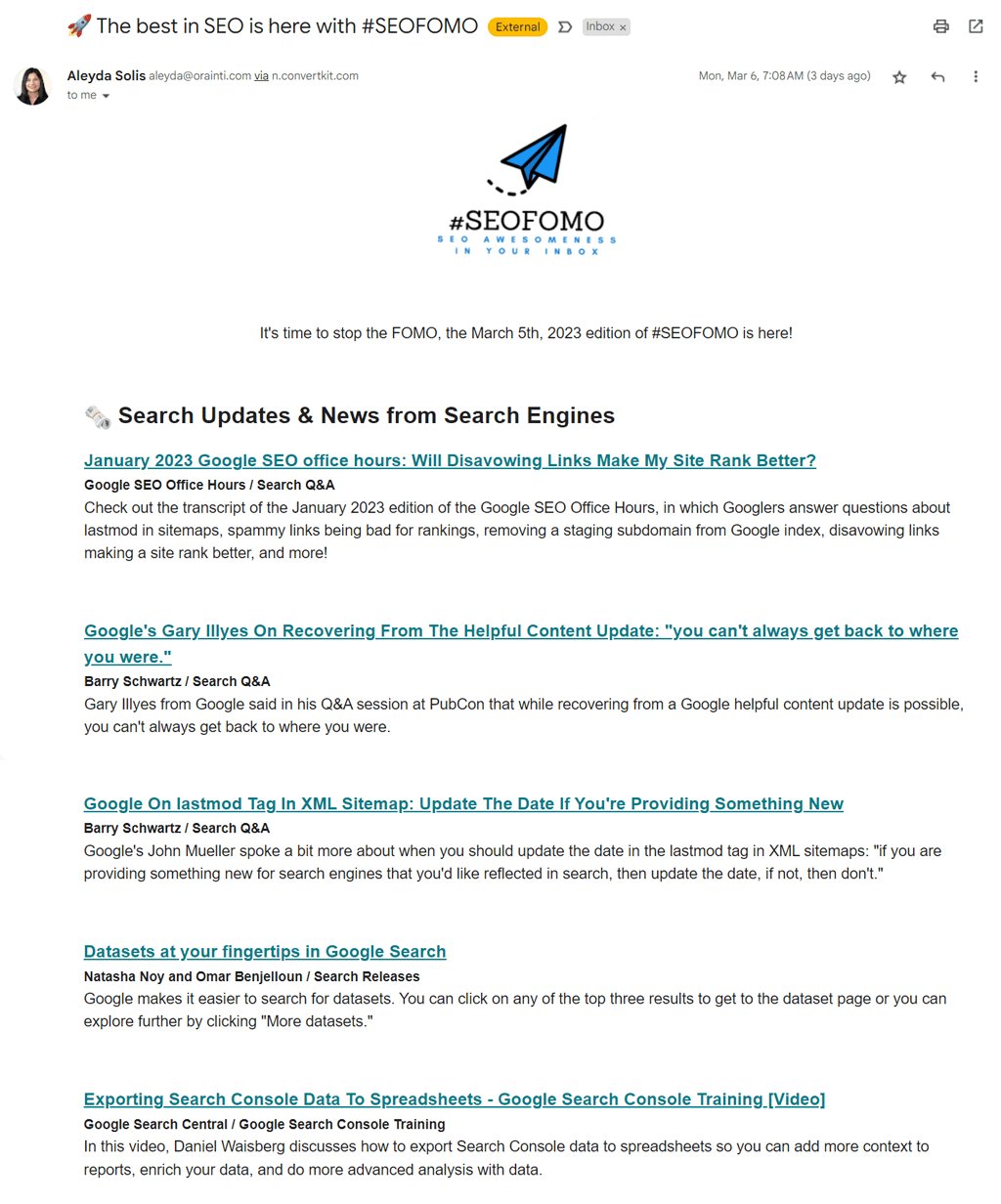 There's also an SEO jobs listing, links to handy SEO tools and even competitions & giveaways!
This weekly Substack newsletter is run by Jessie Willms and Shelby Blackley and is targeted at news publishers to improve the search performance of their editorial. In their own words, they describe their newsletter as:
"An in-depth look at what SEO is. Strategy and concept ideas. Actionable items. Vegan stuff. Pictures of trees."

SEO MBA is first and foremost an SEO education resource offering courses and workshops run by ex-Googler Tom Critchlow. SEO MBA education is geared towards SEO as a cross-disciplinary activity that requires collaboration and understanding of other business units. Tom's newsletter brings this same lens over SEO updates, news and opinion pieces.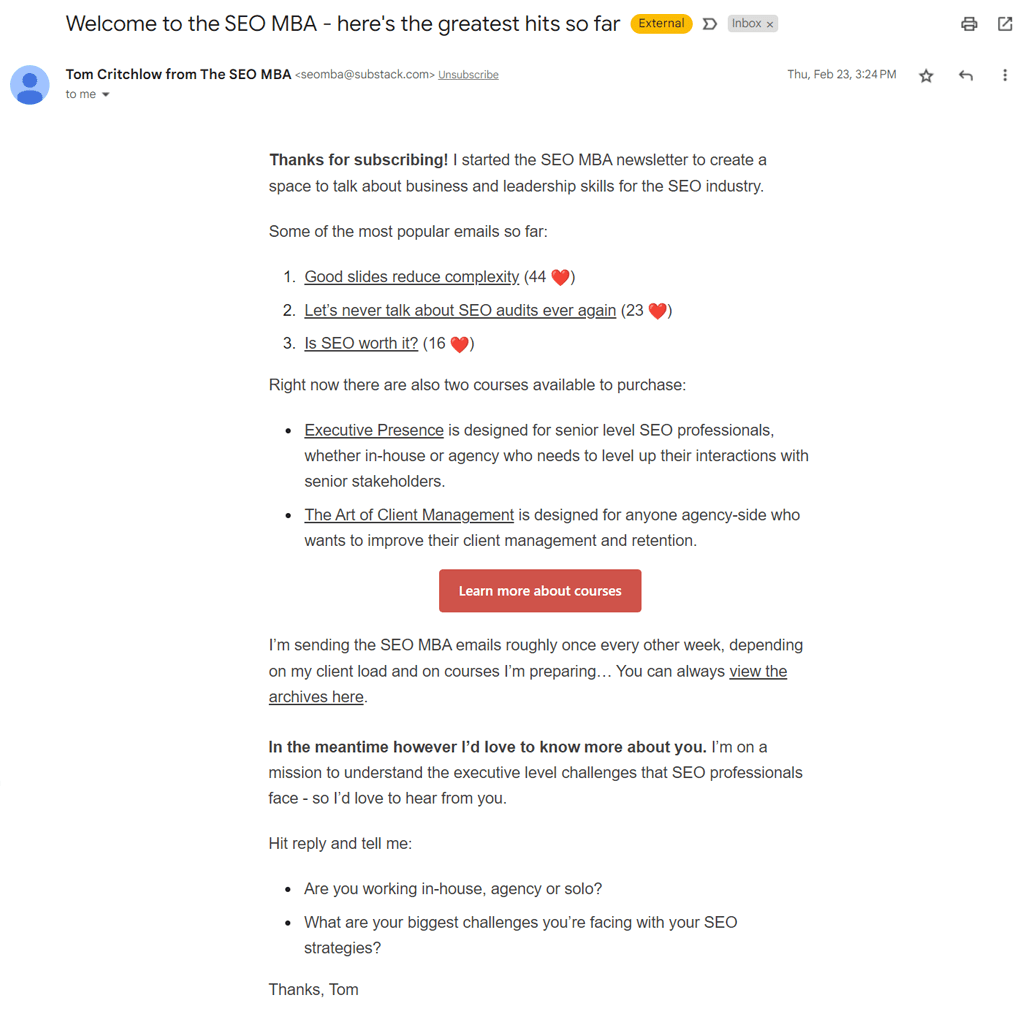 Best Local SEO Newsletters
Local SEO Search Inc is a Canadian digital agency specializing in Local SEO and GMB optimization. Their newsletter conveys much of their expertise around Local SEO with news, articles and updates impacting local businesses who rely on their Google Business Profile for search visibility.
Phil Rozek is an American Local Search expert and consultant. He is passionate about helping local businesses rank and even offers Veterans free Local SEO advice. His newsletter contains industry news as well as Local SEO tactics and tips.
Check out Phil's free local visibility guide and his curated list of digital marketing services outside of SEO that he trusts and recommends.
SearchLab Digital is a US-based digital agency that specialize in Local SEO and PPC. The thing about agency newsletters is that they really need to stay at the forefront of industry news in order to manage all their clients. This is why agency newsletters are usually so insightful and valuable.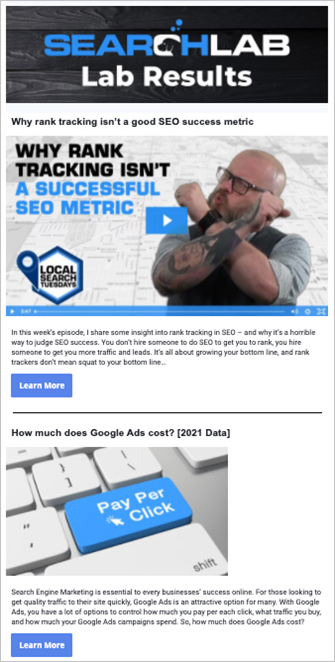 SearchLab Digital's newsletter wraps up their latest blog articles as well as their weekly video series, 'Local Search Tuesdays' hosted by the agency's COO, Greg Gifford.
Dr Marie Haynes is an SEO expert, author, podcast host of 'Search News You Can Use' and runs an SEO consultancy. Her weekly newsletter has both a paid ($18 per month) and a free option. Her newsletters are in-depth and packed with coverage from other SEO experts, Google staff and news sources.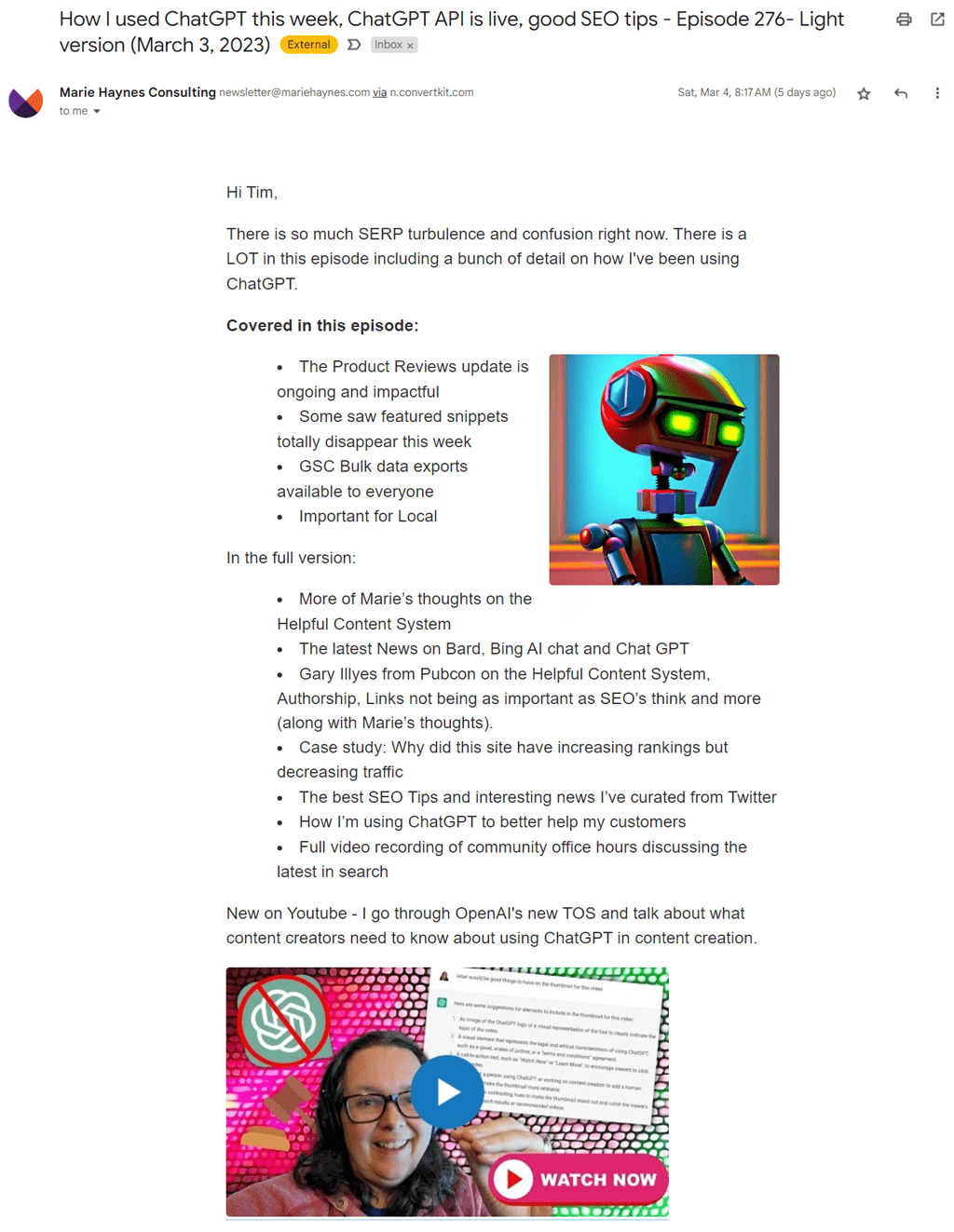 Dr Marie emphasizes the importance of EAT (Expertise, Authority, Trust) principles and more broadly what's happening with the Google algorithm that affects local businesses.
Next Steps
As you've seen, SEO Newsletters are such a great resource for SEO marketers. For time-poor individuals (who isn't?!) SEO news that comes to you in your inbox is one of the best ways to keep up to date with the industry.
Some people say that RSS is a better format for consuming news content however most people subscribe to RSS Feeds and then don't make it part of their daily routine to actually open their RSS Reader app. This is why email is usually more effective for most people at keeping them across updates in the industry.
Let us know what you think of this list and if you subscribe to any other SEO Newsletters - tweet to us @local_ranking.