How to Get a Yelp Review Link for Your Business
May 11, 2023
As an owner or marketer of a local business, you should make certain your organization maintains an online presence that stands out.
An effective way of increasing online visibility or showcasing your business and attracting new customers is through reviews on popular review platforms like Yelp.
Yelp is one of many review websites available online; these include Bing, Yellow Pages, and Google My Business to name just a few. Many consumers rely on Yelp when researching companies or making purchasing decisions in their region or purchasing decisions in general.
Accumulating numerous reviews will require time and an effective reputation marketing plan, but to increase Yelp review counts quickly it must be easy for customers to leave reviews on your business listing.
By creating a Yelp review link, you can share a direct link to your Yelp reviews section and encourage customers to leave reviews.
This article will explain why it is beneficial to include Yelp reviews on your website in order to maximize their impact. More importantly, we will explore how you can get a Yelp review link that you can share with customers.
Why Get a Yelp Review Link?
Online reviews are a critical component of building trust with potential customers.
According to a survey conducted by Podium, 93% of consumers use online reviews to make a purchasing decision.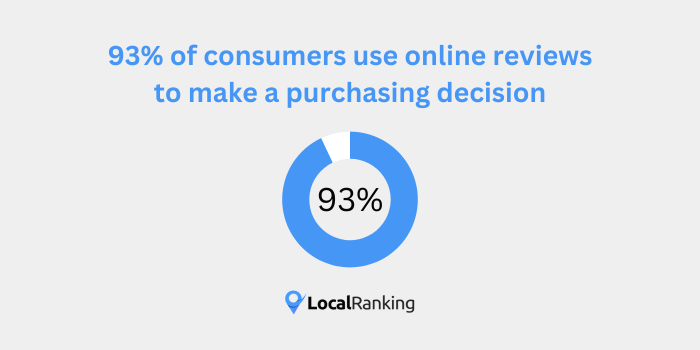 Yelp is one of the most popular and long-standing review sites, with millions of users leaving reviews for businesses across a broad range of industries and service sectors.
You can reduce the friction involved in writing reviews by sending customers a Yelp review link. This link will take customers straight to an interface where they can leave a review of your business. This reduces the number of steps that customers have to take to write reviews.
How to Get a Yelp Review Link?
Getting your Yelp review link is a straightforward process that really takes less than a minute.
Since it's technically against Yelp's terms and conditions to ask for a review, they don't have a feature where you can get an auto-generated review link like with GMB.
Instead, you have to follow the manual route to get a Yelp review link.
Here are the steps to get the link:
Go to the Yelp website and search for your business.
Click on your business name to get to your profile page.
Click on the "Write a review" button; this will take you to the review section.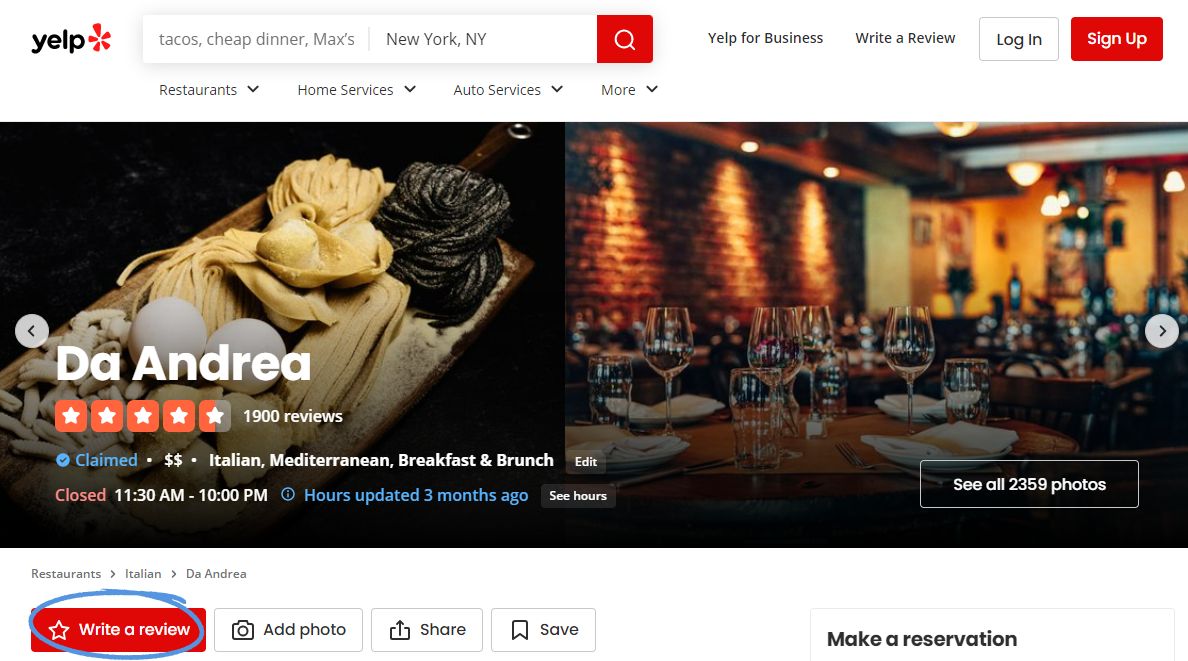 Copy the URL from the address bar.
Because the URL that Yelp generates is quite lengthy, you should consider shortening the link using a URL shortener tool like Bitly or Google URL Shortener.
Once you've followed these steps, you now have a short, direct Yelp review link that you can easily share with your customers.
Next, let's take a look at how you can embed Yelp reviews on your website.
How to Embed a Yelp Review on Your Website
Integrating Yelp reviews onto your website is an effective way of showing off your positive reputation and building rapport with prospective customers.
Here's how to do it:
Go to your business's Yelp profile and find the review you want to embed.
Click on the three-dot button next to the review.
Select the "Embed review" option.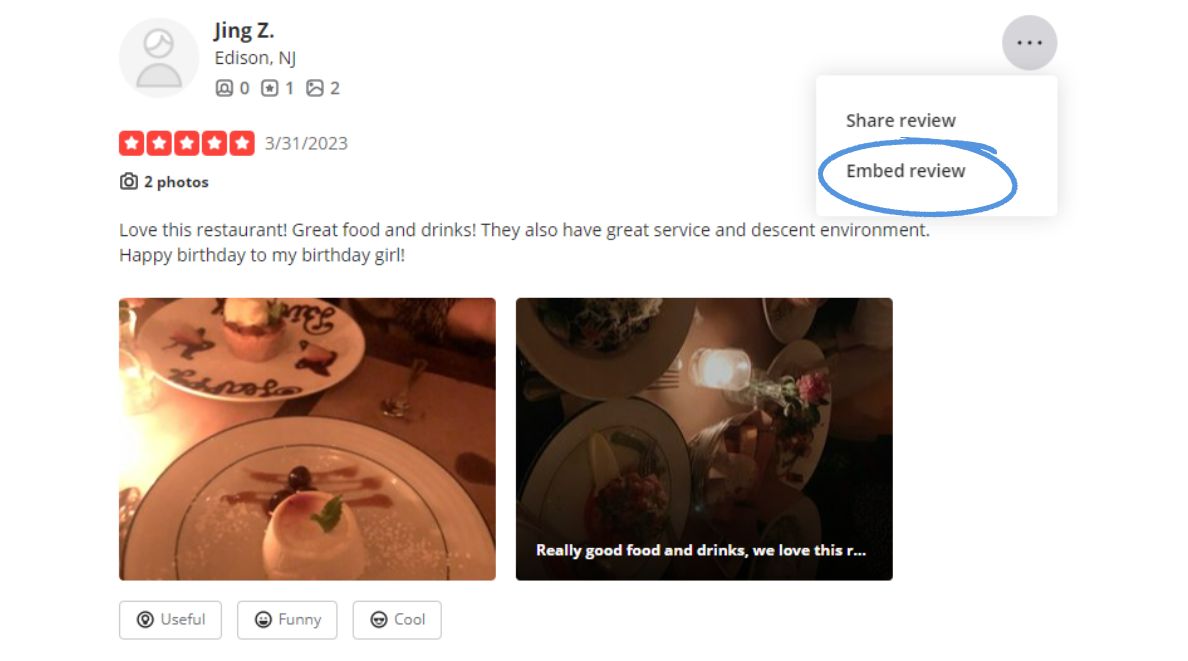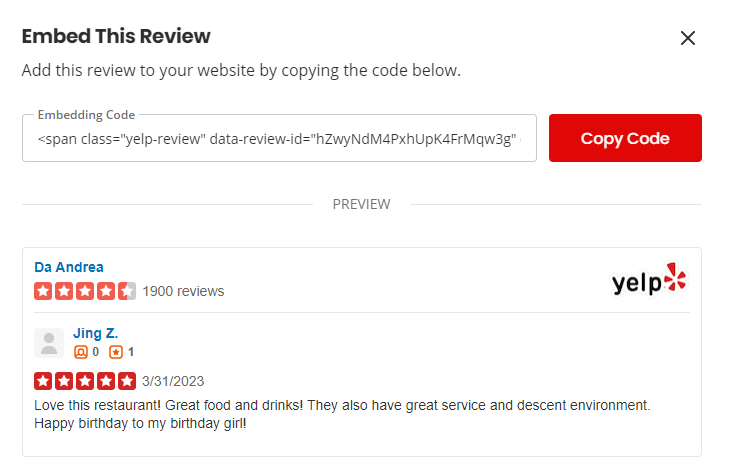 Go to your website's backend and locate the page where you want to display the embedded review.
Paste the embed code into the HTML code of your website where you want the review to appear.
Save and publish your webpage.
By embedding Yelp reviews on your website, you are providing social proof to potential customers that your business is credible, trustworthy, and provides excellent service.
This can increase the likelihood that potential customers will choose to do business with you over your competitors.
Conclusion
Having a direct Yelp review link can be beneficial for your business because it saves customers time and effort, thus increasing the likelihood of them leaving a review.
Embedding Yelp reviews on your website can also improve your online credibility, increase engagement, and encourage potential customers to try out your products or services.
By using these simple steps, you can create your own Yelp review link as well as embed reviews on your website.
Overall, investing time into your Yelp profile and showcasing your positive reviews can lead to increased sales and brand recognition, making it a valuable strategy for businesses of all sizes.