6 Legitimate Ways to Get 5 Star Google Reviews
May 19, 2023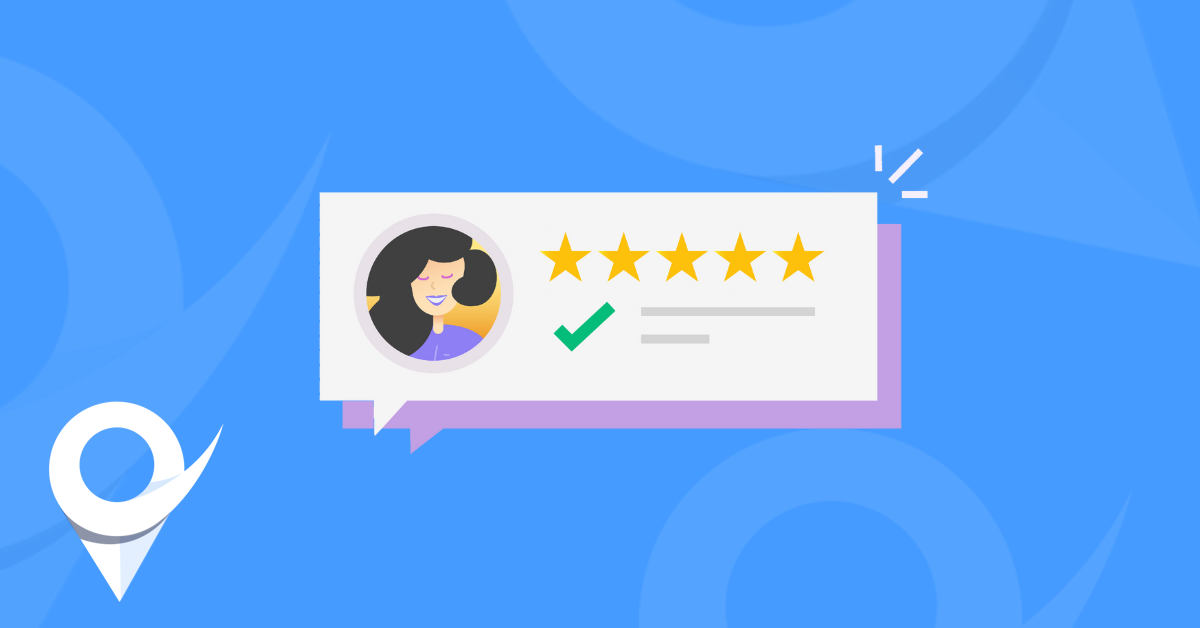 Table of Contents
Why are Google reviews essential?
How can businesses gain 5 star Google reviews
Just ask
Provide outstanding service
Make it easy for customers to leave reviews
Comply with Google's review policies
Create an effective review management strategy
Share positive reviews
Should you buy Google reviews?
Can business owners directly ask for 5 star Google reviews
Online reviews are the driving force behind many of the purchasing decisions consumers make. Having authentic, positive reviews can lead to an increase in your conversion rates. Customers searching for products or services rely on Google to find new businesses and they use the review profile as a metric to determine its credibility.
Google is unquestionably one of the top sources for gathering information about local businesses.
The 5-star review holds significant weight since it is evidence that a business delivers exceptional service and high-quality products.
In this article, we will explore the importance of Google reviews above other review platforms, discuss strategies for getting more 5 star Google reviews, and consider whether asking directly for one would be appropriate.
Why Are Google Reviews Essential For Local Businesses?
When it comes to finding reviews on local businesses, no other platform surpasses Google Reviews.
Google Reviews play an important role in your online reputation management strategy and must therefore be a part of your local SEO strategy.
Here are the key features that set Google Reviews apart from other platforms:
Unparalleled Visibility
Google leads the market when it comes to search engine popularity and usage, handling billions of searches each day. In fact, Google processed 8.5 billion searches per day in 2022.
People looking for local businesses will most likely start their searches on Google. For instance, if someone's got a burst pipe, where do you think they'll turn to find a plumber in their area?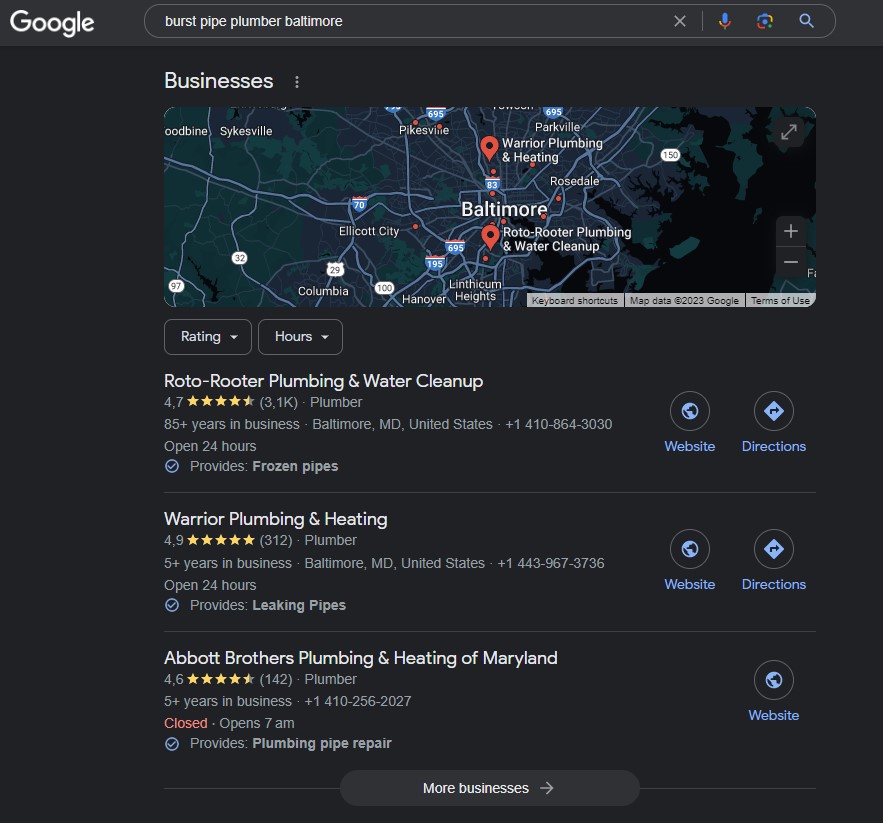 Because Google Reviews are shown in the local map pack, potential customers will be able to see your overall review score and the total number of reviews as soon as they start their search.
Trust and Credibility
Because Google has built up such a well-known brand over the years, consumers regard Google Reviews as an authority. Having a 5 star average or multiple 5-star ratings builds trust among potential customers.
Furthermore, it validates the effectiveness and legitimacy of your business and the products or services that you provide.
This creates a lasting impression that could influence customers to purchase your products or hire your business.
Positive reviews validate product/service quality while simultaneously creating an influential image that could sway future customers' purchasing decisions.
Google Reviews Are Key for Local Search Engine Optimization (SEO)
When users search for businesses nearby, Google considers reviews when ranking businesses for its local SEO rankings.
With more positive Google Reviews, your chances of appearing in the "3-pack" or organic search results increase, giving your business greater awareness in the SERPs.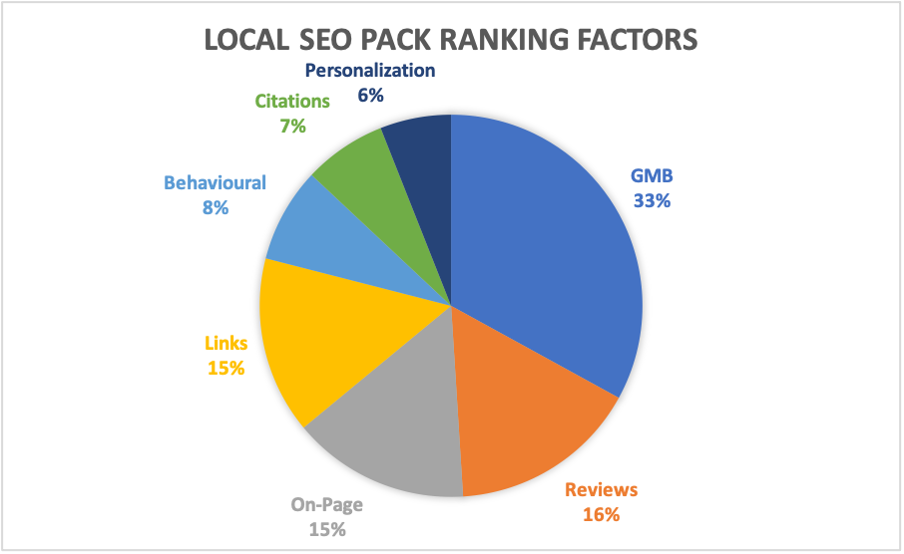 Image source: Conscious
Use Google Reviews for Valuable Customer Feedback
Google Reviews provide customers a platform to freely express their experience with your business. This can provide invaluable feedback about your strengths and the areas of your products or services that need improvement.
By actively responding to reviews, your brand shows commitment to customer engagement while building its brand image.
Google My Business Integration
Google Reviews are integrated with the powerful Google My Business (GMB) platform for managing your business's online presence.
GMB allows you to update information such as addresses and hours while showing off reviews written about you from customers.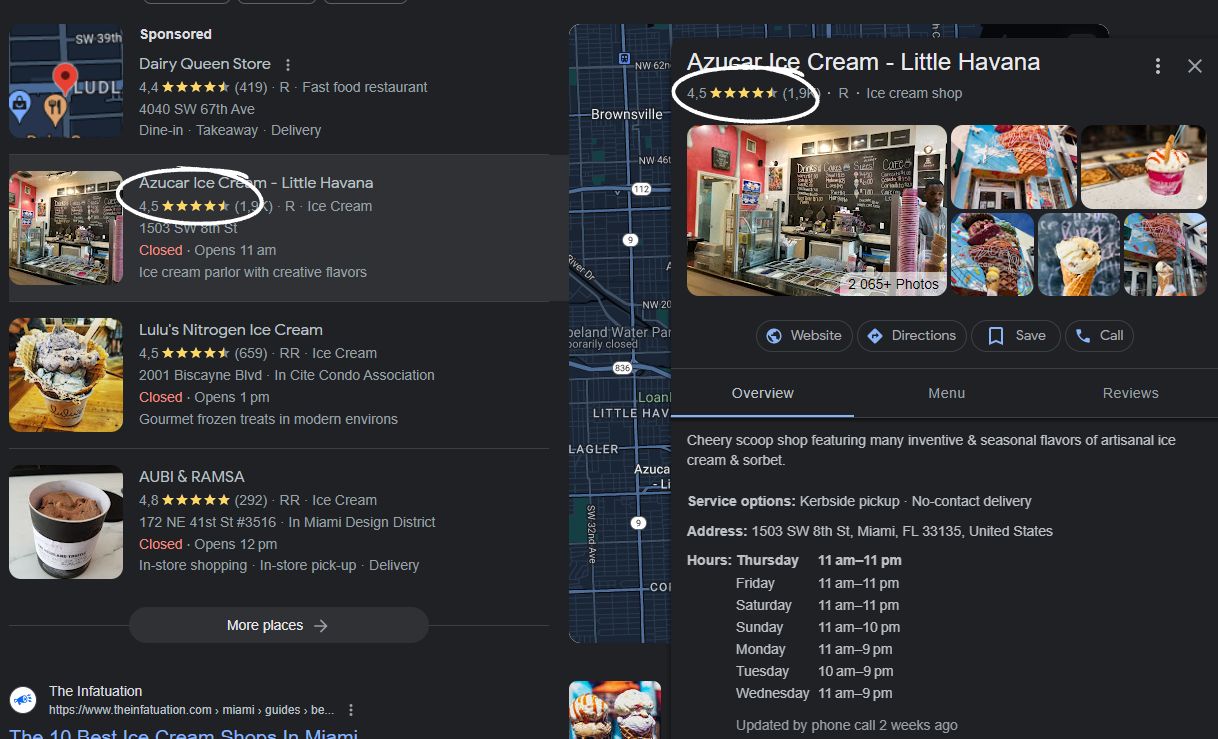 This helps build your business reputation and online visibility at the same time.
How Can Businesses Gain 5 Star Reviews with GMB
Getting Google reviews with a 5 star rating can be difficult since you have no direct control over what people say about your business.
Given this reality, we've put together a list of 6 tips designed to increase your odds of securing 5-star reviews from customers.
These tips by no means guarantee 5 star reviews, but they serve as a solid starting point and help to tip the scales in your favor.
1. Just Ask for a Review
In order to secure more five-star reviews on Google, sometimes all it takes is asking.
Make sure that when asking in person for reviews, to do so at an ideal moment and at exactly the right opportunity. An opportune time to ask for their feedback is immediately after a customer has made their purchase or service has been performed.
Make it known that their input would be highly valued!
Not only can reviews be solicited in person, but they can also be solicited online via emails and text messages that go out immediately after customers purchase or complete services rendered by your organization.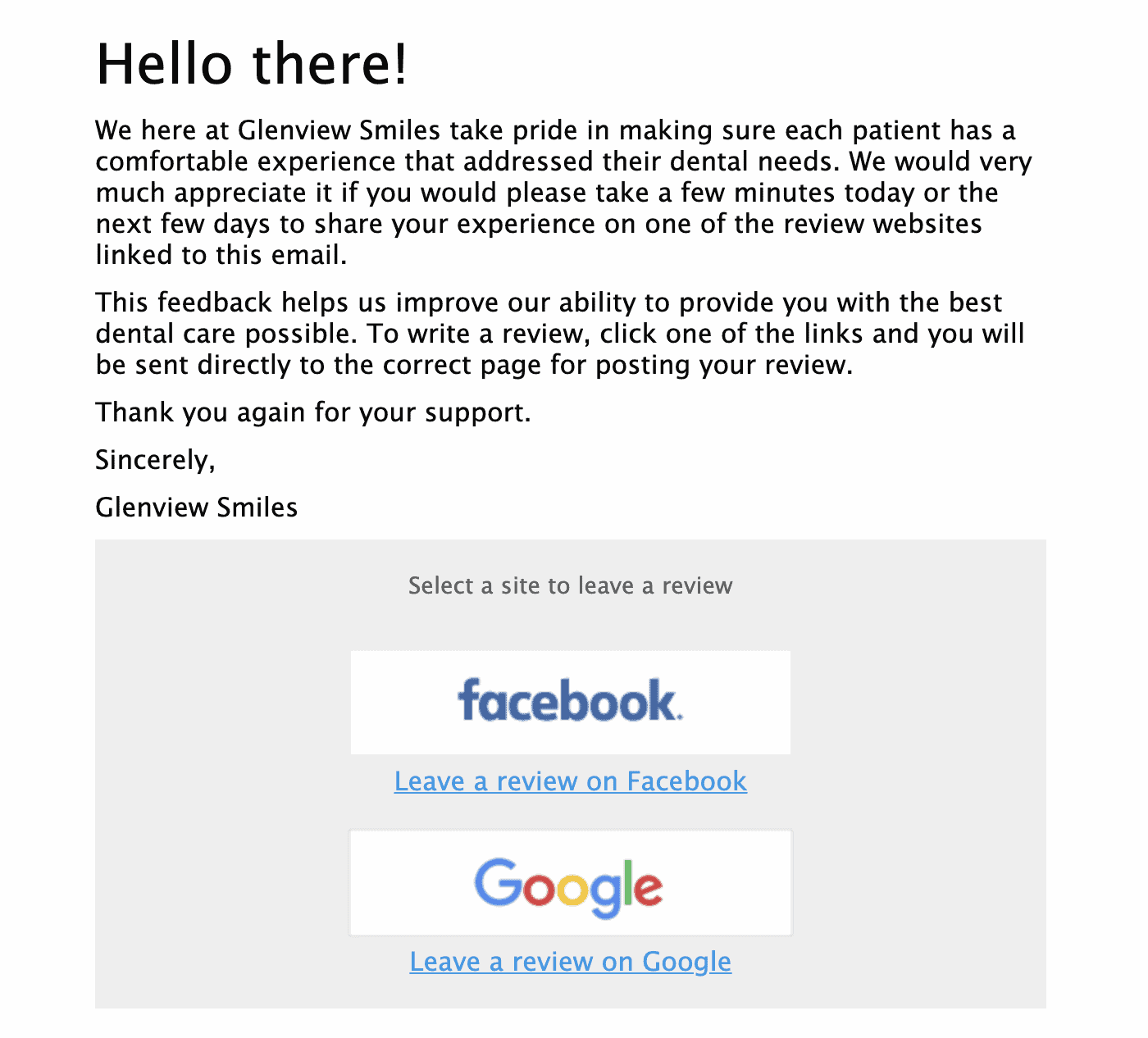 Include a link directly to Google My Business so customers can leave reviews easily, or add a call-to-action on your website or social media pages encouraging customers to do just that.
2. Provide Outstanding Customer Service
It should go without saying, but exceptional customer service is at the core of generating five-star Google reviews.
No matter how nice you ask your customers for reviews, if their experience wasn't positive they will likely not provide positive feedback despite any requests. To provide exceptional service, begin by understanding your customers' needs and expectations.
Make sure your products or services meet or surpass customer requirements.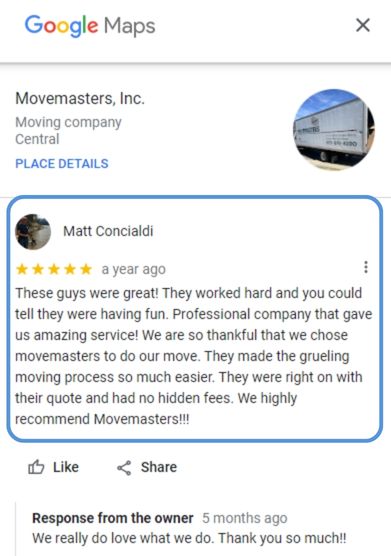 Ensure that staff members are trained to offer exceptional customer care, sometimes it's not the product that doesn't meet customer expectations, but unfriendly or incompetent staff.
This also entails making it easy for customers to contact your staff with inquiries about anything related to customer support.
Delivering exceptional service doesn't stop after making a sale; make sure your customers feel appreciated by following up to ensure their complete satisfaction and being responsive to any problems or queries they might have.
By consistently offering outstanding service, not only can you increase 5-star reviews online but you'll build customer loyalty and repeat business as a result.
3. Make It Easy for Customers to Leave Reviews
Making the experience as simple as possible is another way that you can increase your review count.
Many customers don't have the patience or time to figure out how to leave reviews of your business, so making the process straightforward and easy is of utmost importance.
As soon as your business has a Google My Business listing, make sure that you verify it by completing Google's verification process. Having a verified GMB listing will give customers the confidence that they are dealing with the right business.
Once your listing is verified, encourage customers to leave reviews by including a link to Google My Business review section in email signatures and newsletters.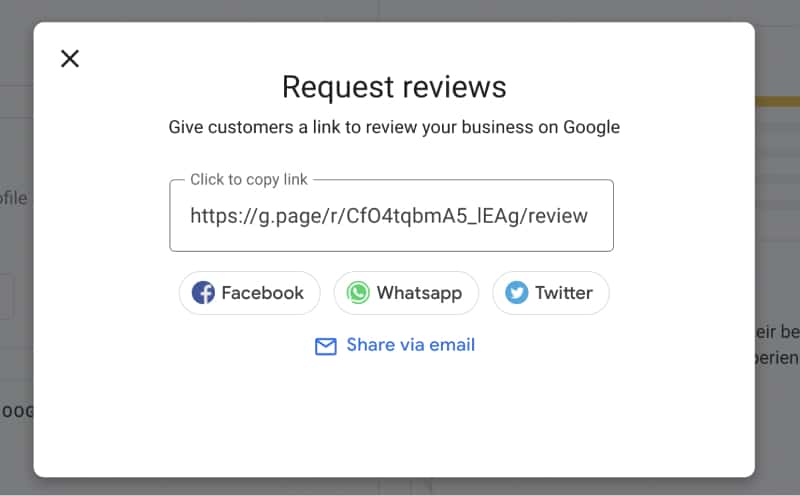 An alternative option would be using an automated review generation tool.
These tools can easily integrate with your customer database or CRM and will send automated emails requesting reviews after customers make a purchase.
Each email includes a direct link to your Google MyBusiness page so customers can easily leave reviews with just a few clicks.
4. Comply With Google Policies
Essential to your success is staying compliant with Google's policies regarding reviews.
Google's review policies ensure the authenticity and trustworthiness of the platform. To avoid being flagged or penalized, it's vital that businesses follow them strictly.
Companies cannot offer incentives or rewards in return for reviews of their business practices.
Other practices that go against Google's review policies include creating multiple accounts to leave reviews, paying others to leave reviews, or engaging a third-party company to generate fake reviews.
To guarantee the authenticity of your business, it is essential that reviews are written by actual customers who have had genuine experiences with your organization. Businesses should never write their own reviews themselves or enlist friends and family to do it on their behalf.
5. Create an Effective Review Generation Strategy
In order to increase your chances of receiving more five-star Google Reviews, it's vitally important that businesses form an effective review generation plan.
An effective action plan will enable your business to generate reviews consistently and systematically, thus strengthening its image in the eyes of prospective customers.
Here are key steps you must keep in mind when creating your review generation strategy:
Establish Clear Goals
Begin by outlining your objectives for creating reviews. Determine how many you hope to acquire within a specified timeframe, as setting clear goals helps keep you focused and allows you to monitor its success.
Establish Key Touchpoints
Deliberate on key moments along your customer journey where reviews may be appropriate to ask.
For instance, these could include after successful purchases or services have been rendered or positive customer interactions have taken place.
By strategically choosing these moments you can target those most likely to provide positive reviews.
Find Review Platforms
Although Google Reviews should remain a top priority, other platforms specific to your industry or niche can also play an integral part.
Find popular platforms that your target audience frequents and make sure that you have a presence there as this increases the possibility of receiving additional reviews.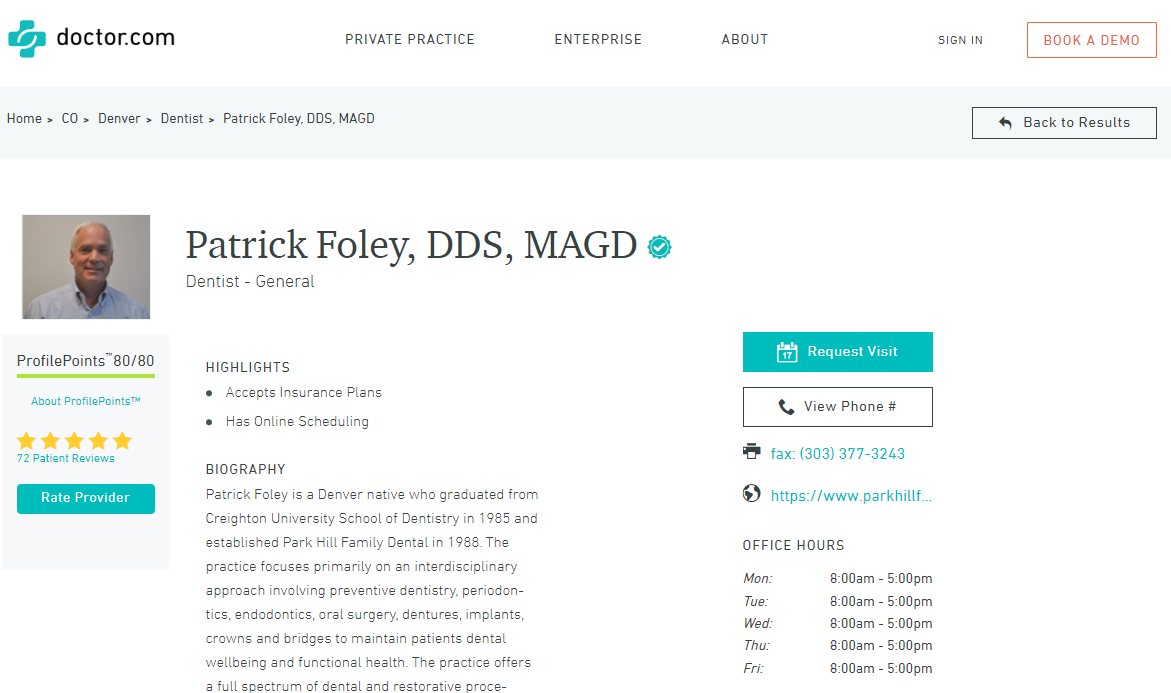 For instance, dentists can also list their practice on dentistry-related directories such as:
Vitals.com
Wellness Wisdom
Family Dental Directory
Doctor.com
Care Dash
Healthprofs.com
FreeDentalCare
Free Clinic Directory
Dr.Oogle
HealthLocal
Zocdoc
Train Your Team
Make your staff aware of the significance of reviews for building a positive online reputation.
This also entails equipping them with all of the training and resources required for effective review solicitation during customer interactions, as well as providing talking points or guidelines that ensure an appropriate approach and professional service delivery.
Utilize Technology
Use review management tools such as Local Ranking which can streamline the review management process.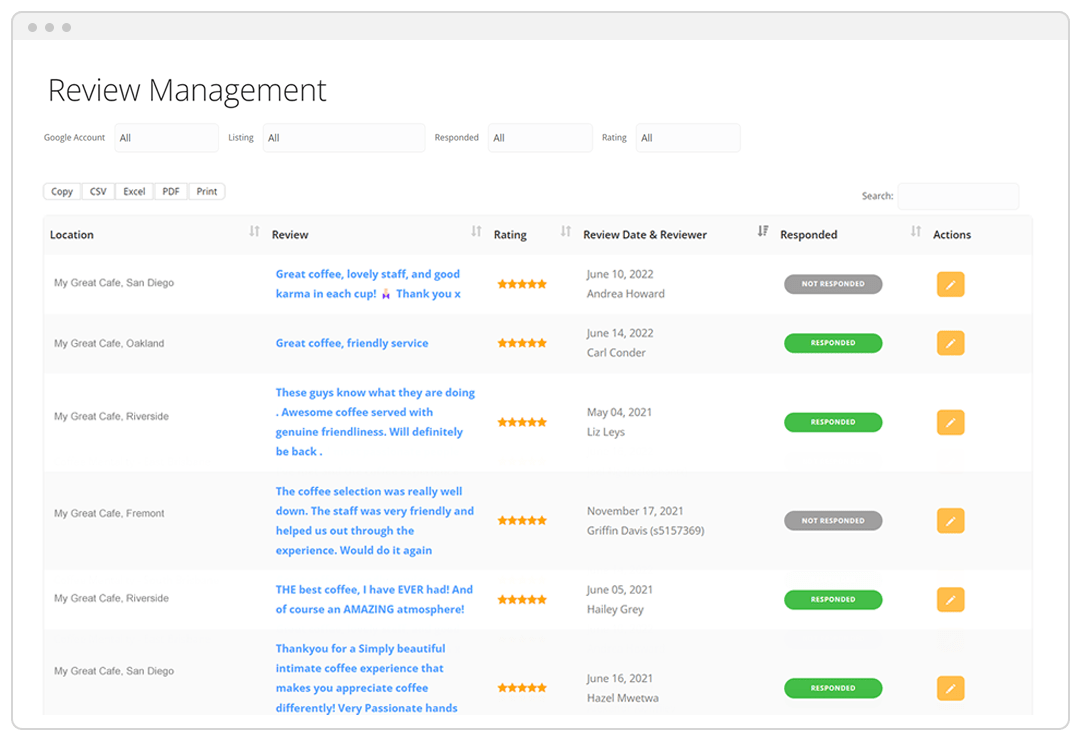 Implement Follow-Up Processes
Engaging with customers after they've left a review demonstrates your dedication to customer satisfaction while further encouraging repeat visits on their part.
Monitor and Respond
Regularly engage with customer reviews posted to Google or other platforms such as Yelp to demonstrate your attentiveness to customer feedback.
Responding promptly to both positive and negative comments to demonstrate this commitment to customer care and foster an atmosphere of community by engaging with your reviews directly or encouraging others to post their own.
Consistency and persistence are vital when creating a review generation strategy.
6. Share Positive Reviews
A surefire way of generating more 5-star reviews on Google is sharing positive testimonials through different marketing channels such as social media, email marketing, or your website.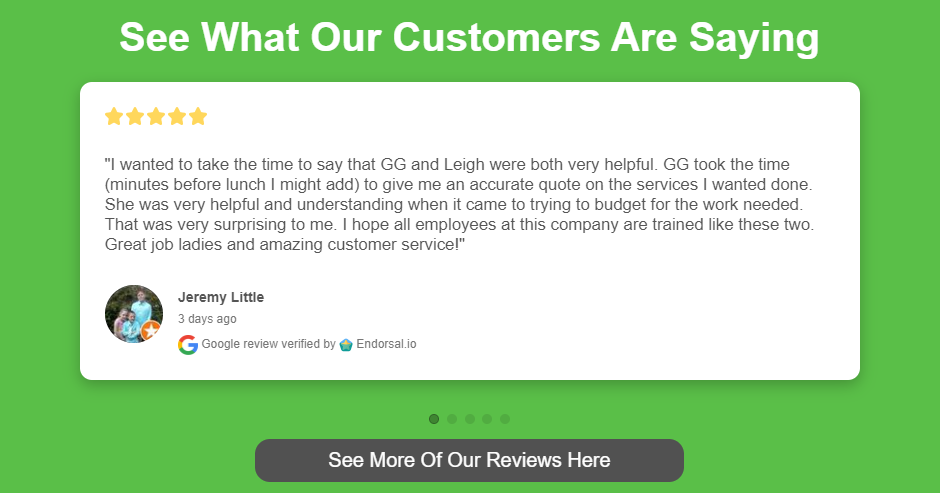 By doing this you're increasing social proof as well as increasing the visibility and impact of customer feedback.
When sharing positive reviews about your business, choose reviews that highlight unique aspects of your business and that best demonstrate your value proposition.
Should You Buy Google Reviews?
No, you should never buy any Google Reviews because this violates Google's review policies.
Buying reviews can destroy both the reputation and legitimacy of your organization. Besides, wouldn't you rather want the honest opinion of your customers instead of some fake, unrealistic reviews?
Can Business Owners Instruct Customers to Leave 5 Star Reviews on Google?
Business owners should really not directly request that customers write a 5 star Google review.
Customers may take offense if you just directly ask them for a 5 star Google Review.
Imagine a business just asking you to leave a 5 star review, how would you feel and what would you think of this business?
I'd imagine that your opinion of such a business would be negatively impacted and that you wouldn't want to purchase from them again.
A review should reflect an authentic experience for customers of your business and asking customers for 5 star ratings can come across as dishonest, or misleading.
Wrapping Up
Google Reviews gives businesses invaluable feedback on their current customer experience. They also serve as social proof, acting as a source of social validation.
Authentic customer experiences and genuine feedback are the cornerstones of building trust and winning new customers.