Google Business 'Profile Strength': How to Optimize It?
Mar 14, 2023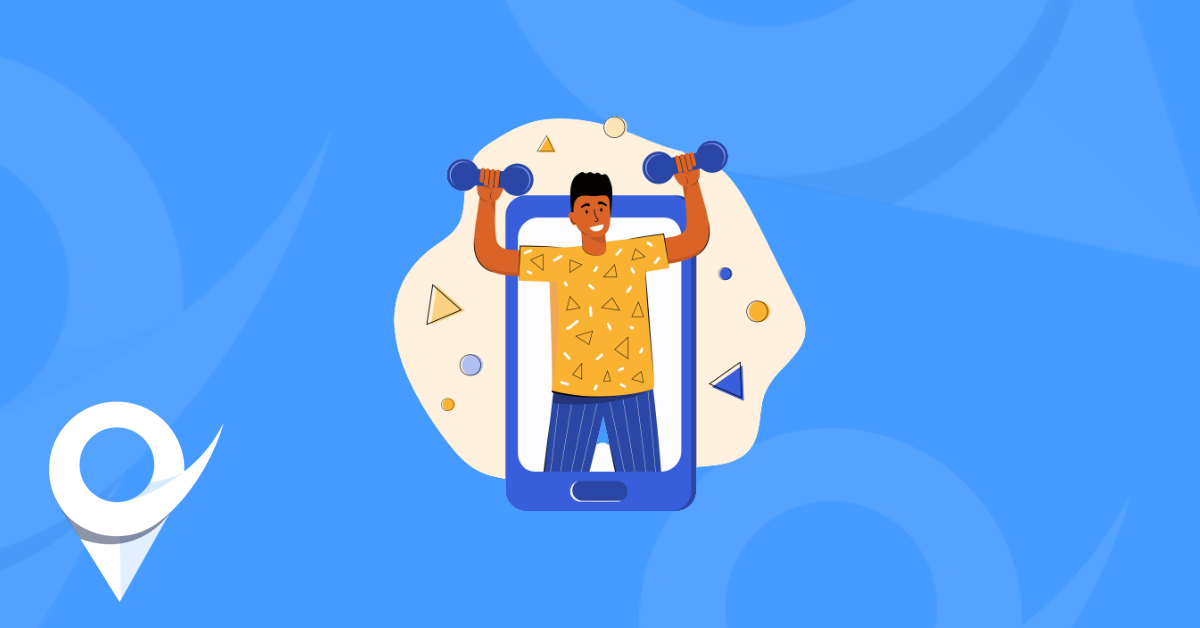 In today's digital world, having a strong online presence is essential for any business. Google My Business is one of the most essential tools businesses can use to establish their virtual footprint.
Google My Business is a free tool that enables businesses to create an account that appears in both search results and in the Google Snack Pack.
By optimizing their profile, businesses can increase their visibility, attract more customers, and boost sales. Google evaluates a business' profile effectiveness by assigning it a Google Business 'Profile Strength' score. In this article, we'll explain what this score is, how it is calculated, and how businesses can improve their score to gain maximum benefits from their Google My Business profile.
What is the Google Business 'Profile Strength' Label?
The Google Business Profile Strength score is a metric used by Google to gauge the completeness of a business's profile on Google My Business. This score is solely determined by the completeness of the business profile.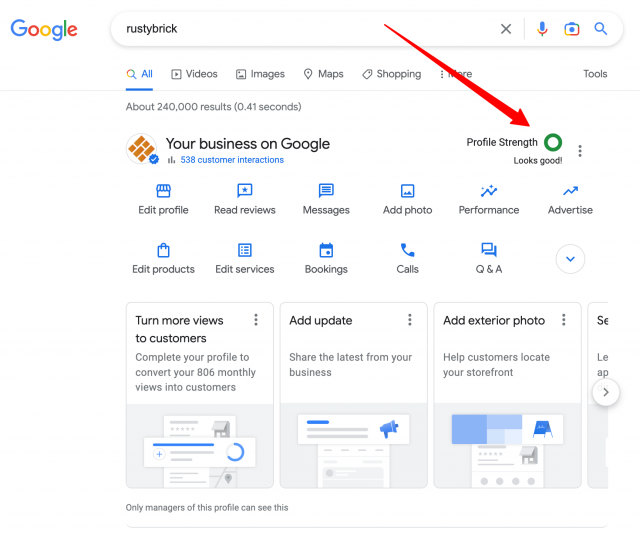 A higher score reflects a more comprehensive and optimized profile, which can potentially result in greater visibility in Google search results and on Google Maps.
The 'Profile Strength' label appears in the form of a circular traffic light icon. If the icon is orange, then it means your profile is partially completed. A green icon indicates that your profile is fully complete and up to date.
Underneath orange-colored icons (on incomplete profiles), Google will show a call to action for listing owners to complete their profiles.
How to Optimize Google Business 'Profile Strength' Score?
Getting a green 'Profile Strength' score requires that you complete all of the applicable fields in your Google Business profile.
This includes:
Business name
Description
Website
Hours of operation
Business category
Contact information, namely your business phone number
Products and services offered
Adding photos of your physical premises and services also contribute to having a complete Google Business profile, so be sure to add relevant media to your listing.
Is 'Profile Strength' a Ranking Factor?
No, the Google Business Profile Strength metric is not a ranking factor in search results.
However, a green score (which indicates a complete profile) can indirectly affect a business's visibility in search results. This is because having a complete profile gives Google more details about your company; the more knowledge Google has about you, the higher it's likely to rank your Google Business listing for relevant queries.
Should You Be Concerned if Your Score is Orange?
It's possible that you've filled out all of the fields in your GMB profile, but your 'Profile Strength' score is still showing as orange.
This may be because Google considers a "complete" business profile to include the use of Google Ads alongside Google Business or the use of all features in Google Business.
If you select the "Complete info" button below the 'Profile Strength' icon, Google will redirect you to a new screen where you can sign up for Google Ads and claim free advertising credit.
Also not all my clients want to opt into messages. That will also make you incomplete.

— ClaudiaT (@ClaudiaTomina) February 17, 2023
In addition, there have been instances where businesses that haven't opted for the Messages feature in Google My Business have incomplete profiles.
If your 'Profile Strength' remains orange even after adding all relevant information, you can simply disregard the label. Just ensure that you've entered all the necessary details for your business, and you needn't be too worried.
Conclusion
Ultimately, the 'Profile Strength' label on Google Business is a helpful tool to verify that your business listing has been fully completed. While it is not a direct ranking factor, having a complete profile can positively impact your business's online visibility.