Top List of SEO Courses in 2022 [Free + Paid]
Jan 21, 2022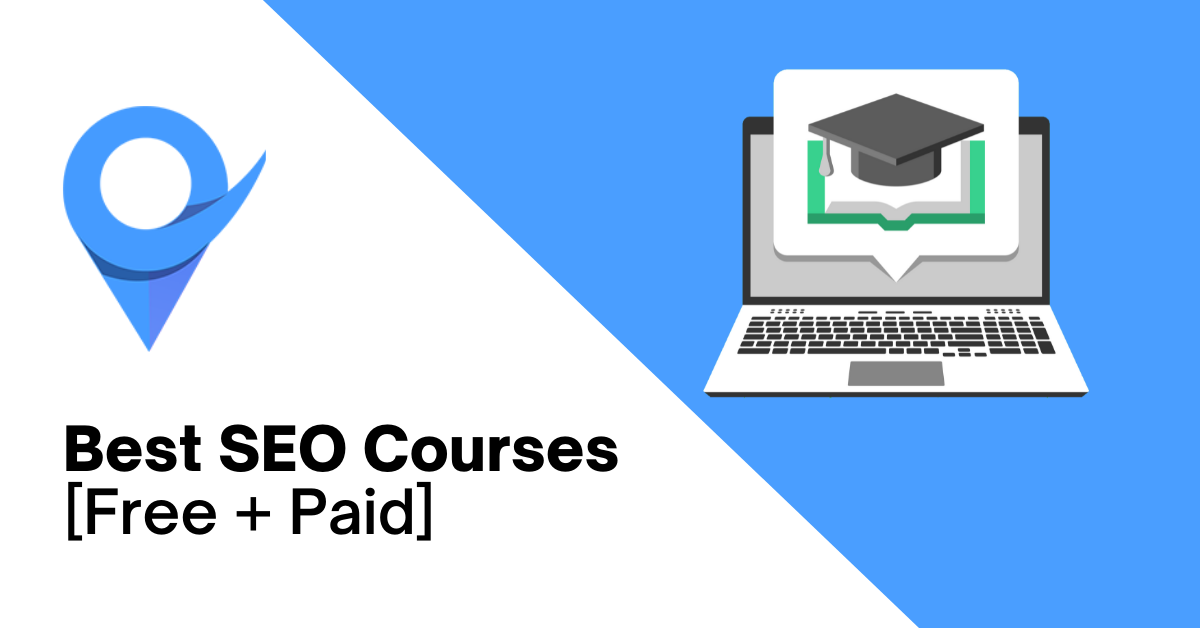 Table of Contents
3 Reasons Why SEO is So Important These Days
Why SEO is a Great Skill Set To Have
Benefits of Completing an SEO Course?
What To Look For In an SEO Course
Best Overall SEO Course
Best Free SEO Course
Best Paid SEO Course
Best Local SEO Course
Best SEO Course for Beginners
Will Taking SEO Courses Make You an Expert?
Conclusion
SEO has become one of the most impactful digital marketing mediums for many businesses, from small local stores to large national corporations.
Business owners, freelancers and aspiring SEOs that are serious about growing a brand's online presence and traffic can expand their knowledge of Search Engine Optimization by completing the best free and paid SEO courses available online.
We've rounded up a list of our choice of free SEO courses, as well as paid ones.
In this article, you'll also learn why completing SEO courses are essential to your development as an SEO professional or freelancer. And if you're the owner of a business or marketing agency, you'll see why possessing this skillset is so powerful for your business.
Lastly, at the end of this blog post, you'll discover what's the best way to learn SEO.
But first, let's discuss why SEO is so important these days and why it's such a valuable skill to acquire.
3 Reasons Why SEO is So Important These Days
Briefly, SEO is a marketing discipline that aims to increase the organic traffic of a website by getting web pages or content to rank for target topics and keywords when users conduct relevant search queries on Google, Bing, etc.
So before we discuss the benefits of completing some SEO courses, it would be useful to establish three of the top reasons why SEO is so important today.
Firstly, SEO leads to more targeted traffic to your website.
Just think of this, if a prospective customer is looking for information on a certain topic or searching for a product online, they usually go to their favourite search engine to find what they're looking for.

If you can get your website or your client's website to rank high enough for search queries that are relevant to the business you're marketing, then that would automatically lead to more targeted traffic.

This is especially powerful if you're able to rank for "high buy intent" search terms such as "buy now", "near me", etc.
Secondly, SEO is a cheaper form of marketing.
Unlike Facebook Ads or PPC marketing campaigns, SEO requires no paid marketing spend. The only thing needed to achieve success with SEO is both time and skill.
Lastly, SEO adds to the credibility and trustworthiness of a business.
Web searchers trust Google to find websites that are the most authoritative, credible and able to give them what they are searching for on the web.
If a website is able to rank on the first page of Google or any other major search engine, then users will automatically trust the business even more.
You can almost think of Google as a really good representative of your business.
Now that we've established the importance of SEO, let's take a look at why SEO is a great skill set to have.
Why SEO is a Great Skill Set To Have
According to 99Firms, the SEO industry is worth more than $80 billion dollars in the US alone. That's $80 billion dollars that US businesses are spending on SEO services!
Because of this, SEO professionals and SEO freelancers are in high demand and they will continue to be in high demand in the future.
SEO is only getting more and more competitive, so if you're able to provide real, measurable results for your clients, then you'll always be able to earn an income in this industry.
According to Search Engine Journal, the average SEO salary falls in between the $50,000 to $74,000 bracket for SEO professionals in the US: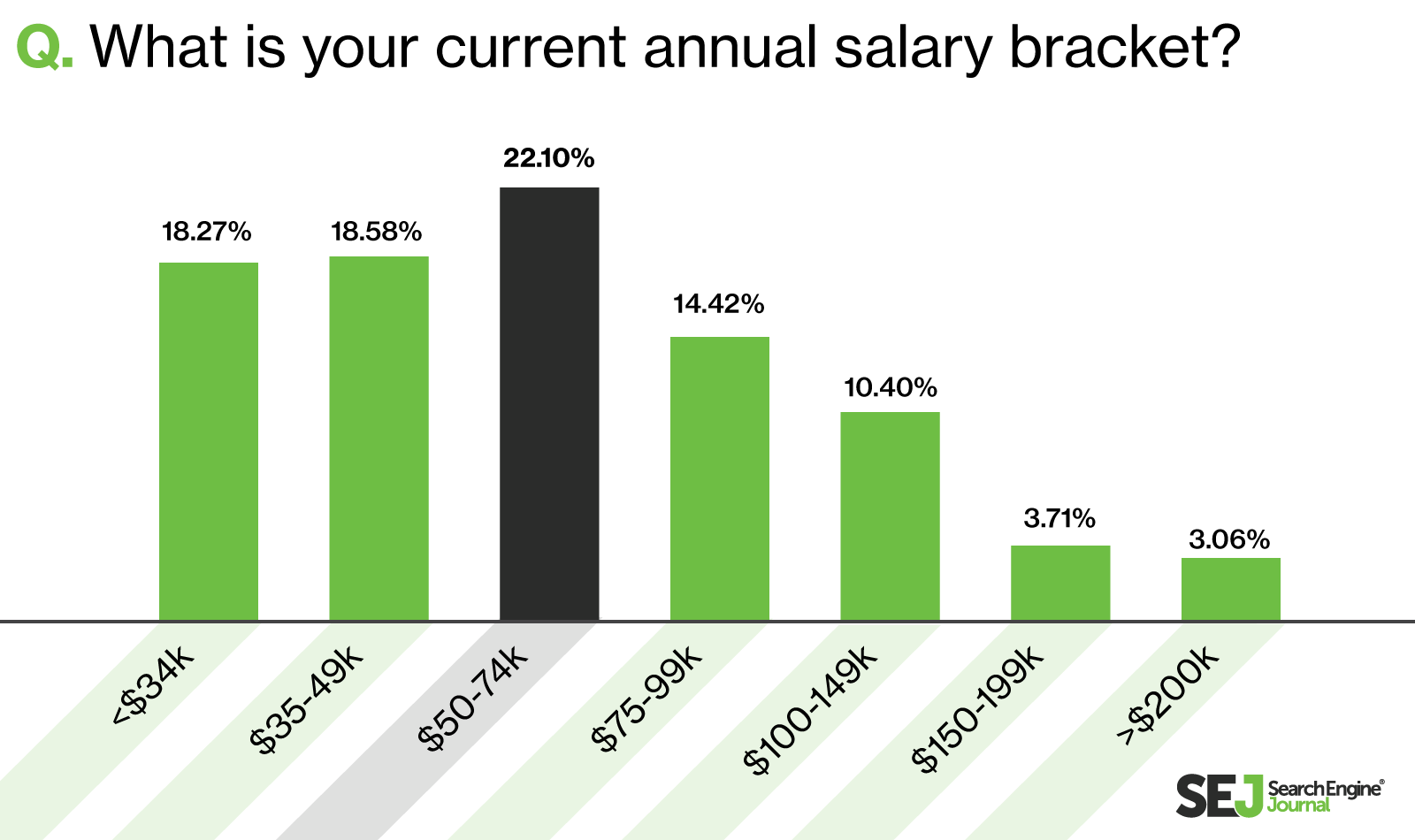 One thing you should keep in mind is that earnings in the SEO industry is heavily dependent on where you are located. For instance, SEOs in the US earn a higher average salary than anywhere else in the world.
Aspiring freelancers, young people and SEO professionals can be assured that there is a future for them in the SEO industry.
Another reason why SEO is a great skill set to have is that you can make an actual difference in the bottom line of almost any business.
By being able to deliver SEO services that lead to an increase in organic traffic, targeted leads and ultimately, sales, an SEO professional can have a direct influence on business turnover.
In fact, according to the same article from 99Firms, leads from search engine optimization have an average conversion rate of 14.6%.
Compared to other traditional marketing strategies like direct mail and print ads, which have an average conversion rate of just 1.7%, SEO is able to provide better results at a lower cost in the long run.
Imagine having the ability of making such a big impact on your client's business or even your own!
Not only can you get financially rewarded, but the satisfaction of seeing your hard work pay off on some of the most popular websites (e.g. Google, Bing, Yahoo, etc.) in the world is another reason why SEO is an amazing skill set to have.
Benefits of Completing SEO Courses
An SEO course will teach you everything you need to know on how to rank on the first page of Google and other major search engines.
Most SEO courses will usually go deep into one of many of the different aspects of Search Engine Optimization.
For example, some courses focus solely on local SEO, others focus on on-page SEO, link-building strategies, etc.
There are also some good courses that focus on SEO in general, these are ideal for SEO beginners, freelancers or business owners who are responsible for their own SEO.
By completing a Search Engine Optimization course, you'll learn firsthand from SEO experts who have more knowledge and experience than you when it comes to ranking websites in search engines.
What To Look For In an SEO Course
If you're considering buying an SEO course, then there are some things you need to look for before purchasing the course.
Firstly, the SEO course that you're considering has to be timely and cover the latest techniques.
Seeing as SEO is an ever-evolving field and search engines update their algorithms regularly, it's really important that the course discusses and teaches the student all the latest techniques and best practices for ranking.
Secondly, you should look at the number of reviews and any previous customer feedback to determine the quality of the content and the education of the respective course.
These days it's easy for anyone to create an online course, so make sure that the course instructor is someone who knows what they're talking about.
Now let's discuss what you've come here for. This list of SEO courses includes both free and paid alternatives.
Best Overall SEO Course - Search Engine Optimization by Coursera
In our opinion, the Search Engine Optimization Specialization offered by UC Davis on Coursera is the best overall SEO course.
With more than 8,920 reviews and an average rating of 4.7 out of 5 stars, this highly-rated course is ideal for anyone who's interested in search engine optimization and who would like to become an SEO expert.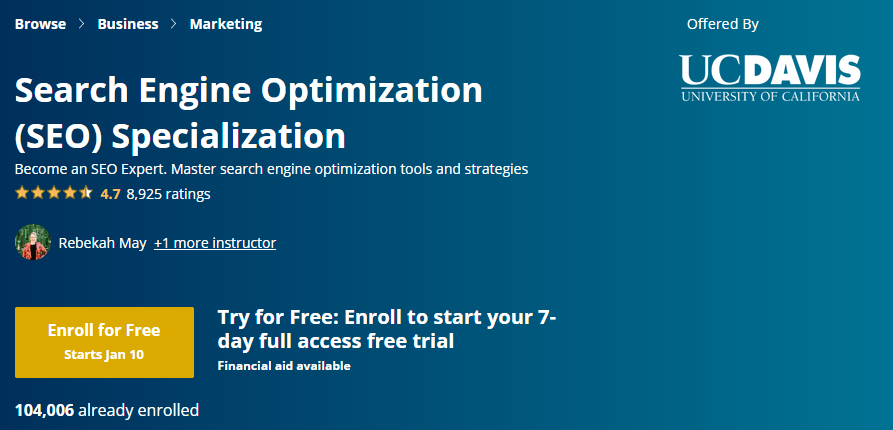 This SEO course consists of 4 important sections:
Introduction to Google SEO. Teaches the student how search engines such as Google and Bing rank websites. This section discusses core strategies and tactics to drive more organic traffic to websites.
Google SEO fundamentals. This section is all about teaching the student how to create an SEO strategy, how to conduct keyword research and how to conduct on-page SEO.
Optimizing a Website for Google Search. This part of the course teaches students how to conduct an SEO audit of any website.
Advanced Content and Social Tactics to Optimize SEO. The last section of this SEO course teaches students how to leverage content marketing and social media as part of an SEO strategy.

Best Free SEO Course - SEO Certification Course by Hubspot
This free SEO course from the Hubspot Academy is ideal for marketers, content creators and anyone looking to increase their knowledge of Search Engine Optimization.
We'd recommend this course to anyone who wants to improve their SEO skills without having to pay a course enrollment fee.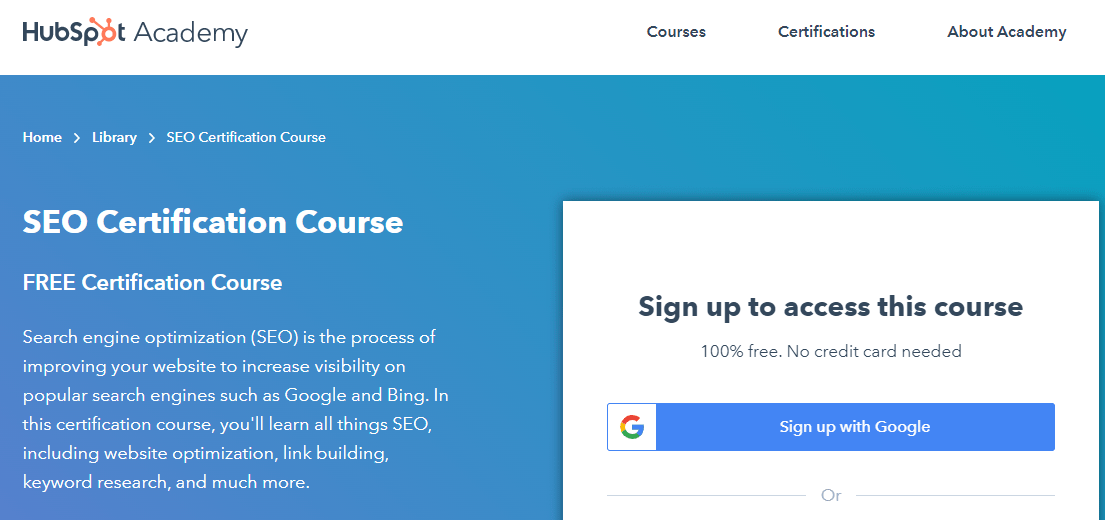 Hubspot is one of the world's most popular digital marketing companies, with many of their articles ranking in the top 3 positions on Google for their target keywords. For this reason, you can trust that the course material is based on their actual experience ranking their content on Google.
In this course, you will learn how to evaluate and improve a website's SEO, build backlinks at scale and how to improve search performance based on SEO reporting.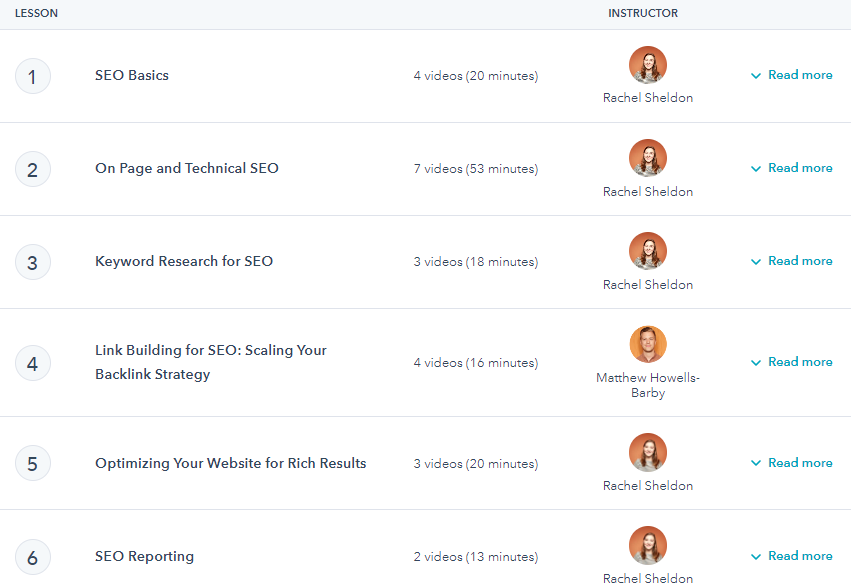 Best Paid SEO Course - Search Engine Optimization (SEO) Training Course by Simplilearn
Simplilearn is one of the largest online education platforms in the world. Their advanced SEO training course is quite comprehensive, teaching students fundamentals of SEO like keyword research, link building, technical SEO and analytics.

What we love about this course is that it also teaches you how to work with Google's Keyword Trends and Google Search Console tools. Furthermore, you'll also learn how content marketing and SEO work together and how they are vital in the success of any content marketing strategy.
There are no prerequisites for taking this advanced SEO course and students have a 7-day money-back guarantee if they're not satisfied with the course content.
The reason why we chose this option as our top paid SEO course is because of its comprehensive coverage of advanced content marketing, web analytics and search engine optimization.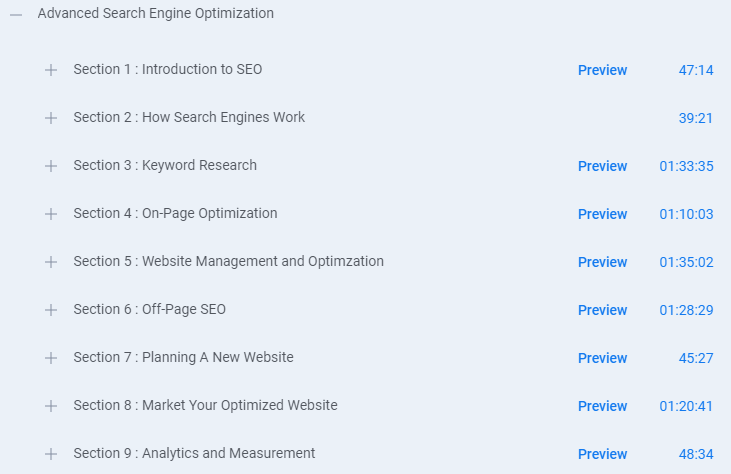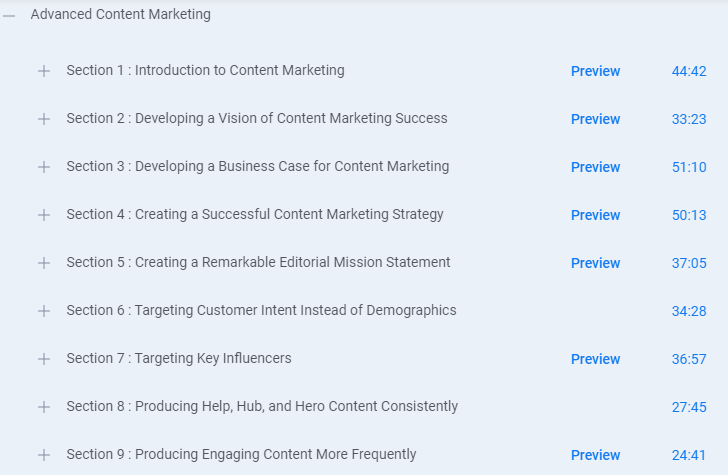 To give you an idea, all 3 of these Advanced training sections total more than 31 hours of content!
You can also be sure that this course is highly recommended by others, with more than 2500 learners and an average of 4.5 stars.
Best Local SEO Course - Complete SEO Guide to Ranking Local Business Websites by Udemy
If you're the owner of a local business, then you're going to want to take this course on local SEO. Of course, there are more specialized GMB SEO courses, but this one covers all aspects of local SEO.
The Complete Guide to Ranking Local Businesses on Udemy has been purchased by more than 27,300 students. With an average rating of 4.3 stars, you can be confident that previous students have found the course content to be useful and insightful.

The course creator gives students an "over-the-shoulder" look at how she ranks a local business website.
In this local SEO course, you will learn the following:
How to rank a local business on the first page of Google and other search engines
How to do keyword research and find the best keywords for local SEO
How the entire local SEO process works.
How to rank in the Google local pack by building quality citations.
Spanning 6 hours and 37 minutes in length, this local SEO course leaves no stone unturned on how local business owners can rank their own websites.
Best Technical SEO Course - Technical SEO Online Course by Martijn Scheijbeler
Technical SEO by Martijn Scheijbeler is our top pick for the best technical SEO course.
This course is not for beginners and requires previous experience with SEO, HTML and Javascript. So if you don't know what an XML sitemap is, then this course is probably not suited for you.
Technical SEO is ideal for individuals who have perfected on-page SEO yet still experience flat or "plateaued" organic traffic growth.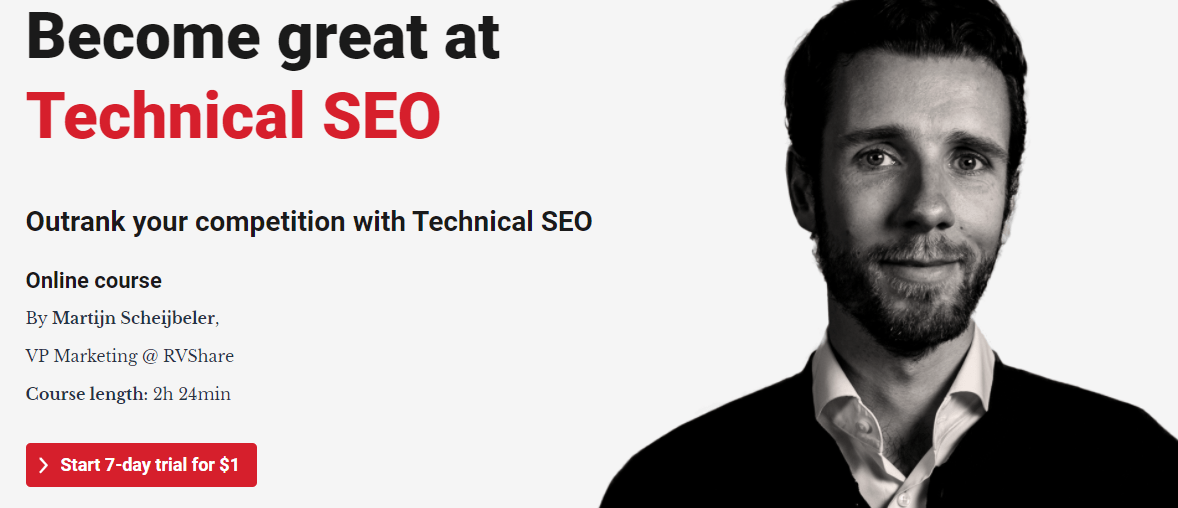 In this SEO course you will learn about the following topics:
How to handle pagination for pages
URL parameters and internal linking
Crawl errors and crawl budget
Javascript rendering
Caching
This course also has a module about the future of technical SEO.
Best SEO Course for Beginners - SEO Training Course by Moz
Our top pick for the best SEO course for beginners is the SEO Training Course by Moz on Udemy.

This free SEO course for beginners is ideal for those just starting out in SEO or any business owner that's responsible for his business' SEO.
In our opinion, this course is the best for beginners.
The reason for this is that it covers all of the SEO basics without being long-winded. This search engine optimization course is just under 3 hours and 30 minutes long, so beginners won't be scared off by information overload.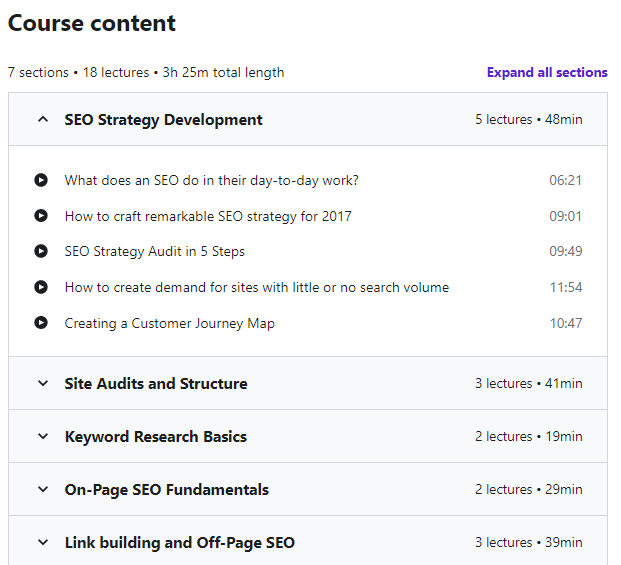 Will Taking SEO Courses Make You an Expert?
It's important to take SEO courses and to improve your skills in this ever-evolving field, but the key to success with SEO is to get some real-world, practical experience.
This means that you shouldn't just take a course and remember the theory. If you want like to improve your website's SEO, you should practice what you learn.
So no, simply taking some SEO courses isn't going to make you an expert. Only once you've applied what you've learned will you start seeing the rewards of your efforts.
Conclusion
No one can give you an exact formula to rank in the first spot on Google, but by taking some SEO courses you'll be on the right track to improving your website's SEO, web presence and ultimately organic traffic.
The SEO courses that we've listed above each have their own strengths and shortcomings.
But, the best way to expand on your knowledge of SEO is to continually educate yourself. You can do this by getting started with this list of top SEO courses.