SEO for Plastic Surgeons: How to Increase Rankings
Jan 18, 2023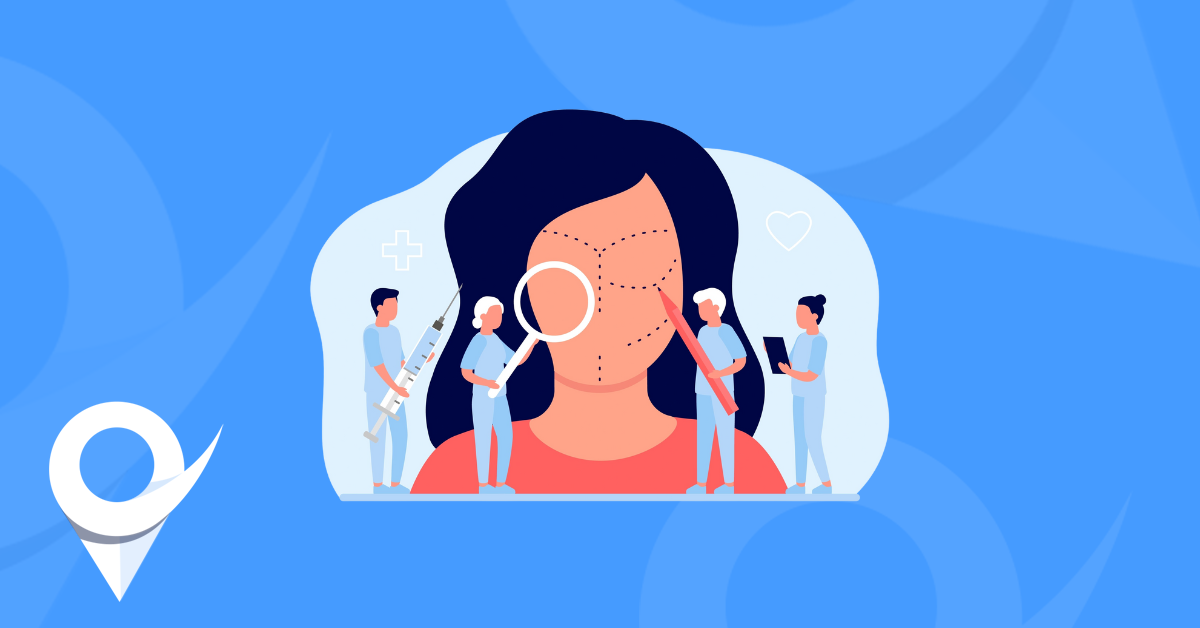 Table of Contents
What is plastic surgery SEO?
The importance of having an SEO strategy
Increases organic traffic
Improves branding
Builds trust
Is cost-effective
Is measurable
How to do SEO plastic surgeons
Audit your website
Build proper service landing pages
Optimize GMB listing
Get lots of online citations
Acquire backlinks
Write topical blog posts
Add an FAQ section to your website
Conclusion
The Internet can be thought of as the modern business world. And your website serves as the access point.
As a plastic surgeon, having a well-designed website is necessary, if you wish to help more patients.
However, you won't start attracting more patients just by having a website. To increase your website's organic rankings, you need to apply the best SEO practices for plastic surgeons.
Having a high-ranking website is crucial because when a potential patient is looking for a plastic surgeon, they tend to start their search online. It's a fact that most people choose the highest-ranking results instead of the lower-ranking ones.
This SEO for plastic surgeons guide will give you in-depth insights about increasing your website visibility by following a few basic SEO steps.
What is Plastic Surgery SEO?
The abbreviation of SEO is search engine optimization.
Plastic surgery SEO is the practice of optimizing a plastic surgeon's website to rank higher in the organic search results.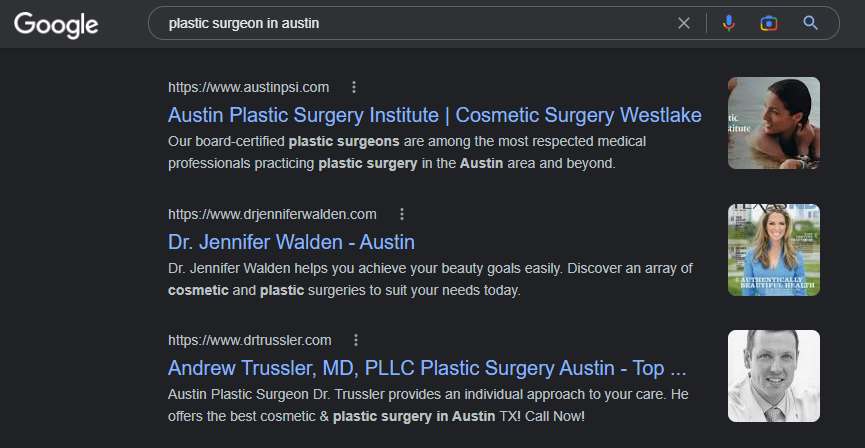 A plastic surgery SEO specialist studies all the crucial ranking factors that search engines consider before ranking a website and applies those to acquire more clients.
The Importance of Having an SEO Strategy
There is always competition in every field of business. Likewise, your plastic surgery practice faces a lot of online competition from other plastic surgeons practicing in your area.
You need an intelligent search engine optimization strategy to outsmart your competitors. Whether you are in reconstructive surgery, cosmetic surgery, or both, if you're not ranking higher than your competitors, you're losing out on valuable leads.
In SEO, there is a famous saying, "Anything other than the first page is a graveyard."
If your website doesn't rank on the first page, the chances of acquiring more patients via search engine marketing fall off.
Here are some of the top benefits of SEO for plastic surgeons:
Increases Organic Traffic
SEO helps to increase the amount of organic traffic that your website gets. With more traffic, you can increase the chances of conversions.
For example, SEO helps your website rank in the search engines for queries such as "plastic surgeons near me", "plastic surgeon in [your target location]", "best cosmetic surgeon in [your target location]", etc.
When your website ranks for several relevant queries your potential clients might enter to find a service similar to yours, you begin attracting many new clients to your clinic.
Improves Branding
Search engine optimization is one of the best ways to improve branding. The doctors and surgeons that are ranked at the top of the results are perceived to be the most trustworthy.
Searchers trust Google and if your clinic ranks at the top of the Google search results or the local Google pack, you automatically improve your branding.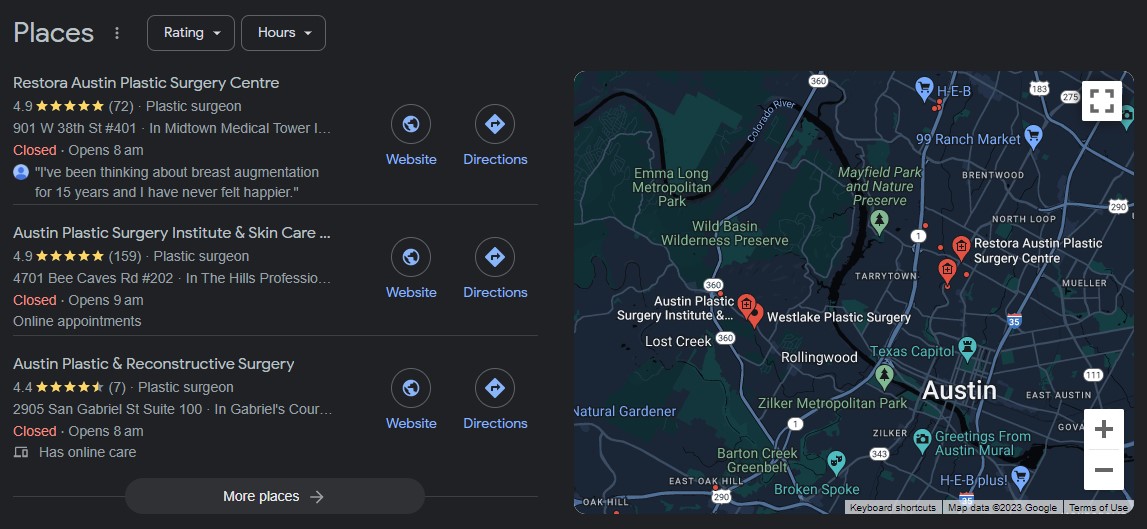 Even if people don't visit your website, higher impressions mean people have seen your business. They might visit your clinic directly because they now know about your services.
Builds Trust
When your service ranks on the first page of Google, patients will trust your practice. This is because Google does not rank mediocre services in the search results.
It analyzes your business NAP (name, address, phone number), verifies your business address, analyzes the number of reviews and citations your service has acquired and does tons of other checks before ranking your website in the local search results.
If your website ranks at the top of the search engine, people will acknowledge you as an expert and trust you.
Using a local SEO tool such as Local Ranking can help you obtain the top spot in local search engine rankings.
Is Cost-Effective
SEO is cost-effective and can be started on a budget. You can start with SEO for as much as a few hundred dollars a month by hiring an SEO agency or trying it out yourself.
If done right, search engine optimization offers an excellent return on investment in the long run. In fact, it's one of the most cost-effective mediums of marketing.
Unlike paid marketing on social media or through PPC ads, SEO will continue to generate fresh leads on a monthly basis (given that you maintain your search engine rankings).
Is Measurable
You can use free tools, such as Google Analytics and Google Search Console, to accurately track your SEO investment returns.
These tools provide insights on the total amount of organic traffic and conversions your website is getting, the keywords that are bringing them, and the landing pages generating the maximum sales.
Our local rank tracker tool helps you keep track of the success of your local SEO efforts.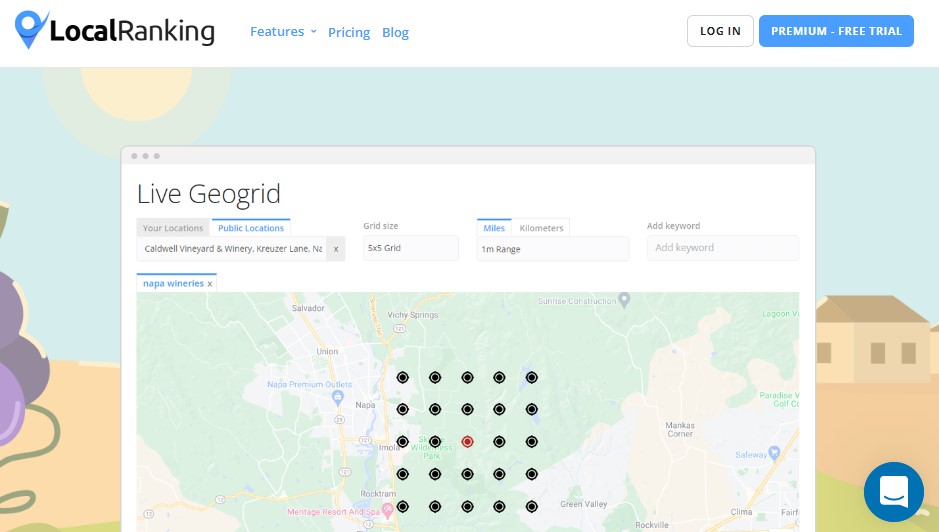 The tool will show you how the ranking positions for your tracked keywords are changing over time by showcasing a live Geogrid of your local rankings all over your city or town.
With so much data, you can quickly adapt your search engine optimization strategy for better decision-making.
How to Do SEO for Plastic Surgeons
To craft a successful SEO campaign for your website, you need to know what people are actually looking for and how you can present your business to your patients.
Here are the steps to perform successful SEO for plastic surgeons:
Audit Your Website
You need to know the strengths and weaknesses of your website before building a strategy.
By doing an SEO audit, you can easily spot the areas that require immediate attention and the aspects of your website that generates the best results.
Here are the top SEO audits to perform:
Content audit - By doing a content audit, you can find and fix thin and duplicate content issues. You can also detect content gaps between you and your competitor's website to improve your relevance score.
On-Page audit - It helps you detect and fix missing meta tags or heading tags, incorrect title and meta tags, missing alt tags, missing keywords, and incorrect URL structures.
Backlink audit - With the help of a backlink audit, you can determine the types of websites that link to your site. Your site should have links from relevant and authoritative domains. Remember to use anchor texts that sound natural when creating backlinks.
Technical audit - Under a technical SEO audit, you check and fix several factors, such as 404 errors, site speed, URL structure, Core Web Vitals, incorrect canonicalization, and several other factors.
Local SEO audit - A local SEO audit will reveal the local ranking factors you are missing in your SEO strategy so that you can fix them and improve your Google local map rankings.
These audits are essential for building a robust SEO strategy. You can use a tool like Local Ranking to perform a local SEO audit for your clinic's Google My Business profile.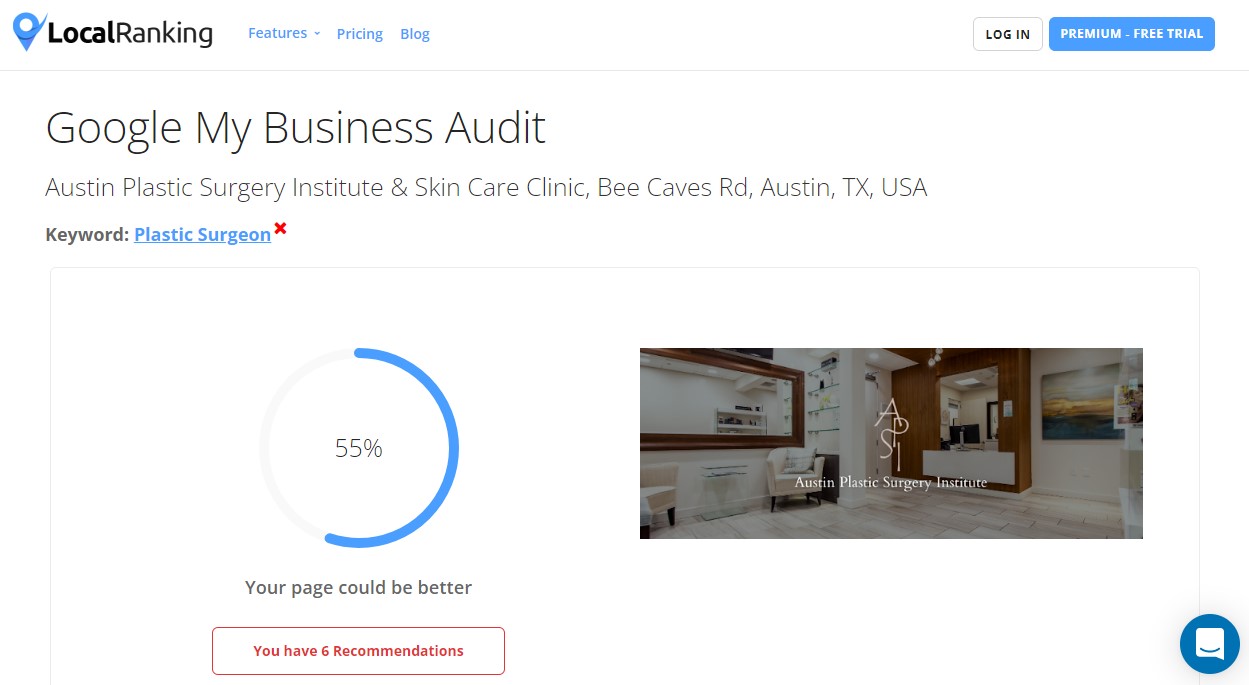 Build Proper Service Landing Pages
A landing page is the first point of contact between your patient and your clinic.
You should create separate pages for all your services. For example, here are some of the top service pages that plastic surgeons should have on their website, depending on the service they specialize in:
Breast augmentation
Tummy tuck
Arm lift
Thigh lift
Facelift
Chin augmentation
Ear surgery
Nasal surgery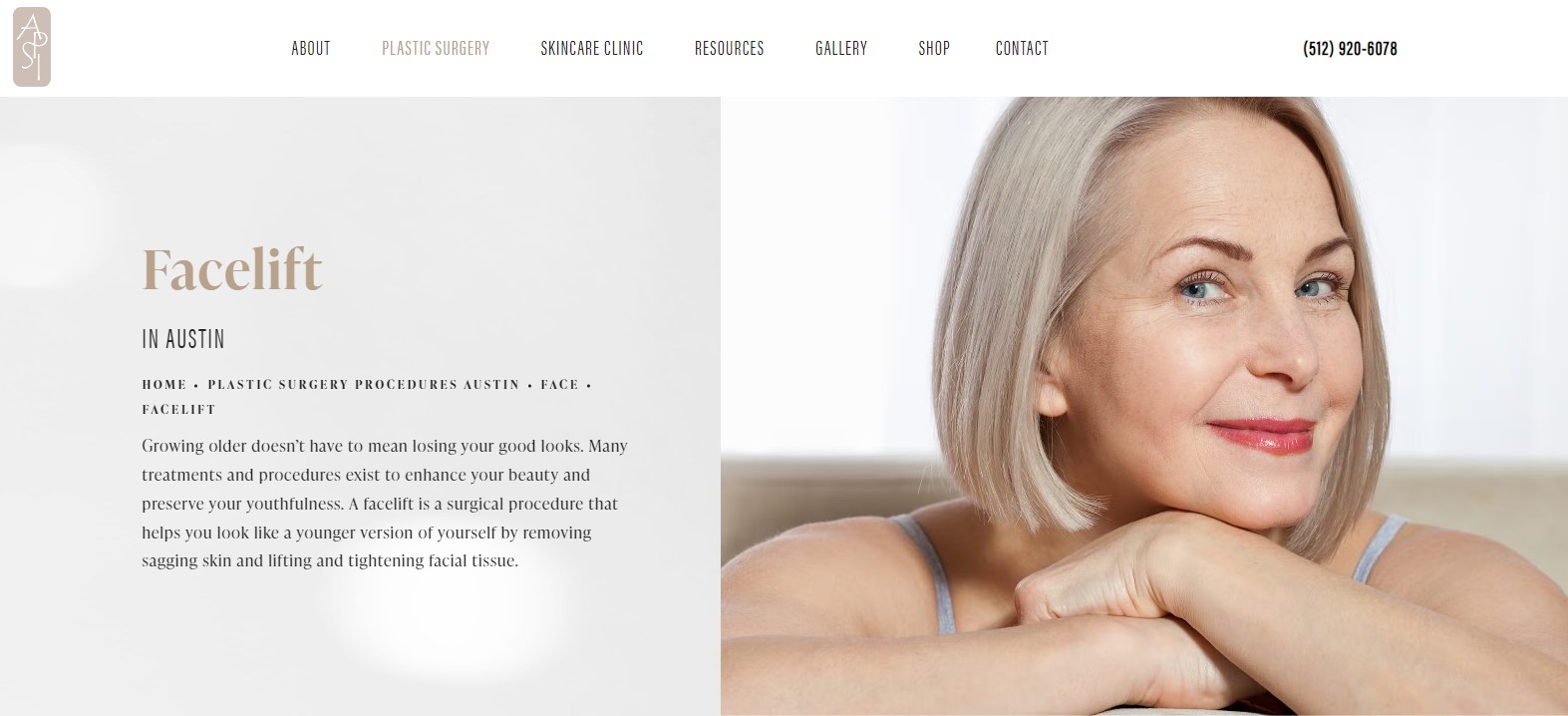 Also, make sure to use a proper mix of keywords in your target landing pages to increase the relevancy score.
Key areas where you should use your target keywords are the title, page description, heading tags, image alt tags, and content.
Additionally, your landing pages should be interlinked with your other pages to maximize link relevancy and authority.
Optimize Your GMB Listing
Your Google My Business (GMB) profile is crucial for your business.
Create and complete your Google My Business profile and ensure that you've added all the details correctly in your GMB profile.
You should list your service in the correct category because it helps Google to rank your site for related searches.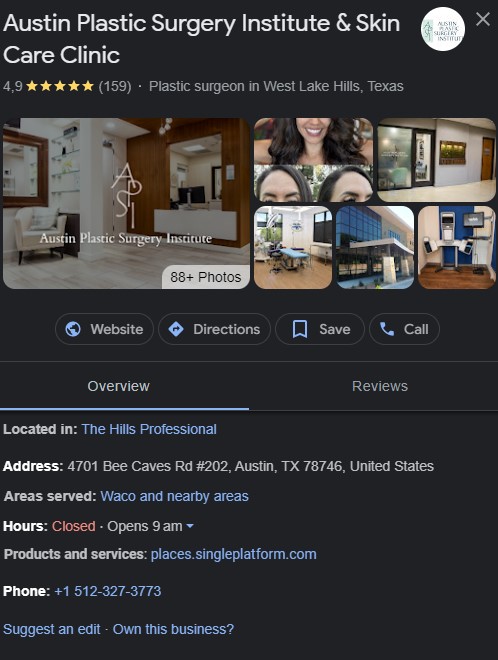 Also, remember to add images such as your clinic pictures, customers' before and after treatment pictures, images of equipment, and other relevant photos.
Finally, use the description section wisely. Try to explain all your service details and include local keywords that people would search to find your clinic.
Get Lots of Online Citations
Citations are mentions of your business on other websites.
They play a vital role in helping your business rank in the local search results.
Getting your business listed in leading healthcare directories will improve your local ranking and increase the amount of potential new patients.
When you create a new business listing, make sure you remain consistent with the following details:
Name
Website
Address
Phone number
A consistent NAP helps search engines pass on the value from all the citations to your service, leading to improved Google local pack rankings.
Acquire Links to Your Website
Backlinks are one of Google's top factors in its search algorithm.
When any other site adds a hyperlink to your website, it is considered a backlink.
If you consistently build backlinks from relevant and authoritative websites, Google will improve your website's domain authority, page authority, and ranking in the SERP.
Websites that hold the first position in the SERP have 2.3 x more backlinks than those in the second position.
Here are some of the top ways to acquire top-quality links to your site:
Submit your website to leading web directories. There are several business and health directories where you can submit your clinic details and list your business for free. Some are paid, but you can get a link from them, especially if they are relevant to your business.
Do guest posting because it is one of the best ways to acquire relevant and authoritative links to your site. Under guest posting, you find sites similar to your niche looking for external contributors. You can send an email to them and submit your content. In the content, you can add a backlink to your website. You should submit content to high-quality sites, and guest posting should be done in moderation.
Take the help of services HARO (Help a Reporter Out), where you receive emails from journalists looking to take your advice. You can share your comments with them; in return, they might quote your advice and your website link in their next article.
Create your company social media profiles on leading social channels such as LinkedIn, Facebook, Twitter, Instagram, Pinterest, and others. Social media sites are a great way to get links to your website.
Publish press releases on relevant domains. Press releases improve branding; people might pick up the information and use it in their upcoming articles, where they might link to your site.
Publish regular blog posts, case studies, and comprehensive content relevant to your niche. People often link back to well-written articles that are useful for the readers.
Write Topical Blog Posts
People consume 13 pieces of content before they take action.
Since plastic surgery is a significant investment, people take their time to research the pros and cons before they decide on the surgery.
Blogs can help you reach, educate, and nurture your patients for surgery. They help you reach your patients at every stage of the buyer journey, right from awareness to consideration.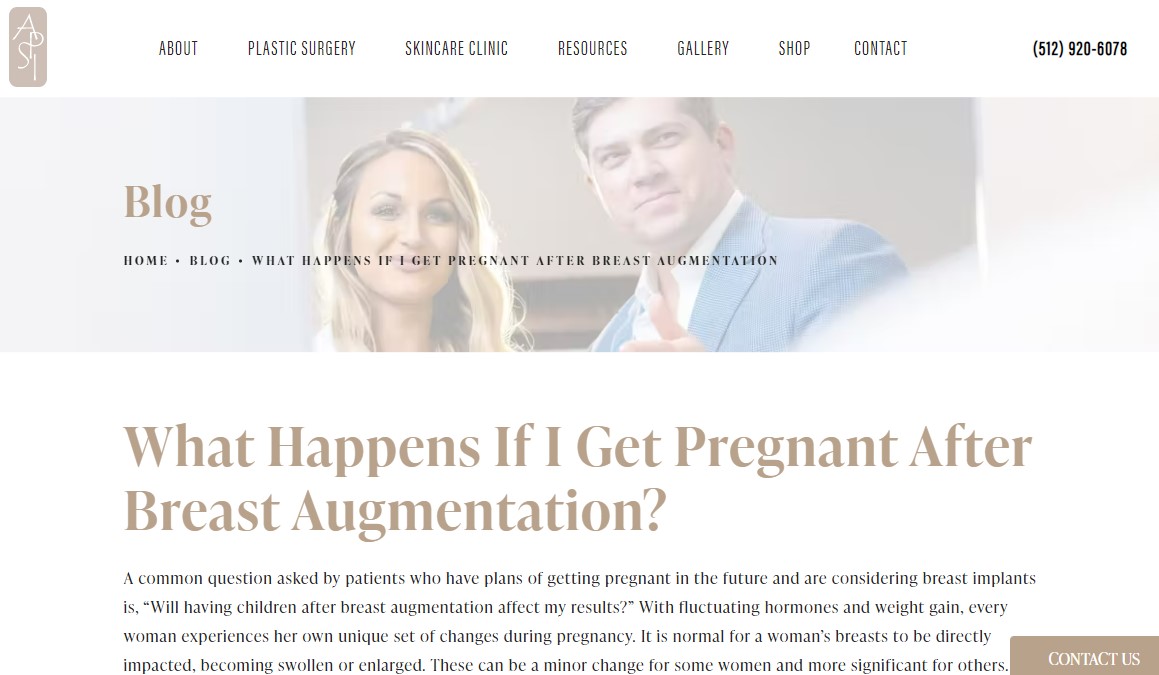 You should start creating blog posts addressing the different pain points your patients face.
Here are some examples of blog post content that you should have on your website:
What is the cost of plastic surgery?
What exactly is done in plastic surgery?
Is plastic surgery painful?
How to massage your face after a facelift?
How much fat can body sculpting remove?
Based on your specialized treatment area, you can find many keyword ideas to prepare relevant and informative blog posts for your target audience.
Create an FAQ Section on Your Website
Having an FAQ section on your website helps your content be highlighted as a featured snippet.
Moreover, they help you rank for long-tail question-based searches, increasing your organic traffic.
Therefore, having an FAQ section on your target landing pages will strengthen your overall SEO efforts and help you rank higher in SERPs for various searches.
You can use the FAQ section to address your patient's commonly asked questions.
When you write content for your FAQ section, include keywords in your answers and keep your answers short and to the point.
Conclusion
Apply the above-proven strategies to master your plastic surgery SEO and reach new patients.
Remember to have a responsive and mobile-friendly website since most people will use mobile phones to find your service.
Also, ensure to acquire positive reviews for your clinic in your Google My Business profile because that's a crucial factor in ranking higher in local searches.