SEO for Chiropractors: The Complete Guide for 2023
Jan 4, 2023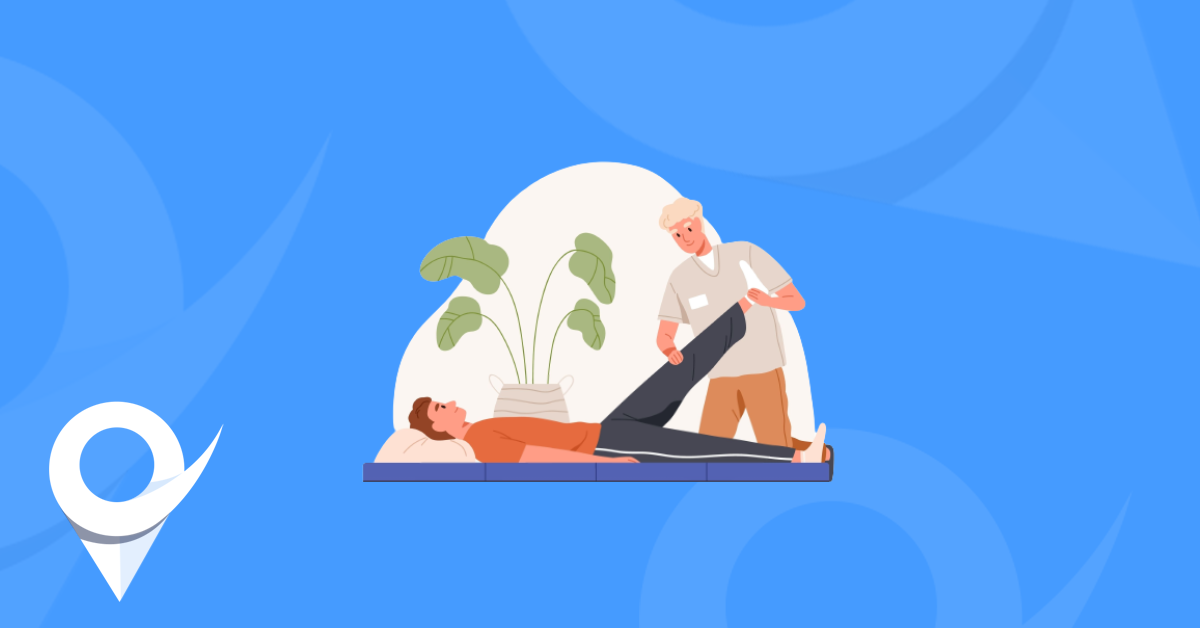 Table of Contents
Why is SEO important for chiropractors?
Chiropractor SEO basics
Create & optimize GMB listing
Build a mobile-optimized website
Create service pages
Create relevant content targeting health topics
Develop a review generation strategy
Regularly publish Google Posts
Create & optimize online listings (Yelp, Bing, etc.)
Conclusion
The competition for the top spot on Google is getting more and more grueling as new businesses are going online each day. This includes the healthcare industry, and even more specifically chiropractors.
Without a solid chiropractor SEO strategy, you'll struggle to get in front of patients looking for your services.
In this article, you will learn how to do SEO for chiropractors in order to rank higher for relevant search queries.
Why is SEO Important for Chiropractors?
The truth is simple, most of your prospective patients use Google to find chiropractors close to them.
In fact, most of all Google searches are targeted at finding local businesses. According to statistics, 93% of consumers use online searches to find local businesses.
There's no denying that SEO is essential for businesses of all sizes, but small, local businesses need to prioritize local SEO even more.
If you think of any prospective patient, what's the first thing they do when they want to find a chiropractor to help them with their ailments? They go to Google and type in something like "chiropractor near me" or "chiropractor in [city name]".
Here's even more data to prove the above statement. We checked the search volume for the keyword "chiropractor near me". As you can see there are more than 800,000 monthly searches for this keyword in the United States on a monthly basis.
If you want new patients to find your practice in Google and other search engines, then you need to implement and follow a local SEO strategy.
Besides, SEO won't only help in ranking for relevant search queries, but it will also ensure that your website is user-friendly and easy to use.
This is because one of the factors leading to higher search engine rankings is Core Web Vitals. Core Web Vitals is a metric that measures site loading speed, mobile-friendliness, and other usability factors.
If your SEO is well-optimized, then it means you've likely got high Core Web Vitals scores which results in a user-friendly website.
Chiropractor SEO Basics
Now that you know the importance of SEO for chiropractors, let's take a deep dive into how you can do chiropractor SEO.
Take note: SEO is a continuous process and requires regular work. Simply implementing the below SEO basics won't mean your work is completed. You need to perform regular SEO audits of your website, publish content, and update your Google Business profile.
Create & Optimize GMB Listing
Since most chiropractors service a specific region, town, or city, the majority of their search engine traffic and leads come through local SEO.
Local SEO is the process of optimizing a business' internet properties in order to rank for relevant local searches.
These internet properties include:
A website
Google My Business listing
Online citations on other directories such as Yelp, Bing, etc. (more on that later)
When it comes to local SEO, Google My Business is arguably the most important web property.
The reason for this is because most people use Google as their primary search engine. With that comes the advantage of using Google to find local businesses and services.
Google My Business is a free tool that gives local businesses, including chiropractors, the ability to generate leads, calls, and ultimately sales from local searches.

In order to reap the benefits of GMB, you will need to create and optimize a listing for your business.
Creating a listing is a simple process and only takes a few minutes to do. If you've found your GMB listing, but you've never gone through the listing creation process, you will need to claim your Google property.
Once created/claimed, you can start the optimization process. Optimizing your GMB listing for local searches is one of the most important things you can do for your local SEO.
Business Category
The first thing you need to do is make sure you choose the correct business category. While it sounds simple, many business owners get this wrong.
In this case, you want to choose "Chiropractor" as your main business category.
NAP Consistency
NAP stands for Name, Address, and Phone. It is vital that you keep these details exactly the same as on your website and other web properties.
NAP consistency will give Google the confidence to recommend your business for local search queries because it can see that basic business information is consistent all over the web.
Add Services
Another local SEO for chiropractors tip is to add services to your GMB listing. These service profiles should include the keyword that you're targeting.
In this case, you can add services such as Sciatic Nerve Pain, Prenatal Chiropractic Treatment, etc.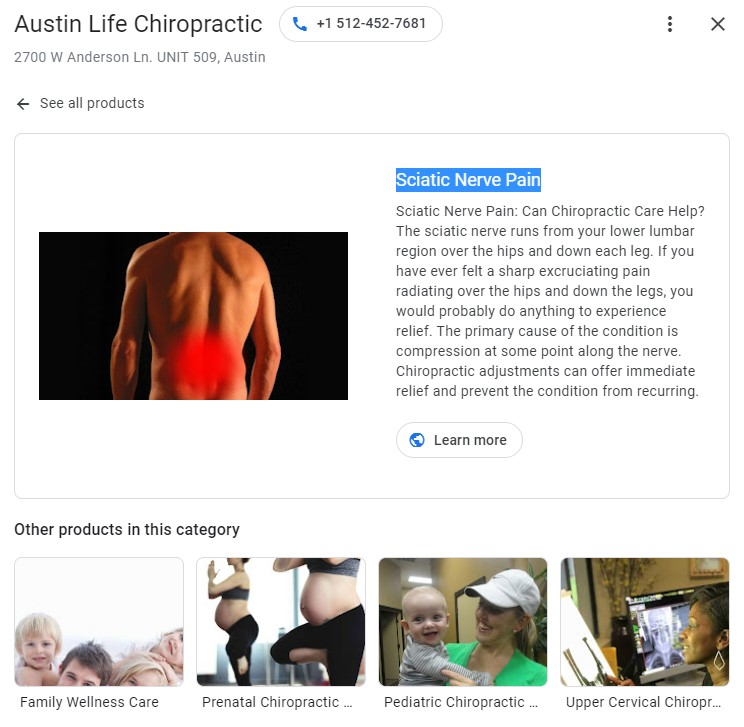 Add Media to GMB Listing
If you want to have a successful Google My Business listing, then adding photos of your practice will increase customers' perceived trust in your listing, potentially leading to more inquiries and leads.
Google gives listing owners and managers the ability to add photos and videos to their GMB media section so be sure to take advantage of this feature.
Build a Mobile-Optimized Website
The majority of online searches are conducted on mobile devices. This means that most of your traffic will come from people using their smartphones.
In fact, as of November 2022, more than 58% of world wide web traffic is generated by mobile devices.
Before the rise of mobile technology, most people used desktop devices to access the internet.
However, because the way that people are accessing the internet has evolved, marketers, business owners, and in this example, chiropractors, need to create websites that are optimized for mobile devices.
We are living in an increasingly mobile age, and Google has adapted its search engine ranking algorithms to meet the demand.
In most cases, Google uses the mobile version of a website for indexing, crawling, and ranking. This is also commonly known as mobile-first indexing.
So what is meant by "responsive web design"? What does a website look like that's optimized for mobile and what separates it from one that isn't?
Mobile-optimized websites have the following characteristics:
They load quickly on all devices ranging from smartphones, tablets, and desktop devices.
They easily render across a range of devices and screen sizes.
Mobile-optimized websites not only look great on all devices, but they also function flawlessly on any device and screen size.
If you've already built a website for your chiropractic business then you can check if your website is mobile-friendly by using the Mobile-Friendly Test tool from Google.

If you've got an old website and it fails this test, then one of the first things you need to do to improve your SEO is to completely rebuild your website.
The good news is that most modern website builders such as Wix and Weebly, as well as Content Management Systems such as WordPress, will have this feature right out of the box.
Likewise, If you haven't built a website for your practice, then your CMS or website builder will take care of this for you.
With that being said, you still need to follow some of these best practices to ensure your website remains optimized for mobile devices:
When writing blog articles and paragraphs, keep sentences short and easy to read. Remember, sentences seem visually shorter on desktop devices than on mobile devices.
Only upload images that are compressed and that have a small file size. Large image files make your website unnecessarily big and increase its loading time.
Perform On-Page Optimizations
On-page SEO is the process of ensuring all on-site elements of a website are optimized for search engines.
The on-page elements that need to be optimized for chiropractor SEO include the following:
Title tag
Header tags
URLs
Image alt attributes
Meta description
PageSpeed
Title Tag
The title tag is an HTML element that can be used to name any web page. Title tags are visible in the Search Engine Results Pages (SERPs) and in the browser title tab.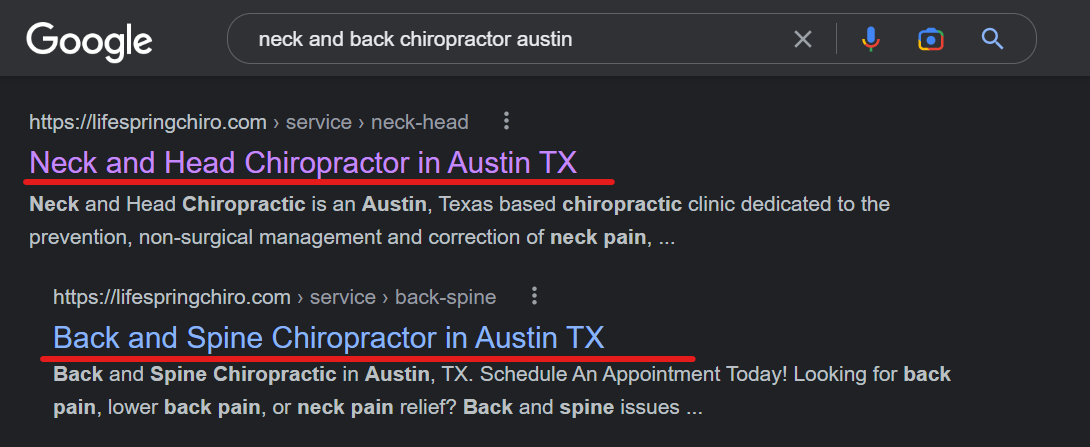 Here are a few tips for creating titles for your chiropractor website pages:
Always try to use the target keyword as close to the beginning of the page title. The closer the target keyword is to the start of the title, the better.
Try to keep your title short and to the point. The ideal title length is between 60 to 70 characters long. Anything longer than that may be truncated by Google.
Header Tags
Header tags show the different levels of headings and subheadings on a page. Much like the chapters in a book, header tags can be used to break your page or content into readable, separate sections.
To create SEO-optimized header tags for your chiropractor website follow these suggestions:
Much like title tags, you should try to include your target keyword in the header tags on a page. However, don't simply add the keyword just for the sake of it. Always make sure that it makes sense.
Utilize the different types of header tags. There are six different levels of header tags, H1 to H6. So when writing content for pages, you should always use different header tags.
Use H2 tags for main headers and H3 to H6 tags for sub-content under the main headers.
URLs
Another important aspect of on-page SEO for chiropractors is creating SEO-friendly URLs. An SEO-friendly URL has the following properties:
They are easy to read, short, and understandable
SEO-friendly URLs only use alphanumeric characters
They give the visitor an idea of what to expect on the page
Most importantly, SEO-friendly URLs contain the page's target keyword
Image Alt Attributes
Image alt attributes are meta tags that describe on-page images. These alt attributes are used by screen readers to tell visually impaired users what the images are about.
Because Google can't visually interpret what an image is about, it uses alt tags to understand images. And as a result, marketers need to write SEO-optimized image alt texts in order to give context to on-page images and to rank images in Google's image search results.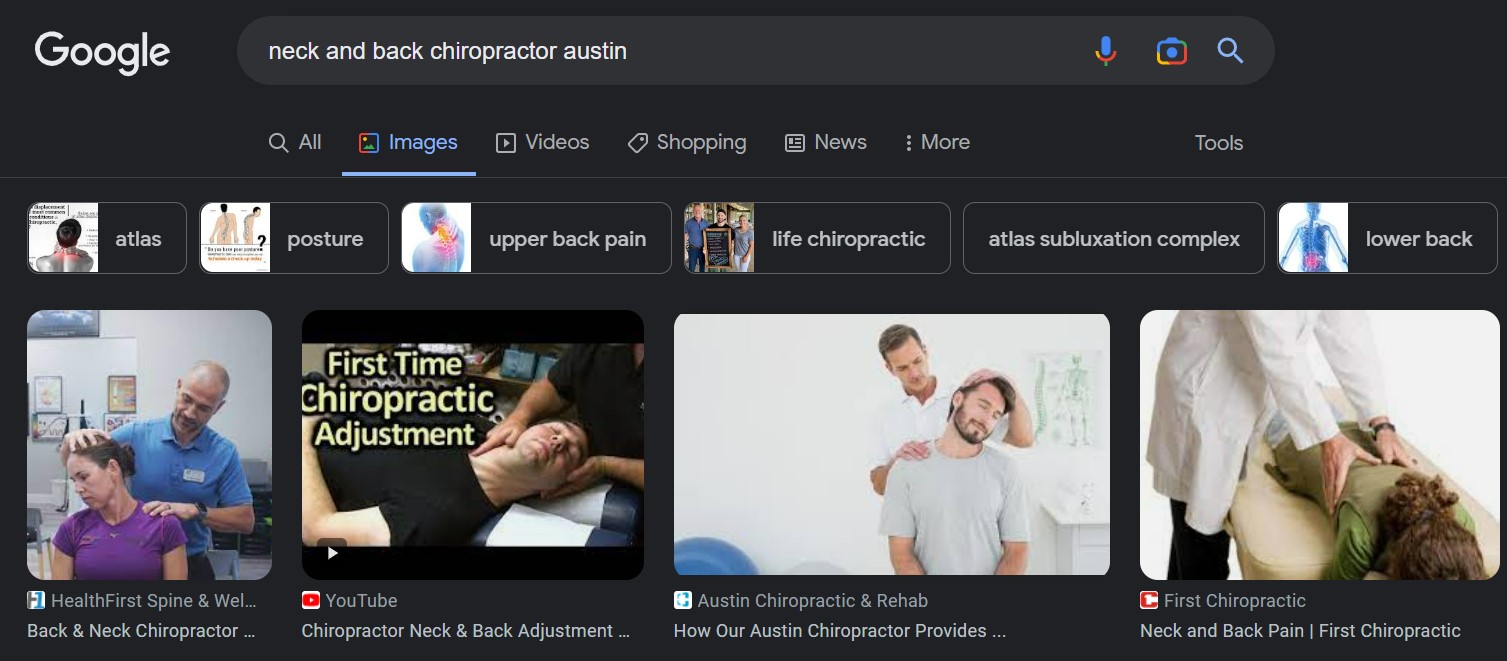 So what do SEO-optimized image alt attributes look like?
Writing image alt text that is SEO-friendly is actually quite simple:
They contain the page's target keyword (if appropriate)
They are short, and accurately describe the image
They don't contain phrases such as "Image of" or "A photo showing"
Meta Description
Meta descriptions are short snippets of text that tell visitors what they can expect to find on a web page.
Meta descriptions are visible on the Search Engine Results Pages (SERPs) below the title of the page.

While meta descriptions aren't used by search engines as a ranking factor, they are still important. The reason for this is because well-written meta descriptions can increase your organic Click-Through-Rate (CTR).
Meta descriptions should entice users to click through to your website in the SERPs.
Here are a few best practices to keep in mind when creating meta descriptions:
They are shorter than 160 characters in length. Google tends to cut off meta descriptions that are longer than 160 characters.
Well-written meta descriptions contain the page's target keyword.
Meta descriptions need to draw the user's attention and should stand out from the rest of the results in the SERP.
PageSpeed
A website's loading speed plays a vital role in its ability to rank in Google. This is because Google uses PageSpeed in its ranking algorithm.
Google's main goal is to suggest websites that will answer the user's search query while creating a pleasant user experience. Slow-loading websites don't give the user such an experience and as a result, Google won't suggest such websites which load slowly.
So, how can you ensure that your website loads quickly enough so that Google suggests it to users in the search results?
The first element of PageSpeed optimization is ensuring that your website files are as small as possible. By reducing the size of CSS, HTML, and Javascript website files, you can shrink the overall page size.
Secondly, webmasters need to upload compressed images and media files to ensure that these files don't result in a bulky website that takes a long time to load. There are free tools such as TinyPNG that can be used to compress image files.
One of the most popular ways to speed up the loading time of a website is through browser caching. Browser caching stores web elements in temporary storage so that when someone visits your website again, it won't have to reload all of the web elements.
Create Service Pages
Another important element of SEO for chiropractors is the creation of service pages. Since chiropractors perform a number of different health-related services, they should create different web pages for each service.
Not only is this useful to inform potential patients of your services, but the location and service pages can increase your website's ability to rank for highly specific search queries.
Let me explain my reasoning.
Let's say someone is searching for a specific chiropractic service. Do you think Google will rank the page that directly targets this service or do you think that it will choose to rank some chiropractor's generic home page instead?
I think the former. The more specific your pages are, the better the odds of ranking for specific queries such as "head and neck pain relief austin" or "posture correction austin".

This is where service pages come in, these individual pages are intended at ranking for very specialized search queries.
Service pages are somewhat similar to location pages, and thus, they have the following elements:
The target keyword is usually contained within an H1 or H2 HTML tag.
The name of the city or town that the page is targeting is usually repeated several times all throughout the page.
Well-designed service pages have a specific Call-to-Action such as "Schedule an appointment" or "Call us".
In the case of chiropractors, service pages should have in-depth content on the specific service or condition.
Service pages should have different types of media such as images and videos that are specific to the service the page is targeting.
Good service pages will have an FAQ section addressing commonly asked questions about the respective service.
Here's a good example from Lifespring Chiro in Austin, Tx. Their service page targeting knee pain has all of the above-mentioned elements.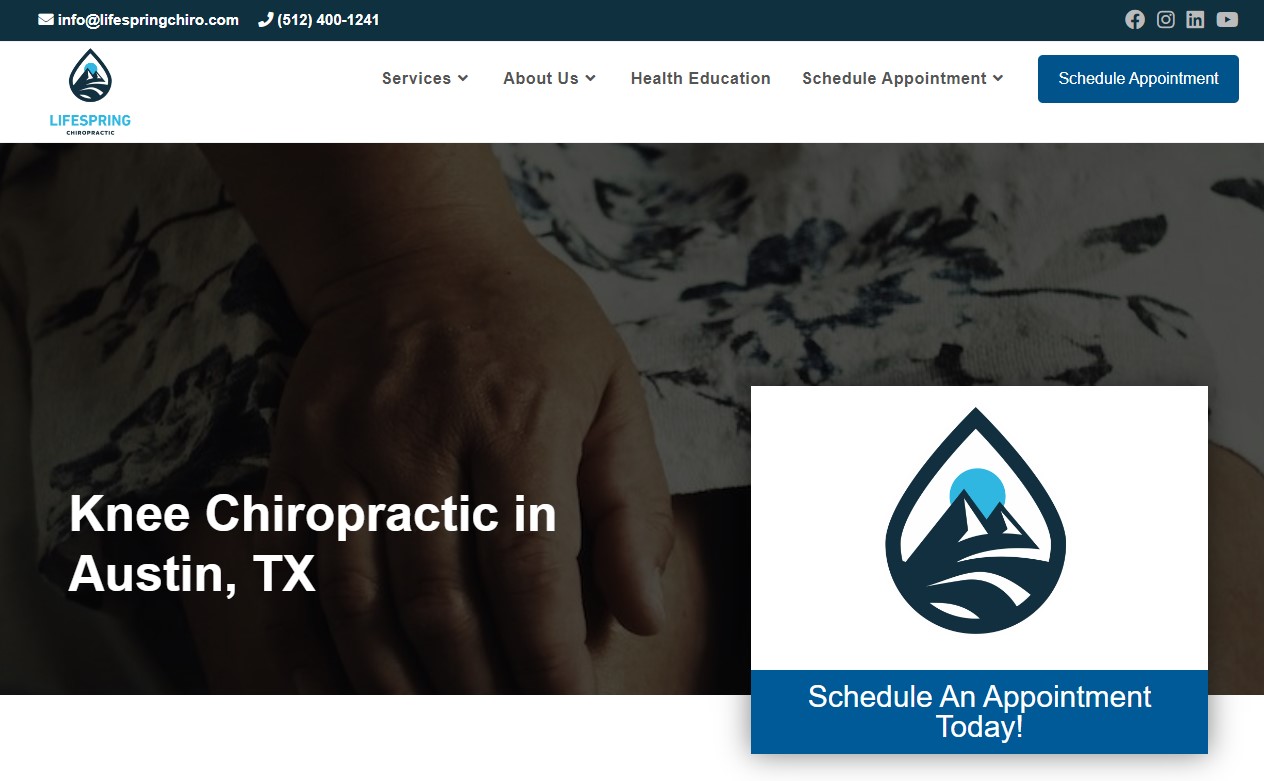 Create Relevant Content Targeting Health Topics
Apart from creating service pages about each of your individual chiropractic services and treatments, you should also regularly publish blog posts and content on relevant topics.
These topics include anything from the types of headaches and how to fix them, to posture tips, and flexibility tips for youngsters.
The idea is that you inform and educate website visitors using your in-depth knowledge on joints, muscles, and overall health.
Not only should you create informative written text for blog posts, but chiropractors should also create YouTube videos about specific topics. These videos can then be embedded in blog posts that discuss the same topics.
This is a great way to keep readers engaged and educate them on various health conditions.
Develop a Review Generation Strategy
Chiropractors should not underestimate the value of online customer reviews. Most search engine users will take a look at your Google Review count and average rating before clicking on your listing.
Remember, reviews act like social proof for your business and establish your brand's perception in the eyes of potential patients. And as a result, chiropractors need to develop a strategy to generate Google Reviews.
Here are a few things you can do to get more reviews from patients:
Ask patients to leave a review after an appointment. You can do this by sending them an email containing a review link that redirects them straight to your Google Reviews.
Use Google Marketing Kit to generate posters that have QR codes on them and place these in your practice. When patients scan the code, they'll get taken to your GMB Reviews section.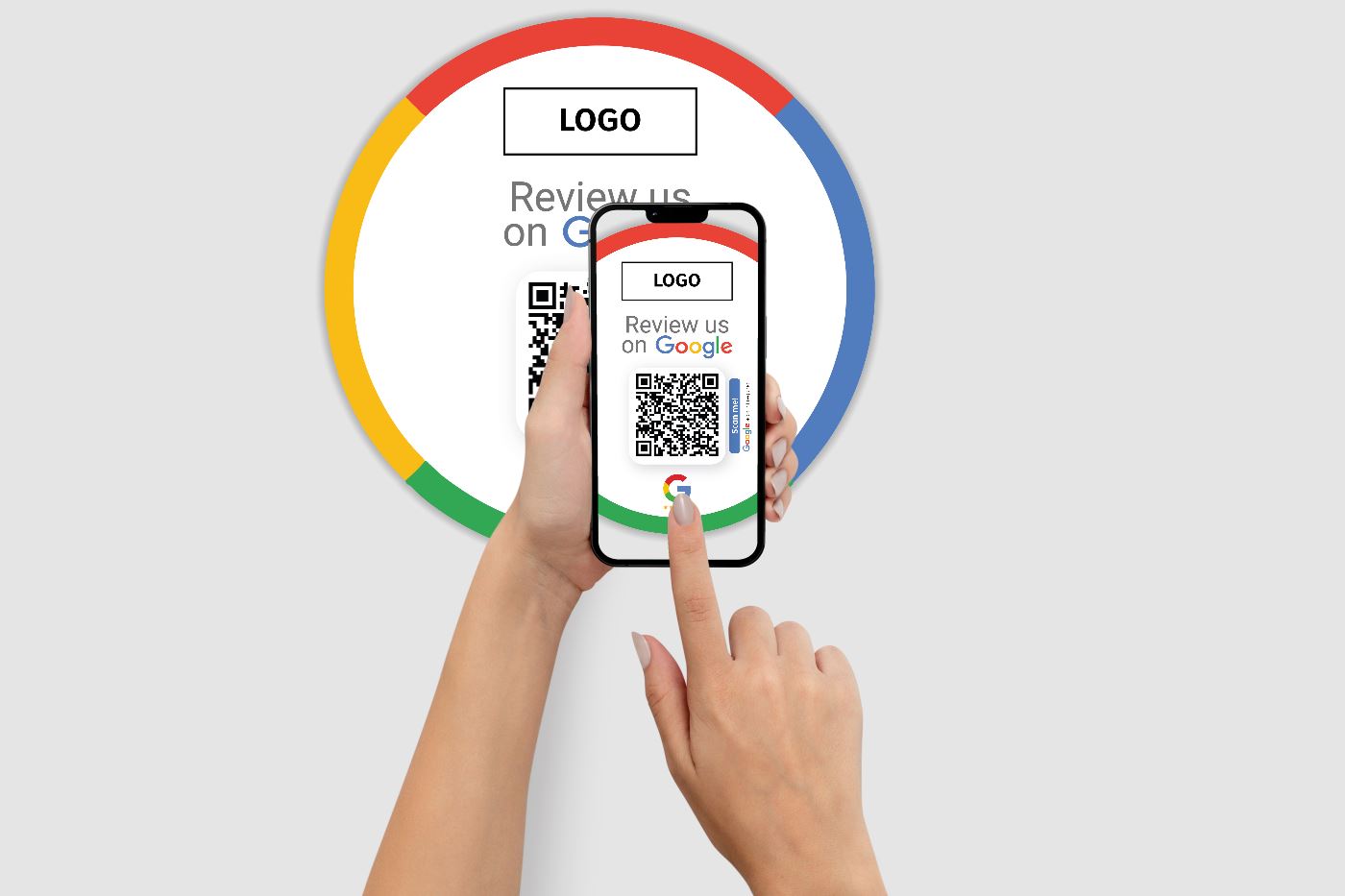 Ask for Google Reviews on your website. If your website was created with a modern website builder like Wix, Weebly, WordPress, etc., then you'll be able to embed a Google Reviews widget on your website.
Generating reviews is important, but so is responding to them. Chiropractors need to make sure that they respond to all their Google Reviews, especially the negative ones.
Responding to negative reviews indicates that you care about your patient's bad experiences and that you feel sympathetic toward them.
If you're running a chiropractic business with multiple locations and Google listings, responding to and managing your reviews can be a time-intensive exercise.
For this reason, you can use a Google Review Management tool to help you respond to all your reviews in one dashboard.
Regularly Publish Google Posts
GMB Posts are Google's equivalent of social media posts on Facebook or Instagram. These little "updates" can be used to share news, promotions, and general content with users on Google.
There are five different types of Google Posts:
What's new
Events
Offers
Products
Covid-19
It's important to regularly publish GMB Posts. While it's not confirmed that Posts have an impact on rankings, they give chiropractors another opportunity to tell Google what their business is about, increasing its relevance score.
Additionally, GMB Posts are another place to add your target keywords.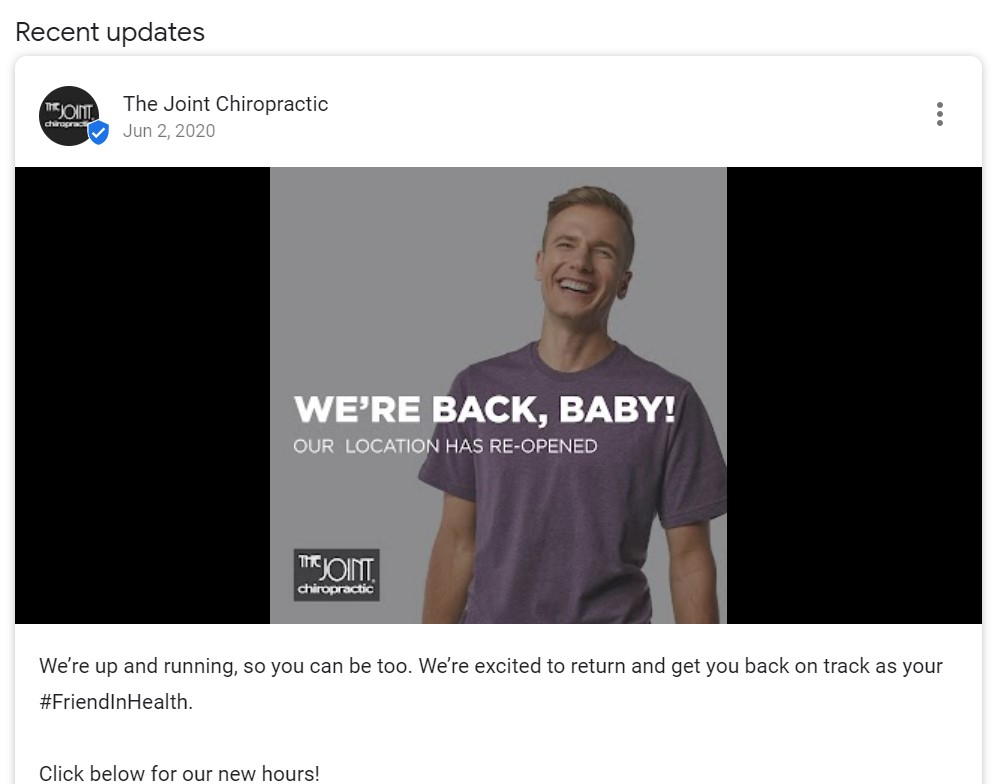 These Posts are the perfect place to make new announcements about your practice's operating hours and special promotions or discounts.
Create & Optimize Online Listings (Yelp, Bing, etc.)
The last SEO tip for chiropractors is to create as many online listings, also known as online citations, as possible.
These are basically profiles of your business on various directory websites such as Yelp, Bing, Yahoo, FourSquare, Yellow Pages, etc.
When creating these online listings, you need to remember to keep your NAP details consistent with that on your website and GMB profile. If you don't keep them consistent, Google will be confused and will likely not know what your exact business location is.
And as a result, won't be able to show your GMB listing to searchers in your location.
Conclusion
This concludes our article on SEO for chiropractors. Perfecting your practice's SEO can be a time-consuming process, but it is well worth the effort.
Chiropractors need to set up an effective SEO strategy in order to reap the benefits offered by search engine optimization. By following the exact steps that we outlined above, you can increase your website's search engine rankings and overall performance.