Can I Turn Off Google Reviews for My Business? What to Do Instead
Jul 13, 2023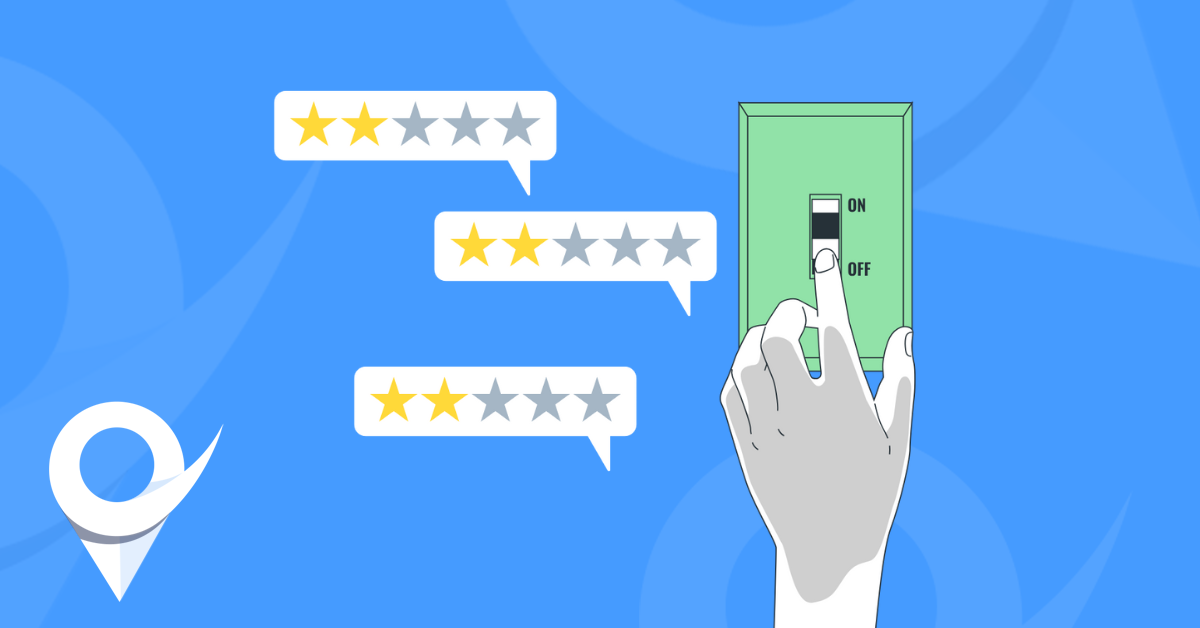 Table of Contents
Can I turn off Google Reviews for my business?
How to remove fake or spam reviews
Identify the fake or spam review
Flag the review for removal
Monitor the removal request
Consider responding to the review
Should you remove negative reviews?
Conclusion
Online reviews hold significant sway over a business's reputation and success.
Among the platforms dominating the review landscape, Google My Business stands tall as a vital avenue for customers to share their experiences.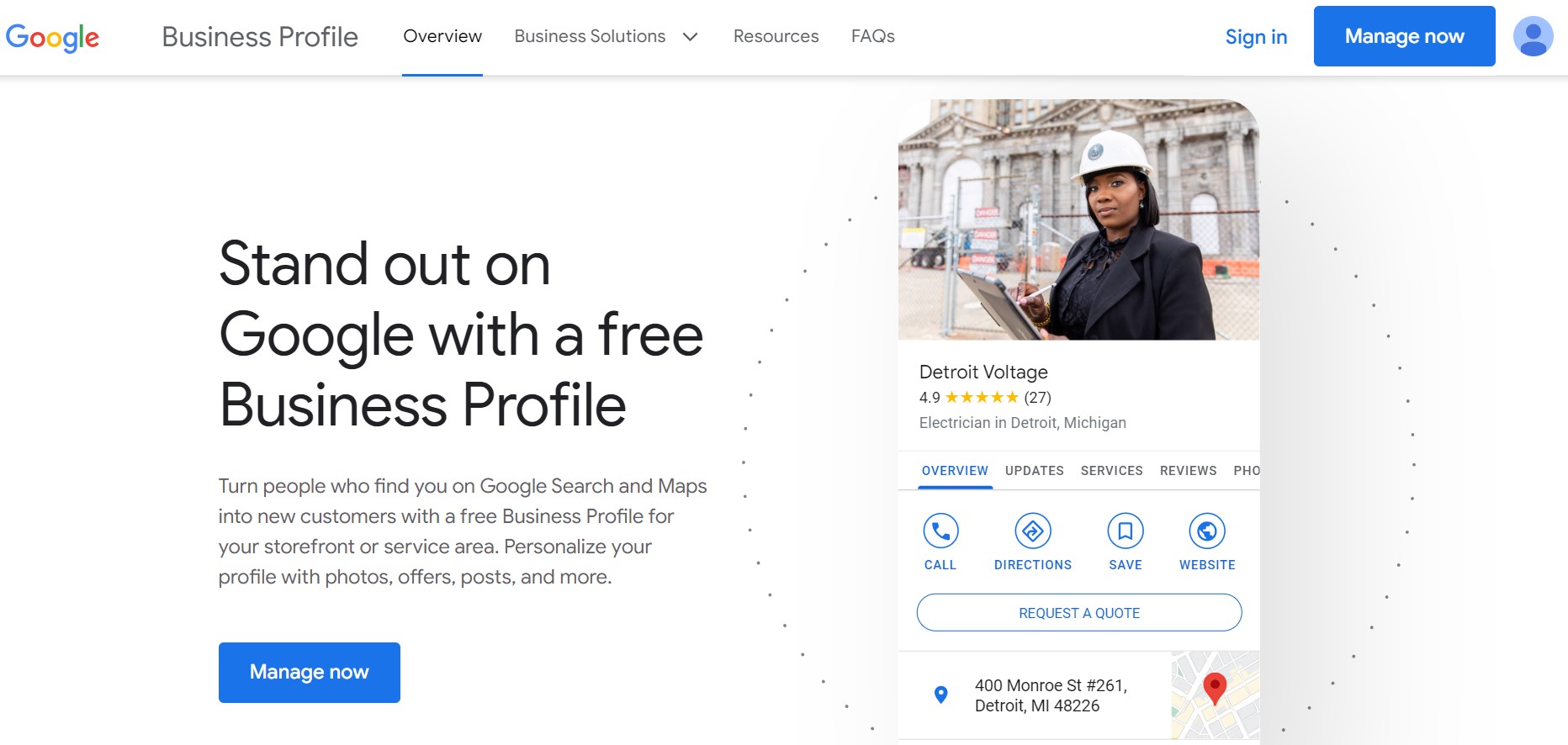 As a business owner, it's only natural to wonder if you have the ability to turn off these reviews, especially when faced with negative feedback or potentially fake reviews.
In this article, we delve into the question of whether you can turn off Google My Business reviews, exploring the intricacies of managing online feedback and shedding light on the steps to deal with fake reviews.
Additionally, we'll address the ongoing debate surrounding the removal of negative reviews, guiding listing owners on the best approach to maintain a balanced and trustworthy online presence.
So, let's embark on this journey of understanding and empowerment as we navigate the realm of Google reviews and the impact they have on your business.
Can I Turn Off Google Reviews for My Business?
The short answer is no. Unfortunately, there is no option to turn off Google reviews for your business entirely.
As long as you have a Google My Business listing, customers and clients will be able to leave reviews and ratings on your page.
Google, being a platform that values transparency and authenticity, believes that customer reviews play a crucial role in helping consumers make informed decisions. Therefore, the ability to disable reviews entirely is not available.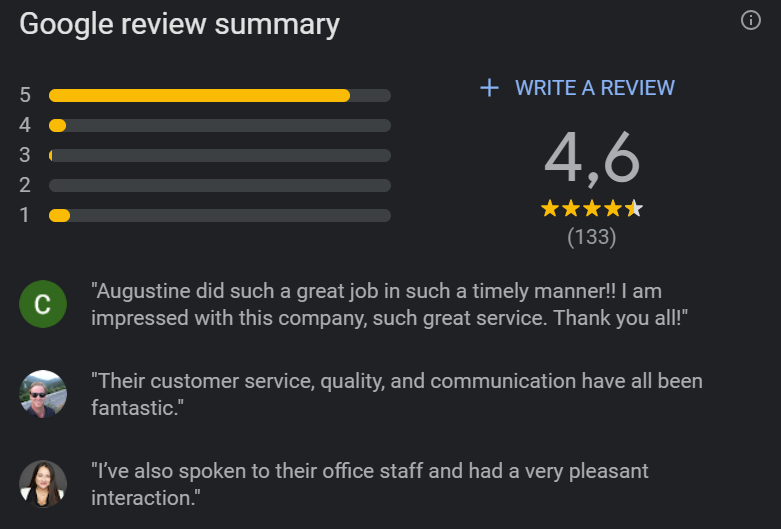 While you cannot turn off Google reviews completely, it's essential to understand why this is the case. Google's philosophy revolves around fostering an open and unbiased platform that encourages honest feedback from customers.
By enabling reviews, Google aims to provide a reliable source of information for users seeking insights into businesses they wish to engage with.
The inclusion of customer reviews serves to create a transparent and trustworthy ecosystem where businesses are held accountable for their products, services, and overall customer experiences.
By allowing reviews to remain visible, Google ensures that the information shared reflects the genuine opinions and experiences of customers.
This approach empowers potential customers to make well-informed choices and facilitates healthy competition among businesses, encouraging continuous improvement and customer satisfaction.
While you may not have the option to turn off reviews entirely, it's essential to embrace customer feedback as an opportunity for growth and engagement.
Instead of trying to silence reviews, consider leveraging them to your advantage by actively managing and responding to them.
Staying on top of all your Google reviews can be challenging, espcially if your business has multiple locations with different Google Business Profiles for each. Local Ranking's Google Review Management tool takes the hassle of having to check for new reviews on each profile separately.
With our software, you can respond to all your Google Reviews from one single dashboard and our advanced review filtering system can be used to quickly find negative or unresponded reviews.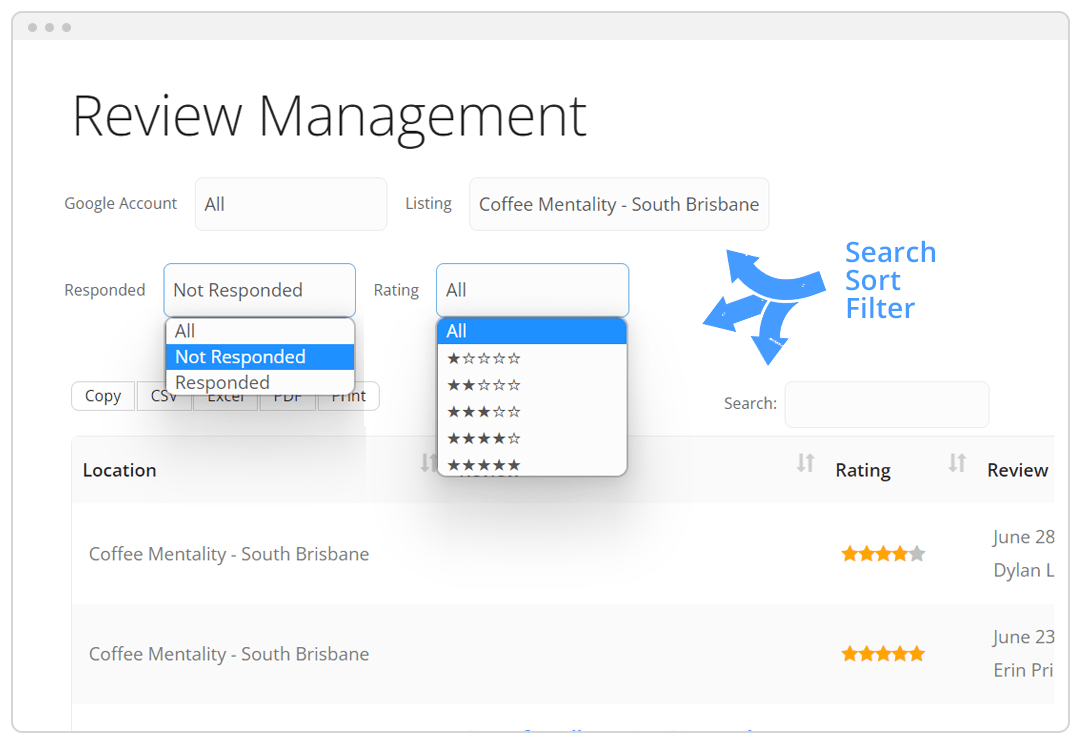 How to Remove Fake or Spam Reviews?
In an ideal world, all online reviews would reflect genuine customer experiences and opinions.
However, the reality is that occasionally, businesses may fall victim to fake or spam reviews that can potentially harm their reputation.
The good news is that Google acknowledges this issue and provides a process through which you can request the removal of such reviews from your Google My Business (GMB) listing.
Identify the Fake or Spam Review
The first step in dealing with fake or spam reviews is to identify them accurately.
Look for reviews that seem suspicious, such as those lacking specific details or using repetitive language.

Pay attention to reviews that appear unrelated to your business or exhibit a pattern of suspicious behavior, such as multiple reviews originating from the same IP address.
Flag the Review for Removal
Once you've identified a fake or spam review, you can flag it for removal by following these steps:
Sign in to your Google My Business account.
Locate and select your business listing.
Navigate to the "Reviews" section of your GMB dashboard.
Find the review you want to flag and click on the three vertical dots (⋮) next to it.
Select the "Report review" option.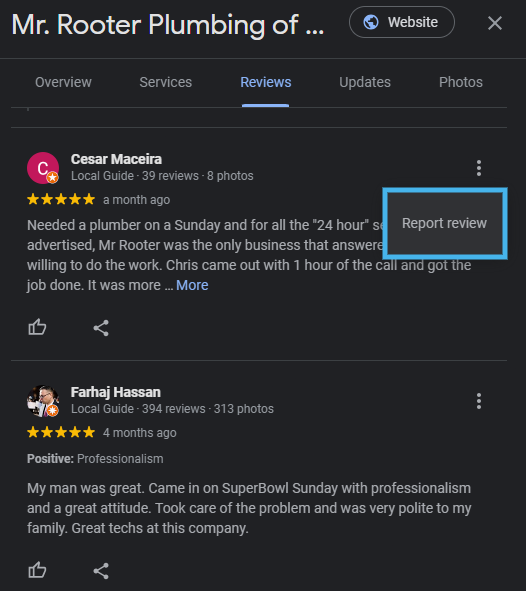 Select the "Spam" option on the next screen and follow the prompts and provide any additional information that may help Google understand why the review is fake or spam.
Monitor the Review Removal Request
After flagging the review, Google's team will assess the legitimacy of your request.
Be aware that the review removal process may take some time, and Google's decision is based on their policies and guidelines. It's crucial to remain patient and regularly check your GMB dashboard for updates on the status of your request.
Consider Responding to the Review
While awaiting the review removal decision, you may want to consider responding to the fake or spam review publicly.
Craft a professional and courteous response, stating that the review violates Google's policies and that you have flagged it for removal.
This showcases your commitment to maintaining a trustworthy online presence and provides transparency to potential customers who come across the review.
It's important to note that while you can request the removal of fake or spam reviews, Google does not guarantee immediate removal or always fulfill such requests.
Their evaluation process ensures fairness and prevents misuse of the review system.
However, by actively reporting and monitoring suspicious reviews, you take proactive steps to protect your business's reputation and ensure a more accurate representation of your customers' experiences.
Should You Remove Negative Reviews?
It's a fact that you won't get 5-star reviews on Google every time.
Negative reviews are a fact of life for businesses, and they can be especially frustrating when they feel unwarranted or unfair.
While it may be tempting to remove negative reviews from your Google My Business page, doing so is not always the best course of action.
Firstly, removing negative reviews can actually harm your business's reputation by making it seem like you are attempting to hide negative feedback.
This can erode trust with potential customers and make them less likely to do business with you. Moreover, it's important to recognize that negative reviews can often provide valuable feedback about areas where your business needs improvement.
Instead of removing negative reviews, consider responding to them thoughtfully and professionally. A well-crafted response can demonstrate your commitment to customer service and help turn a negative experience into a positive one.
An example of a well thought out and professional response can be seen in the way Mr Rooter Plumber in central New Jersey responded to a negative review from a customer.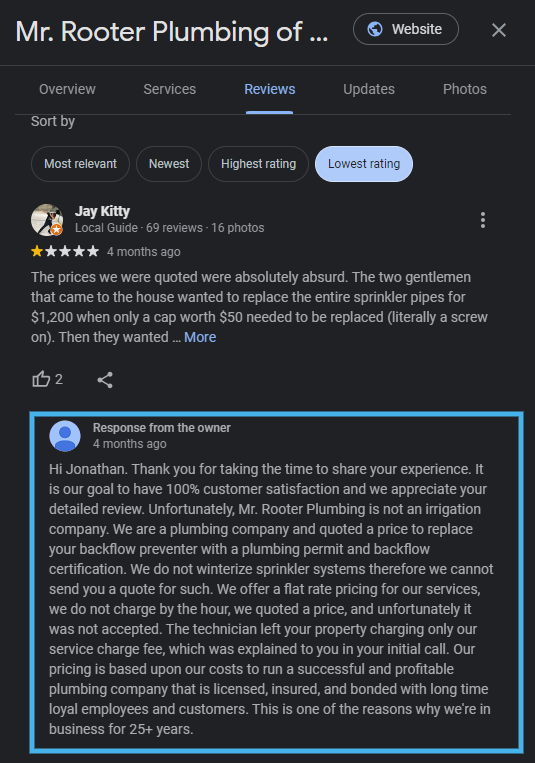 Instead of being nasty and abrupt, they wrote a very detailed response to the customer's feedback, explaining the entire situation and their side of the story.
Conclusion
While you cannot turn off Google reviews for your business, you do have some control over the reviews that appear on your page.
By following the steps outlined in this article, you can manage your reviews and ensure they accurately reflect your business.
Remember, negative reviews can often provide valuable feedback and should be addressed thoughtfully rather than removed. By taking a proactive approach to managing your online reputation, you can build trust with potential customers and set your business up for success in the long run.